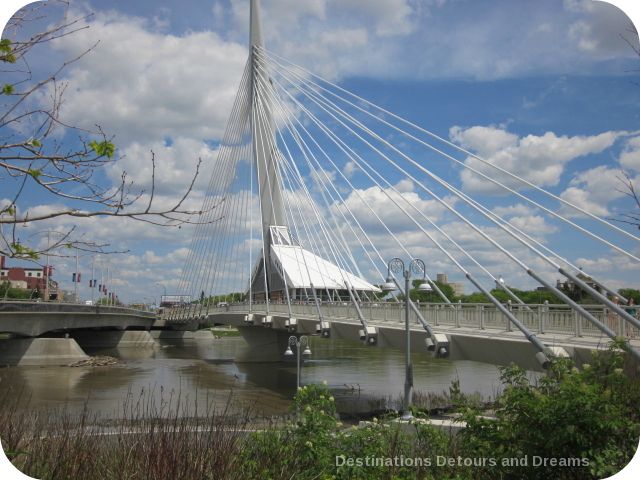 Winnipeg restaurant Mon Ami Louis offers French-inspired cuisine
on pedestrian bridge Esplanade Riel
Esplanade Riel, constructed in 2003, is a pedestrian bridge crossing the Red River and connecting Winnipeg, Manitoba's downtown with the St. Boniface area, known as Winnipeg's French quarter. I've read it is the only bridge in North America with a restaurant. The $1 million cost to bring water, sewer, phone lines, and other fibre optics onto the bridge was the subject of some controversy during construction.
This summer a new restaurant opened in this space. It's chef, Luc Jean, was born and raised in St. Boniface. The French-themed menu of Mon Ami Louis includes a little of everything, from snacks and appetizers to soups, salads, sandwiches, and entrees. It features tarte flambé (a French version of pizza), buckwheat crepes, pomme frites (French fries), and versions of poutine.  There are a selection of desserts for your sweet tooth and beers, wines, and cocktails to quench your thirst. Prices are moderate, running from $12 to $19 for your main selection.
Mon Louis Ami is the third restaurant to open in this space. The first was Salisbury House. Sals, as it is commonly known, is a Winnipeg chain known for its hearty breakfasts, burgers called "nips", and comfort food. The first restaurant opened in 1931. The original owner, Ralph Erwin, sold his interest in the business in 1979 to a group of investors. In 2001, local businessmen bought the chain from the Montreal-based owners. Winnipeg native Burton Cummings, lead singer of the Guess Who, is one of the investors. After seven years on the bridge, the lease for that location was not renewed. Seven other locations remain in Winnipeg.
Chez Sophie was the second restaurant. The owners closed up shop in under a year citing the "extraordinary expense relating to a restaurant on a bridge." The unique location does not get much business in winter months.
Mon Ami Louis is part of Wow Hospitality Concepts, which owns several Winnipeg restaurants. Mon Ami Louis will be open for brunch, lunch, and dinner through the summer months and available for rentals the rest of the year.
The restaurant had a relaxed, comfortable feel. Service was quick (being early for the dinner crowd, the restaurant was not very busy) and the food was good. But one of the greatest appeals was the location. It was relaxing to look over the river as I ate (even if I had the occasional dizzy spell from watching the moving water). Hopefully, the restaurant has the right plan to make a go of it in this location. I would like to return and sample other items on the menu.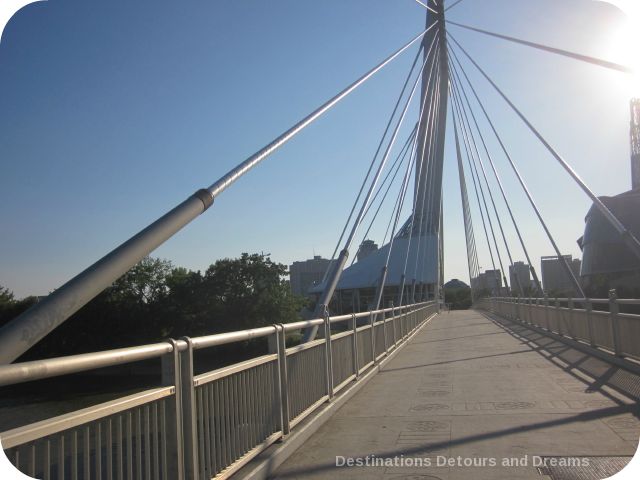 Note: This post is not sponsored. I paid full price for my meal.