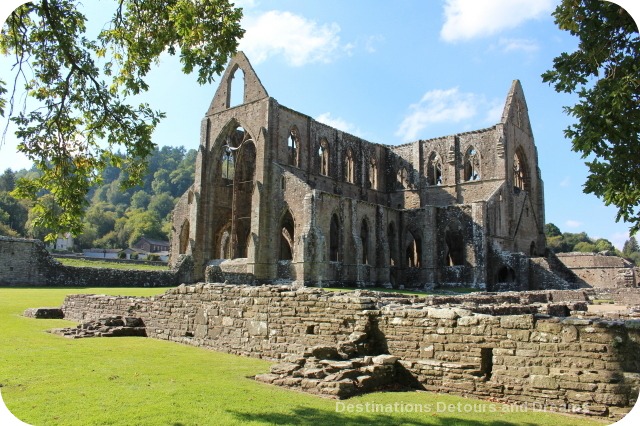 Cistercian monastery ruins and scenic countryside in south Wales
The ruins of Tintern Abbey lie between the Wye River and the A466 road at the southern end of Tintern village in south Wales. The ruins are impressive to walk through and the Wye Valley setting is beautiful.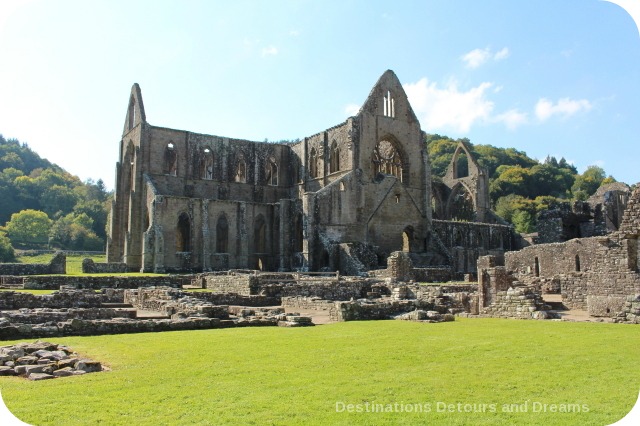 Tintern Abbey was founded in 1131 AD by Walter de Clare, Lord of Chepstow, who granted land to Cistercian monks. It became the first Cistercian house in Wales. The Abbey started its life as a series of wooden buildings. By the mid twelfth century, there was a stone church and cloisters. The Abbey was rebuilt between 1270 and 1301. By the end of the rebuilding, about 400 monks lived at the Abbey. The Black Death, the disastrous disease which spread through Europe 1346 to 1353, badly affected life at the monastery, but Tintern Abbey continued to operate until 1536.
 In the 1500s, political actions of King Henry VIII ended monastery life in England and Wales. The Dissolution of the Monasteries was part of his policy to take over the churches, both to sever ties with Rome and to obtain their considerable wealth. Tintern Abbey was surrendered to the King in 1536. Within a few years, lead was stripped from the roof of Tintern Abbey and the building began to decay. The Abbey became a source of building stone.
In the late 18th century when it became fashionable to visit wilder parts of the country and the Wye Valley became renowned for its picturesque qualities, Tintern Abbey was rediscovered and the site cleaned up. The famous painter J M W Turner was a visitor. Poet William Wordsworth wrote Lines Composed a Few Miles Above Tintern Abbey, on Revisiting the Banks of the Wye During a Tour, July 13, 1798 here.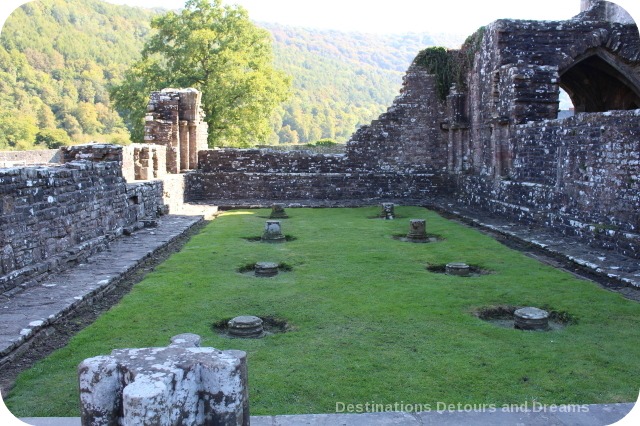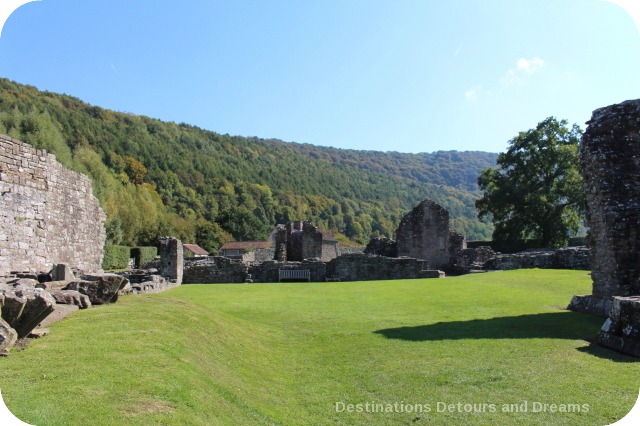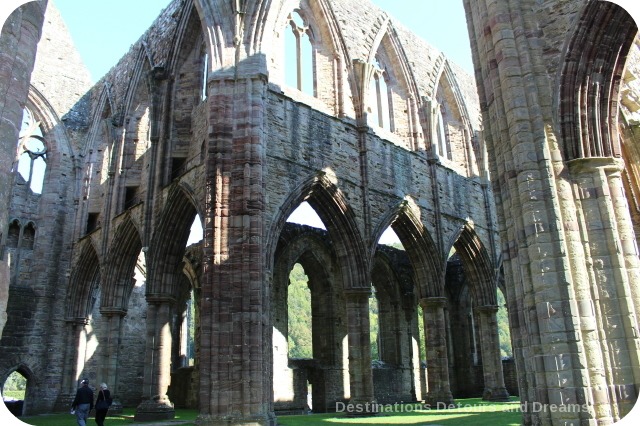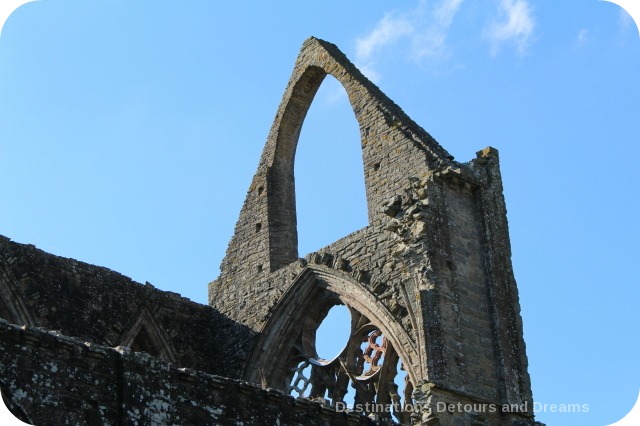 Next to the Abbey, within its original grounds, is the Anchor Inn pub and restaurant. The main building used to be the Abbey's cider mill and horse-drawn apple press. Adjoined to this building, the Ferryman's cottage once housed a boat and its custodian who transported people and goods across the river to England.
Tintern is toward the southern end of the Wye Valley. The Wye River (Afon Gwy in Welsh) is the fifth-longest river in the United Kingdom. For much of its 134 miles, it forms the border between Wales and England. Its source is in the Welsh mountains at Plynlimon. It meets the Severn Estuary just below Chepstow.
A 72-mile stretch of the lower Wye Valley, from just south of Hereford to Chepstow, is designated as an Area of Outstanding Beauty, which means it is an area designated for preservation due to its significant landscape value. The area contains a number of attractions and activities for visitors. Our trip through the Valley was short and only took us from Chepstow to Monmouth (16 miles), but the scenery lived up to expectations.