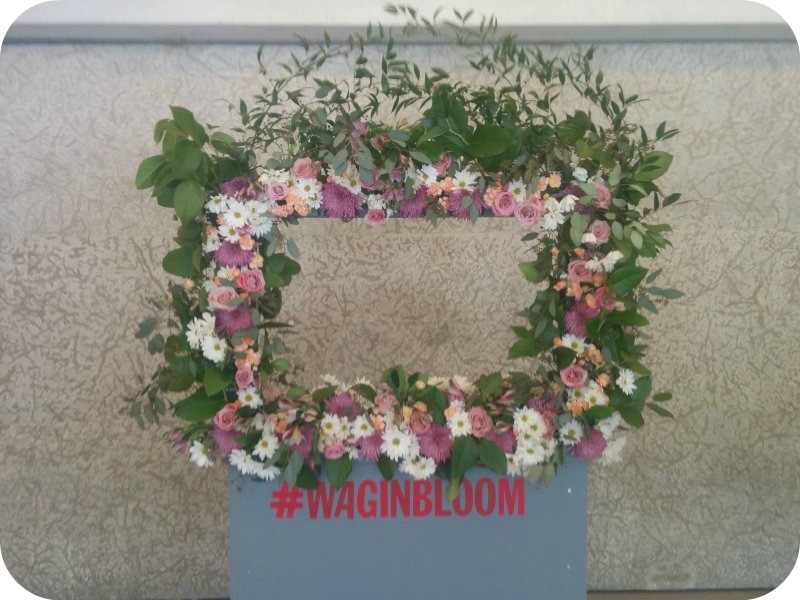 A spring festival at the Winnipeg Art Gallery (WAG) features floral designs
inspired by works of art in the Gallery's permanent collection
This weekend, several galleries at the Winnipeg Art Gallery smell like a florist's shop. The Art in Bloom exhibit features floral arrangements by professional and non-professional floral designers alongside the works of art in the WAG's permanent collection which inspired the design. The pieces of art span a time period from the 15th to 21st century.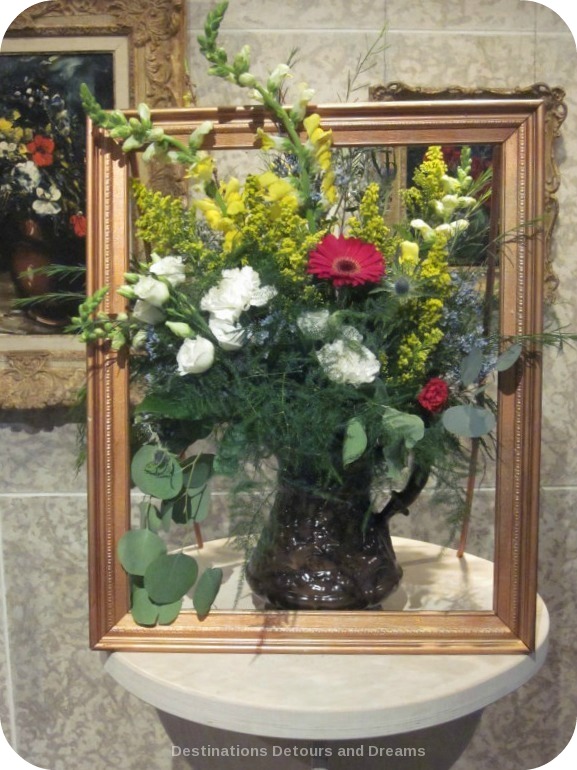 Some floral designs are almost literal representations for the piece of art, particularly when the subject of the piece is itself a floral display. Deborrah Buskell of Flower Patch based her vase of flowers on Maurice de Vlaminck's Fleurs. I love the added touch of adding a frame around the vase.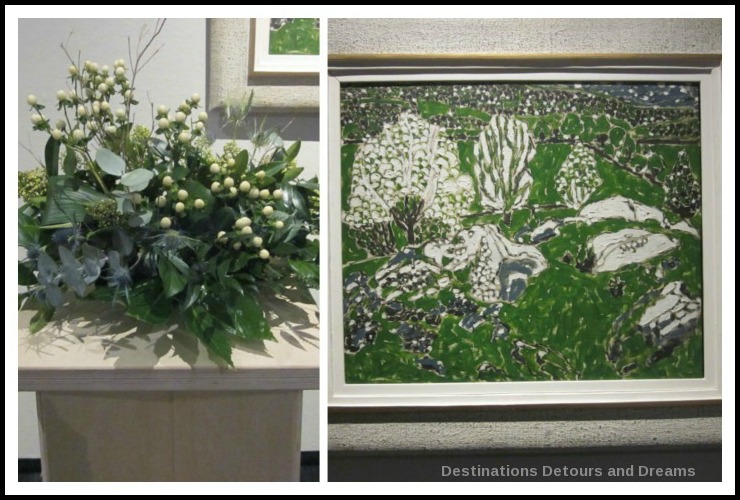 White Trees in a Green Valley by David Brown Milne was the inspiration for a floral creation by Mo Chen of Valley Flowers, who sought to recreate the texture Milne created with brush strokes and thick paint.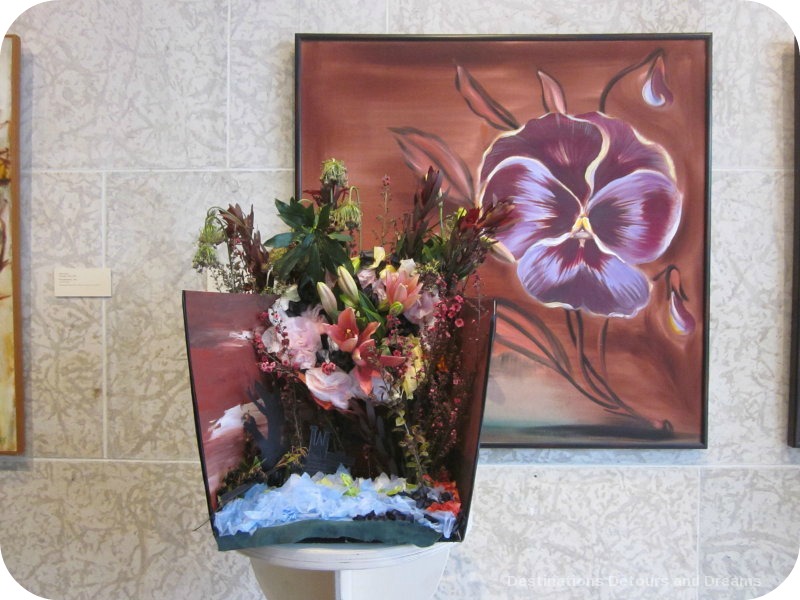 Art City created a floral design for Untitled from Wanda Koop's Postcards from Paris series.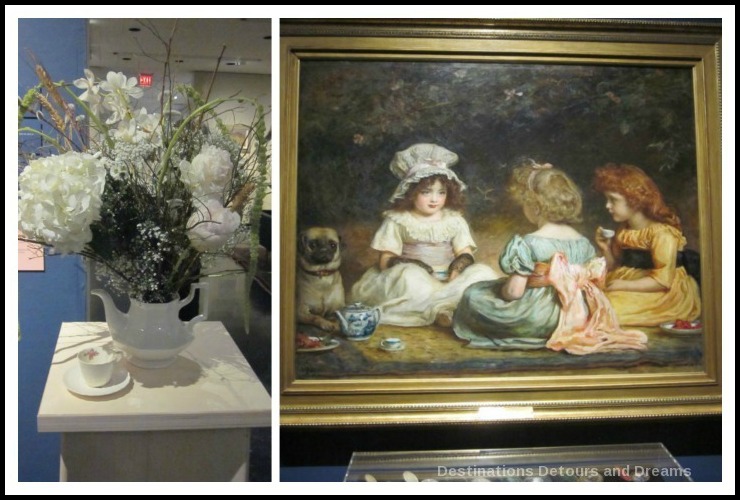 Other floral designs are less literal and capture the spirit and feeling of the work of art through the use of colour, shape and tone. House of Peace "Neighbours" interpreted Afternoon Tea by Sir John Everett Millais via a white arrangement in a tea pot.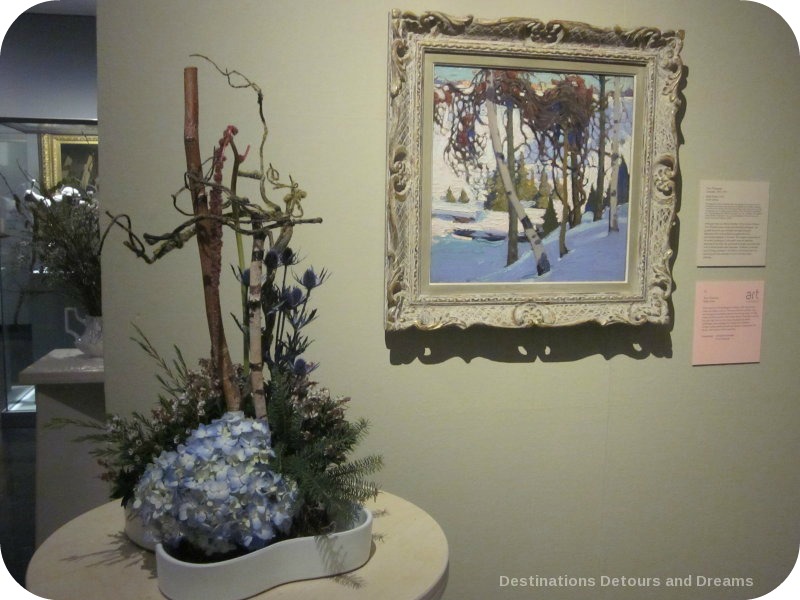 Early Snow by Tom Thomson was the inspiration for Christina Kowalec's design. Although Thomson was not an official member of Canada's famous Group of Seven artists, he was a close and influential colleague. Christina says Early Snow is a floral designer's dream with its dramatic lines and radiant colours.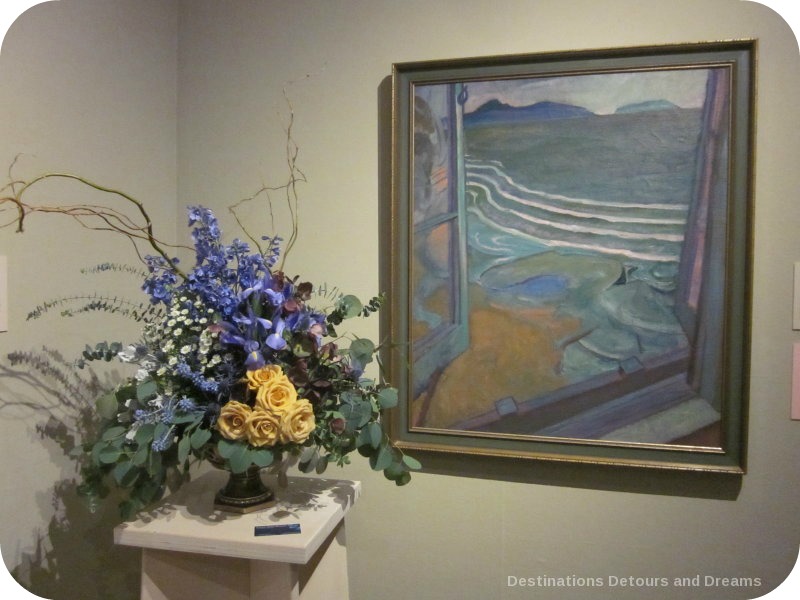 Sharlene Nielsen of Front Door Stories modelled her arrangement on View from the Artist's Bedroom, Jericho Beach by Frederick Horsman Varley. Sharlene says "the piece appears to be calming like the flow of the waves" and "the colours in the painting seem to be flowing together in a pattern." The colours in the floral display mirror that in the painting. A grey vase was chosen to pick up the grey tones in the painting.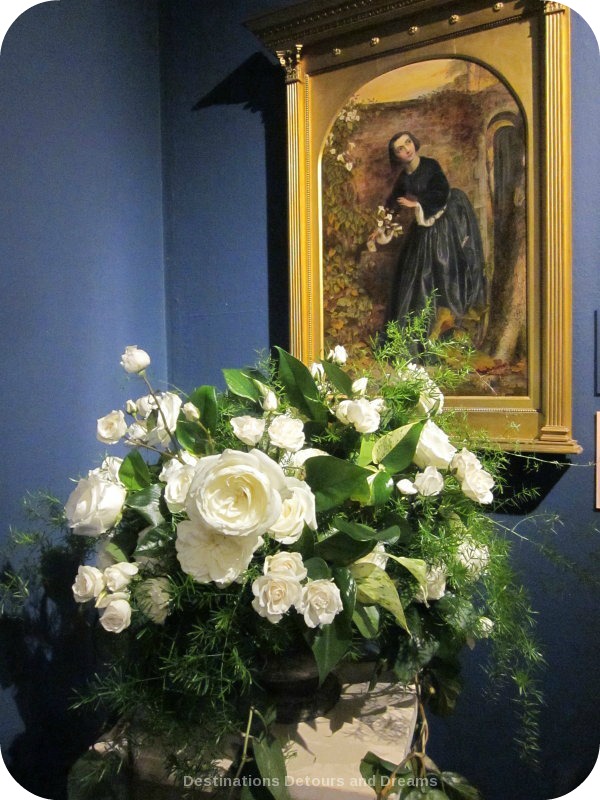 The Love Letter inspired a floral design by Lauren Wiebe of Stone House Creative. The artist of the painting is unknown but believed to have been a member of the Pre-Raphaelite Brotherhood, who commonly depicted innocent young women in the 1850s and 1860s. Lauren was drawn to "the attentive study of nature" in their work and aims to do the same in her floral designs. In this particular piece her aim was to "allow vines and plants to continue their growth, twisting and climbing out of the framed garden scene." Philodendron, epipremnum, sprengeri fern, and several varieties of white rose make up the arrangement.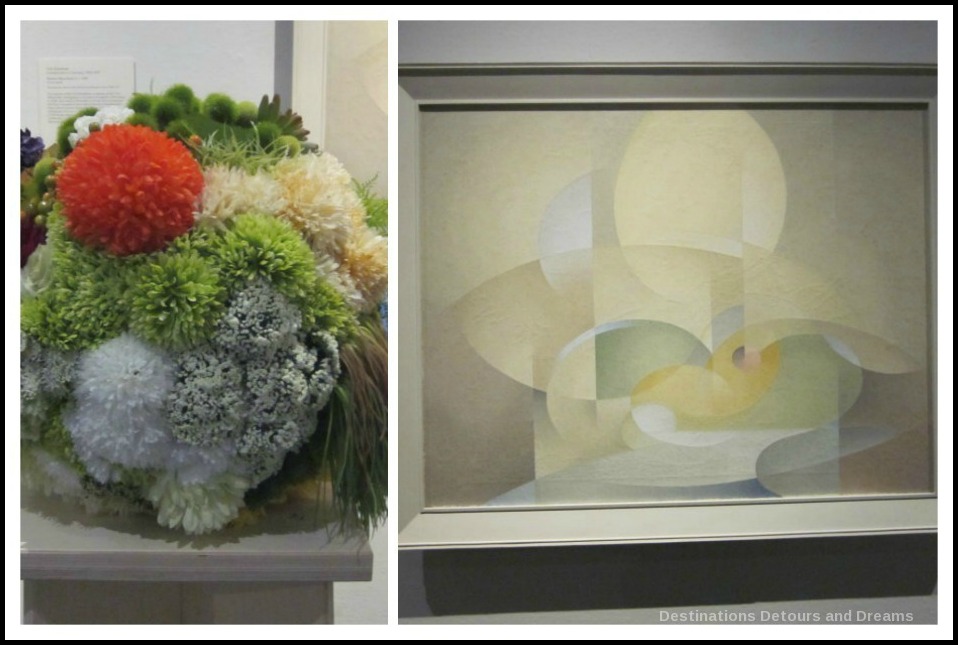 I found it interesting to see how floral designers interpreted more abstract works. Abstract: Green and Gold by Lionel LeMoine FitzGerald was the inspiration for Ewa Tarsia's floral display. Ewa was challenged and inspired by the painting's pale colour palette. She used artificial flowers because of a strong commitment to environmental sustainability. "The majority of commercial flowers come with a strong carbon footprint, grown with harmful pesticides, flown thousands of miles."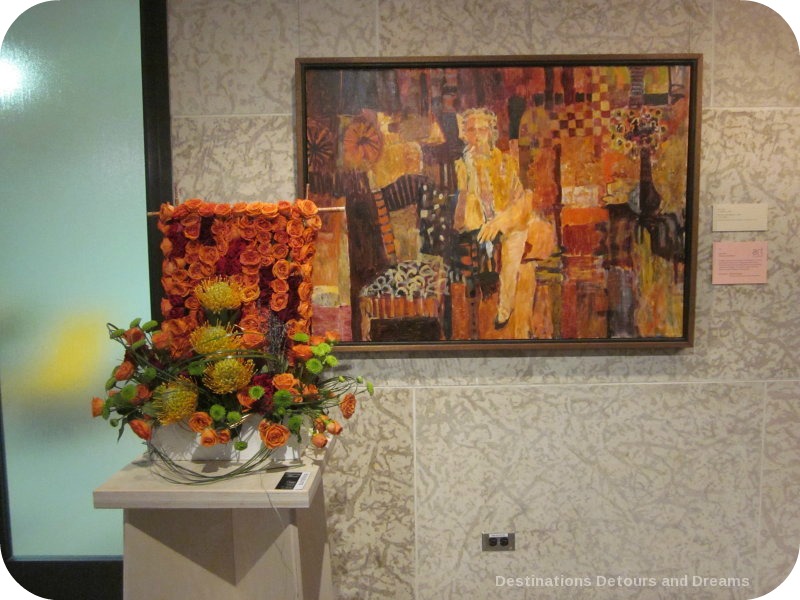 Bernice Klassen of Sunshine Greenhouse Floral Department created a floral representation of Ivan Eyre's Woman and Interior.  "Orange is the colour of courage," she says. Pincushion protea was used to represent the woman, denoting a long-lasting endurance of strength.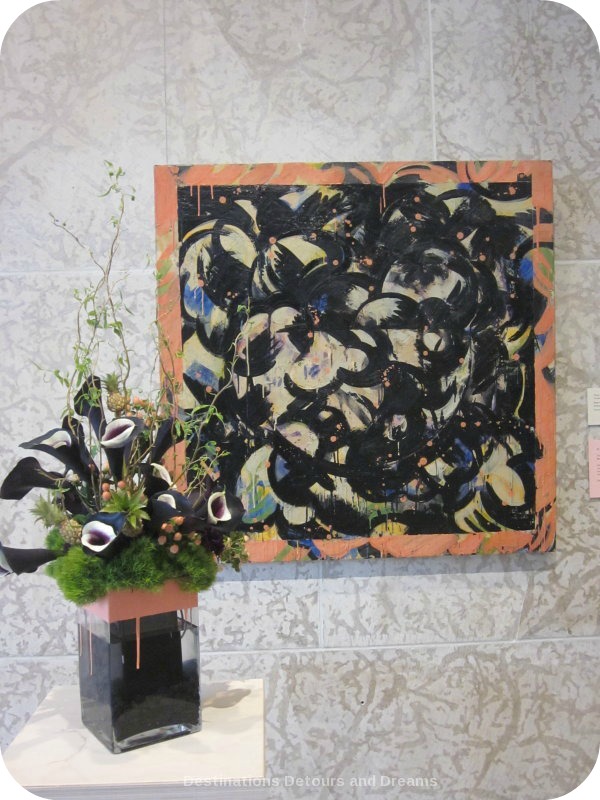 OTR Consultants used white and black calla lilies, iris, bupleurum and alsroemeria in their design inspired by Bowl of Fruit by Tony Scherman.
(Side note: Several walls at the WAG are the fossilized stone Tyndall Stone. It makes a good backdrop for the art. For more information about this stone, read my post Winnipeg and Tyndall Stone: Fossils and Architecture)
I enjoyed seeing (and smelling) the art interpreted in floral displays. I also liked watching other people's reactions. People were drawn to the floral displays themselves, impressed with the way designs captured the essence of the artwork, and inspired with new ideas for their own floral arranging.
There are about 60 floral arrangements at Art in Bloom. The Winnipeg Art Gallery describes the exhibit as a "festival celebrating spring, art and creative community." The exhibit is a happy, hopeful reminder of blooms to come on a weekend when winter is reluctant to leave, saying its final (I hope) goodbye with a light dusting of snow.
If you enjoyed this post, sign up for Destinations Detours and Dreams monthly e-newsletter. Get behind the scenes information and sneak peeks ahead in addition to a recap of the month's posts.  
PIN IT