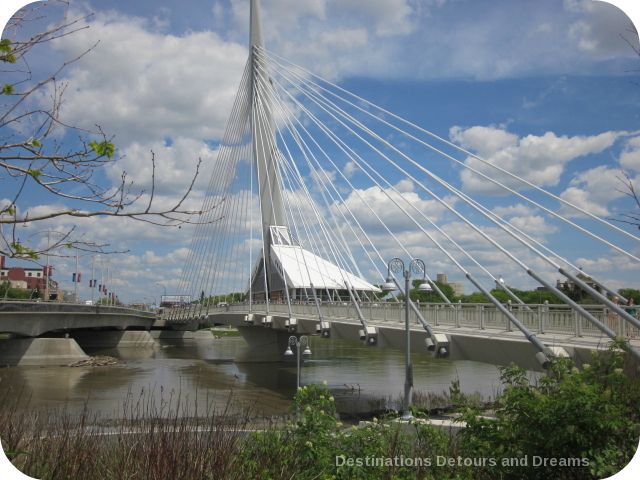 Winnipeg restaurant Mon Ami Louis offers French-inspired cuisine
on pedestrian bridge Esplanade Riel
(Last Updated August 2019)
Esplanade Riel, constructed in 2003, is a pedestrian bridge crossing the Red River and connecting Winnipeg, Manitoba's downtown with the St. Boniface area, known as Winnipeg's French quarter. The design is eye-catching, but there is something else unique about the bridge. There is a restaurant on it. I've read it is the only bridge in North America with a restaurant. 
Mon Ami Louis Brasserie Restaurant serves classic and contemporary French flavours. Mon Ami Louis, part of Wow Hospitality Concepts, which owns several Winnipeg restaurants, is open for brunch, lunch, and dinner through the summer months and available for rentals the rest of the year.
Mon Ami Louis opened in 2015 under the helm of Chef Luc Jean and featured menu items such as flamées, crêpes, and local fried fish. The menu has evolved since then and there is a new chef, Claire Snowball, but they continue to focus of French flavours.
I first ate at the restaurant shortly after it opened. The restaurant has a relaxed, comfortable feel. Service was quick (being early for the dinner crowd, the restaurant was not very busy) and the food was good. Prices are moderate.
One of the greatest appeals is the location. It was relaxing to look over the river as I ate (even if I had the occasional dizzy spell from watching the moving water).
Mon Ami Louis is the third restaurant to occupy this space. Running a restaurant on a bridge has its challenges. The $1 million cost to bring water, sewer, phone lines, and other fibre optics onto the bridge was the subject of some controversy during construction. The first was Salisbury House. Sals, as it is commonly known, is a Winnipeg chain known for its hearty breakfasts, burgers called "nips", and comfort food. After seven years on the bridge, the lease for that location was not renewed.  Other locations remain open in Winnipeg. Chez Sophie was the second restaurant. The owners closed up shop in under a year citing the "extraordinary expense relating to a restaurant on a bridge." The unique location did not get much business in winter months.
Mon Ami Louis has been open on the bridge for several years and hopefully the "brasserie sur la pont" will continue for many more years. It is a unique and beautiful location to relax and dine with friends.
PIN IT