A tea and chocolate experience at Silk Road Tea in Victoria, British Columbia
Update October 2022: Silk Road Tea remains open, although hours are currently reduced. See the website for hours. In-store workshops and events are currently suspended. Hopefully, when they return, the tea and chocolate pairing will be one of the offerings.
Silk Road Tea at the edge of Victoria's historic Chinatown has been creating organic teas since 1992. They also create skin and body products. The store was recommended to me by a friend, who said it was a different kind of tea store and an interesting experience. So, on a recent trip to Victoria, I booked a chocolate and tea tasting experience for my husband, my daughter and me at the store.
The bright and cheerful atmosphere of the store invited us to browse and linger. But before we spent time looking around, we headed to the tasting bar.
Our tea and chocolate experience included three different teas, each paired with a different organic chocolate. We were told to sample the tea and let it warm our entire mouth before we sampled the chocolate. We were not to chew the chocolate, but rather to place it on our tongues, press to the roof of the mouth and let it melt. You get a lovely rich chocolate taste throughout the mouth.
All Silk Road tea blends are created by founder and Chief Tea Ambassador Daniela Cubelic. She is an accomplished tea master who was trained by Chinese and Taiwanese herbalists and tea masters.
Pairing # 1
The first tea we sampled was Hoji-cha, a roasted Japanese tea subtitled Quiet the Mind. It had a smooth, slightly nutty taste which I quite liked. The chocolate was Sirene caramelized white. White chocolate is not my favourite, but I liked the caramel undertones in this bar. Sirene Artisan Chocolate Makers hand craft small batches of direct trade chocolate in a custom workshop in Victoria.
My daughter is lactose intolerant and has a soy allergy. Because this bar contained milk products, she skipped it. Fortunately, she was able to enjoy the other two chocolate tastings.
Pairing #2
The second tea was Royal Abhkazi, a black tea subtitled Tea of Refinement. This blend of Indian, Ceylon and Chinese black teas, mixed with bergamot essence and vanilla beans and essence, was made for the Abhkazi Garden in Victoria. Proceeds benefit Abhkazi Garden, a project of the Land Conservancy of B.C. This was my personal favourite of the three teas we tasted.
Royal Abhkazi was paired with an Askinosie 70% dark chocolate bar made with cocoa beans sourced directly from farmers in San Jose Del Tambo, Ecuador. Askinosie Chocolate, based in Springfield, Missouri, was created by a former lawyer yearning for a different career. He studied all he could about chocolate and began making bean-to-bar chocolate. I am a dark chocolate fan. This bar was quite nice.
Pairing #3
Tea number three was Berry Victoria, a black tea subtitled Westcoast Summer Oasis. It contains black tea, rose petals and bergamot, and is infused with coastal berries and vanilla bean. The tea had a nice flavour, but was too sweet and fruity for my liking.
Berry Victoria was paired with a 70% Cru Virunga from Original Beans. The bar is described on the company's website as "hints of Morello cherries, earthy chocolate and black tea." It was also good. I couldn't decide which of the two dark chocolates I liked better.
Original Beans is a Dutch Company based in Amsterdam. They make chocolate from organic cacao sourced directly from farmers. As part of their "One bar: One tree" program, they pay farmers an extra amount for each bar sold. The amount is on on top of what they pay for the cacao. Then they make sure the extra amount is used for planting trees, both cacao and neighbouring shade trees. Original beans is available throughout Europe at select stores and via their online store. Their product may be a little harder to find in North America, although I discovered that a few stores in Victoria and Vancouver stock their chocolate. My friend and chocolate travel writer Doreen Pendgracs recently wrote an interesting article about the company called 5 Reasons to Love Original Beans Chocolate.
The range of teas in the shop includes blends designed to promote wellness, such as the Allergy & Hay Fever Defense Tea, Winter Warrior Wellness Tea to fight colds and flus, and the Detox Wellness Tea. The shop is self-serve. Customers help themselves to tins in sizes of their choice, fill them with tea, and affix a Silk Road label to the top. The larger tins from which they scoop the tea have recipes posted on the outside in addition to the details of the tea blend. For example, Berry Victoria had two recipes. Berries and Cream Slushie calls for the blending of a cup of steeped tea with ice and soy, almond or coconut milk. Coastal Berry Punch is made with chilled Berry Victoria tea and cranberry juice. You can add a kick with gin. The Zen Master recipe on the Hoji-cha tin involved mixing tea with equal parts apple, pear, or grape juice. More recipes can be found on Silk Road's website.
Silk Road also carries a range of organic, herbal skin and body care products, essential oil diffuser blends, teaware, and chocolate. They schedule workshop and classes with topics as varied as making tea jelly, making bath sachets, and nutrition strategies.
In addition to the store in Victoria's Chinatown, Silk Road Tea has outlets in Victoria Public Market and in Vancouver. The Chinatown store also has a spa featuring tea-inspired spa treatments using Silk Road skin care products. Something to keep in mind for my next visit to Victoria.
PIN IT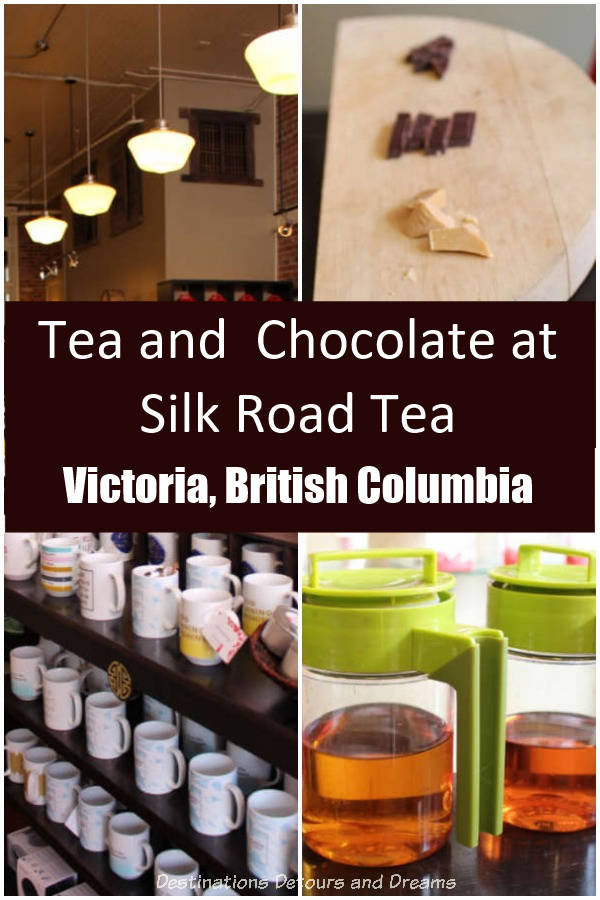 If you enjoyed this post, sign up for Destinations Detours and Dreams monthly e-newsletter. Get behind the scenes information and sneak peeks ahead in addition to a recap of the month's posts.