Destinations Detours and Dreams
Travels with a happy heart
Travel stories from near and far told through narrative, photographs and personal reflection. Well-known attractions, off-the-beaten-track treasures, and the unexpected.
Check our destinations
I've explored extensively at home and have lots of suggestions for things to see and do in and around Winnipeg, Manitoba, Canada.
I've discovered many attractions during winters and other visits in Arizona, USA.
Other destinations I love to return to include Vancouver Island and England. Check All Destinations for information on these and other places in Canada, the United States, the Caribbean, Mexico, Panama, and Spain.
Welcome
I'm Donna Janke, a writer from the Canadian prairies and creator of Destinations Detours and Dreams. I love to explore wherever I am and share the stories I find.
Destinations Detours and Dreams contains travel stories about popular attractions and hidden gems told through a combination of narrative, photos, and personal reflection with attention to detail and a focus on culture, history, art, architecture, nature, and food.
More
Check out city/area guides and the travel tips section.
Destinations Detours and Dreams got its start when I began documenting our snowbird experiences when my husband and I started spending winters in a warmer location. Check out our snowbird story.
Latest from the Blog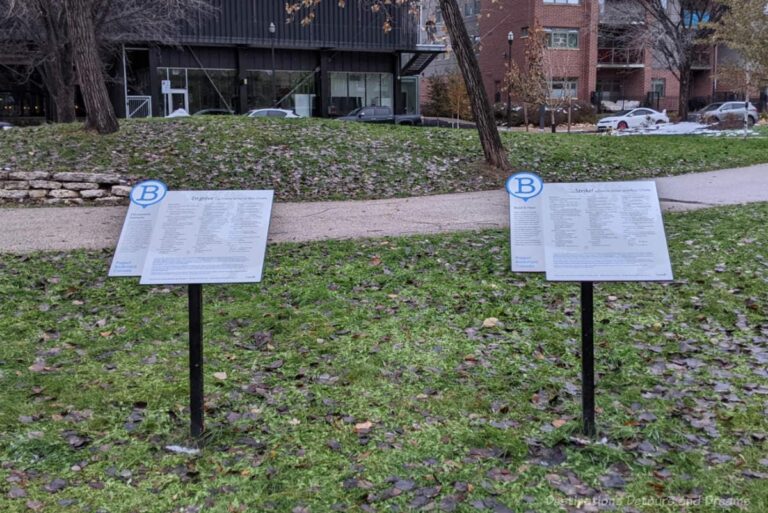 Project Bookmark Canada's CanLit Trail markers in Winnipeg, Manitoba, Canada – where real and imagined landscapes meet