Guidebooks and Trip Planning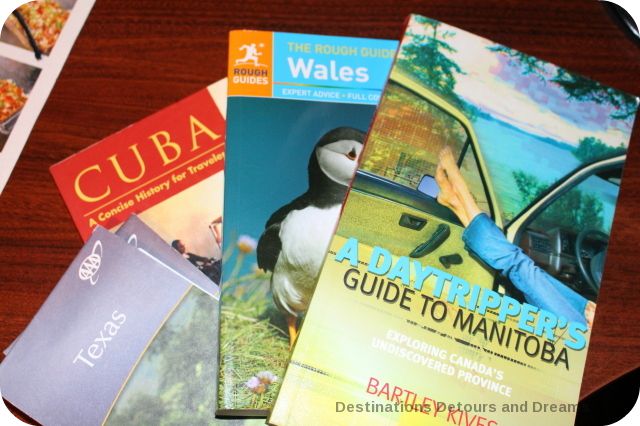 Resources for planning travel have changed over the years
I enjoy planning a trip almost as much as the travel itself. I may not create a detailed itinerary, but do create lists of what I'd most like to see. I like to learn a bit about the background and history of the place before experiencing it for myself.
Not that many years ago, I relied mostly on guidebooks for trip planning. I requested information and brochures to be mailed to me by tourism bureaus. I used advice of friends who'd travelled to or lived in my destination. Once I reached the destination, I picked up pamphlets and brochures at airports, tourism offices, and hotels.
I still pick up brochures at airports, tourism offices, and hotels. (I get brochures in my home city too, so I can explore at home.) I still use guide books, but not quite in the same way. I like the historical and cultural background they provide as well as basic logistics. When I visited Barcelona two years ago, my sister and I used self-guided walking tour information from two guidebooks. It was a wonderful way to discover the city. (In order to have the information handy without lugging books with us as we walked, I ripped out the relevant pages and carried those, much to the chagrin of my niece and her friend, who were appalled at such wanton destruction of books.)
These days, the Internet is my main trip planning resource. Tourism offices now have websites. No need to have information shipped to you. Major guidebooks also have Internet sites, although I still use paper versions at times. Most guidebooks cover only the major attractions and provide just the most basic and minimal details. Increasingly, I rely on blogs and travel articles. They tend to provide more detail, including personal impressions. They may cover worthwhile but lesser-known attractions. I follow several travel bloggers and bookmark or save information in a spreadsheet about places I find particularly intriguing.
I turn to the Internet to find accommodations, using search engines and online maps. I check reviews on sites such as Tripadvisor to help in my selection. It is helpful to read what others thought of the place, especially with regard to cleanliness, but the online reviews can be a double-edged sword, sometimes making the selection more difficult and time-consuming. It is next to impossible to find a place without any negative reviews (people can be hard to please). I've had times when I've thought we can't stay anywhere. But eventually, I do make a selection. And have discovered some delightful places to stay, like the Bella Vista de Tucson in Tucson, Arizona.
With so much information now available at our fingertips, there is a risk of spending too much time in preparation. It is good to allow time at your destination to discover and be surprised. I like to plan (some might say over-plan), but still keep options open to deviate from well-thought-out plans to explore something unexpected. I appreciate all the information the Internet has to offer, even when it sometimes seems overwhelming and requires sifting.
What resources do you use to plan travel?