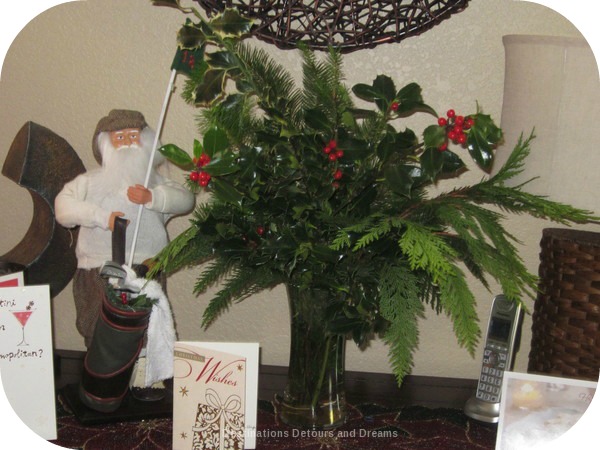 The good and not-so-good about of our first snowbird Christmas and New Year

We have been living in our winter rental home in Mesa Arizona for over three weeks now. Busy the last couple of weeks with holiday festivities and family visits, we are only now starting to settle into a routine. I cannot tell you yet what our routine will look like, assuming we do settle into one, but I will share highlights of the past couple of weeks.
Some were not so good

but most were pretty fantastic


Our daughter was here for two weeks. We enjoyed our time together.

The chorale cantata at Spirit of Joy Lutheran Church December 23

$1200.00 in car repairs because the "Service Engine Soon" light came on during our drive to Arizona. Two sensors and a gasket needed replacement. The broken gasket resulted in the car leaking oil and necessitated an oil change. Of course, the parts to be checked were not easy to get at, increasing labour costs.

Viewing Christmas lights in a well-decorated neighbourhood and at the Mesa Temple

One antler of the reindeer car decoration blew off on the way to my brother-in-law's for Christmas dinner. We arrived with just the red nose and one antler.

Rousing family games of Taboo

The Apache Trail

New Year's Eve at my brother-in-law and sister-in-law's place. Fourteen people on the covered patio, patio heater on, tarp wound tight around the patio to keep the heat in, sounds of intermittent fireworks in the distance. It was a chilly night, dipping to freezing, but we were toasty warm and comfortable, feasting on a wonderful selection of appetizers and snacks.

Wood fire in the patio table fire pit

Hot tub at the community pool.. Aaahh!

Two and half hours in a clinic 25 minutes away one Sunday afternoon when my daughter's sore throat and cough got worse. Fortunately, her strep test came back negative, and Blue Cross, her travel insurer, has been helpful.

First Thursday of the month appetizers and drinks in community pool area

My Albertan sister-in-law and brother-in-law having to cancel their visit because of illness. Hope to see them later in the winter.

Food – Mexican at Asi Es My Terra, pizza at Organ Stop Pizza while listening to and watching the Wurlitzer organ player, Del Taco fish tacos, Cold Stone, and delicious home-cooked meals

Walking the dogs

Laughter, family, friends
I hope your holiday season was more fantastic

than not so good

.