Afternoon Tea High Above London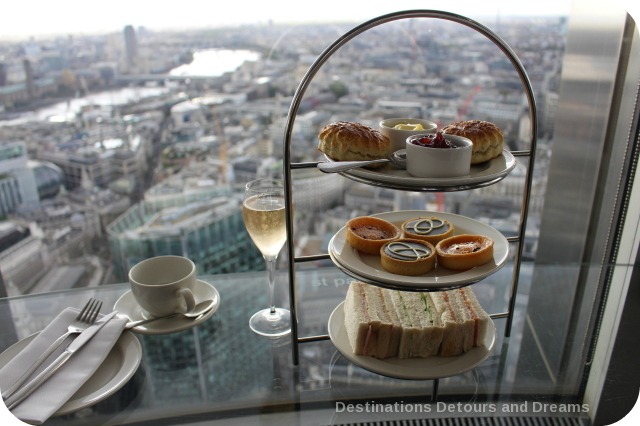 Tea with aerial London views from the 42nd floor at Vertigo 42 Champagne Bar
Update November 2021: It appears that Vertigo 42 is now closed, either permanently or temporarily. There are a couple of other places in London to enjoy afternoon with a fantastic view of the city: Aqua Shard on the 31st floor of The Shard and OXO Tower Restaurant on the 8th floor of the OXO Tower.
Afternoon tea is a "must-do" for many travellers to England. In my recent, very busy trip to England and Wales, I almost didn't squeeze in time for afternoon tea. Until my friend took me for tea at Vertigo 42, in the heart of the City of London.
Vertigo 42 is a champagne bar located 590 feet up on the 42nd floor of Tower 42. It offers an almost 360 degree view of London from its counters along windows spanning the bar. It serves champagne, wine, and a tapa-style menu. And afternoon tea.
First came the glasses of champagne. Followed by a tiered tray of tea sandwiches (cucumber and watercress, ham and mustard, smoked salmon), pastries, and scones with clotted cream and jam. We finished with tea and coffee.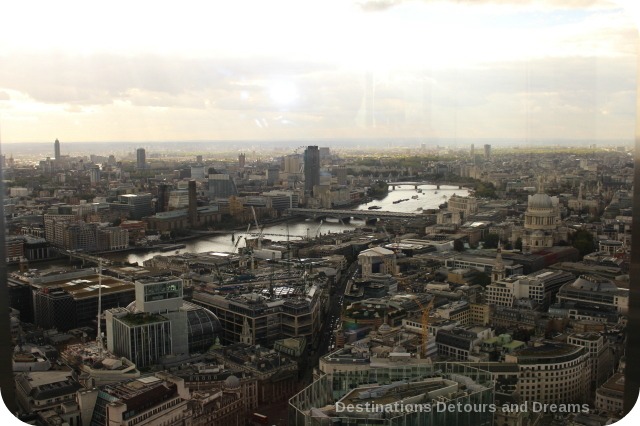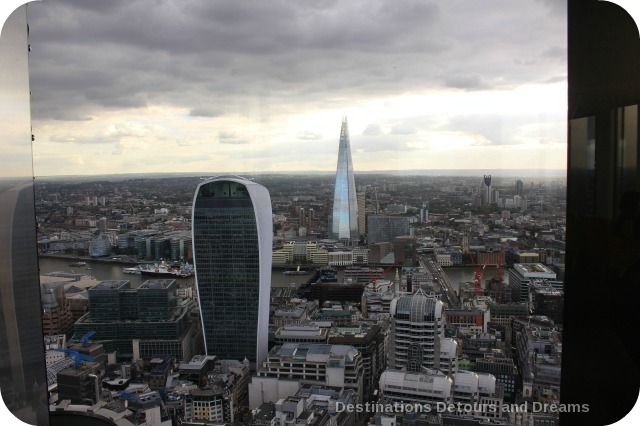 Outside of the United Kingdom, many people refer to afternoon tea as "high tea", but afternoon tea and high tea are actually two very different things. The English began drinking tea in the 18th century and sometime during the 19th century, afternoon tea became popular with the upper class. It was the bridge between meals. The evening meal was often not eaten until 8 pm or later and afternoon tea became a "mini-meal." It was also known as "low tea", because the food was served on low tables next to sofas, or "cream tea", because of the scones and clotted cream that were often served. It was a different situation with the working classes. When the workers returned home at 6 pm, they were famished and ate their evening meals at that time. Their evening meals became known as "high tea" or "meat tea." Neither the upper classes nor the working classes experienced their versions of tea as high up as my afternoon tea at Vertigo 42.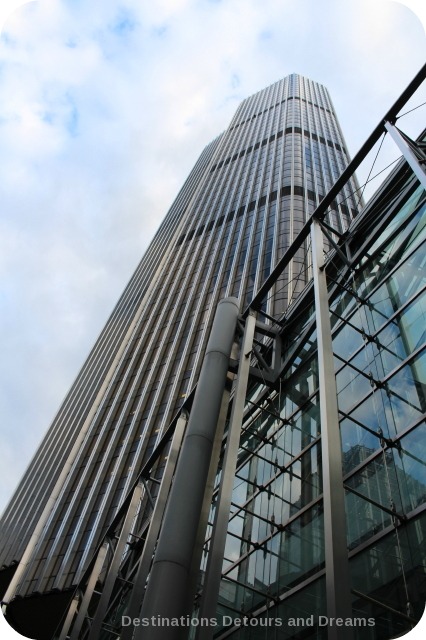 Tower 42 was originally built between 1971 and 1980 as the National Westminster Tower to house National Westminster Bank's international division. It was the first skyscraper in the City and remained the City's tallest building until 2009. Today it is the third-tallest building in the city and the eighth-tallest in greater London. Seen from above, its shape resembles the NatWest logo, three chevrons in a hexagonal arrangement.
As I enjoyed my afternoon tea and took in the views of London, I was struck by how many tall cranes dotted the landscape. More towers are being built.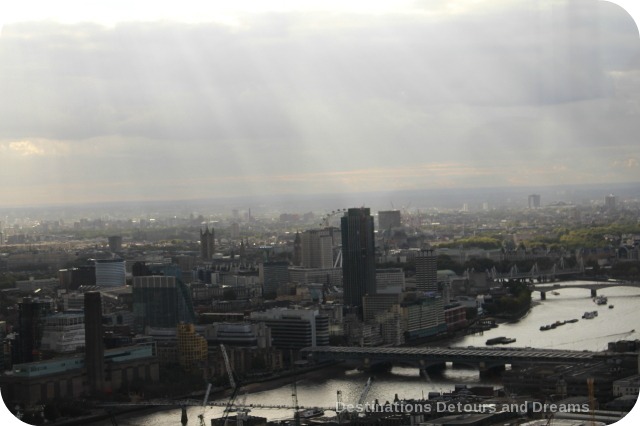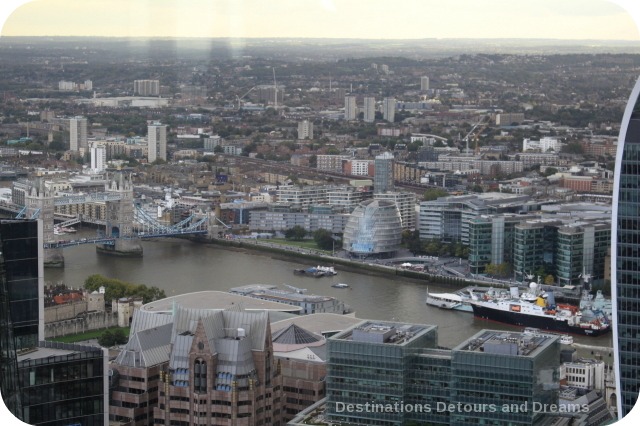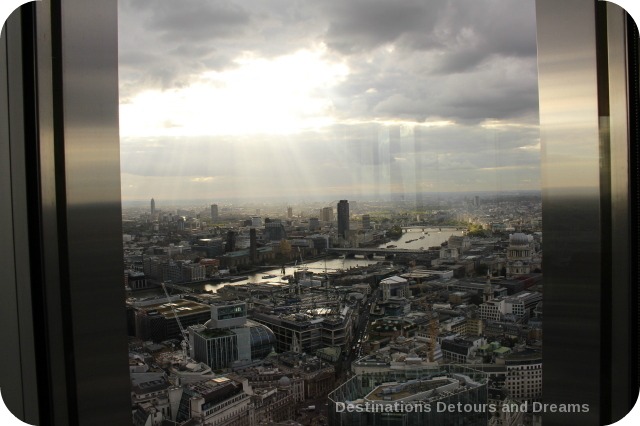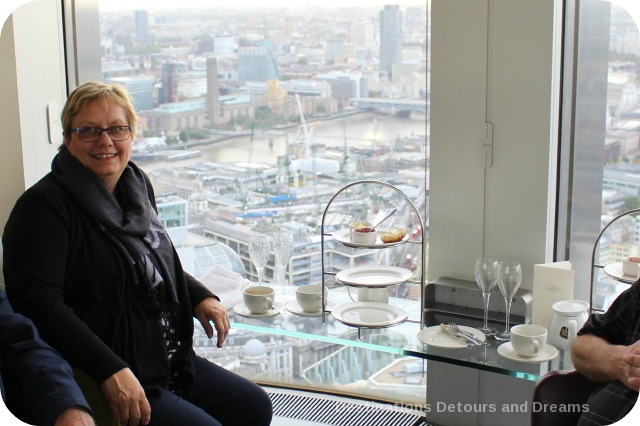 Afternoon tea is an event on its own. Add in the views of London and it is nothing short of spectacular.
PIN IT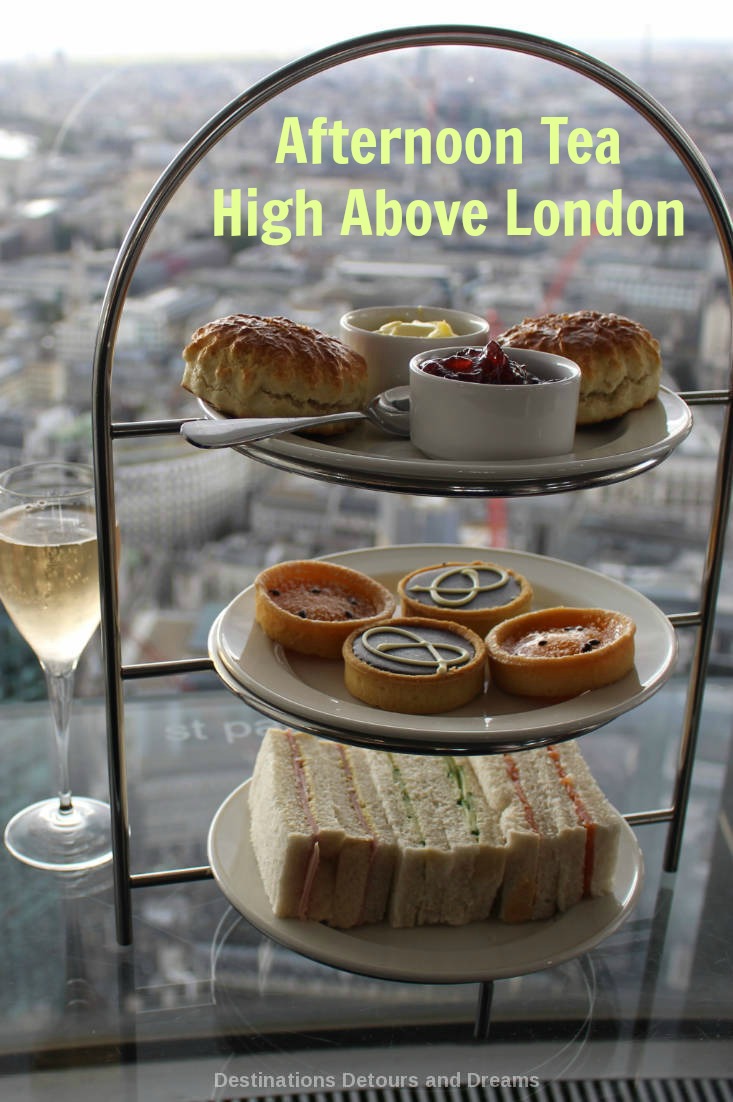 If you enjoyed this post, sign up for Destinations Detours and Dreams monthly e-newsletter. Get behind the scenes information and sneak peeks ahead in addition to a recap of the month's posts.