Magical Beauty at Chihuly Garden and Glass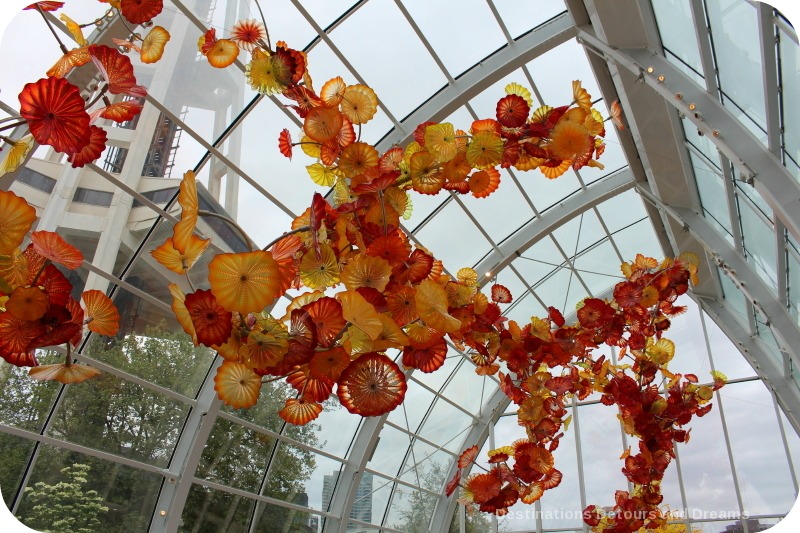 The glass-blown works of art by Dale Chihuly at Seattle's Chihuly Garden and Glass Museum
I am a big fan of Dale Chihuly's glass art. My visit to the Chihuly Garden and Glass museum in Seattle, Washington was a delight.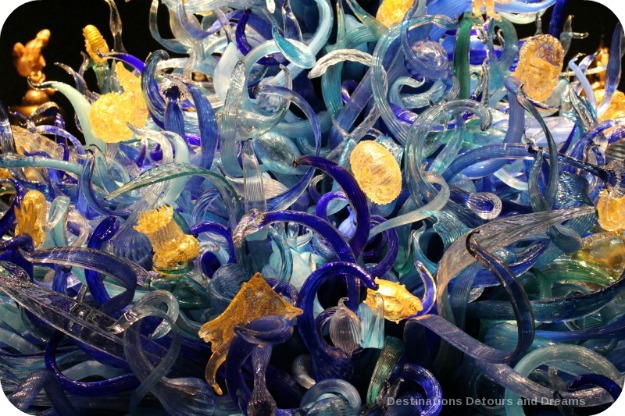 Dale Chihuly was born in Tacoma, Washington in 1941. He became interested in glass while studying interior design at the University of Washington. After graduation he enrolled in the first glass program in the United States at the University of Wisconsin. He continued studies at Rhode Island School of Design and established their glass program.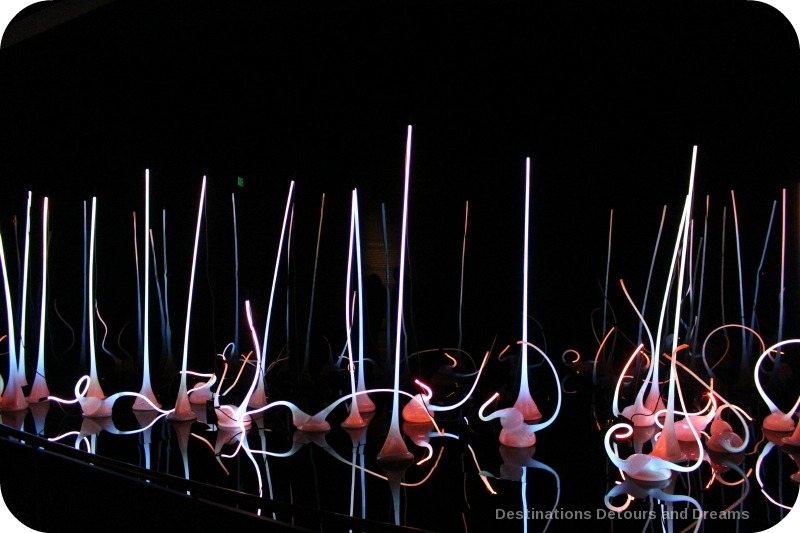 In 1968, with a Fulbright Scholarship, Chihuly was the first American invited to work at Veneni glass factory in Venice. The team work he saw there greatly influenced his own approach. In 1971, he co-founded the Pilchuk Glass School in Stanwood, Washington. Today, his works are found in over 200 collections across the world. He has received numerous awards.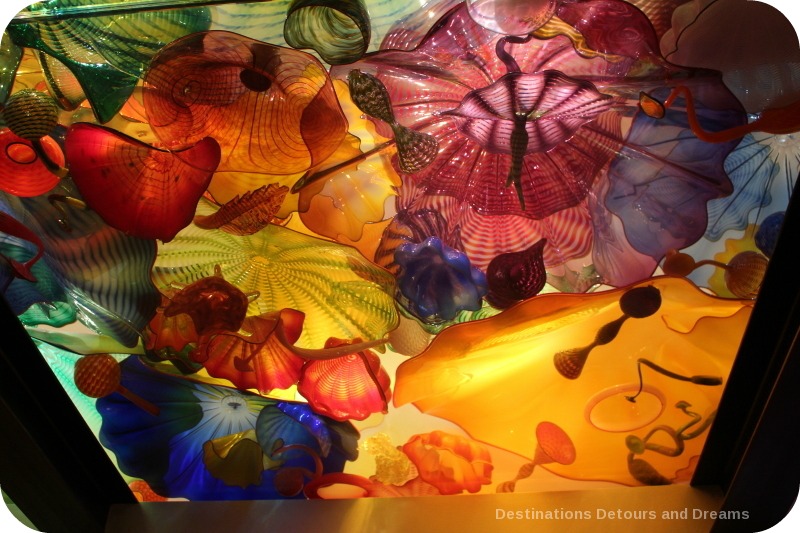 Not only does Garden and Glass contain a great selection of Chihuly's work, it has a great deal of information about the evolution of his art and his techniques.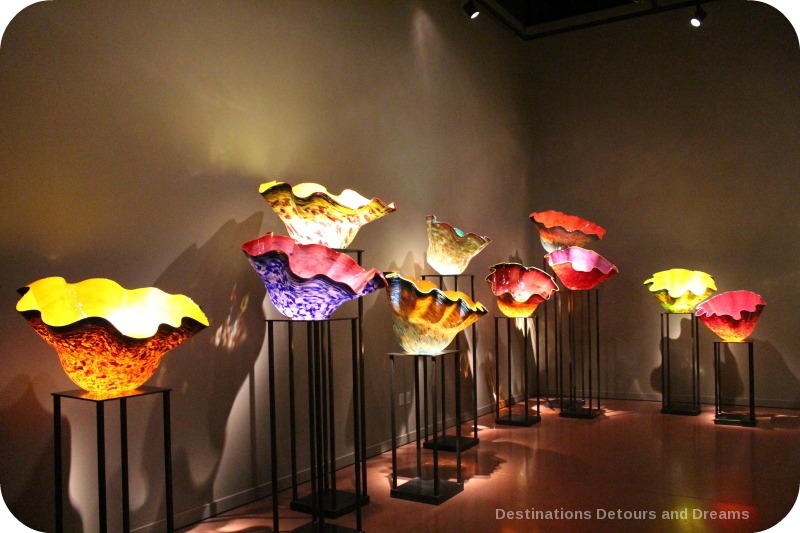 The Macchia Forest series grew out of the desire to use all 300 colours available in the hotshop. Chihuly noticed that glass panes looked more clear and vibrant against a cloudy sky. In the Macchia series, he separated interior and exterior colours with a white layer.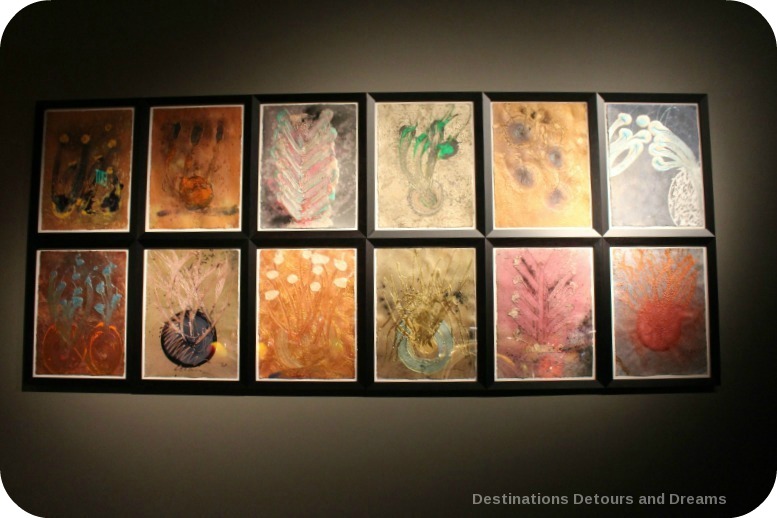 After losing sight in one eye and dislocating a shoulder, Chihuly relinquished his gaffer role and began drawing to communicate his vision to the team.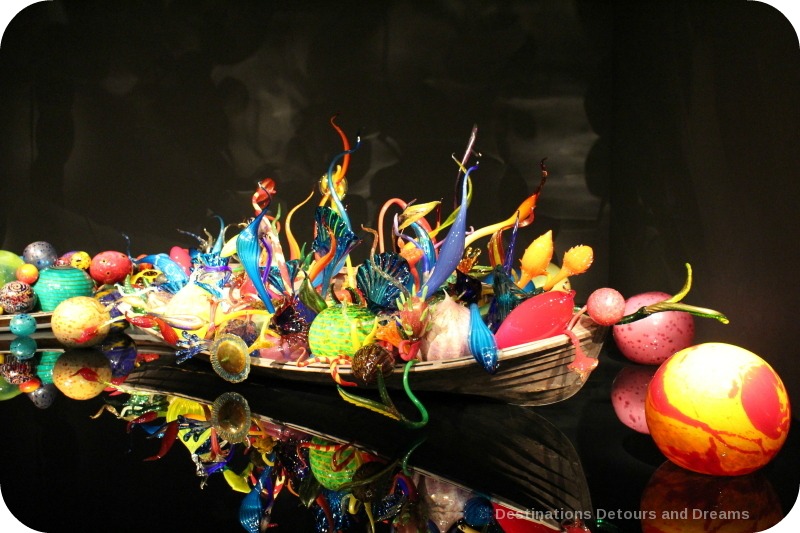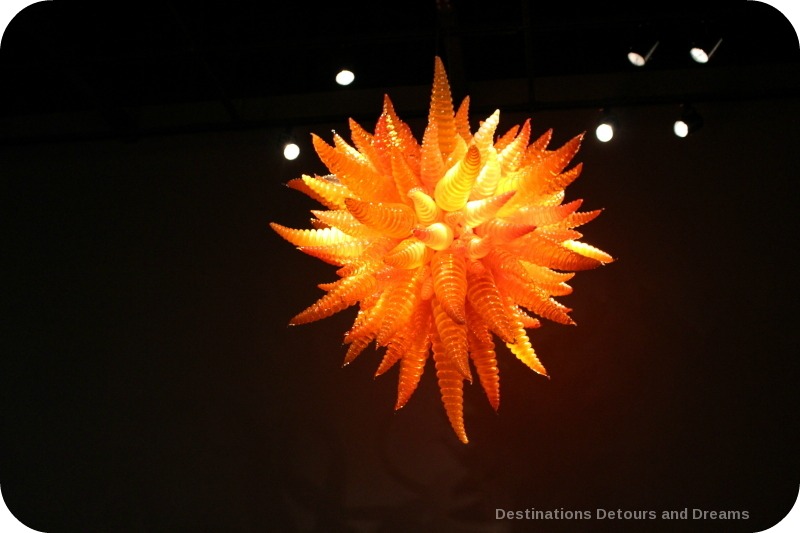 Chihuly presented his first Chandelier piece at a 1992 exhibition at the Seattle Art Museum. He continued work on the Chandelier series for many years. One of the most notable exhibitions was the 1995-1996 Chihuly Over Venice show, where thirteen chandeliers were hung in outdoor spaces across the city of Venice.
Preparing for the Chihuly Over Venice show was the topic of one the short films I watched in the theatre at Garden and Glass. I gasped and held my breath as I watched Chihuly and his team toss large beautiful balls of blown glass over a bridge railing into the water below, where they would float to their installation destination. I admit I often bypass film showings in museums. I am so glad I didn't bypass this one and highly recommend visitors take the time to watch the short films. (There were five of about four minutes each.) The films show the making of some amazing exhibits and feature Chihuly talking about the exhibits, his art and his approach.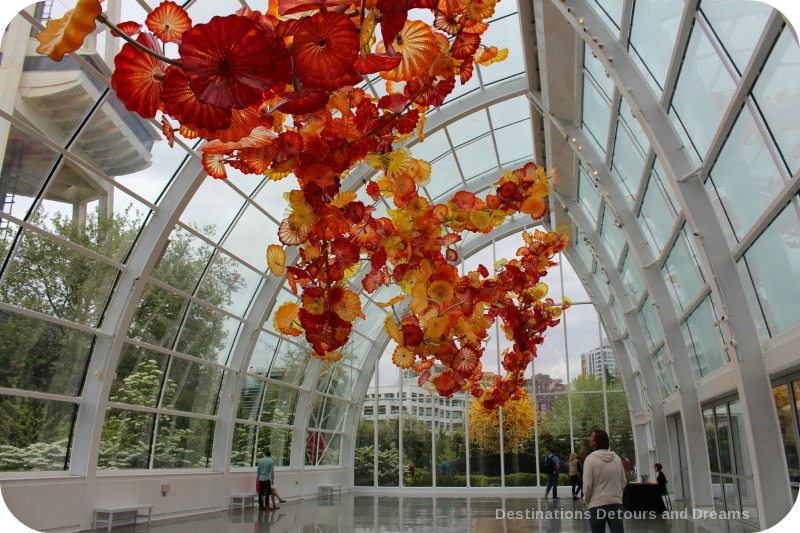 The centrepiece of Chihuly Garden and Glass is the Glass House. It is 40 feet tall and occupies 4,500 square feet. The sculpture on the ceiling is 100 feet long, one of Chihuly's longest suspended structures.
Glasshouses come in many beautiful sizes and shapes and are some of the most incredible buildings in the world. When you walk through them, you feel peaceful and inspired. ∼Dale Chihuly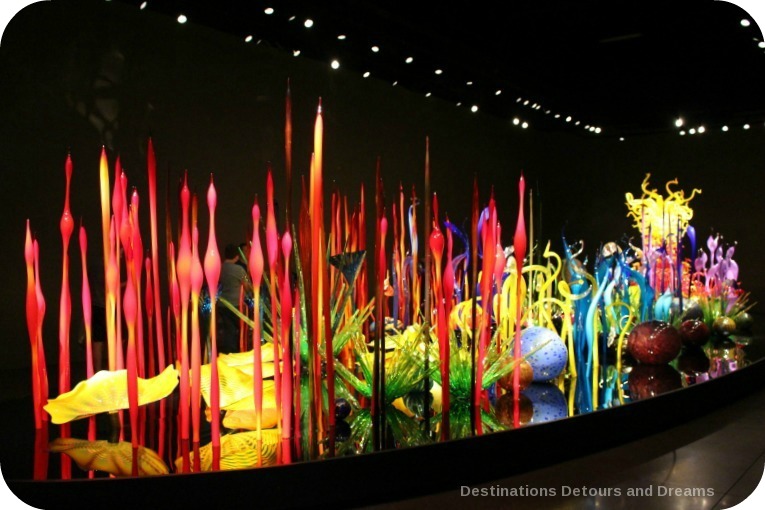 Chihuly said memories of his mother serve as inspiration for his "gardens of glass". In one of the short films I watched he talked about his love of nature. He said that nature was the most perfect setting for his art. Outside the Glass House, the rooftop garden proves that statement.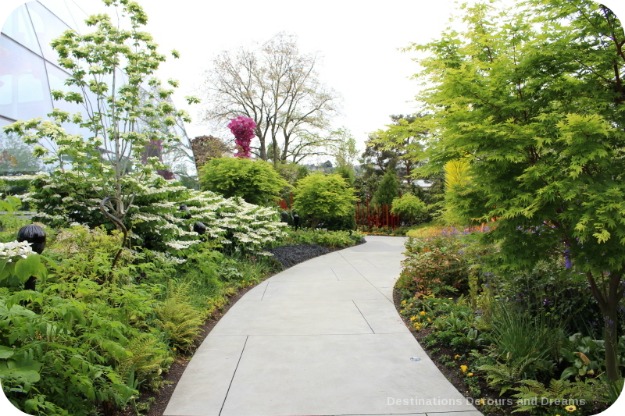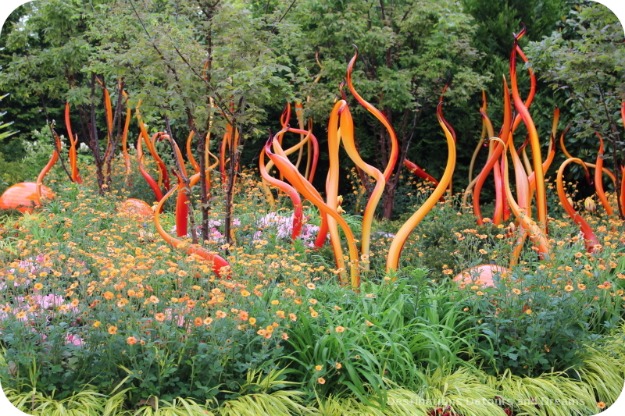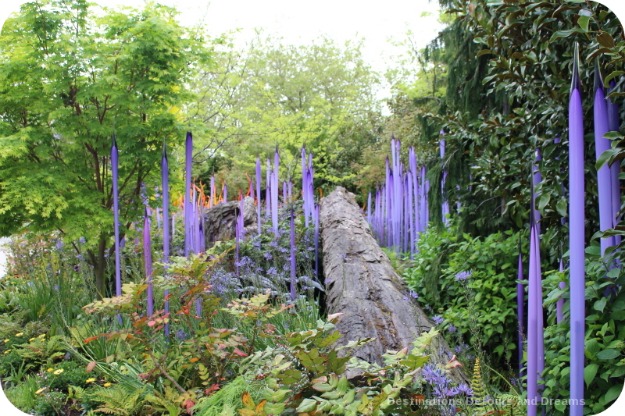 Chihuly Garden and Glass is located next to the Space Needle at Seattle Center. It is open daily. The Glass House is occasionally closed for private events. Special event closure information can be found on the Garden and Glass Visit Us page. For opportunities to see Chihuly's work in other locations, check this list of permanent and temporary exhibitions.
The magic is in the light. ∼Dale Chihuly
PIN IT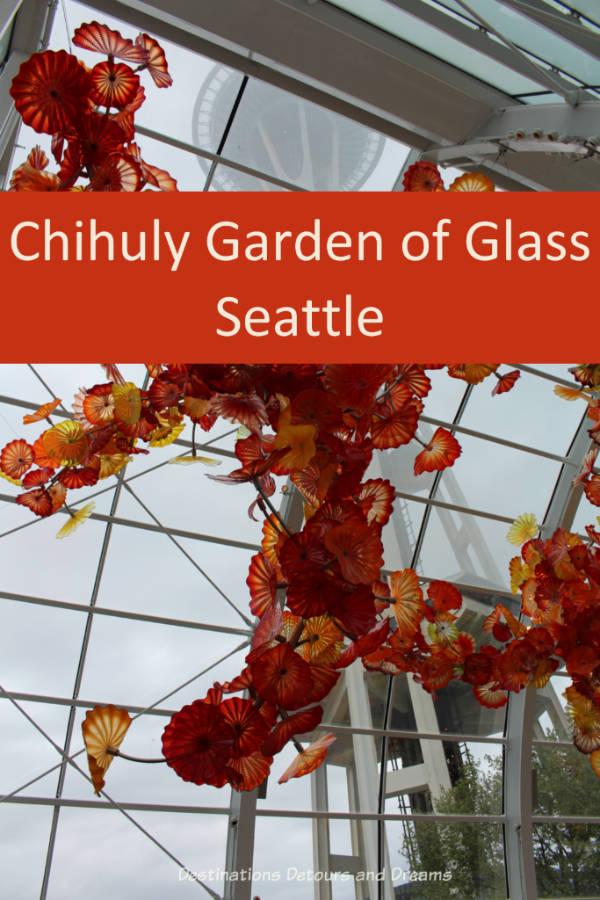 Never miss a story. Sign up for Destinations Detours and Dreams free monthly e-newsletter and receive behind-the-scenes information and sneak peaks ahead.