First Fridays in the Exchange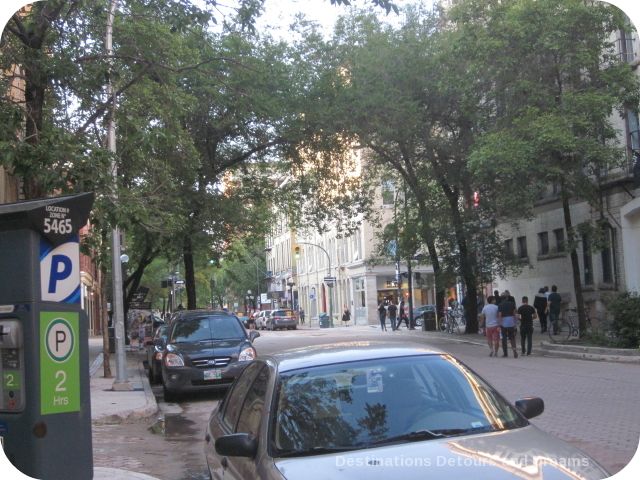 Touring artist studios and talking to artists in Winnpeg's historic Exchange District
First Fridays in the Exchange is an event occurring in the Exchange District of Winnipeg, Manitoba on the first Friday of the month. From 5 to 9 pm, artists open their studios to visitors and some of the unique shops in the area extend their hours.
Winnipeg's Exchange District is a national historic site which boasts many historic spots and heritage buildings, dating from the late nineteenth and early twentieth centuries. Many of these buildings now house artist studios.
While its is exciting to discover new artists and see their work, much of the appeal of First Fridays centres around the interaction with the artists. A good friend and my daughter accompanied me on my most recent First Friday evening. Regular readers of my blog know I usually include a number of photographs with each post. Because many artists do not like people photographing their work, I choose not to even ask about taking photos and instead concentrated on talking to the artists and viewing their works. If you are interested in seeing the art, you may want to mark one of the future First Fridays on your calendar.
We started at Cre8ry, a shared studio space, where artists rent working space and create amidst the company of other artists. The main exhibition area housed a show by Erik Baker entitled Imagine All The People, a show featuring portraits of famous persons. In the various studio rooms, we found a number of artists and a variety of art types. Mixed media, glass work, jewelry, pottery, and paintings.
In one small studio, the artist asked us which of her pieces hanging on the wall we were drawn to most and why. It was an interesting way to engage us and get us thinking about her work. I gravitated toward her geometric paintings. It may have been the colours which pulled me in as much as the shapes. My daughter favoured a softer nature and sky scene. And my friend picked yet a different favourite. The artist then directed us to three of her paintings, where she had challenged herself to work only with her palette knife. She said it had been tempting at times to pick up her paintbrush, but the palette knife gave the painting an entirely different feel.
We learned than an artist in one of the other spaces was from a town over an hour away. She maintained studio space here and attended openings to increase exposure.
In the rugged basement of another building, we found an artist co-op. The room at one end was occupied by a sculptor who used pieces of scrap metal and junk. With all the bits and pieces in his studio, it looked a bit like a junk yard itself. He was not present that evening. Another artist in the co-op showed us around and pointed out the sculptor's latest works, an interesting collection of figures based on Greek mythology. My friend asked if the sculptor drew his designs on paper before starting to create. The answer was no. The artist showing us around said he'd seen the sculptor sit and stare for hours at the stuff in his studio, almost as if overwhelmed with the material to work with.
The middle section of the space was used by sculptors working in stone. A display highlighted the stages in the process, from the raw stone to initial chiseling to final sanding and smoothing. We were told the most common stone used is soapstone because it is the easiest to work with. We asked two of the sculptors if they had a design in mind before they started or if they let the stone speak to them as they worked. The answer was a bit of both. After learning more about the stone sculpting process, I have an increased respect for the amount of work involved and understand the price tags associated with this type of art.
Artists working in clay occupied the room at the other end of the basement space. Amid their work on display was a collection of expressive faces.
In addition to artist studios, traditional galleries were also open. Some offered snacks and wine. We stumbled upon a special show by a talented, abstract artist using vivid colours and geometric forms. One gallery even expanded into the neighbouring alley, where art hung on building exterior walls, snacks sat on tables in the centre, and a musician performed at one end.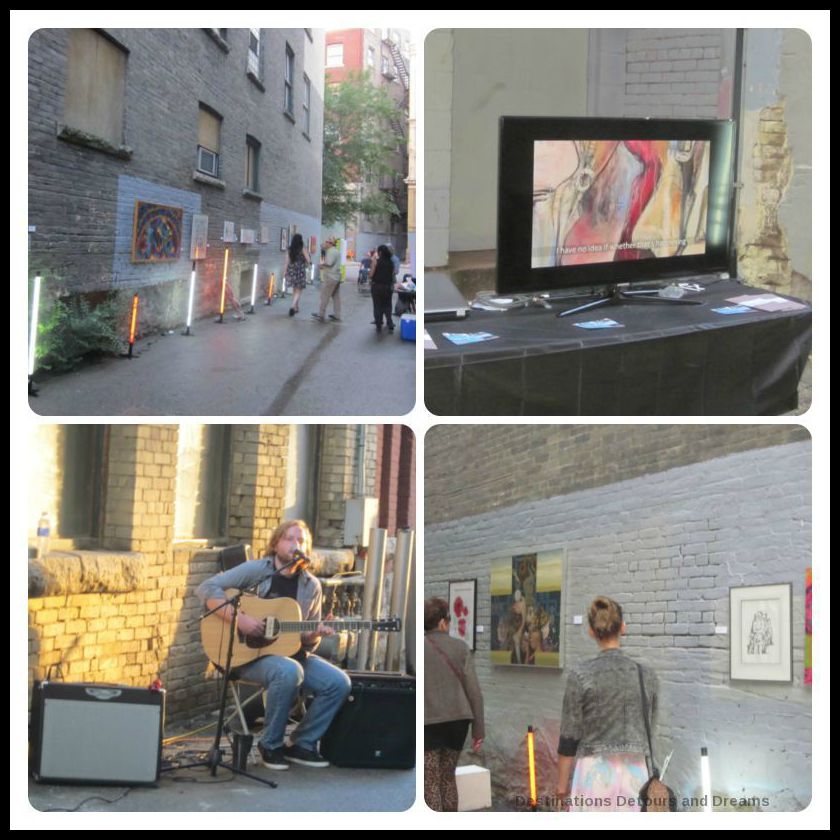 The First Fridays website lists which studios are open on a given Friday. The tour is self-guided and free. The Winnipeg Free Press News Cafe hosts dinners and moderated talks by a local artist on First Fridays. There is a charge for that and reservations are required. There are a number of other cafes in the area, where one can stop for refreshment before, during, or after the tour.
Have you attend First Fridays or a similar artist open-house event? What did you like best?