Winnipeg Exchange District Ghost Signs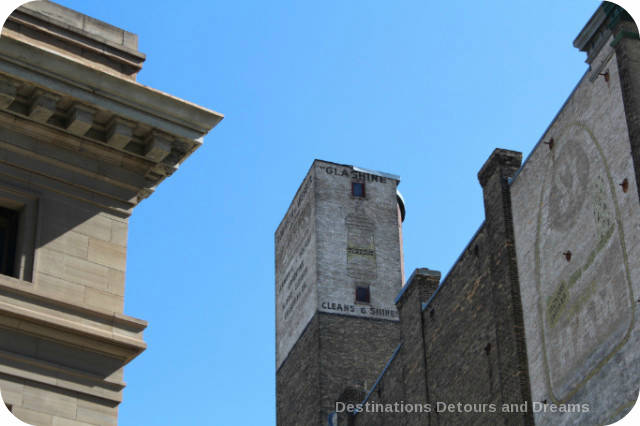 Faded painted advertisements on buildings in Winnipeg's historic Exchange District tell stories of the past
This article is not about signs indicating the presence of ghosts or paranormal activities. It is about ghost signs, hand-painted advertising signs preserved on the outside of old buildings. These ads, also known as fading ads or brick ads, were prevalent from the 1890s to the 1960s.
A large number of ghost signs can be found in Winnipeg's Exchange District. The Exchange District is one of the best-preserved early 20th century commercial districts in North America. It contains 150 buildings spread over 20 blocks and was named a National Historic Site in 1997.
I've been interested in these signs for a while and learned more about them when I took a walking tour with Matt Cohen, who has spent much of his free time over the last few years researching the fading signs of the Exchange.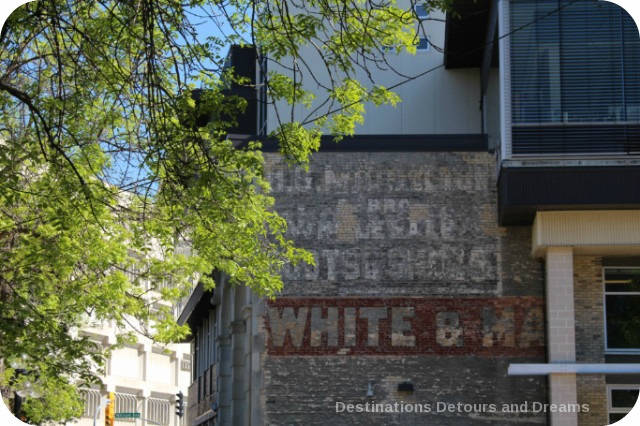 Initially signs were primarily text. Later, images of the products being promoted were used.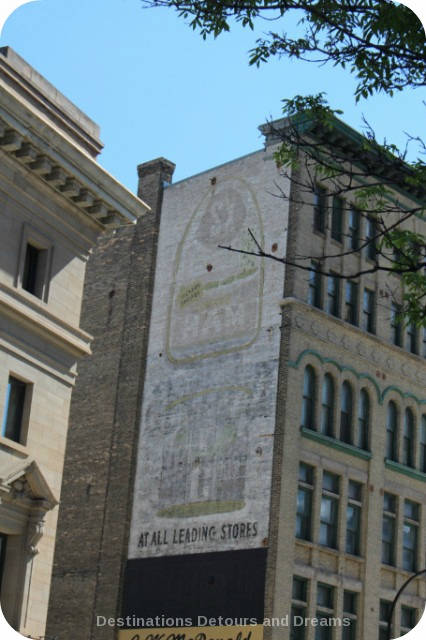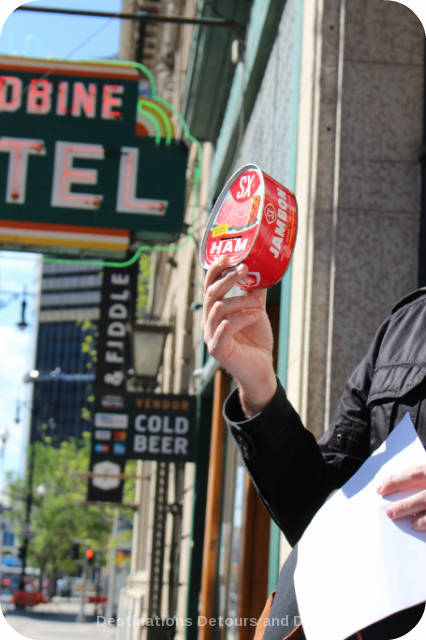 Why are so many of the ads still visible? Many are on brick buildings and brick is porous. The original paint used was oil-based and strongly adhered to brick. Most paints contained lead. Signs would be painted over, sometimes just to refresh the existing ad, sometimes to place a new ad. Over time, the original ad sometimes began to show, "ghosting" through what was painted over it.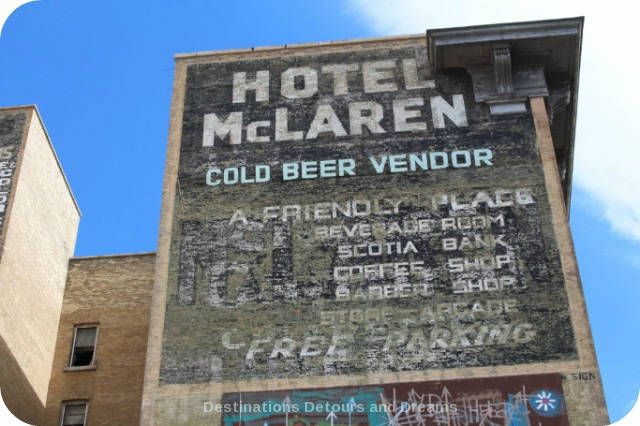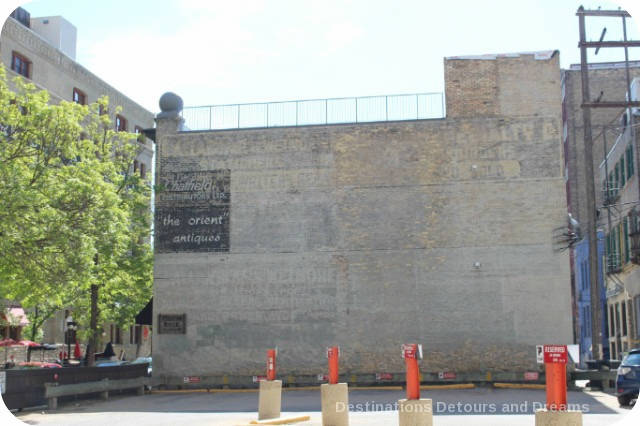 The signs speak to the commerce of the time and give added insight into history.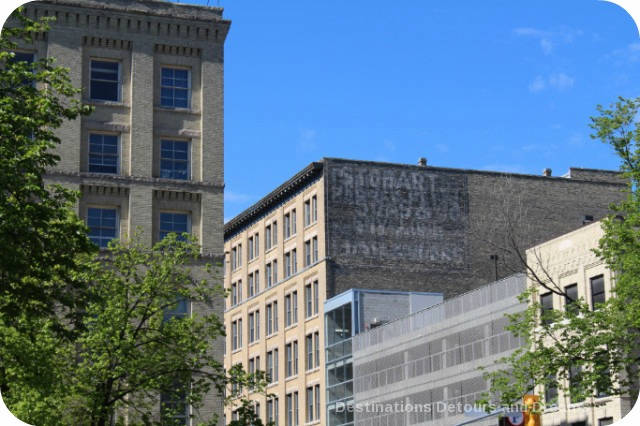 English coal merchant D.W. Stobart  started a wholesale dry goods operation in 1899. In 1903, he branched into manufacturing and trademarked his own "No. 1 Hard" brand of overalls and work shirts. In 1914, he opened his own mail order business called the Christie Grant Company, which operated until 1922. Eventually, the company became Stobart, Sons and Company, operating in Winnipeg until 1939.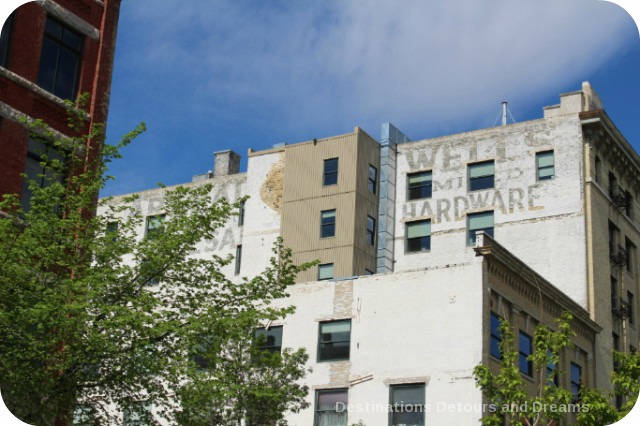 Marshall-Wells Hardware Company, based in Duluth, Minnesota, expanded into Winnipeg in the 1890s, first by having a one man representative, then with the construction of a warehouse on Bannatyne Avenue. They built the warehouse on Market Street (shown in above photo) in 1905, extending the property a year later and adding four storeys in 1912. They operated out of that building until 1956, when they relocated to an industrial area in west Winnipeg. In 1957, Canadian holdings were sold and the company became Marshall-Wells of Canada. Through a series of acquisitions and mergers, the Company's name and trademark were eventually lost when parent company Cochrane-Dunlop, who had bought the chain from the Hudson's Bay Company, went into bankruptcy in 1988.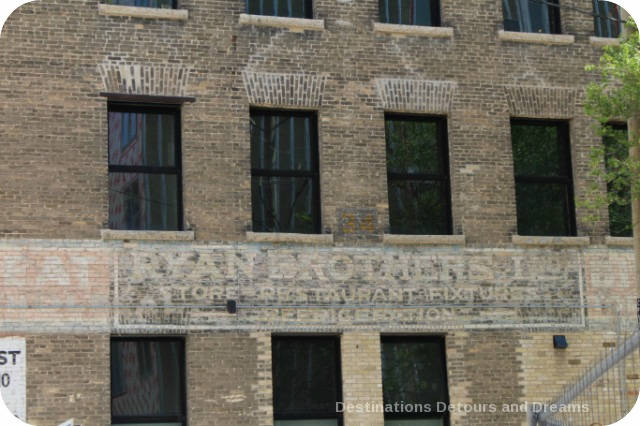 Ryan's Brothers Ltd was formed in 1906. It started as a dry goods operation and diversified into refrigeration and store fixtures. The company stopped operating in 1954 when founder George Ryan retired. Barely visible in the photo above is gold numbering above the sign. The number "34" marks a stop on what was once a spur rail line in Winnipeg's east Exchange area, allowing warehouses to easily get goods to the main rail line. The spur line numbers remain more visible on other buildings in the area.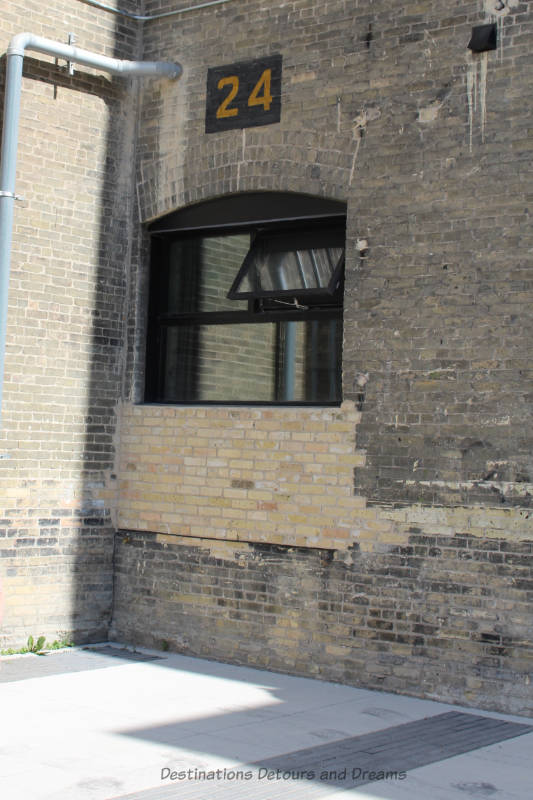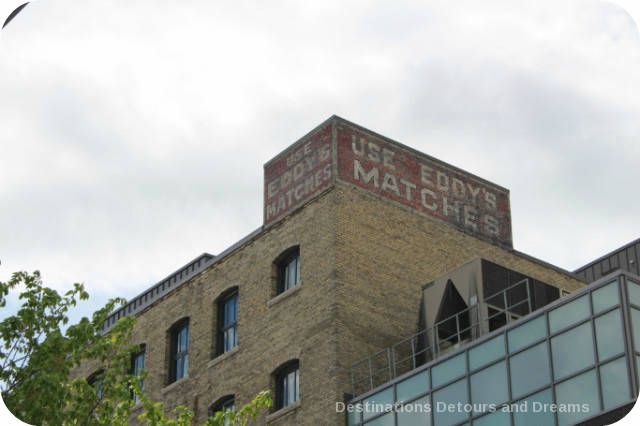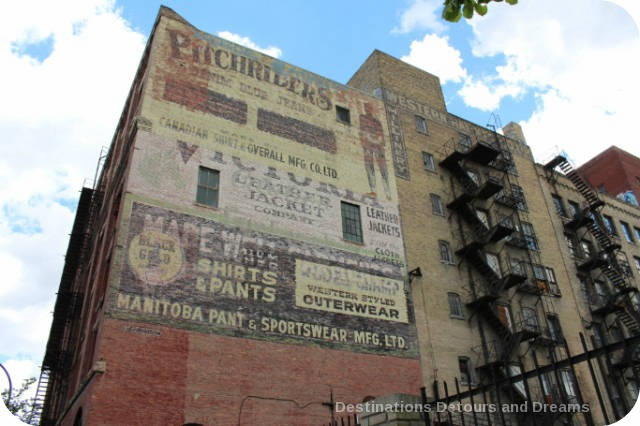 Under many of the ads, you can find a smaller sign, which at first glance may look like faded street names. They contain sign painter company names. It was common for the sign painting company to "sign" their work. Matt told us you can find many of the same company names in other cities in western Canada.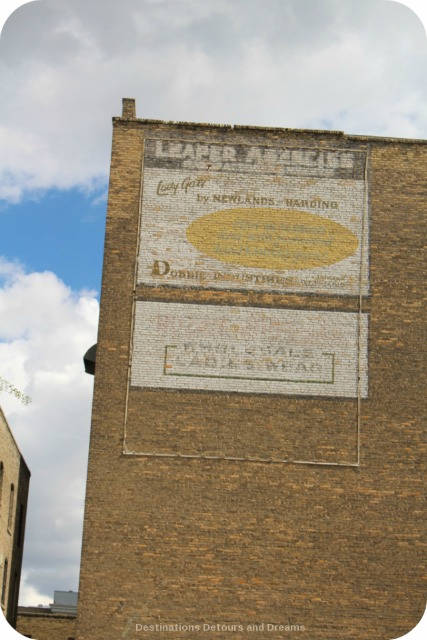 Eventually it became cheaper to create vinyl signs and attach the already prepared signs to the buildings. They didn't last as long, but they were cheaper to create.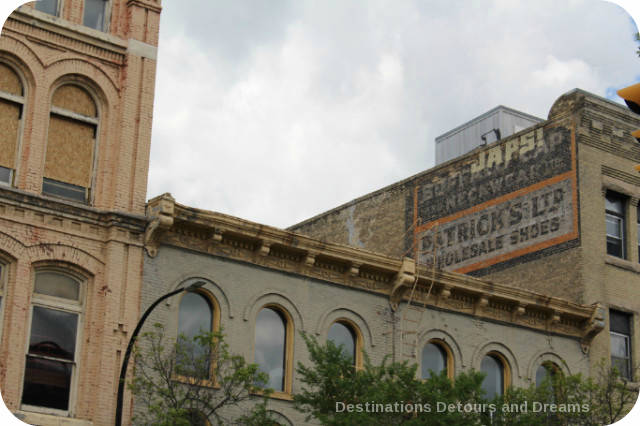 Patrick's Footwear was founded in the 1930s. They sold shoes and boots to the public at wholesale prices. They operated out of the building above at 222 McDermot until 1957 when the business moved and renamed itself Canadian Footwear. Canadian Footwear is still in operation. The yellow "JAPS" lettering is not part of the sign. It is graffiti. While some may be offended by the presence of graffiti on ghost signs, Matt told us it didn't particularly bother him. The signs themselves represent a point in time and someday will fade out of existence. The graffiti also represents a point in time.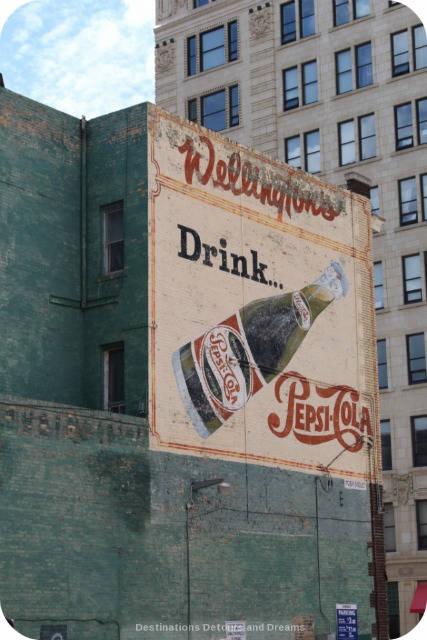 Although the Pepsi sign in the above photograph features a 1940s style bottle, the sign was actually painted in the 1980s, so it is not a ghost sign. Or is it? What makes a sign a ghost sign? The 1980s are now almost four decades in the past.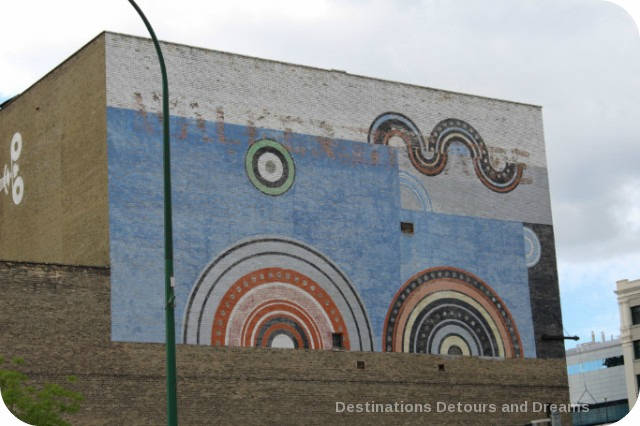 Ghost signs may remain on buildings because of past neglect, with no one bothering to paint over them. Today, they are often retained for their nostalgic value. Sometimes, ghost signs are discovered during demolition or renovation of a building, when a wall that was boarded over or covered is uncovered. Ghost signs exist in other parts of Winnipeg, but the greatest concentration is in the Exchange District. Painting over the signs on the buildings within the bounds of the National Historic Site is not allowed, although one can hang a detachable sign over a ghost sign. Red River College's Patterson Food Institute created controversy when they did that and covered up a faded blue Royal Bank of Canada sign.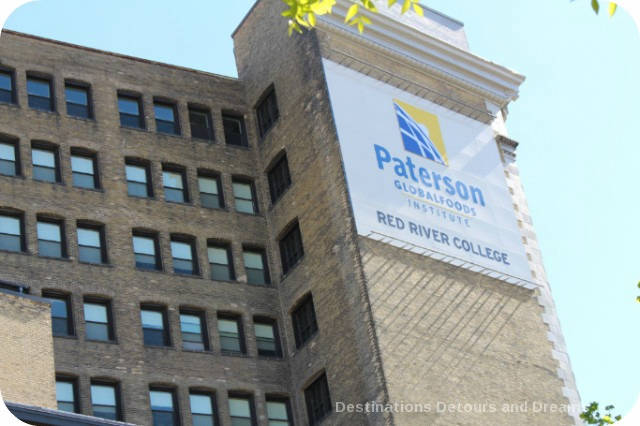 In 2016 Matt Cohen spoke at TEDx Winnipeg. His six and half minute Hiding in Plain Sight: Uncovering History through Ghost Signs talk can be viewed online.
Next time you are walking through an historic district or are among older buildings, you may want to look up to find the ghost signs.
If you enjoyed this post, sign up for Destinations Detours and Dreams monthly e-newsletter. Get behind the scenes information and sneak peeks ahead in addition to a recap of the month's posts.  
PIN IT