Feast on Foot in Winnipeg's Exchange District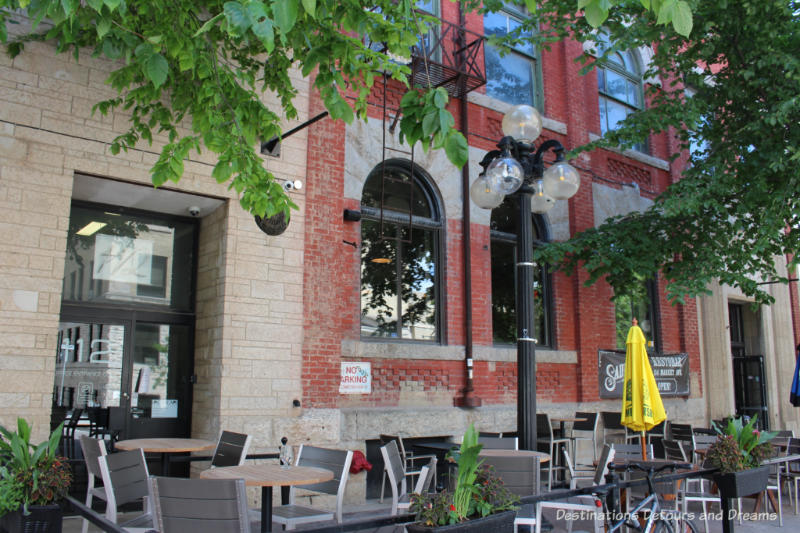 A sampling of restaurants discovered on a food tour in a historic district in Winnipeg, Manitoba, Canada
Restaurants featuring ethnic food, local Manitoba ingredients and standard North American fare are all part of Winnipeg, Manitoba's thriving food scene. A 2014 Huffington Post article said "Winnipeg might just be Canada's best-kept food secret."
Good restaurants are found throughout the city, but the historic Exchange District has more than its fair share. The Exchange District is a 30-square-block area only a few blocks north of the current downtown. It features a large collection of heritage buildings dating from the 1880s to 1920 when a booming Winnipeg was known as the "Gateway to the West" and "Chicago of the North." The entire area is designated as a National Historic Site of Canada.
Today, many of these buildings house galleries, artist studios, boutique shops and restaurants. Many of the city's most popular restaurants, bars and cafés can be found here. Foods tours offered by the Winnipeg Exchange District Biz provide a fun way to sample the food in a few restaurants.
On the Winnipeg Exchange BIZ's 2018 Savour the Exchange tour, I visited La Carnita, The Saddlery on Market and Corrientes.
La Carnita
La Carnita is housed in what was built as a Bank of Toronto Building between 1905 and 1907. It is located on the west side of Main Street between McDermot and Bannatyne Avenues, a block known at the time as "Banker's Row." A bar and tables sit amid original panelled walls and columns of white Italian marble.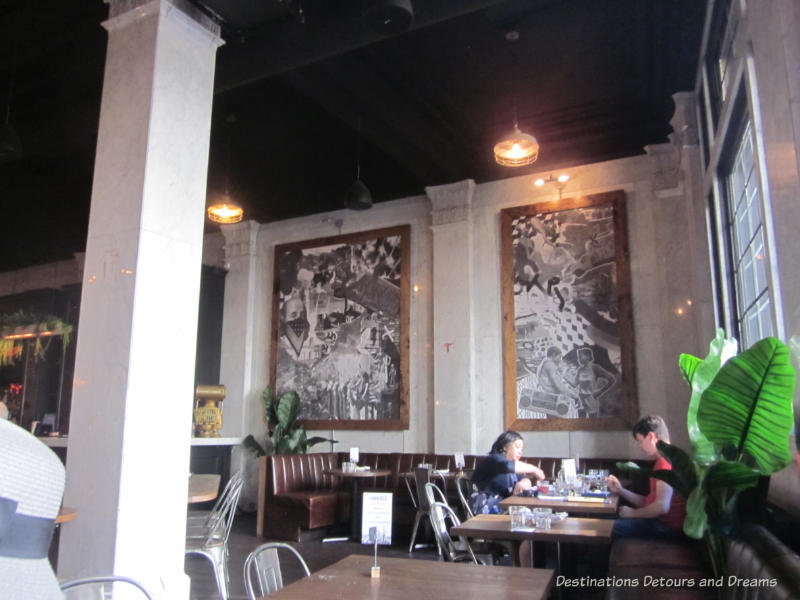 Bold, giant black-and-white murals adorn the walls. They were created by Toronto artist Jahn Page using a wheat-pasting technique. Originating in Toronto, La Carnita is a chain of six restaurants (only two are outside the Toronto area) that teamed up with Toronto street artists to design their spaces. The menu is Mexican-inspired and features a variety of tacos and tostadas, ceviche and Mexican street corn.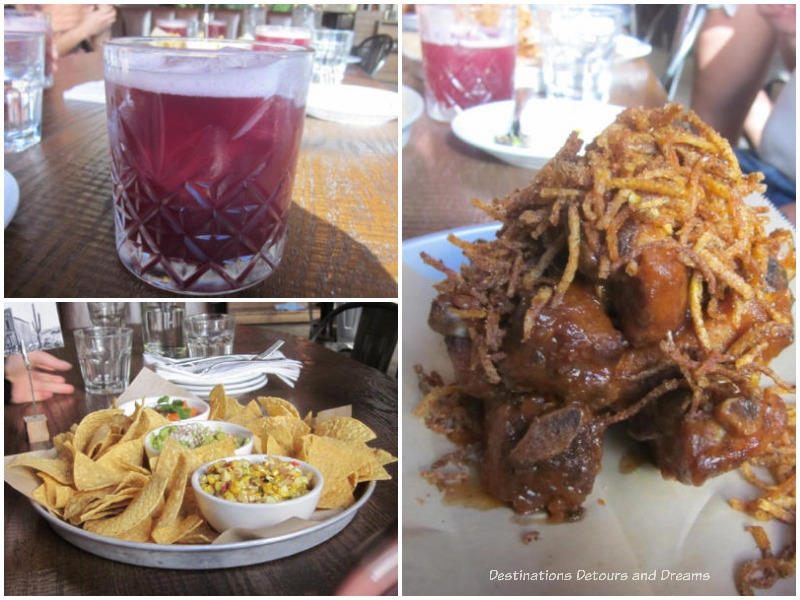 La Carnita was our first stop for the appetizer portion of the food tour. We had tortilla chips with three dips: guacamole, corn salsa and spicy bean. The chips and dips were tasty, but not particularly outstanding. What was outstanding was the plate of ribs and haystacks that followed. The ribs are not on the regular menu, but if you ask for them it is possible they'd have them available. We were also served a cocktail made with red wine, cherry vodka, lime juice and, I think, Amaro Montenegro liqueur.
Winnipeg has many ethnic restaurants but good Mexican fare has always been hard to come by. Although La Carnitas doesn't provide a wide variety of Mexican food and its menu might be considered a little on the "gringo" side, it is a welcome addition to the Winnipeg food scene.
The Saddlery on Market
The Saddlery on Market is located in the east side of the Exchange District in the Great West Saddlery Warehouse built in 1898. The Saddlery became the world's largest manufacturer, wholesaler and retailer of harnesses and saddles.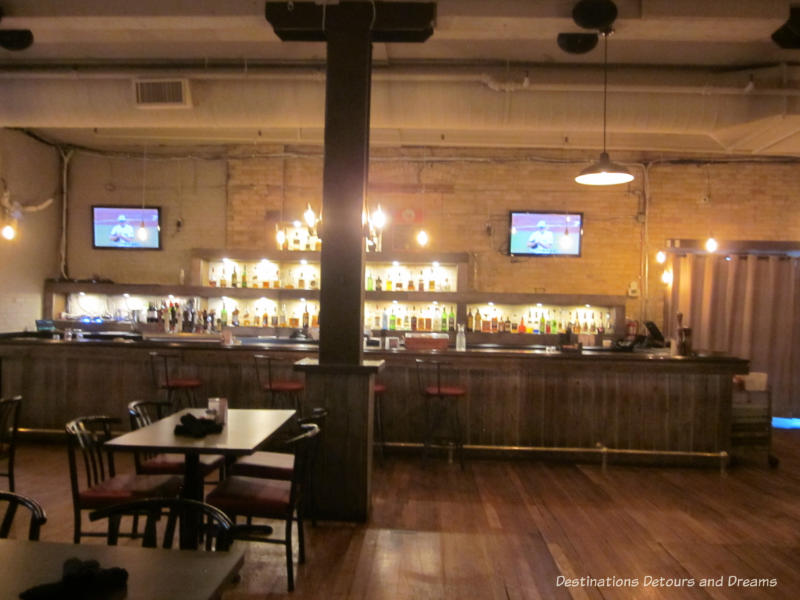 The current restobar retains the look and feel of the old warehouse. An old brick and tiled fireplace sits in one corner. The manager said they believe that is where the warehouse office was located. He also told us that there were tunnels at one time under the street between this building and the building across the street which was also owned by Great West Saddlery.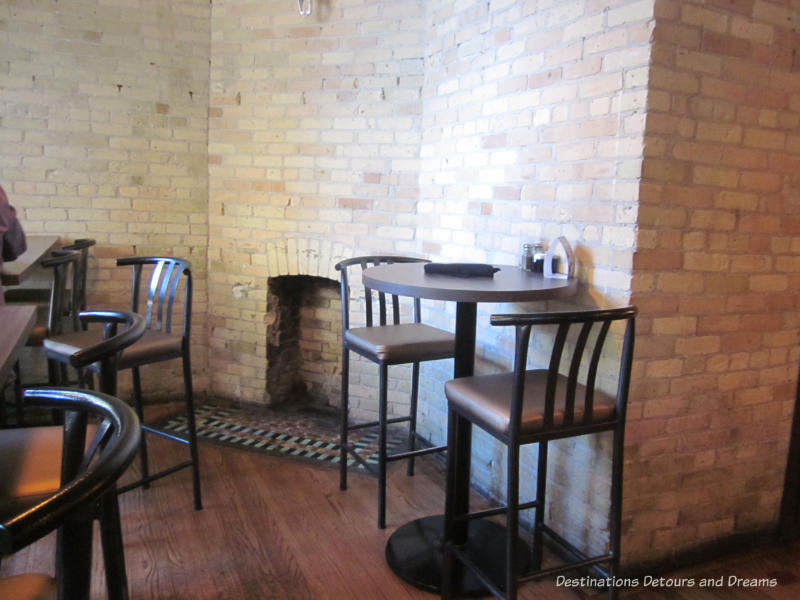 The menu is large and varied. It includes burgers, ribs, chicken, steak, prawns, salmon, flatbreads, and a variety of appetizers and salads. The tag line on their home page says "Share the food. Share the company. Share the tradition." A couple of family-style platters serving 3-4 people are available.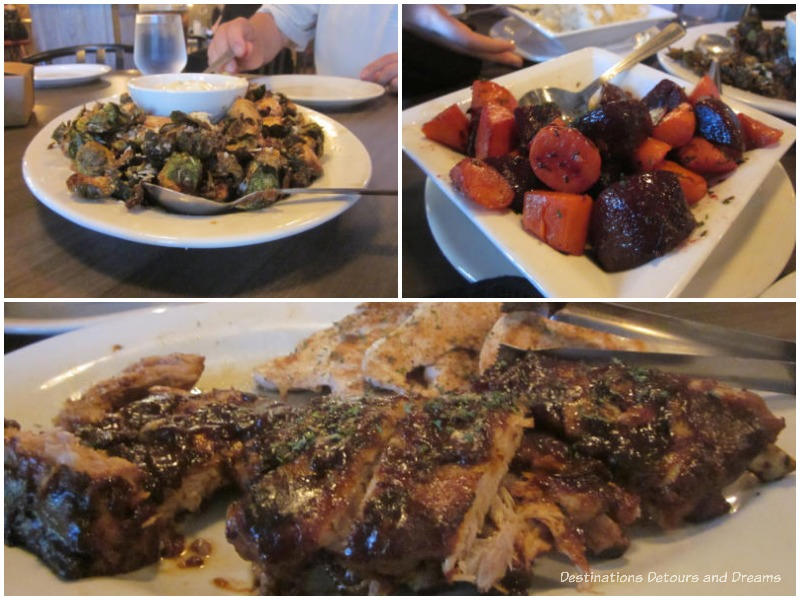 The Saddlery was the food tour's main course stop, but it included another appetizer – crispy Brussel sprouts with lemon basil aioli. These were delicious. There were a couple of people on the tour who didn't like Brussel sprouts. One loved this dish; the other still wasn't sold on Brussel sprouts. After the appetizer, platters of ribs, chicken, mashed potatoes, and beets and carrots arrived at our table. While the meats were tasty enough, I have to admit the vegetables (the beets and carrots as well as the Brussel sprouts) were my favourites on this stop. An accompanying beer or mixed drink was included in the food tour price.
A large room at the back of Saddlery on Market is available for private functions. One evening a month a Salsa evening is held here. Wednesdays are Soul and Rhythm and Blues night in the main restaurant area.
Corrientes Argentine Pizzeria
Corrientes Argentine Pizzeria is a Latin American restaurant providing pizzas, empanadas and sandwiches in a brick building constructed in 1882-83 for a wholesale grocery business.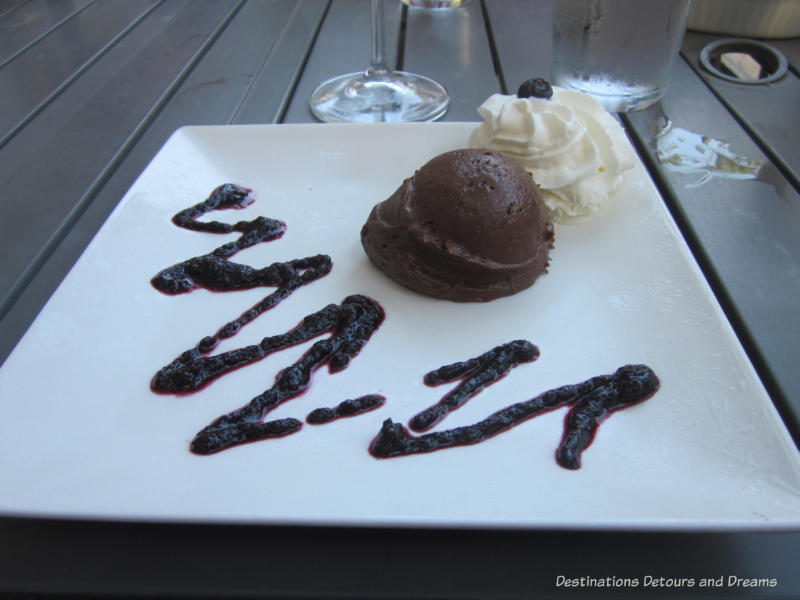 Although Corrientes is best known for its pizza (I haven't tried their pizza yet but another couple on the food tour highly recommended it), we were here for dessert. We sat on the patio and had a delicious Chocolate and Nutella Mousse. Once again, a drink of choice was included.
Other Exchange District Food Tours
Other 2018 Winnipeg Exchange District BIZ food tours are Decadence in the District and Comfort Tours. Decadence in the District focuses on cocktails and your sweet tooth. Restaurants/bars visited are Cordova, Patent 5 and Forth Cocktail Bar.
Comfort Tours is focused on classic dishes with a gourmet flair and takes you to Kevin's Bistro, Alycia's and Across the Board. The tagline for Kevin's Bistro is "divine comfort food". The stars of its menu are a variety of gourmet mac and cheese dishes.
Alycia's is a Ukrainian restaurant with a long history in Winnipeg. For years Winnipeggers flocked to the restaurant in the north end of the city to eat traditional dishes such as borscht, perogies, kielbasa, cabbage rolls, potato pancakes and perishky (sauerkraut-filled mini buns). After forty years in business the restaurant closed in 2011. In 2016 the restaurant re-opened in Gimli, 90 kilometres north of Winnipeg, when the founder's grandson decided to take over the family business. Now, to the delight of many Winnipegger's, an Alycia's has opened in the Exchange District. This restaurant is run by the grandson's mother-in-law.
Across the Board Café is a licensed, full-service restaurant and coffee house that provides patrons the opportunity to play board games. The menu contains a variety of snacks and appetizers, flatbreads, pizzas, sandwiches, wraps and bowls. Walls of shelving hold over 1,200 board games. For a fee of $6 a person you can play any game for as long as you have a table.
More Food in the Exchange
The Exchange District's food tours change each year. Restaurants I visited on a tour several years ago remain popular landmarks in the Exchange.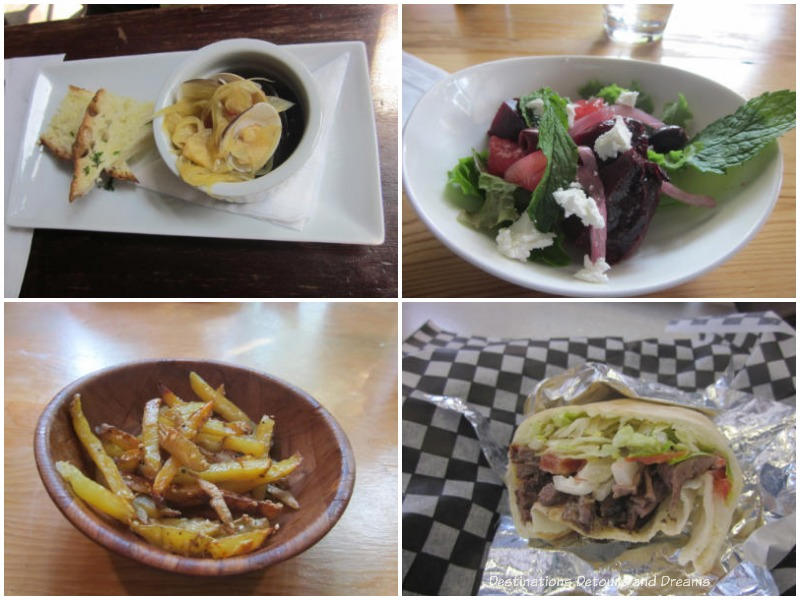 Peasant Cookery offers French-inspired home-cooking using local ingredients. It is located in the Traveller Building, built in 1906-07 as hub for travelling salesmen who picked up goods at Winnipeg's warehouses and took them farther west to sell. The food tour was my first visit to this place, but I've returned several times since and never been disappointed.
In a simple and understated setting, Deer + Almond serves globally-inspired small plates perfect for sharing. Everything is made from scratch. The restaurant cures its own meats, bakes its own bread, and works directly with farmers. Chef Mandel Hitzer is recognized nationally. Deer + Almond is on the 2018 list of Canada's 100 Best Restaurants.
Shawarma Khan is located on the main floor of what was once the Manitoba Free Press Building in an area known as Newspaper Row. The ceiling of the restaurant sports an original tin roof. The restaurant was opened by former Winnipeg Blue Bomber footballer Obby Khan. Shawarma is a Middle Eastern style wrap made with pita bread and filled with shaved chicken, beef/lamb or falafel and complemented with fresh vegetables and sauces. The meat is marinated in a blend of spices and piled high on a vertical rotisserie to cook.
Other Winnipeg Food Tours
Downtown Winnipeg BIZ offers several food and drink tours featuring bars and restaurants in the downtown area. Tours include a cocktail crawl, a patio crawl or beer tour with beverage and appetizer samplings, fine restaurant dining with optional hotel stays, a breakfast tour, and a bicycle food tour.
Food tours scheduled by the West End BIZ feature different trios of restaurants. The West End, which is actually in central Winnipeg, is Winnipeg's most ethnically diverse neighbourhood. Ethnic restaurants feature prominently on these tours. The West End is also home to a large collection of murals depicting the area's history, culture and personalities. Look for the murals as you walk from restaurant to restaurant.
Food Tour Tips
If you take a food tour I suggest you pace yourself better than I did. There was a lot of food. I knew I shouldn't eat the entire plate of ribs at La Carnita in order to save room for other food, but they tasted sooo good! I was uncomfortably full at the end of the tour. The establishments will provide take-out boxes for you to take home what you don't finish, leaving you with a tasty dinner or lunch the next day.
The architecture and the history of Winnipeg's Exchange District are fascinating. You will get a small glimpse into that during the food tour through the buildings housing the restaurants you visit and a couple of stories told by your guide, but the main focus is the food. If you are interested in exploring more of the history, I recommend one of the Exchange District's walking tours.
Note also that all food tours offered throughout the city typically only operate during summer months.
PIN IT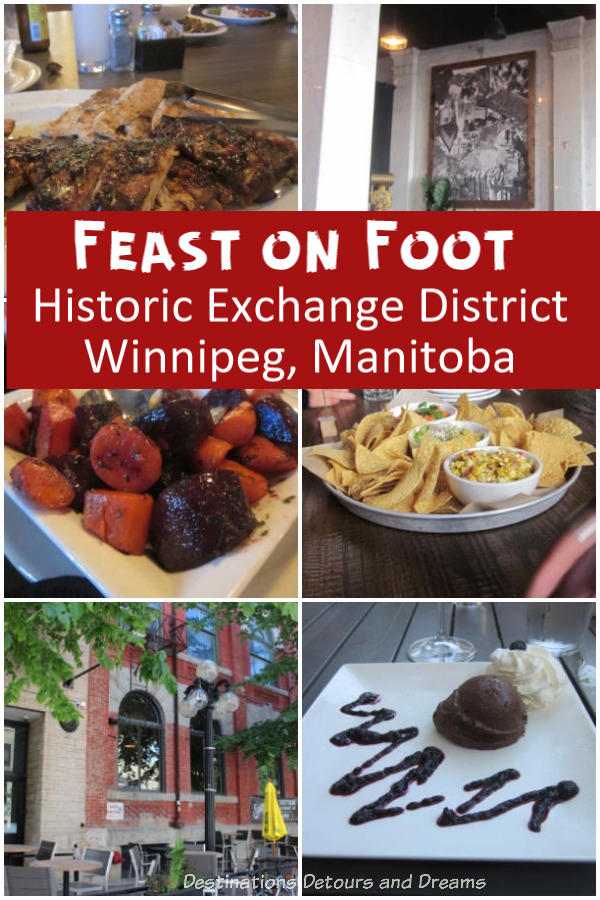 Never miss a story. Sign up for Destinations Detours and Dreams free monthly e-newsletter and receive behind-the-scenes information and sneak peaks ahead.