Afternoon Tea at Pendray Tea House in Victoria
Taking tea in a historic home in Canada's most British city, Victoria, British Columbia
(Updated September 2019)
The city of Victoria, British Columbia on Canada's West Coast is known as the most British city in Canada. What can be more British than afternoon tea, with fancy sandwiches, scones and clotted cream? Afternoon tea remains an honoured tradition in the city.
The most iconic spot for afternoon tea is the historic Fairmont Empress Hotel, which has been serving tea since 1908. There are also other great places in the city to take your afternoon tea. Like Pendray Inn & Tea House, where my sister and I spent a casual and elegant afternoon.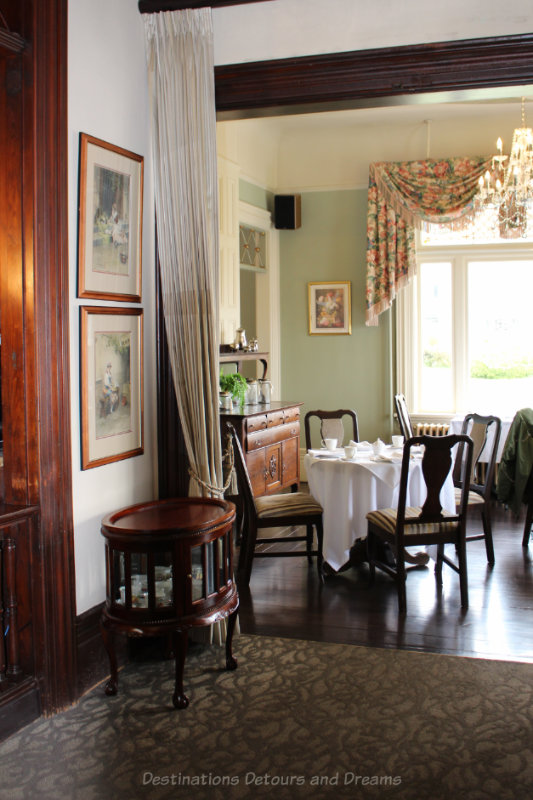 In 1875, William J. Pendray come to Victoria. He invested money he'd made from the gold rush and started a soap factory. The Queen Anne style mansion was built across from the inner harbour in the 1890s for Pendray and his family. His new home had painted frescoes on the ceilings and windows of stained glass shipped from Italy.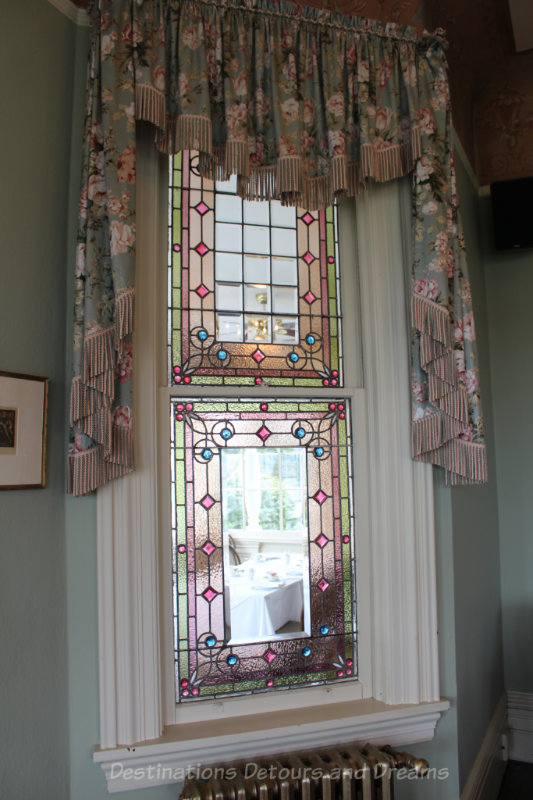 Today Pendray Inn is a boutique bed-and-breakfast operated as part of the Huntingdon Manor Hotel. Pendray Tea House on the main floor offers a traditional Victoria Afternoon Tea.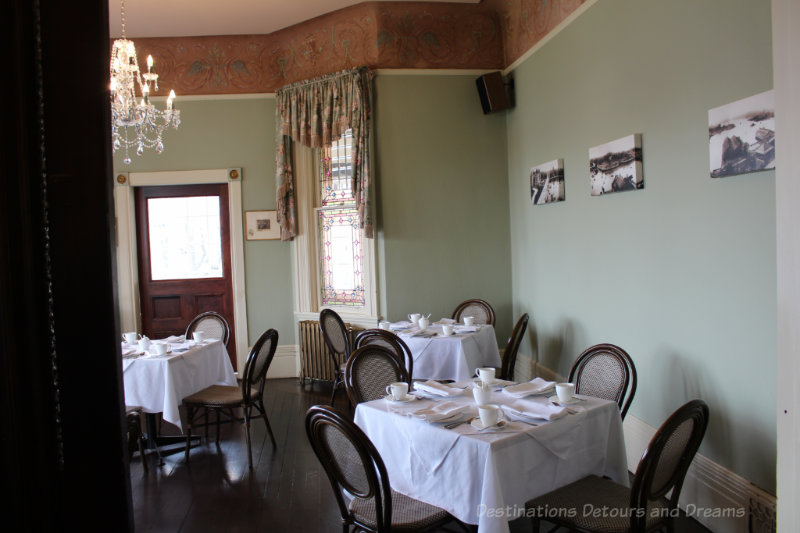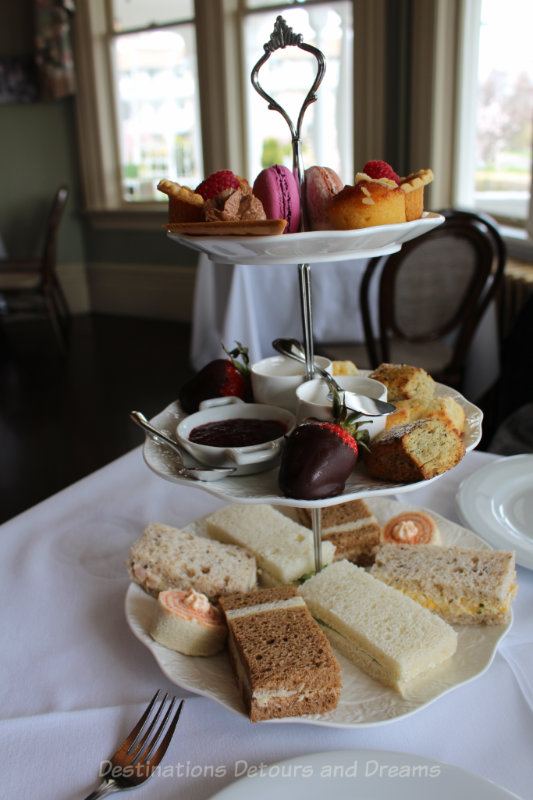 The tea comes with fresh-baked scones, local fruit jam, devon-style cream, assorted tea sandwiches and signature pastries. A traditional version and a west coast variation of the afternoon tea is available. My sister and I each ordered a different version and shared.
The Traditional Tea came with a starter of dish of berries, egg salad sandwiches, chicken salad sandwiches. The West Coast Tea came with a start of local crab bisque, baby shrimp sandwiches, and sablefish brandade sandwiches. Both teas included cucumber with lemon-dill cream cheese, smoked salmon pinwheel sandwiches, and the same selection of signature pastries. The menu varies slightly with the season.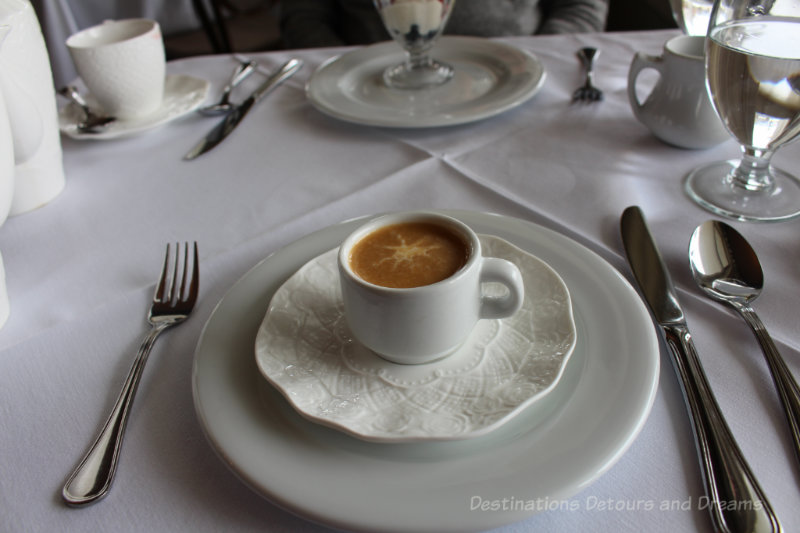 Also on the menu is a children's afternoon tea, a vegan afternoon tea, and a judge's tea which features heartier sandwiches and locally crafted beer instead of tea. There are also sandwich plates and soup available a la carte.
Pendray offers a selection of TWG teas. Our server poured tea into our cups in a circular motion. When I asked about that, she said it was an old tradition. Pouring tea in a clockwise manner welcomes your guest; pouring tea in an anticlockwise manner signals you'd like them to leave. She said she hadn't yet poured anticlockwise. I was unable to find any information online to validate this tradition, but I did discover a wealth of tea superstitions, including one about stirring your tea anticlockwise spelling trouble.
The Pendray Tea House also offers a selection of wines and locally sourced beers.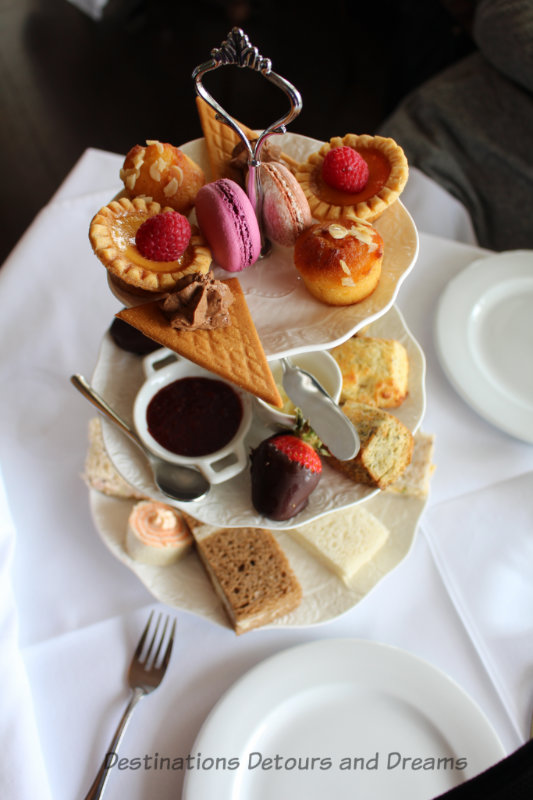 The relaxed historic setting of Pendray Tea House has a step-back-in-time feel. Reservations are highly recommended.
Other places for tea in Victoria, at varying prices, include the iconic Empress Hotel, Abkhazi Garden, the White Heather Tea Room, and the Hotel Grand Pacific.
If you enjoyed this post, sign up for Destinations Detours and Dreams monthly e-newsletter. Get behind the scenes information and sneak peeks ahead in addition to a recap of the month's posts.
PIN IT