Art, Charm and History in Eureka Springs, Arkansas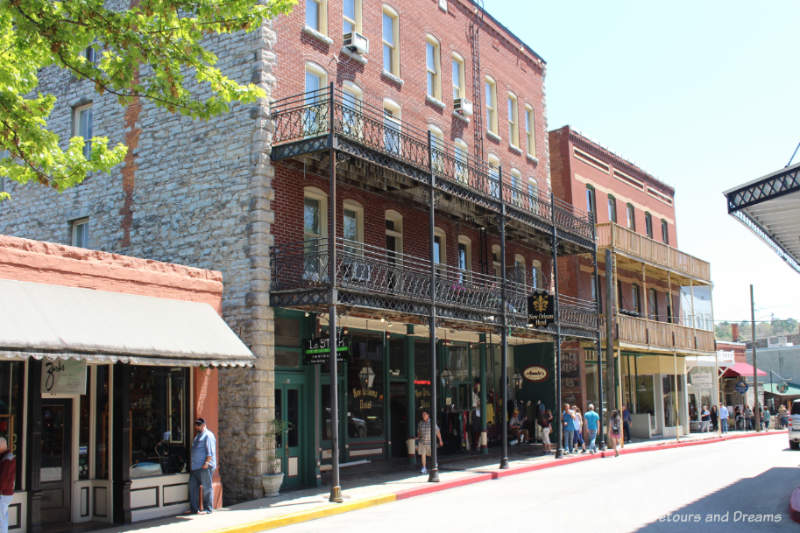 Eureka Spring Arkansas contains Victorian buildings, historic landmarks, one-of-a-kind shops and scenic beauty
(Disclosure: I visited Eureka Springs as part of a post-conference press trip following the 2018 North American Travel Journalists Association conference. Opinions and impressions, as always, are my own.)
Downtown Eureka Springs, Arkansas in the heart of scenic Ozark countryside is pretty. Victorian buildings hug cliffsides on streets that wind up steep hillsides to create a town in tiers. (An 1882 article in the Daily Graphic said, "The houses rise tier above tier, and cling to the mountainside like a frightened monkey to a bareback horse, each structure being in immediate peril of going roof first into the gulch below.") Today these heritage buildings house one-of-a-kind shops, spas, restaurants and bed and breakfasts. Signs throughout downtown highlight historical landmarks.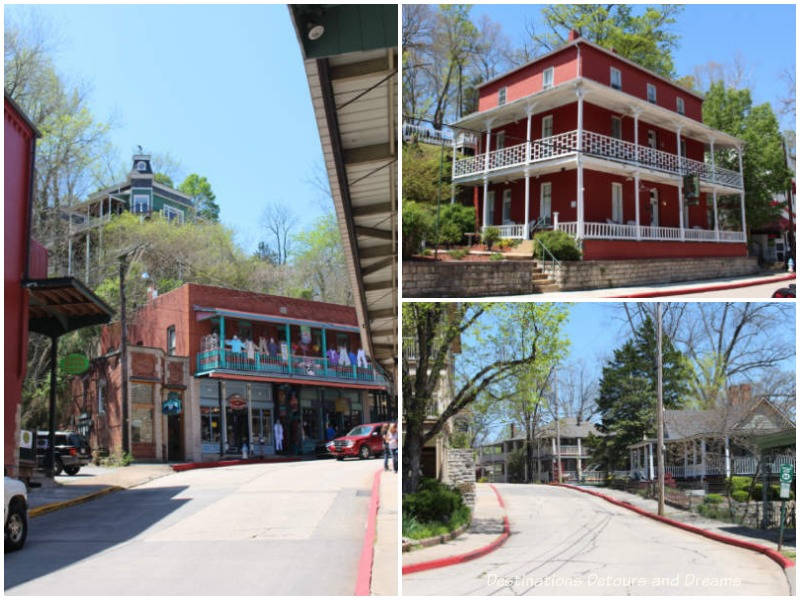 I am not the only one to find this place charming. The National Trust for Historic Preservation named Eureka Springs as one of its Dozen Distinctive Destinations. The entire downtown area is on the National Register of Historic Places. The town was selected as one of the 100 Great Towns of America in 1998 and 2009. In 2011, it was one of Budget Travel's 10 Coolest Smallest Towns in America. It was among the Smithsonian's 20 Best Small Towns to Visit in 2018. Downtown's Spring Street was named one of America's 10 Best Streets for 2010 by the American Planning Association and in 2014, Yahoo Travel listed Eureka Springs as having one of America's Best Main Streets. And these are not the only "best of" lists featuring Eureka Springs. You don't need to spend much time on Google search to find more.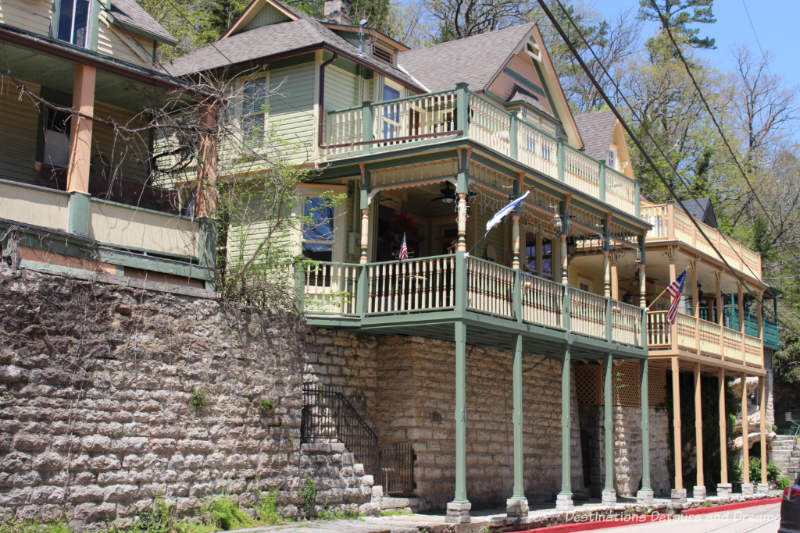 Mountainside springs led to the founding of Eureka Springs and gave the town its name. Dr. Alvah Jackson discovered the mineral springs, believed to have therapeutic value for many prevalent diseases, in 1858, but he didn't reveal the source of his "Dr. Jackson's Eyewater" until 1879. The town was founded and, as word of the healing waters spread, people flocked to the town. An economy developed around the springs and Eureka Springs became a resort town. People came to "take the waters," both orally and by soaking in spas.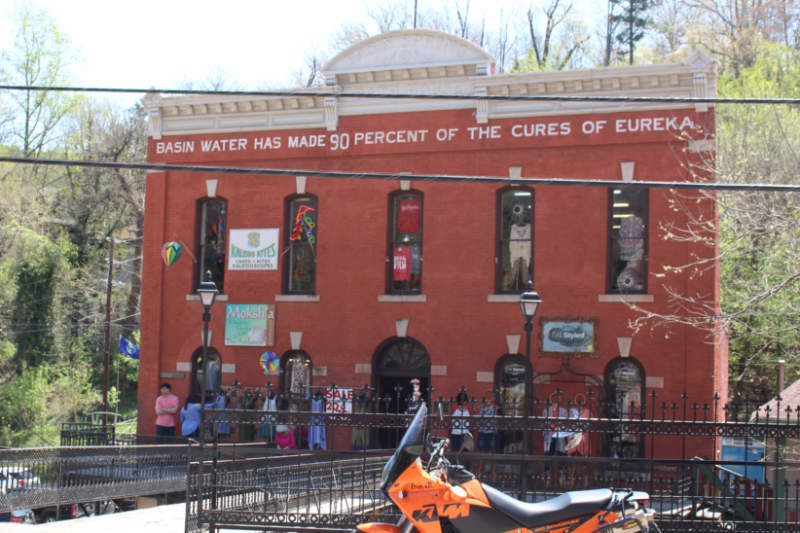 Basin Springs Bath House, built in 1889 to replace a frame structure that had burned, used Basin Spring water brought over Main Street in pipes tucked under a walking bridge over the street. The building caught fire in 1986 and was gutted. It was rebuilt within its walls to house businesses. Any exterior work done tried to remain technically and historically accurate.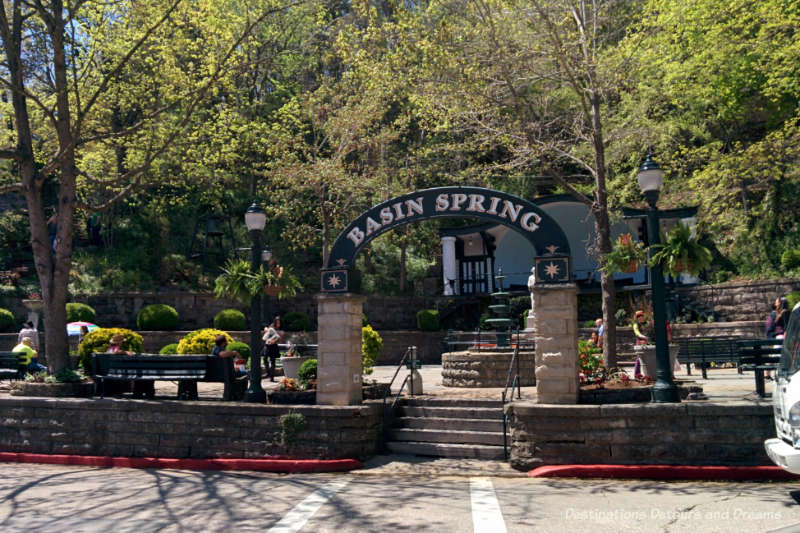 There were at least sixty-two springs. Twelve have been restored. Several can be seen as you wander through downtown. Basin Spring, "the spring where it all began", may be the most famous of the springs. In the 1890s, Basin Spring Park had two fine hotels on either side of it.  When the Perry House burned it was replaced with Basin Park Hotel, which still stands today. The Southern Hotel was destroyed by fire in 1932. Today the Basin Springs Park is a centre of community life and activity.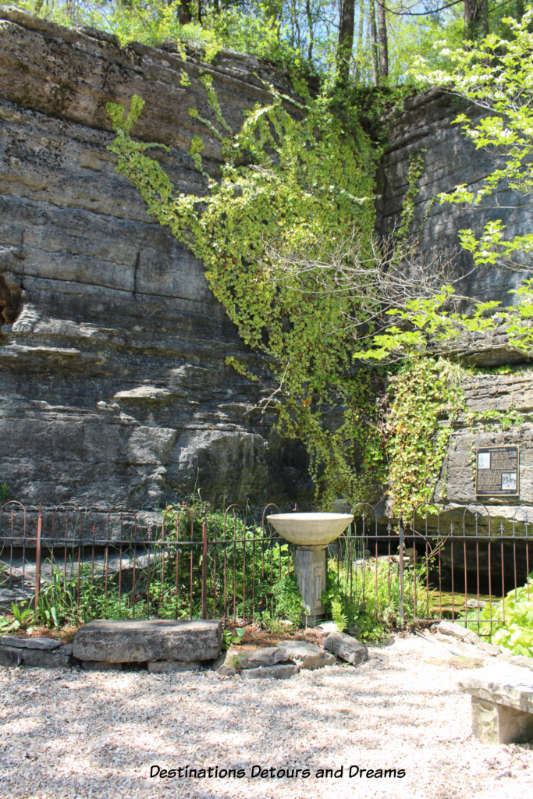 Harding Spring was named for J. Emmett Harding, a photographer who began the tradition of making photographs of people in front of the springs for souvenirs. It is the site of one of the most famous healings of Eureka Springs. Twenty-year-old Jennie had been blind for seven years following a severe illness. She used the waters of Basin Spring for months without result, but her sight was restored in 1880 after she began using the waters of Harding Spring.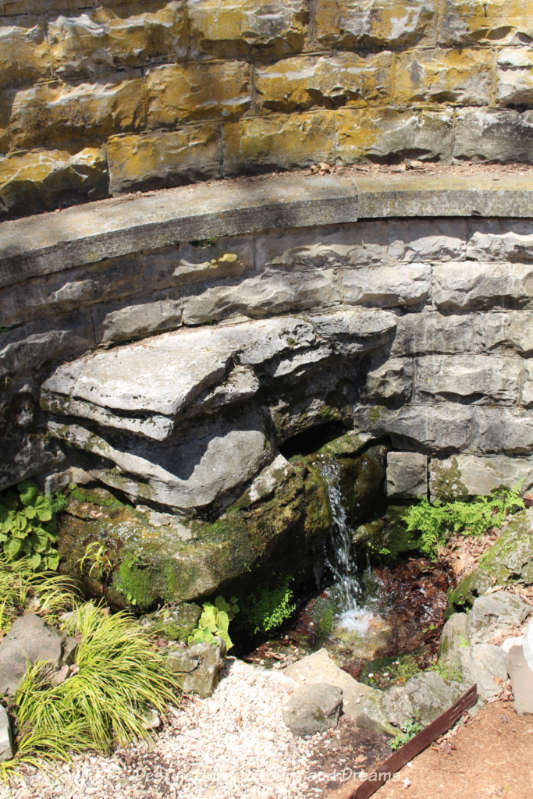 Sweet Spring got its name because early townspeople said the water had a pleasant, sweet taste. Note that the water from all the springs are no longer considered safe to drink.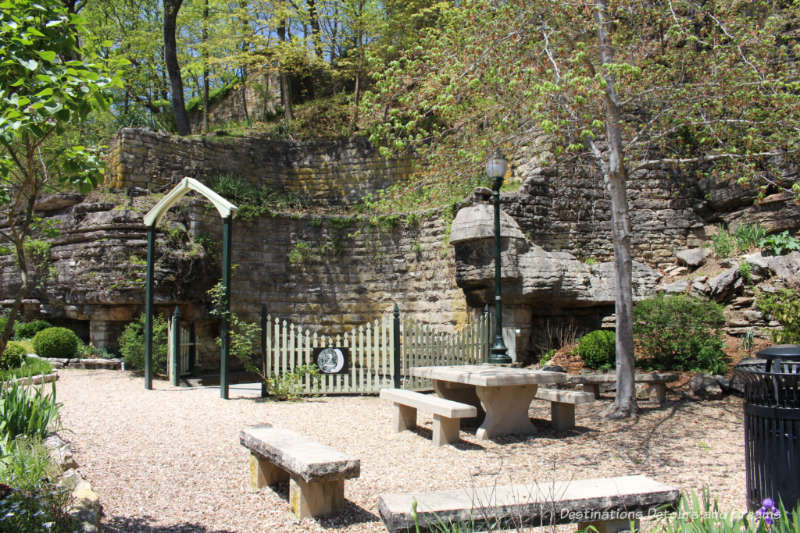 Eureka Springs claims an estimated 54 miles of stone walls, most built between 1885 and 1920.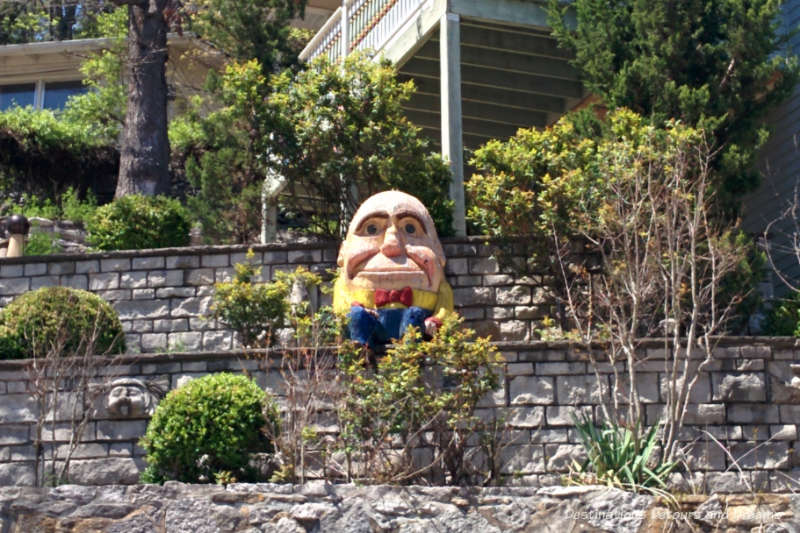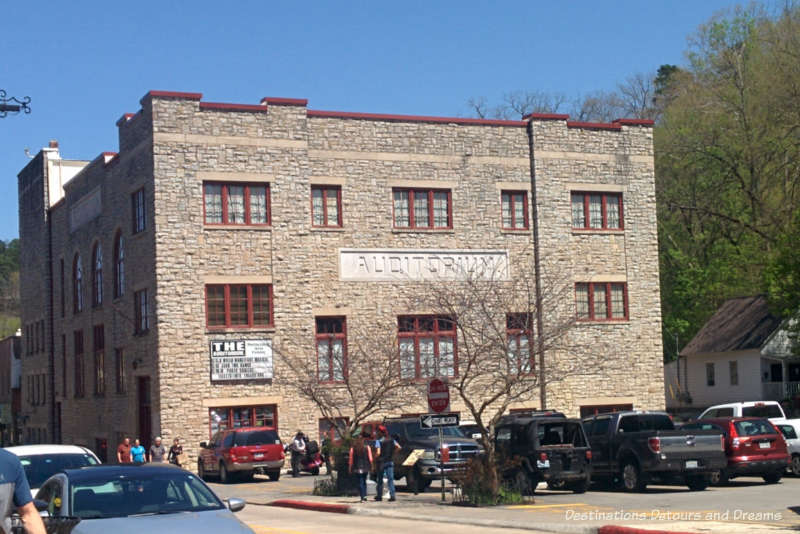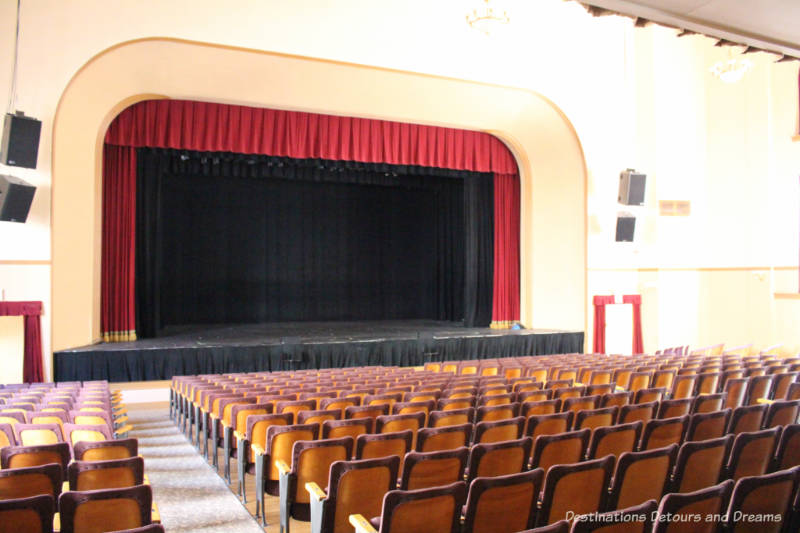 Eureka Springs began to decline in the early twentieth century as faith in the curative power of mineral springs declined and people turned to modern medicine. The Depression took its toil. But the hard times also brought artists and writers to the area, looking for a wholesome, simpler, less expensive life. The area continued to attract artists after World War II and remains a vibrant arts community today. Over 400 artists make their home in this town of just over 2,000 people.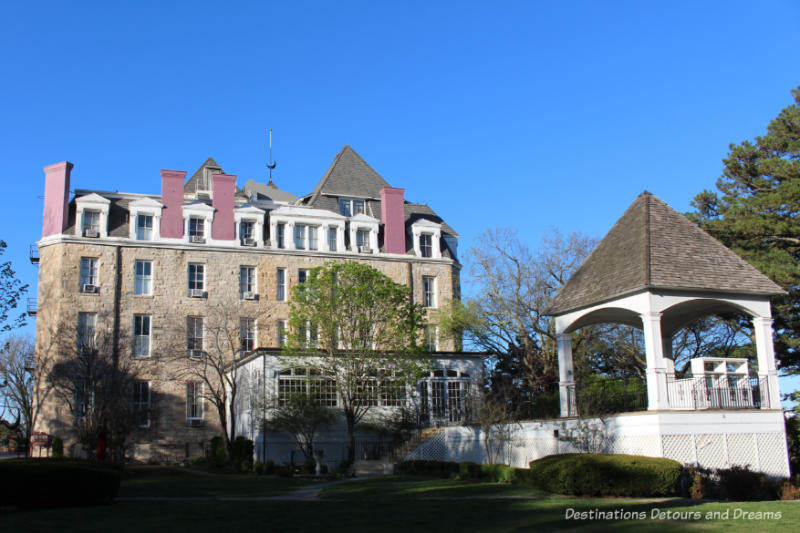 With history come ghosts. You can hunt for ghosts on a haunted bus tour. The Basin Park Hotel offers a ghost tour that introduces you to its many spirits. And then there is the Crescent Hotel and Spa, located up the hill from downtown. The hotel was built in 1886 and is known as the most haunted hotel in America. It was featured on the Ghost Hunters television show. The hotel offers an evening ghost tour. I stayed at the Crescent Hotel and had a good nights sleep, in spite of being a little unnerved by the evening ghost tour. This was not the case for all travel journalists in the group. Some were awakened by strange sounds and movement. You can read about my hotel experience at Travel Awaits: I Survived a Night At America's Most Haunted Hotel.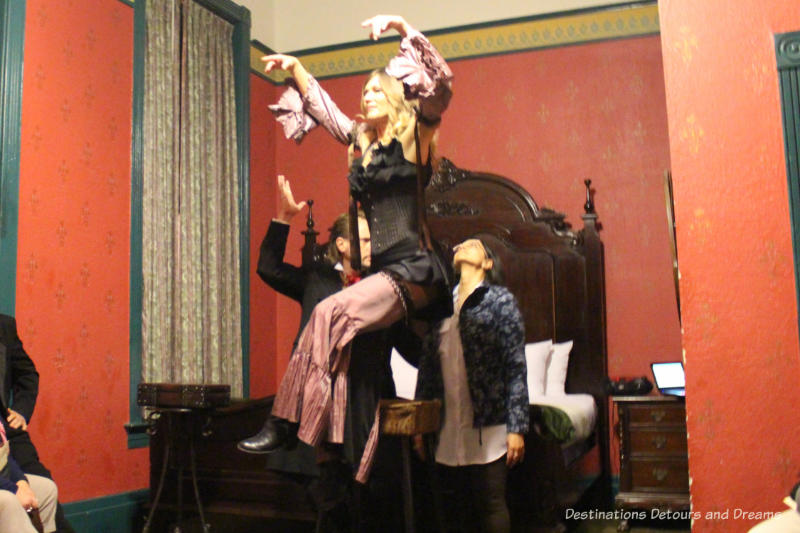 While at the Crescent Hotel, Intrigue Theatre (the Illusionist and the Medium) staged a short show in one of the rooms for the travel journalist group I was with. It was a small space for a performance and we were very close to the performers, but I have no idea how they executed this levitation scene.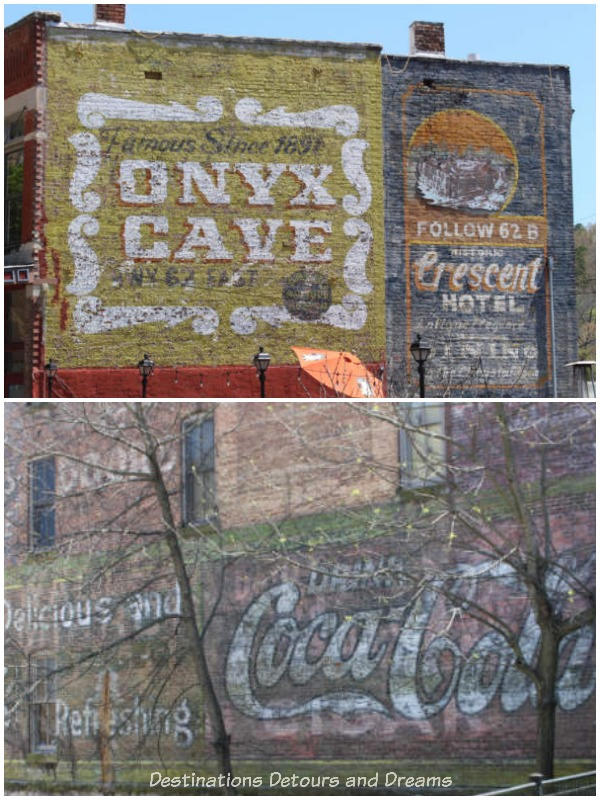 There are numerous other places to stay in Eureka Springs. Many of the heritage homes have been transformed into inns and bed and breakfasts.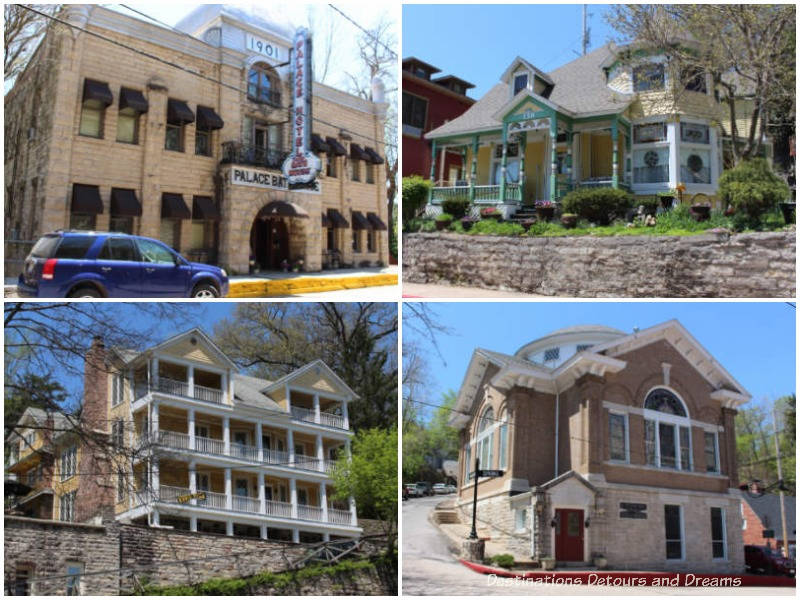 Although people no longer come to Eureka Springs for its healing waters, there are a lot of reasons to visit for a day, a weekend or longer. A relaxing stroll and browse through downtown, a spa treatment, a theatrical or musical show, scenic countryside and Ozark hospitality are all good for the soul and offer a different kind of healing.
Never miss a story. Sign up for Destinations Detours and Dreams free monthly e-newsletter and receive behind-the-scenes information and sneak peaks ahead.
PIN IT