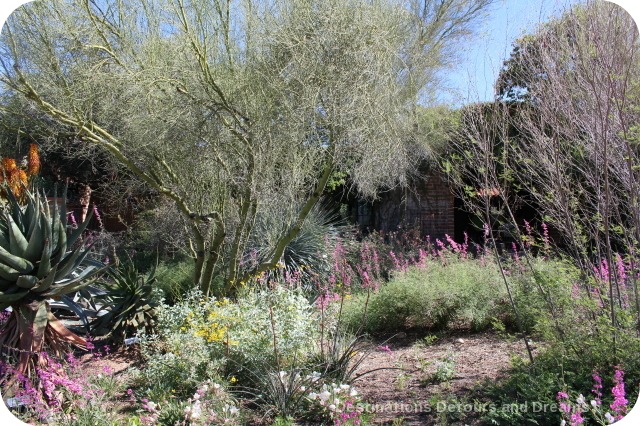 Connect with the wonders of nature, art and culture of the Sonoran Desert
at Tohono-Chul Park in Tucson, Arizona area.
Winding paths through desert landscape, themed botanical gardens, quiet retreats for relaxing, birds and butterflies, garden art and natural and cultural heritage information. I found all that at Tohono Chul Park in a Tucson, Arizona suburb.
 The park opened in 1985, created by Richard and Jean Wilson, who wanted to keep something natural in the middle of surrounding development.
Desert pupfish, now an endangered species, once covered a wide range of Arizona. They can withstand water temperatures of 43 degrees Celsius (110 degrees Fahrenheit).
A number of themed garden areas exist throughout the park. Examples include Meditation Garden, Desert Palm Oasis and Ethnobotanical Garden. Temporary and permanent pieces of art are on display throughout the garden, sometimes so cleverly blended in with the setting I didn't immediately recognize as something other than plant life.
Empty Nest sculpture by Ira Wiesenfeld is made of welded steel, copper, bronze and stainless steel. It looked very much like twigs or dead branches.
At first glance, I didn't realize this was a not a real cactus, until I saw and heard the water bubble through the fountain at top.
There was a serene, peaceful feeling walking through Tohono Chul Park and I listened to the birds and watched the butterflies. The only thing that marred the sense of tranquility was the background traffic noise from nearby main roads.
Monarch Butterfly Waystation
Monarch butterflies stop here on their migration. It was mid-March when I visited. The docent told me so far there'd only been a few butterflies show up on their way south. It would be another couple of weeks before the butterflies were in full migration.
There is a very nice bistro on site. It is accessible without going through the park or paying the park entrance fee. We had lunch here and it certainly seemed to be a popular spot.
Tohono Chul Park is open daily from 8 am to 5 pm. It is closed on New Year's Day, the 4th of July, Thanksgiving Day and Christmas, with reduced hours on Christmas Eve and New Year's Eve. Check their website for any special closures. Many of the trails are wheelchair accessible.
Have you visited Tohono Chul Park? What did you think?