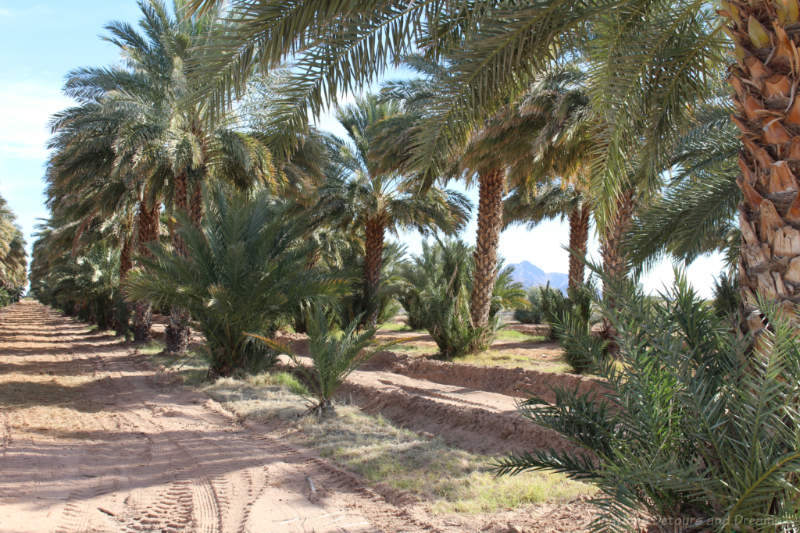 Visiting date farms and sampling date shakes in the Yuma Arizona area
You may not know that dates are one of the things the area around Yuma, Arizona is known for. I learned this shortly before visiting Yuma. Seeing a date farm and tasting a date shake become items on my to-do list.
Dates may be the oldest cultivated fruit, with cultivation dating back thousands of years. Dates are a high energy food. Although they contain significant amounts of fruit sugar, they are nutrient rich and full of fibre. Of the 3,000 varieties of dates, Medjool dates are considered the "king of dates", prized for their large size, sweet taste and juicy flesh. Originating in Morocco, Medjool dates were once reserved for royalty and dignitaries.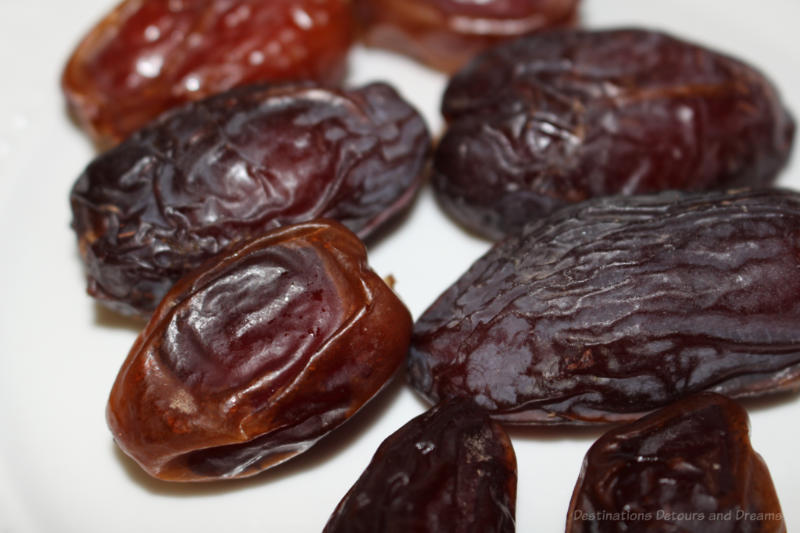 In the 1920s, disease devastated the Medjool date in Morocco. In an effort to save the variety, 11 date palms were given to the United States. They were placed in quarantine to ensure they did not harbour the disease. Several years later the palms and their offshoots were released from quarantine and subsequent offshoots provided to growers. Thus began a date-growing industry in the United States. Today, the Bard Valley in southeastern California is the largest producer of dates in the U.S. Across the Colorado River to the east, the industry is growing in the Yuma, Arizona region and may one day surpass production of Bard Valley.
Date farming is labour intensive. The growing season is six months long, beginning in spring. Dates are hand-pollinated to ensure greater yields. Around the beginning of August dates are covered with white muslin bags to protect against birds and insects. The bags also catch dates that ripen before harvest begins. Soft dates, such as Medjool dates, are individually hand-picked, not gathered in clusters.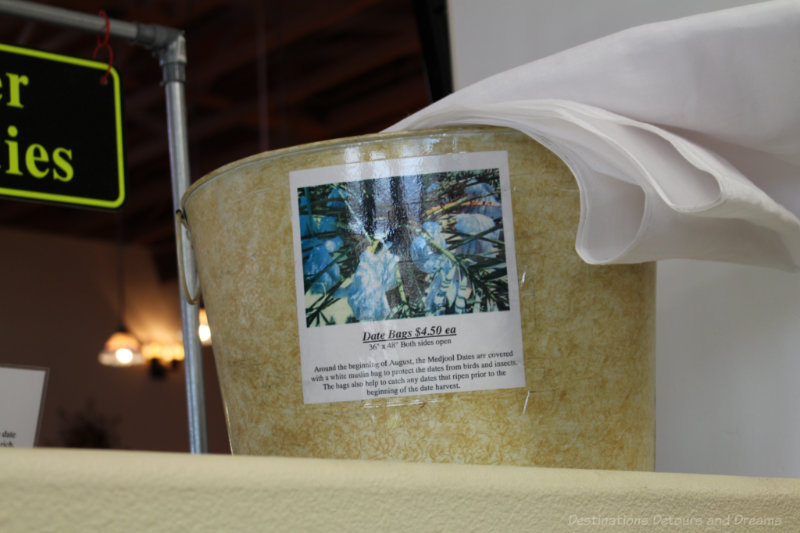 For many people making trips from the Phoenix area to Yuma or on to Las Algondones, Mexico Dateland Date Gardens is a ritual stop along the way. It is located 67 miles east of Yuma on Interstate 8. There is a store and restaurant on site. The store contains a variety of dates and date products including a number of sauces, such as HP date sauce, and date butter, and assorted gift items. I had a date shake at Dateland Gardens. It was all right, but a little too sweet for my liking. I preferred the date shake at Martha's Gardens Date Farm, which is located on the outskirts of Yuma. Check their website for directions. (Do not be alarmed if the directions include 8 1/2 Avenue. The street numbering system in the area is a bit unusual.) The store at Martha's also contains a variety of date products as well as regional honey, salsas, baking mixes and other goodies.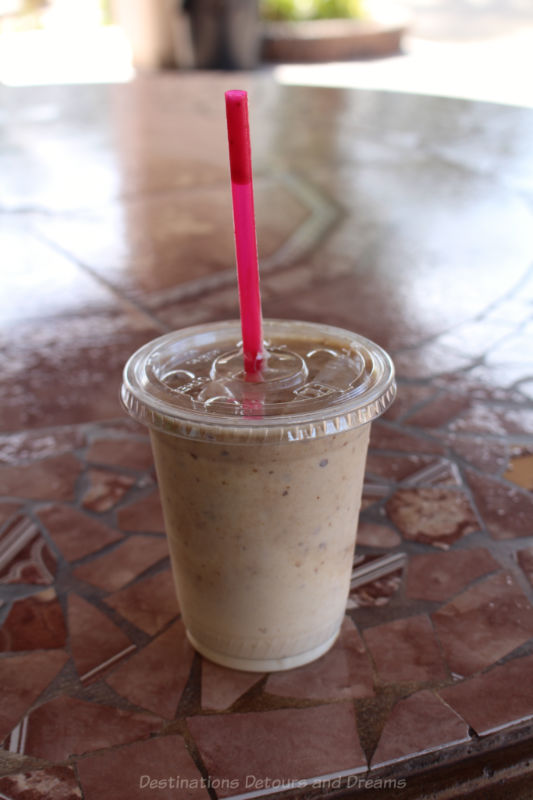 Date shakes are thick and filling. Recipes vary. Some may include ice cream, others just ice cubes and milk. Cinnamon or nutmeg may be added. Medjool dates are the best dates for shakes. Skins of other types of dates can be too thick to blend well.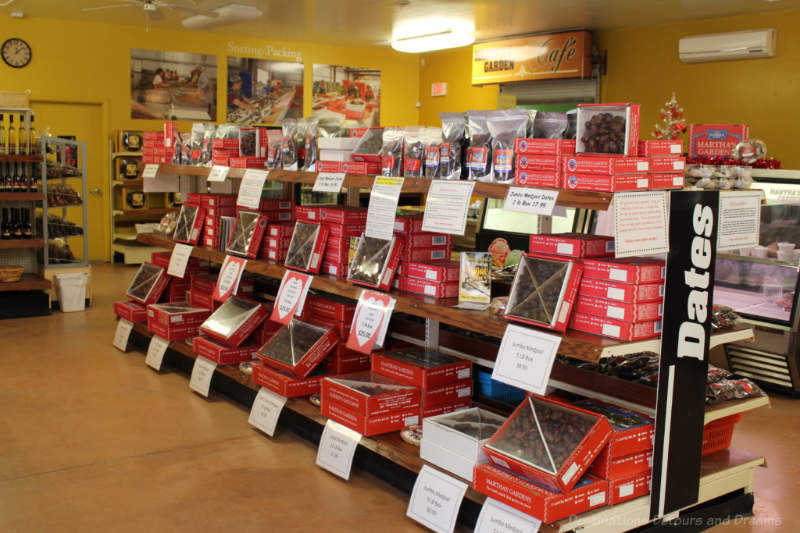 Signs posted at both Dateland Gardens and Martha's Gardens Date Farm provide information about dates. Dates vary in size and quality. Dates keep for a couple of weeks at room temperature, a couple of months in the refrigerator and several months in the freezer.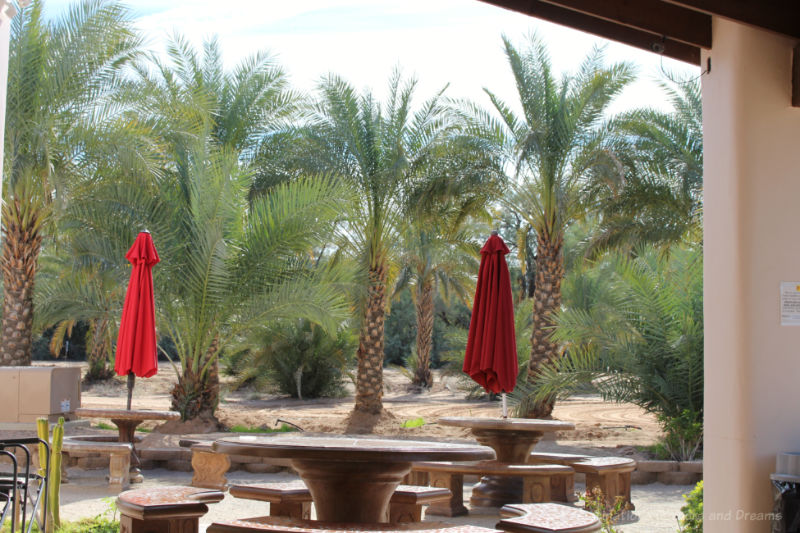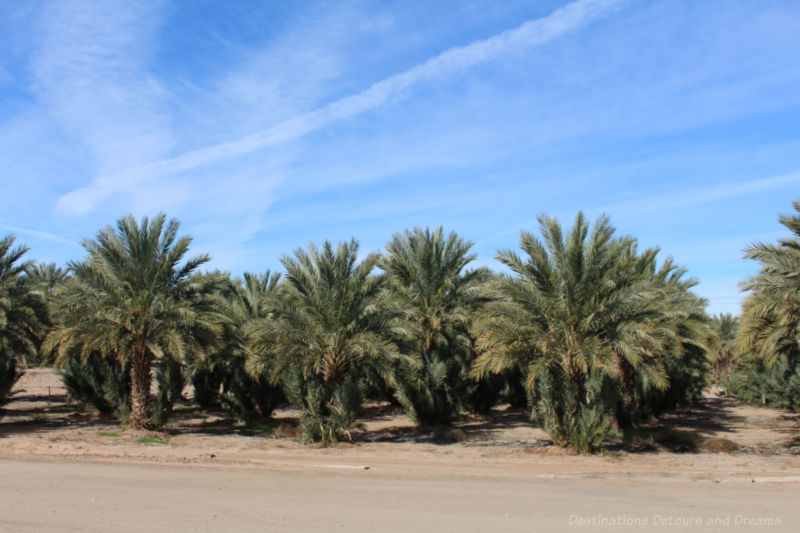 Date varieties other than Medjool are also grown in the area. Martha's Gardens Date Farms grows four other varieties:
Dayri, originating from Basra, Iraq, is a medium sweet date which ripens from red to black
Halawy, originating in northern Iraq, is soft and golden brown when ripe with a medium to high level of sweetness
Khadrawy, originating in Basra, Iraq, is a soft date with a reddish-brown colour when ripe
Zahidi, originating in northern Iraq, is a yellow or straw-coloured date with a mild sweetness
PIN IT