Olallieberries in Cambria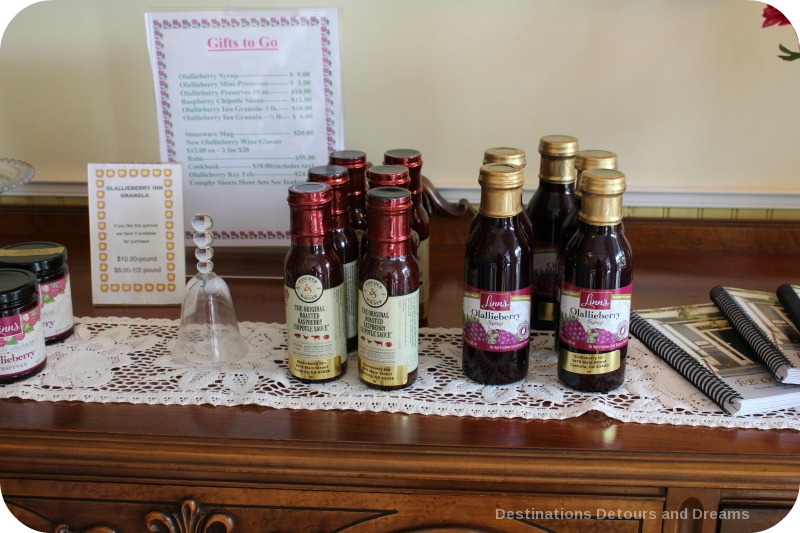 Learning to cook with Olallieberries at an historic inn in Cambria, California
Last Updated August 2021
(Disclosure: My visit to Cambria and Olallieberry Inn was hosted by San Luis Obispo County as part of a post-trip after the North American Travel Journalists Association (NATJA) 2016 conference in Oxnard, California. Observations and opinions are my own.)
Do you know what olallieberries are? I didn't until I visited the California town of Cambria.
Olallieberries are a cross between Loganberries (a cross between an heirloom blackberry and a European raspberry) and Youngberries (a hybrid of raspberries, blackberries and dewberries). The Olallieberry was first developed in 1949 at Oregon State University by the U.S. Department of Agriculture. Olallie is a Native American word meaning "blackberry". Olallieberry has the physical characteristics of a blackberry, but is genetically about two-thirds blackberry and one-third raspberry. The taste is reminiscent of blackberries with a bit more tartness.
Olallieberries are primarily grown in central California. They ripen in late June and early July. But the flavour can be enjoyed year-round. They have a fair degree of pectin and do well in preserves and jams.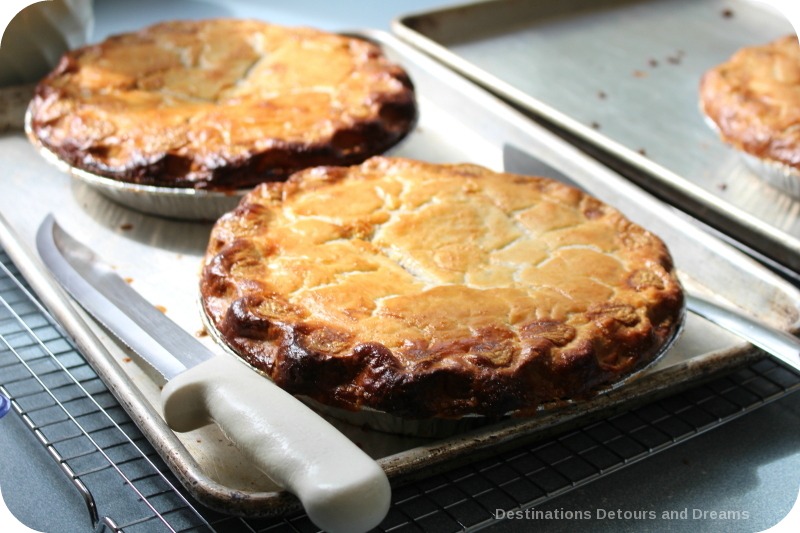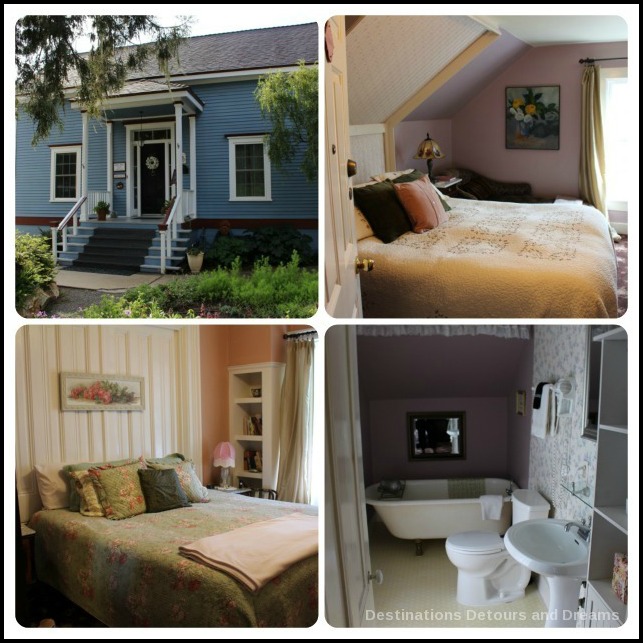 I learned about olallieberries at a Bed and Breakfast bearing the name of the fruit – Olallieberry Inn. The house on Main Street was built in 1875 by Prussian brothers, pharmacists in Cambria. The house was made from Cambrian pine with redwood siding from trees in Bug Sur. The residence changed hands several times over the years. It was a Boarding House from 1955 to the mid 1970s. The house was restored in 1976 and has been run as a Bed and Breakfast since then. New owners Nelson and Maureen Hubbell are currently renovating and restoring the house.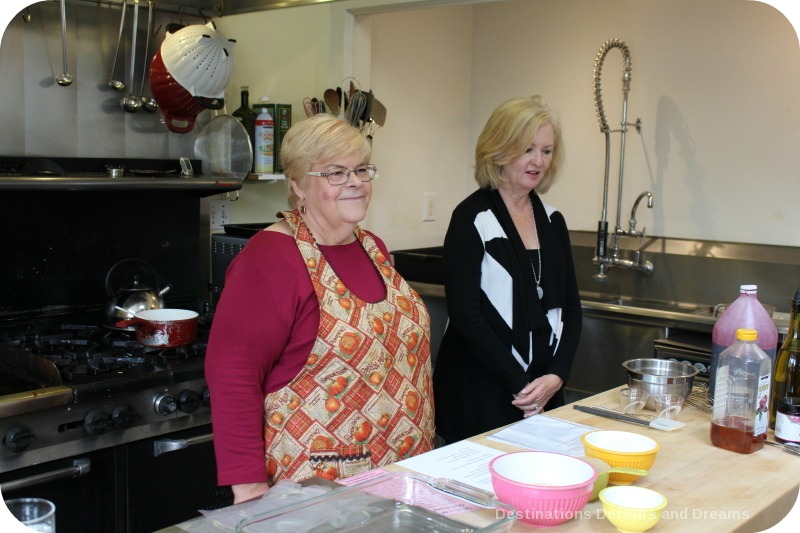 I was not at the Inn to stay overnight. I was here to attend a cooking class, given by Marjorie Ott, previous owner of the Inn, assisted by Maureen Hubbell, current owner. During her ownership of the Inn, Marjorie began offering cooking classes in the Inn's commercial kitchen after many requests for recipes. Marjorie continues to teach classes under the new ownership. She was fun to watch and listen to, down-to-earth with useful tips and interesting tidbits of information. There were comments in our group suggesting she should have her own television show. We learned how to make olallieberry bars and a honey and fruit salad with spinach, canteloupe balls, strawberry halves, macadamia nuts and a dressing of olive oil, honey and olallieberry vinegar.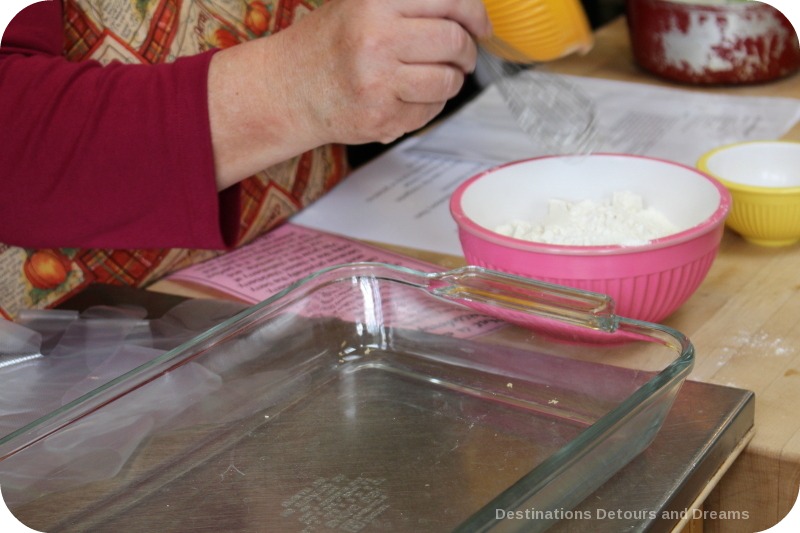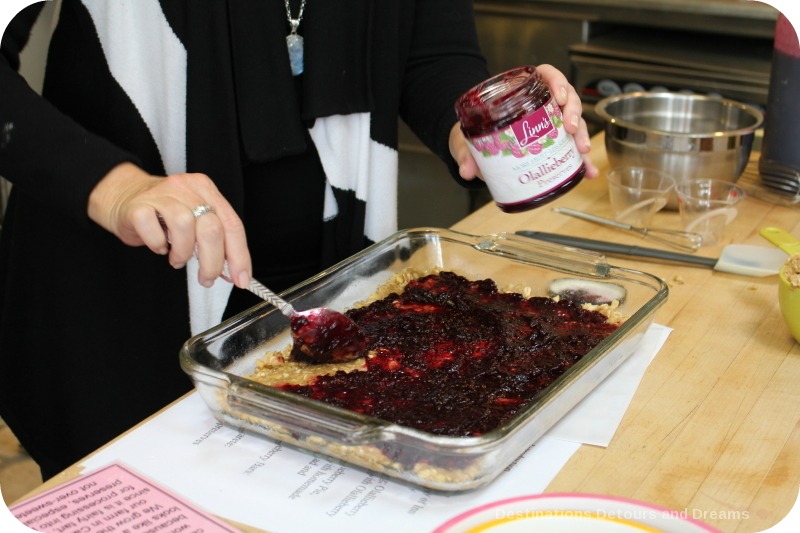 Linn's Olallieberry Preserves were used to make the bars. In 1979 John and Renee Linn opened a Pick-Your-Own farm with olallieberries and vegetables. Over the years Renee turned her attention to making More Fruit-Less Sugar pies and preserves. The olallieberry flavour became a favourite with customers. Today the Linns ship gourmet goods nationwide from their store in Cambria and run a restaurant and café.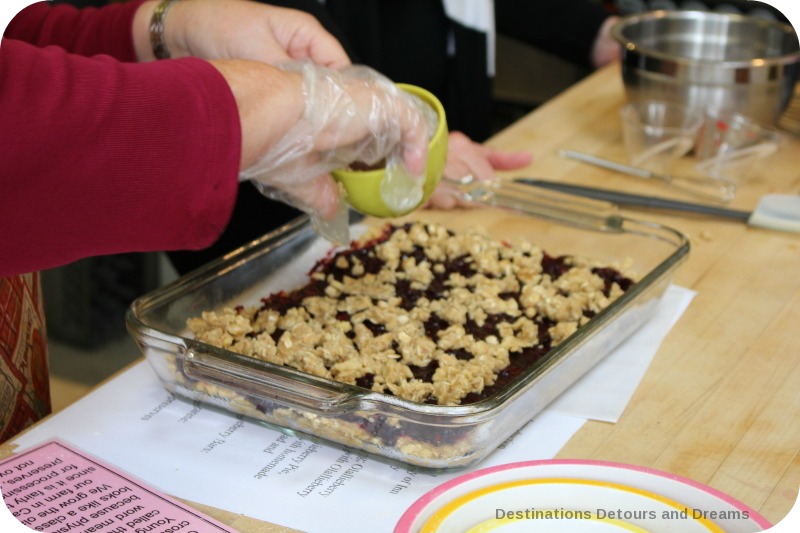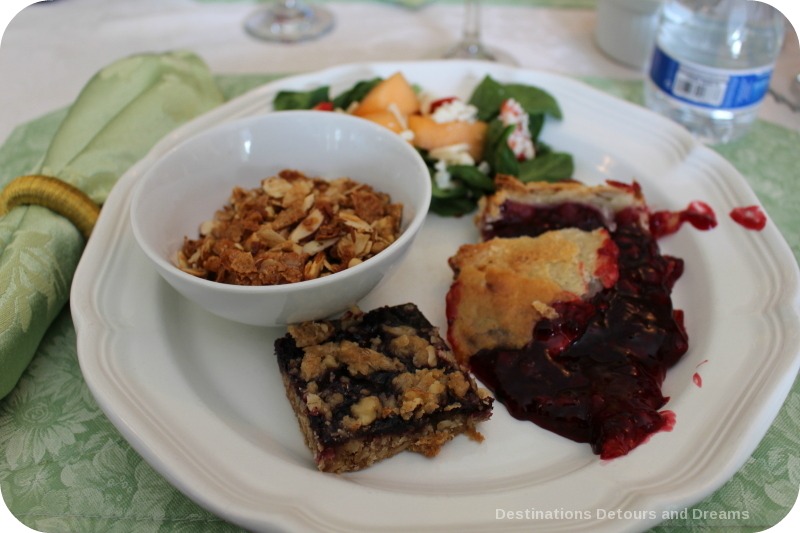 After the class, we sat down to sample a variety of olallieberry treats – olallieberry yogurt with the Inn's homemade granola, honey and fruit salad, olallieberry pie and olallieberry bars. All delicious!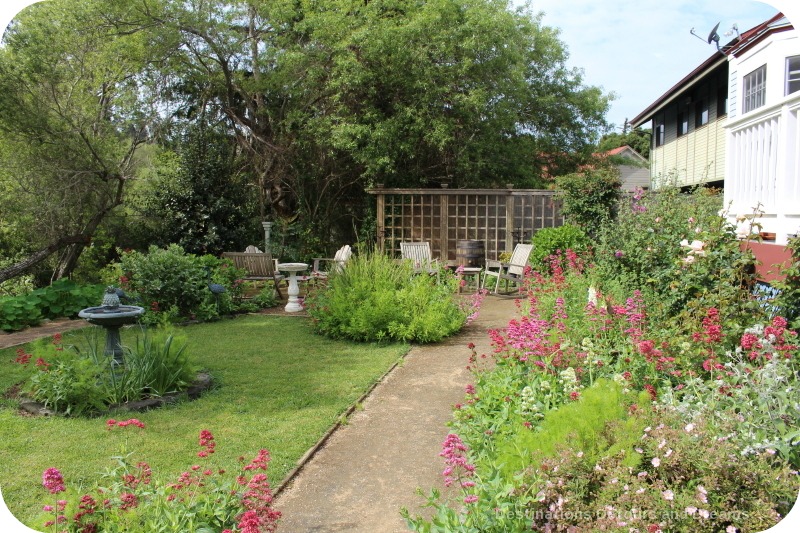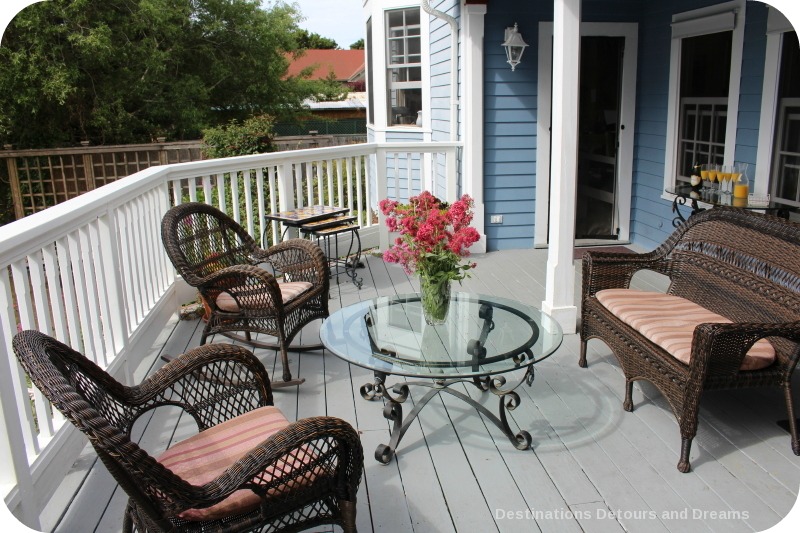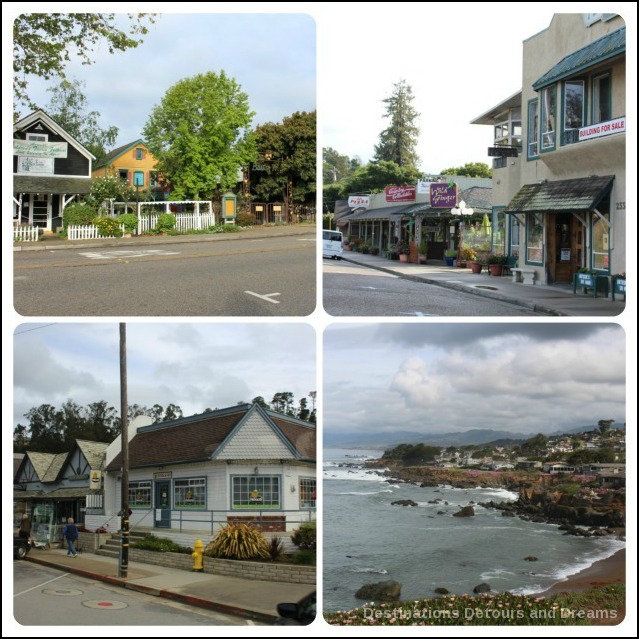 Cambria is a lovely town with Victorian houses in the historic east village, a vibrant arts scene with galleries, theatres, artisan crafts and shops in the west village, and beautiful coastal walks and views. You can read more about Cambria in Enchanting Cambria: History, Art and the Outdoors. For now I leave you with the Olallieberry Bar Recipe.
---
Olallieberry Bars
Ingredients:
1 cup butter (8 ounces)
1 cup packed brown sugar
1 1/2 cups flour
1 1/2 cups rolled oats
1/2 teaspoon baking soda
1/4 teaspoon salt
1 cup chopped walnuts
1 (10 ounce) jar of olallieberry jam
Method:
Melt the butter in the saucepan. Remove from heat.
Stir in the brown sugar until dissolved. Cool to room temperature.
Combine with the flour, oats, baking soda and salt in a bowl and mix well. Mix in the nuts.
Reserve 1 cup of the flour/oat/nut mixture for the topping. Press the remaining mixture into a greased 9 by 13 inch baking pan. Spread with olallieberry jam and sprinkle with the reserved flour/oat/nut mixture over the top.
Bake at 350 degrees for 30 minutes. Cool on wire rack. Cut into bars.
---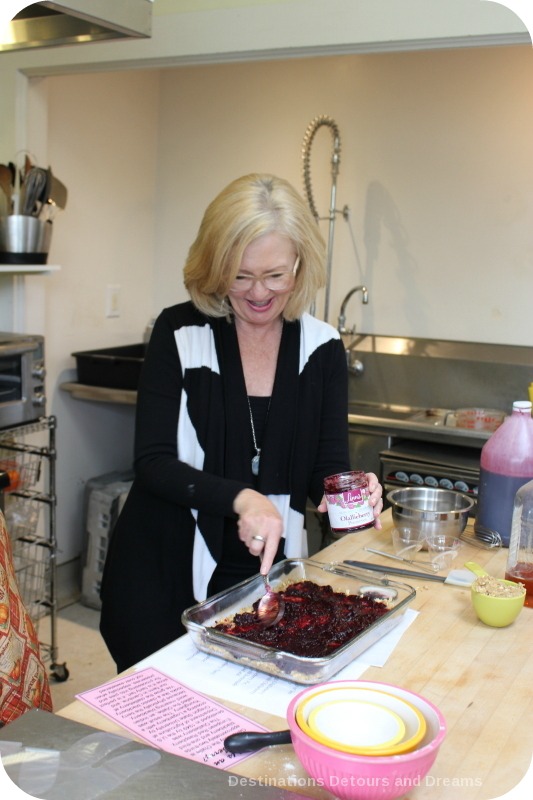 PIN IT