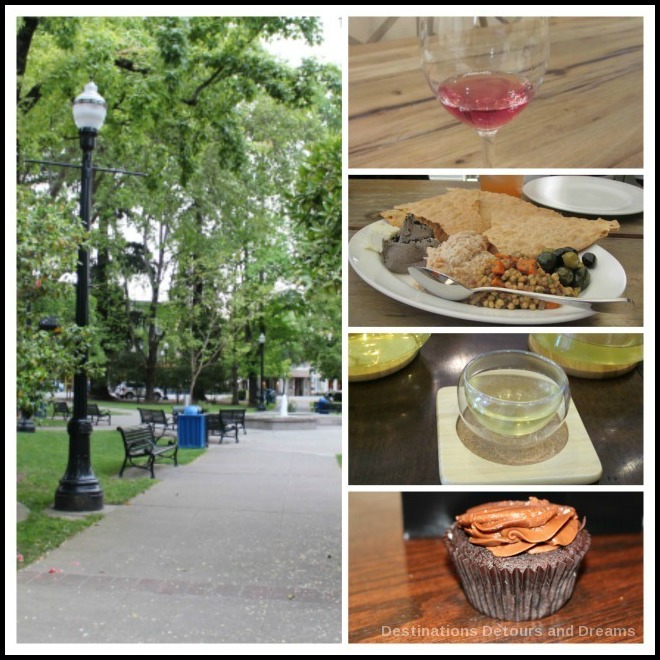 Savouring the cuisine of Sonoma wine country
on a gourmet food tour with Savor Healdsburg
(Updated April 2019)
Disclosure: I was a guest of Savor Healdsburg on this tour. Observations and opinions are my own.
Perhaps most well-known for its wineries, California's Sonoma County also offers great dining. That is particularly true in the town of Healdsburg, which has developed a reputation as a foodie destination. I had a chance to taste some of the reasons for that reputation when I took a tour with Savor Healdsburg.
I took the tour in 2016 and it took me to 6 different tasting locations. Sadly, two of those locations are no longer in business (Healdsburg Shed and Café Lucia), but the others are still very much part of Healdsburg's culinary scene and remain on Savor Healdsburg's list of tasting locations. Read about the tour and those four locations in the rest of this post.
About Healdsburg and Savor Healdsburg
The area around Healdsburg was home to the Pomo Indians for thousands of years. Other settlers arrived in the mid 1800s, drawn to the fertile farmland. Harmon Heald was one of the winners of an 1857 squatters' war. He built a store and post office, and laid out a grid for the town, selling plots for $15. Healdsburg was officially incorporated in 1867. It remained a quiet, farming community until the early 2000s when a transformation began, bringing restaurants, galleries and boutiques.
Healdsburg remains home to families who have lived here for generations. Agriculture remains an important focus and chefs feature local products. Surrounded by three wine growing areas (Dry Creek Valley, Alexander Valley and Russian River), there are plenty of wine options to accompany the food.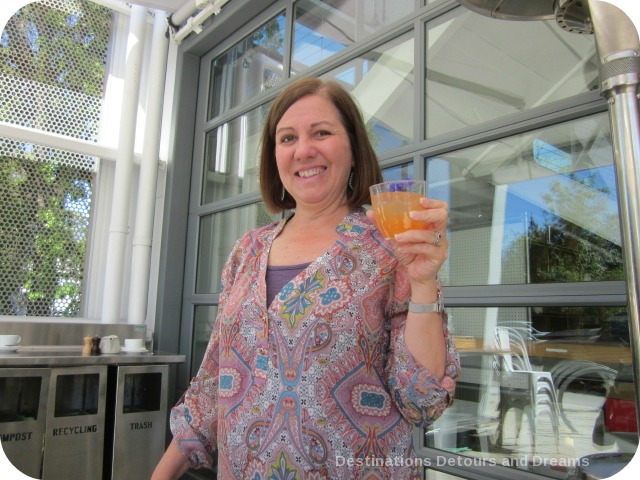 Tammy Gass, owner of Savor Healdsburg, says the town continues to change and evolve. She created Savor Healdsburg because she wanted to share what Healdsburg had to offer "one bite, one sip, one site at a time." As Tammy began the tour she told us we would not get just a little sample. "We are going to dine," she said. With those words we were off to a great start.
Gustafson Family Winery Tasting Room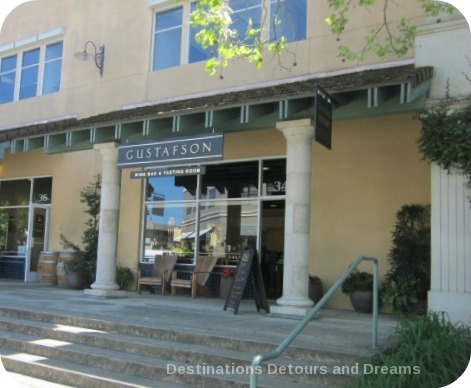 It was fitting that a food tour in wine country included a wine tasting. At Gustafson Family Winery Tasting Room we sampled four wines (2014 Estate Rosé of Syrah, 2014 Estate Riesling, 2012 Estate Heritage Tree Zinfadel, 2012 Estate Petite Syrah ), while we heard the story of the winery and watched photos scroll by on the screen on the back wall.
The Gustafson Family Winery is located in the mountains above Lake Sonoma. The winery was founded by Dan Gustafson, originally from Minnesota. His family vacationed in the area when he was a child. He dreamed of owning a winery and studied soils and micro-climates. In the early 2000s when he was in the market for land, he spotted a Madrone tree while on a country drive. He and his wife hopped the fence into what was then a sheep pasture to check out the tree, the oldest and largest Madrone tree in the county, and the soil in the area. Dan knew there was a connection between where these trees grew and wine grapes. It was a good micro-climate for big, bold red varietals.
The winery was built from the ground up. The winery tasting room opened in 2009, the tasting room in Healdsburg in 2014. I liked the rich body of the reds. The rosé was not too sweet and the Riesling was off-dry. All wines are made from grapes on the estate. Only 4,000 cases are produced a year. There is no distribution. Wines are sold through their tasting rooms and their wine club. You can also find the wine in local restaurants.
The winery is in a scenic and isolated location. Tammy told us it makes a beautiful spot for a picnic. (There is a picnic area on site – bring your own lunch.) On their website, winemaker Emmett Reed says, "if you think you've gone too far, you're probably almost there." Tastings at the winery are available on Saturdays or by appointment on Fridays, Sundays and Mondays. The Tasting Room in downtown Healdsburg is open daily.
Bravas Bar de Tapas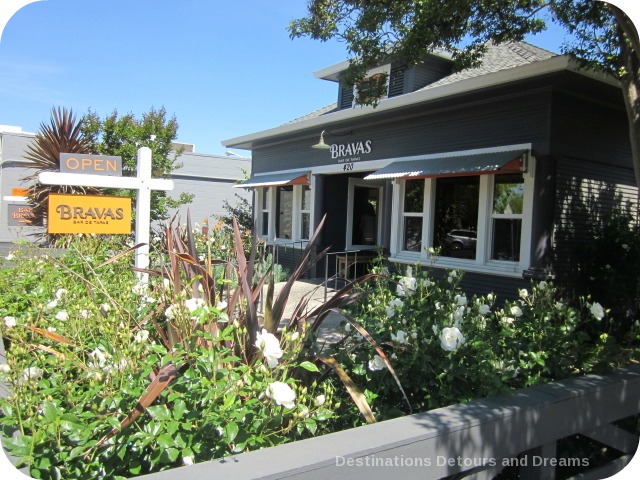 Bravas Bar de Tapas is one of six restaurants in Sonoma County owned by James Beard Outstanding Restaurateur semi-finalists Mark and Terri Stark. It is the fifth restaurant they opened and was inspired by a trip to Spain. It offers traditional and modern tapas-style dining and a menu which changes seasonally. On Friday and Saturday evenings, paella is cooked on grills on the patio.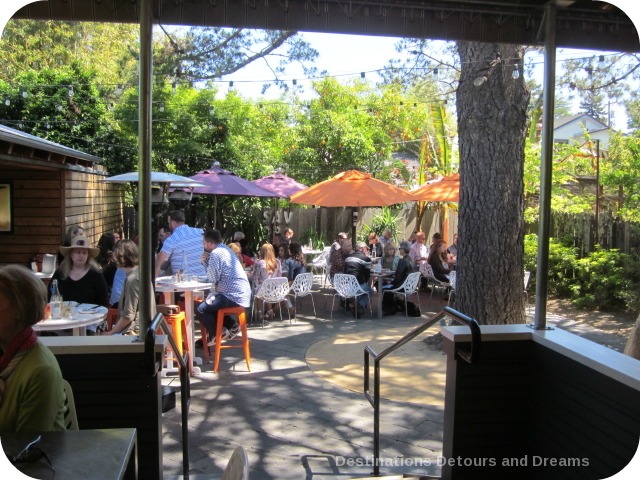 When we arrived, we were offered a choice of red, white or sparkling sangria. Then the tapas just seemed to keep coming, We had cider braised Chirozo and Shishito peppers, roasted red beets with cinnamon, walnuts and Idiazábal, goat cheese toast with golden onions and white truffle honey, and Patatas Bravas (fried potatoes with spicy tomato sauce and Allioli). All of it was a delight for the mouth and tasted like "more", although I was becoming pretty full.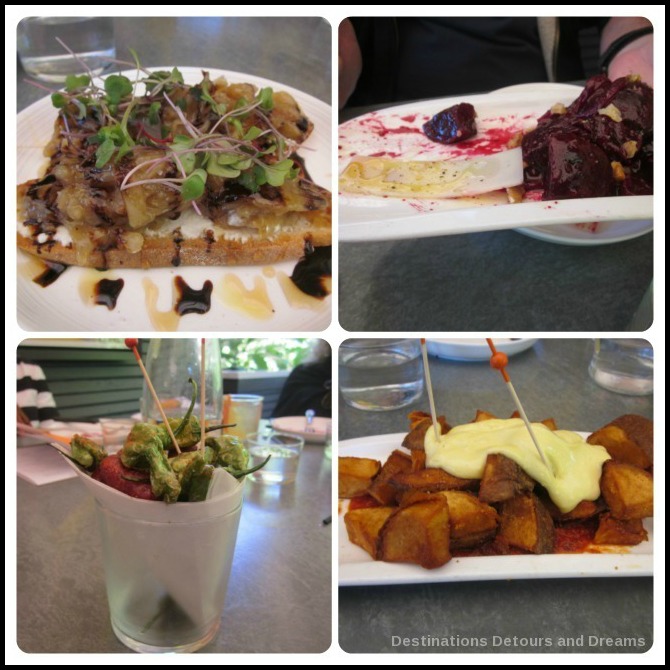 The Taste of Tea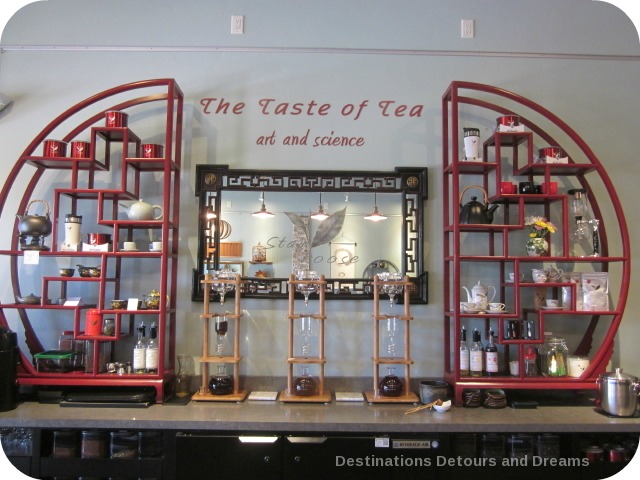 The Taste of Tea offer tea sampling, traditional tea service and a Japanese-inspired lunch menu. Their relaxation room offers traditional Japanese tea skin treatments.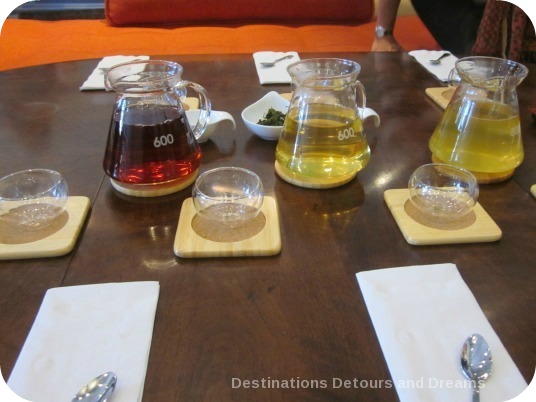 A tea docent led us through the tasting of three different teas – a Japanese green tea, a Taiwanese oolong tea and a Chinese black tea called golden monkey. She talked about the differences between green, black tea and oolong. Green tea has the least amount of caffeine, black tea the most. The difference is the amount of oxidation. Japanese green teas have a delicate grassy taste. The black teas we are most used to in North America come from the British tradition and are from India. They have a sharp taste. Chinese black teas are more delicate and softer. She said the most variation in taste occurs with oolong teas, which fall between green and black teas.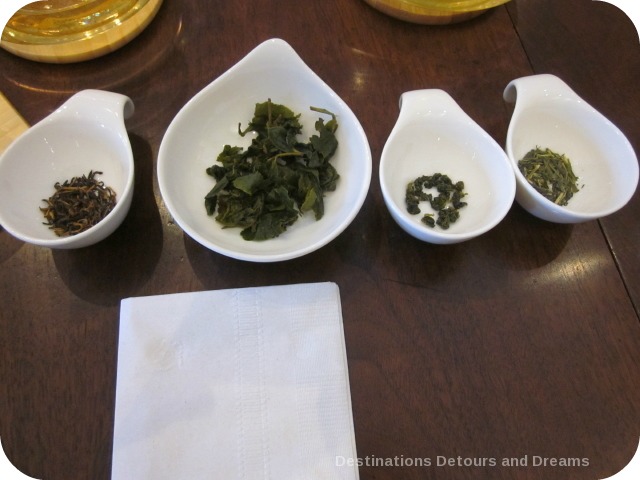 I was not fond of the oolong tea we sampled. It had quite a creamy taste. But it was the favourite of some others in the group. I liked both the green and the black. The docent provided a lot of information about tea's health benefits, tea processing and brewing. It was all interesting but one item stood out for me. She said you can remove much of the caffeine in tea by rinsing or doing a first steep.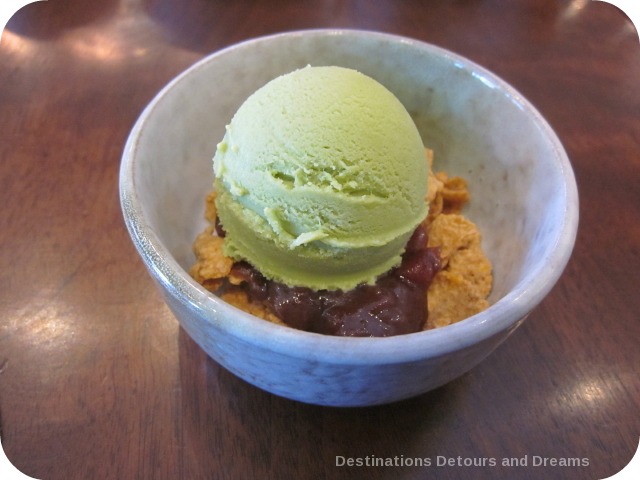 Moustache Baked Goods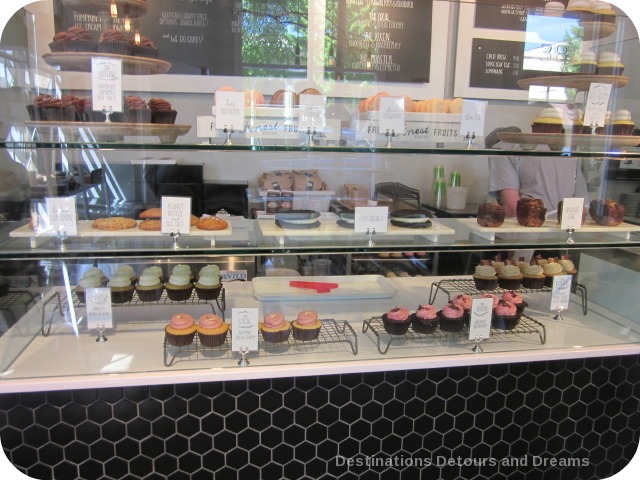 Moustache Baked Goods is owned by two twenty-somethings who grew up in Sonoma County. They bake from scratch using local ingredients and no preservatives. This is where the tour ended. We were offered a choice of cupcakes (some with buttercream icing, others with cream cheese icing) or cookie to eat in or have boxed to go. Full from the rest of the tour, all of us opted to box the treats up for later consumption.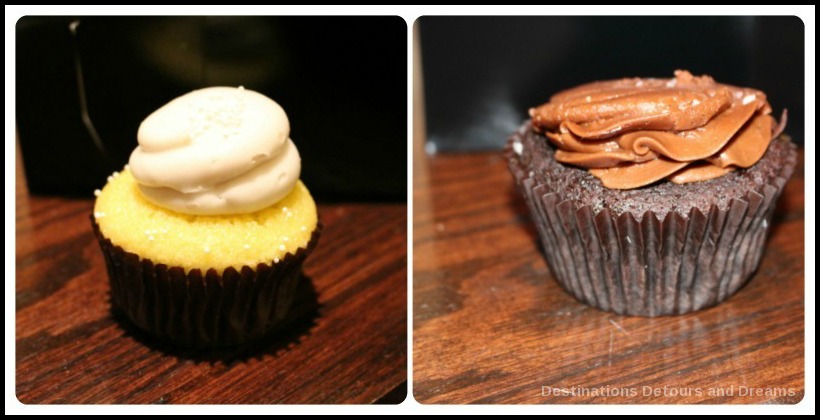 Final Thoughts
I had a lot of fun on the three and a half hour food tour. Savor Healdsburg tours run year round, with the busiest times being May through October. I took the tour on my last day in the area, but I recommend taking this tour early in your visit. You may discover places you wish to visit or return to. Others on the tour made appointments to visit the Gustafson Family Winery after our tasting experience. Tammy also provided other information about Healdsburg and had other recommendations for us. There was lots more to sample and savour in Healdsburg had I been staying longer.
PIN IT