Cooking Fish Tacos With Chef Nikki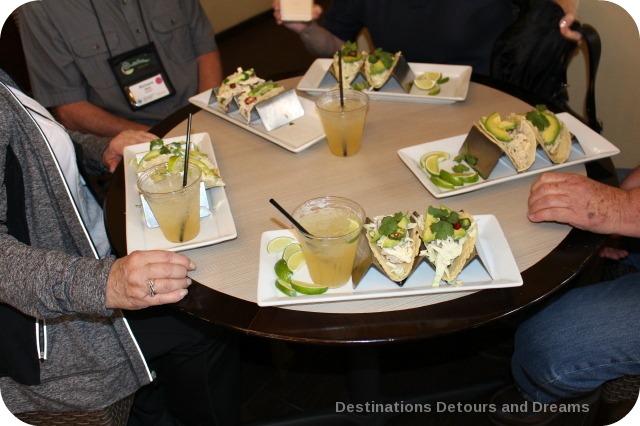 Learning to cook fish tacos with Chef Nikki Newman
of Mandalay Beach Resort's Coastal Grill in Oxnard, California
Fish tacos are a favourite of mine and I enjoy trying different versions. I was therefore excited to have the opportunity of taking a fish taco cooking class offered by Chef Nikki Newman as part of the North American Travel Journalist Association's (NATJA) 2016 conference. Chef Nikki works at the Coastal Grill, the restaurant of Embassy Suites Mandalay Beach Resort in Oxnard, California.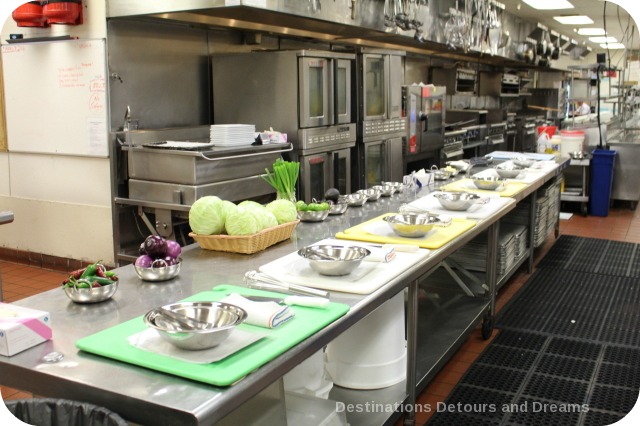 There were five of us in the class. Chef Nikki had prepared work areas for us and laid out the ingredients we would need. With patience and good humour, she led us through the process. The amounts in the recipes we followed were adjusted so we each made single servings. We would taste our own creations.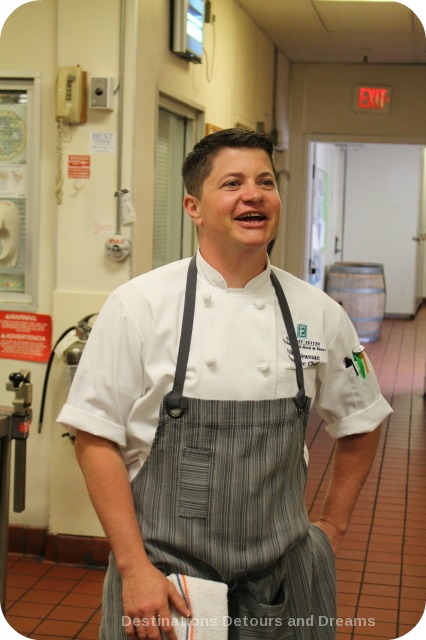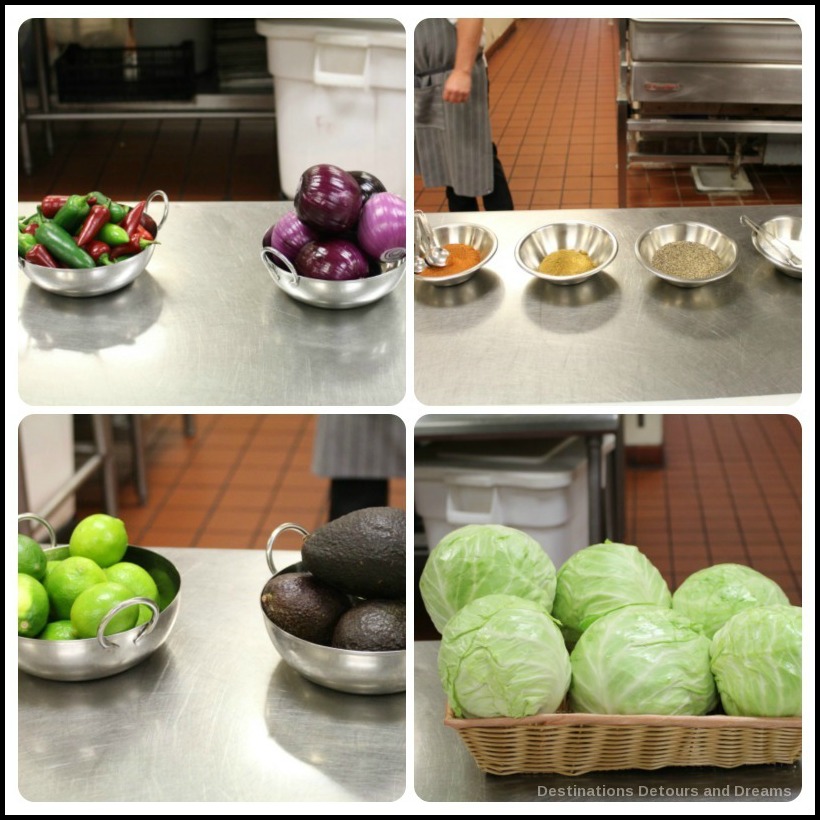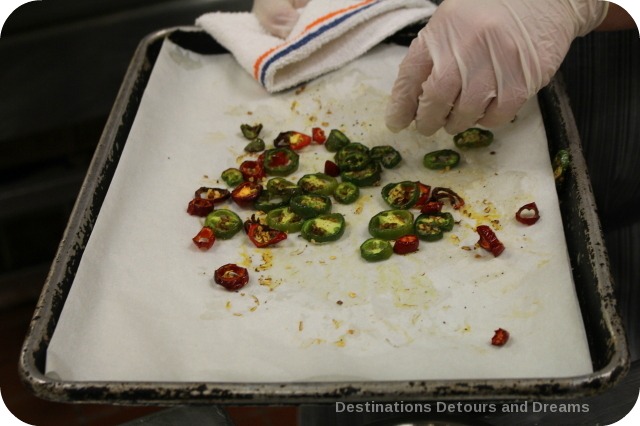 We started by slicing jalepeños for roasting. We donned gloves to protect our hands from the heat. (Also protects other parts of the body – I've wound up with stinging eyes more than once after rubbing them, thinking I'd completely cleaned my hands of jalepeño residue.) Chef Nikki sprinkled oil (a blend of olive and canola oils), sea salt and pepper on the jalapeños before popping them in the oven.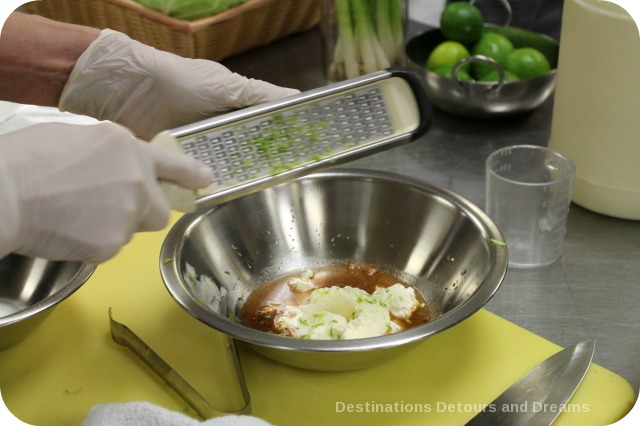 While the jalapeño roasted, we prepared the dressing for the slaw. mixing mayonnaise, Greek yogurt, lime juice and zest, apple cider vinegar, and spices. Each of us adjusted the spices to our individual preferences and tolerances for heat. A couple of us (yes, one of those would be me) read the recipe wrong and added too much cider vinegar. We drained as much off as we could. Chef Nikki told us to add extra mayonnaise and sugar to compensate.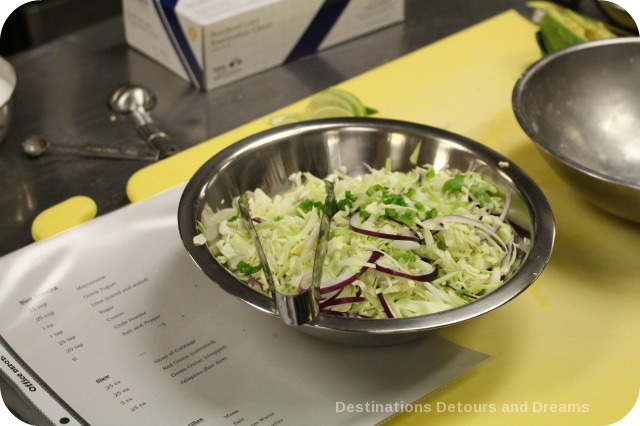 We set the dressing aside and sliced cabbage, red onion and green onions for the slaw. My classmates all cut thinner, finer slices than I did. The bowl in the photo is my husband's handiwork.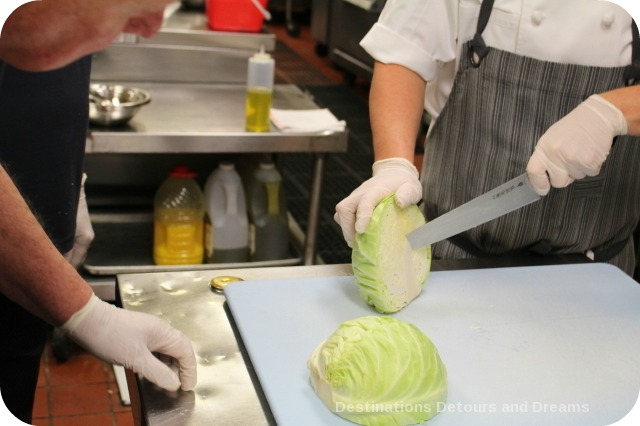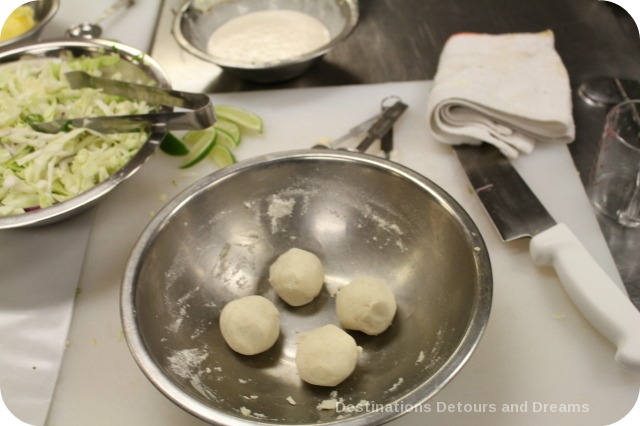 We set the slaw aside and prepared the corn tacos using Masa flour. Masa flour is made from corn soaked in limewater. The recipe called for lard or butter. We used butter. After we'd mixed the dough (by hand) to "play-doh" consistency, we divided it into four sections and rolled those sections into balls.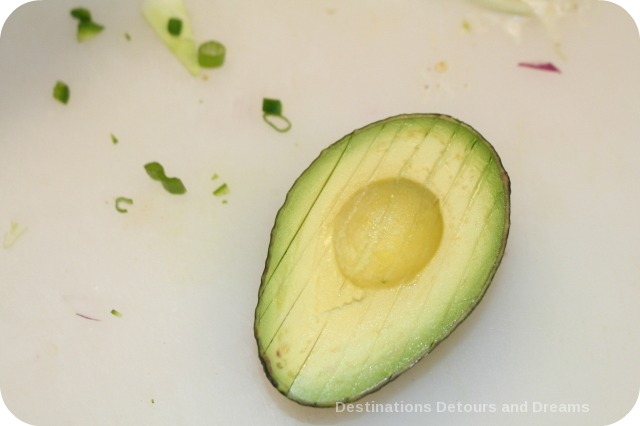 Chef Nikki showed us the trick for slicing avocados. You cut in half and take the seed out. Then make slices in each half down to the skin but not all the way through the avocado. Use a spoon to scoop underneath and pop out the slices. Thanks to my sister-in-law, I already knew this trick.

We let the taco dough sit while Chef Nikki prepared the fish. She used ling cod from off the coast of Oregon and seasoned it with nothing other than salt and pepper.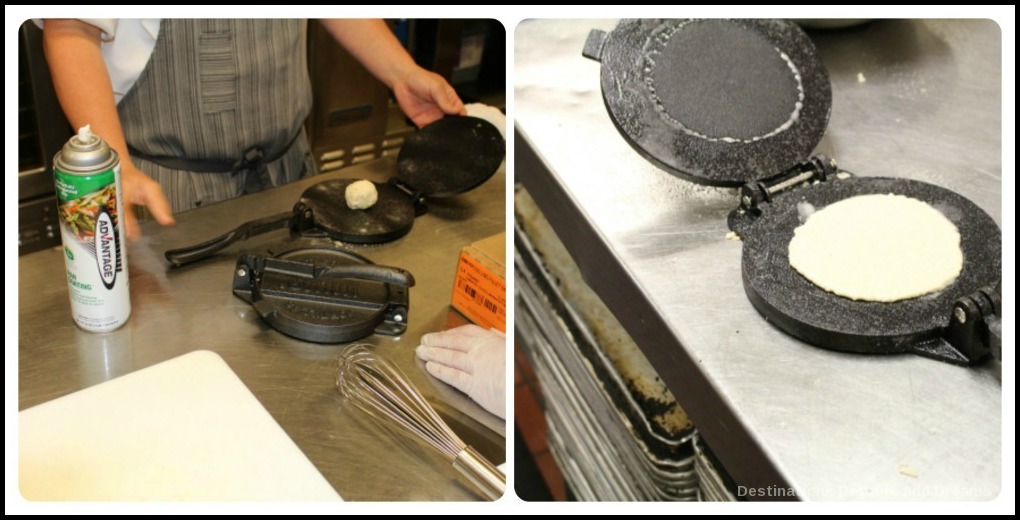 The trickiest part of the entire process was flattening our taco balls into rounds. We used a taco press. In some cases the dough tore apart when we tried to remove it from the press, even through the press had been sprayed with oil before using. This was a sign to add more Masa to the dough. If you don't have a taco press to shape the rounds, you can press or roll between two pieces of wax paper or a plastic food bag. We cooked the tacos on the grill two minutes each side.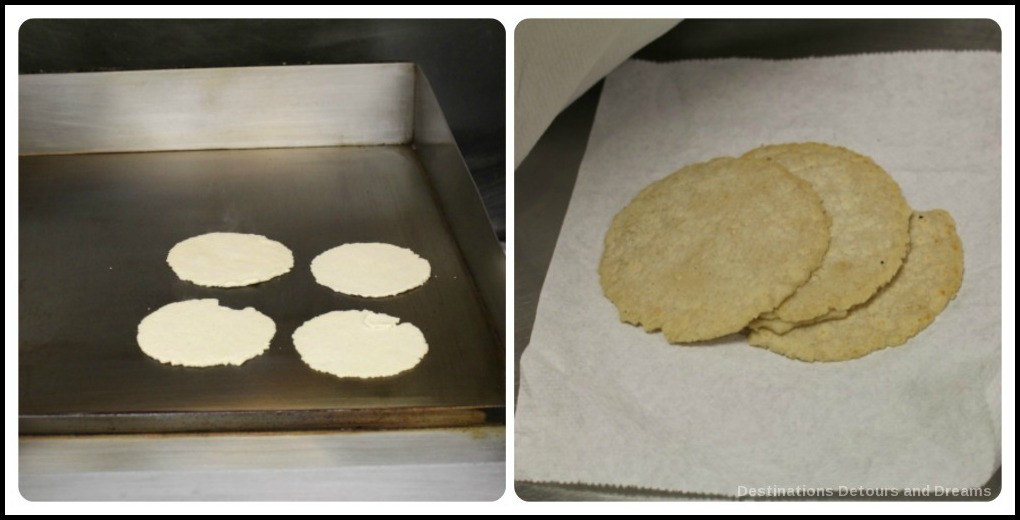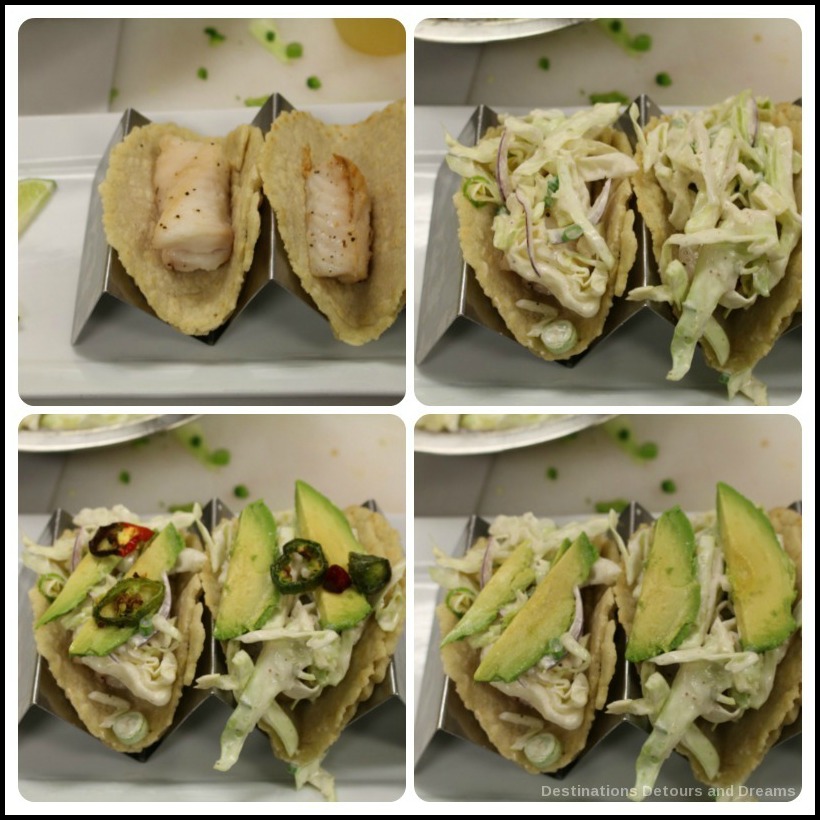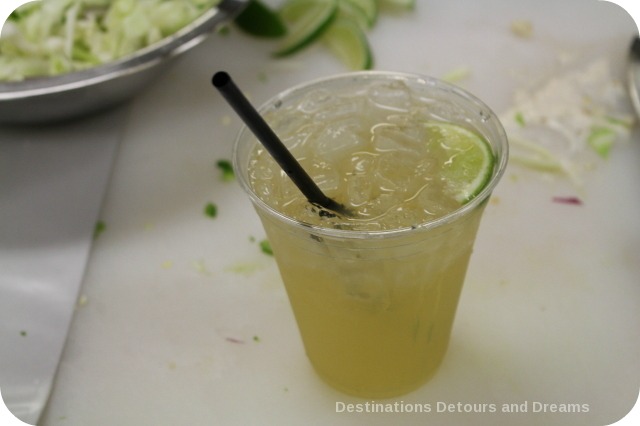 ---
COASTAL's Fish Tacos
Fish and Garnish
1 Pacific cod
1 Avocado (seeded and sliced)
2 Limes (cut into 8 wedges)
2 Jalapeños (sliced and roasted slightly)
Cut cod into 8 pieces, lightly season with salt and pepper. Sauté on high heat.
Slaw Dressing
1/2 cup Mayonnaise
1/2 cup Greek Yogurt
2 Limes (juiced and zested)
1/2 Tbsp Apple cider vinegar
1/2 Tbsp Sugar
1/2 tsp Cumin
1/2 tsp Chipotle powder
to taste Salt and pepper
Mix all ingredients together in a mixing bowl and reserve.
Slaw
1 head Cabbage (shredded)
1 Small red onion (julienned)
1 bundle Green onions
1 Jalapeño (stemmed, seeded and julienned
Mix all ingredients together in a mixing bowl and reserve.
Corn Tortillas
2 cups Masa
2 tsp Salt
1 1/2 cup Warm water
1 Tbsp Soft butter or lard
Mix salt and Masa. Mix in water and butter until soft "play-doh" consistency is reached. Divide into 16 balls. Press or roll out to 1/8 inch thickness. Sauté on medium heat, 2 minutes each side.
Assemble Tacos
Toss slaw dressing into slaw mixture, based on your personal preference. Double up the corn tortillas; add a 2 oz piece of fish to each taco. Top with slaw mixture. Garnish with a slice of avocado, a cilantro sprig, and a couple of roasted jalapeño slices.
---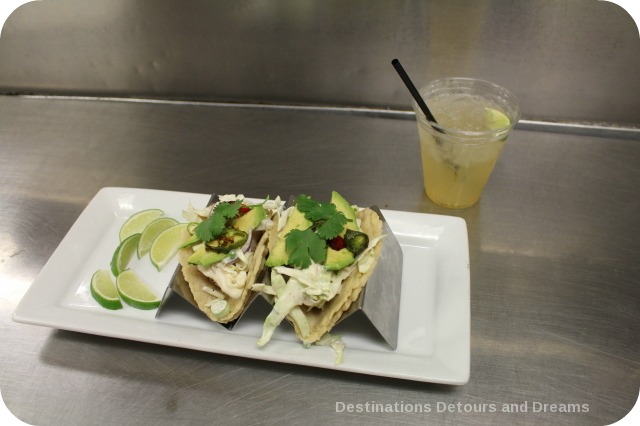 This was the first time Chef Nikki had done a class like this. She is planning to do more. Given the fun I had in this class I am sure they will be well worth attending. And by the way, the fish tacos were delicious.
PIN IT