Beginning the House Sitting Adventure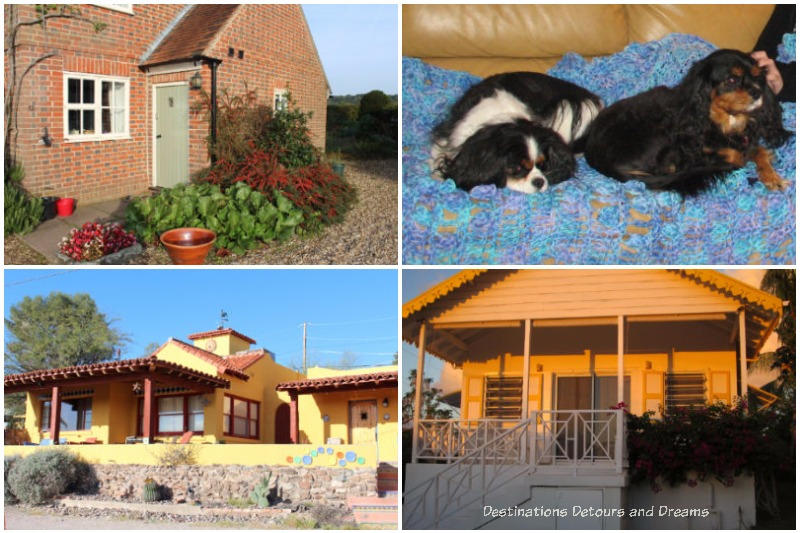 About the experience of becoming house sitters
My husband and I will very shortly start a several week house-sit in the English countryside where we will look after two fox terriers while their owners are away. We are looking forward to the adventure, but it has also been a bit of an adventure just to get to this point.
What is House Sitting?
Before I talk about our experience, I should explain briefly what house sitting is. It is a practice where a home owner has someone else live in their house while they are away. That other person(s) takes care of the house, and in many cases, pets as well. For the home or pet owner, it means their house and pets are looked after in their absence. In exchange for their care, the sitters get free accommodations, chances to experience an area like a local, and opportunities to interact with pets. The durations of house-sits can run from a few days to several months.
It is a win-win situation in many ways, but it is not for everyone. Home owners need to be comfortable having someone else in their home. They need to make space for the sitter(s) and prepare information on the specific needs of the pets, emergency contacts, etc. Sitters take on home and pet responsibilities as agreed to with the owner. Responsibilities vary by situation. Sitters need to be prepared to spend time in the home and with the pets.
There are several companies that act as brokers matching home and pet owners with sitters. You sign up as either an owner or sitter (or maybe both) for a yearly subscription fee, ranging from $20 to $100 depending on the company. Some of the more common companies are TrustedHousesitters, house carers, Nomador, and Mind My House.
Note: Most sites allow you to browse without payment. This is a good way to get a feel for the site and the type and location of sits you'll find there.
How We Got Interested
Over the last two to three years, I've read several accounts of house-sitting experiences by online friends. I found the concept intriguing and their experiences interesting. My husband and I began to discuss whether we might want to house-sit.
We like to travel and experience new places. We like visiting the traditional tourist sites as well as getting to know a place more deeply. Accommodations are one of the most expensive items related to travel. It seemed as if house-sitting might allow us to travel more, have longer more relaxed stays in one place, and a get a sense of the local life. We are former dog owners and felt we'd enjoy taking care of someone else's dogs.
In spring of this year, when we'd almost made up our minds to give this a go, an opportunity landed in our laps in that wonderfully serendipitous way in which the universe sometimes works. Our next-door neighbours were scheduled to house-sit for several weeks in Victoria for friends they'd house-sat for before. However, they were unable to do the first two weeks and, knowing we travel to Victoria occasionally to visit family, asked if we'd be interested. We jumped at the chance. In this case, there were no pets involved. The family's elderly mother lived in a self-contained, attached apartment. She was quite capable of taking care of herself, but they felt more comfortable going away knowing someone was in the house beside her. That experience strengthened our resolve to look for other house-sitting opportunities.
Signing Up
We chose to sign up with TrustedHousesitters, the largest company of this kind. After you join, you create a profile. Home owners read this to find out about you and your qualifications when they are in the process of selecting sitters. The profile format varies slightly with each company, but essentially contains similar information: an overview of who you are, why you want to house-sit, and why owners should pick you to look after their homes and pets.
I liken the profile to a resume one might create for a job search. We spent time developing our profile before we officially signed up and paid for our membership. That way, we could start applying for sits fairly quickly rather than spend the first weeks of our paid membership honing our profile. I found online advice about creating the profile. I read other house-sitter profiles. We had to decide what skills and experience we wanted to highlight.
The best profiles I read weren't particularly long, but they still conveyed something about the personality and interests of the sitter(s) in addition to their competencies. House-sitting is a transaction between individuals and ultimately relies on making a personal connection.
There is a catch-22 in job hunting that it is hard to get a job without experience, but you can't get experience without getting a job. Getting started with house-sitting seemed to have a similar catch-22. House-sitters who'd done a few sits through TrustedHousesitters had reviews from home owners that owners of future potential house-sits could read as references. We were new to the site and had no such reviews. However, there was an opportunity to obtain external references and we did that. The people we house-sat for in spring provided a reference as did a friend we'd dog-sat for in the past.
Finding Our First House-Sit
We had no particular destination in mind and a fairly open calendar. While it is possible to browse the TrustedHousesitter site in general or by specific location, we mostly relied on the twice daily emails I received with new house-sits. We looked through all of these to find sits of interest. Due to my cat allergy, we ruled out any sits with cats. We passed over ones with farm animals we had no experience with. Some locations felt a little too exotic for our first sitting experience. Although our calendar was fairly open, we did have a couple of commitments and we ignored sits with dates that conflicted with the timing of those commitments.
If the profile can be likened to a resume, the application is the cover letter. It is a short message to the owner saying why you are interested and why you would be a good fit. You want the letter to induce them to seriously consider your application. Depending on the time and location, some sits can generate a large number of applicants, like the one with the house on the beach in Hawaii. The messages took time to compose to be specific to the sit and not simply restate profile information.
We signed up in late August and spent many hours in September reviewing possible house-sits, checking out their locations, and applying for close to thirty sits in various places. Some applications resulted in further follow-up with email conversations. A couple led to Skype and Facetime calls, rather like a job interview although less structured and more informal.
TrustedHousesitters recommends considering a local house-sit as one of your first sits in order to get experience and reviews. There were a couple of sits in or just outside our home city of Winnipeg. The owners contacted me to see if we would be interested in taking on the sit. We might have, but timing in both cases was a conflict for us.
Many of the house-sits in those twice-daily emails were in the United Kingdom. We have a special affinity for England. My husband lived in London for a short time as a young man and formed life-long friendships. As we looked through the sits, the idea of getting a sit in England became more and more appealing. Eventually, near the end of September, we landed a house-sit for later in the year in rural Surrey, England. A car is needed, but the owner is making hers available to us for the cost of adding us onto her insurance.
What's Next?
We have been in touch with and will continue to have contact with the home owner before our sit starts. We plan to arrive at the house the day before the owner leaves so that she can explain things to us and we can get acquainted with the dogs.
We continue to review available house sits on a daily basis, looking for future opportunities. Because our schedule for the next few months is now less open due to this sit and to other plans, the dates of many of the sits in the email do not work for us. We find fewer to follow up on. It has therefore become less time-consuming, at least for now.
Impressions so Far
House-sitting is not about free accommodation. Or at least not only about it. And it isn't completely free. You will have real dollar costs that include things like transportation to and from the location, travel health insurance, and possibly rental cars. There are non-dollar costs: your time in finding a sit and the responsibilities you take on during the sit.
Since the majority of the house-sits involve pets, you need to love dogs or cats or other animals. It was often the dog in the postings we reviewed that first drew me to the posting.
If you are determined to be in a particular place on a specific date, there is a possibility you could get lucky and find an appropriate house-sit, but you may be better off booking a hotel or AirBnB. Flexibility in terms of timing and/or location opens up possibilities and may see you heading off to all kinds of interesting places.
You will be not be accepted for every sit you apply for. The owners may connect more with another applicant, may choose someone with more experience or closer to home, or use someone who has sat for them in the past. Like the job hunting process or submitting stories or pitches to editors, you need to accept the rejection and move on. If the rejections pile up without any nibbles of interest, you may want to review how you apply, the contents of your profile, or ways to beef up your experience. Continue to apply.
You have to be honest with yourself and home owners about what you are prepared to take on. Occasionally a home owner with three or four or five large dogs said the sitter needed to be strong to handle the dogs. That sounded like more than we were prepared to deal with. Other sits required the sitter not be away from the home for more than an hour at a time. This situation might work well for digital nomads looking for housing, but not for someone who wants to also see a bit of the local area beyond dog-walking parks. (Why these same sits would list the attractions in the area was a mystery to me as the owners wanted the sitters to stay at home.) We expect to spend a fair amount of time at home or with the dogs, but we also want to be able to get out a bit on some days and explore. Sits where the dog(s) can be left for four hours or more were a better match for our expectations.
The house-sitting experience is about local experience and connection. One home owner, who has also been a house-sitter, told me she'd made a lot of friends through house-sitting. I look forward to being part of this community and meeting people and their pets.
We are still new to this and don't know what the future of house-sitting holds for us beyond our first sit. Our impressions will likely change as our experience grows. We're up for this adventure!
If you want to find out how the house-sit worked out, read Starting the House Sit and The House Sitting Experience.
PIN IT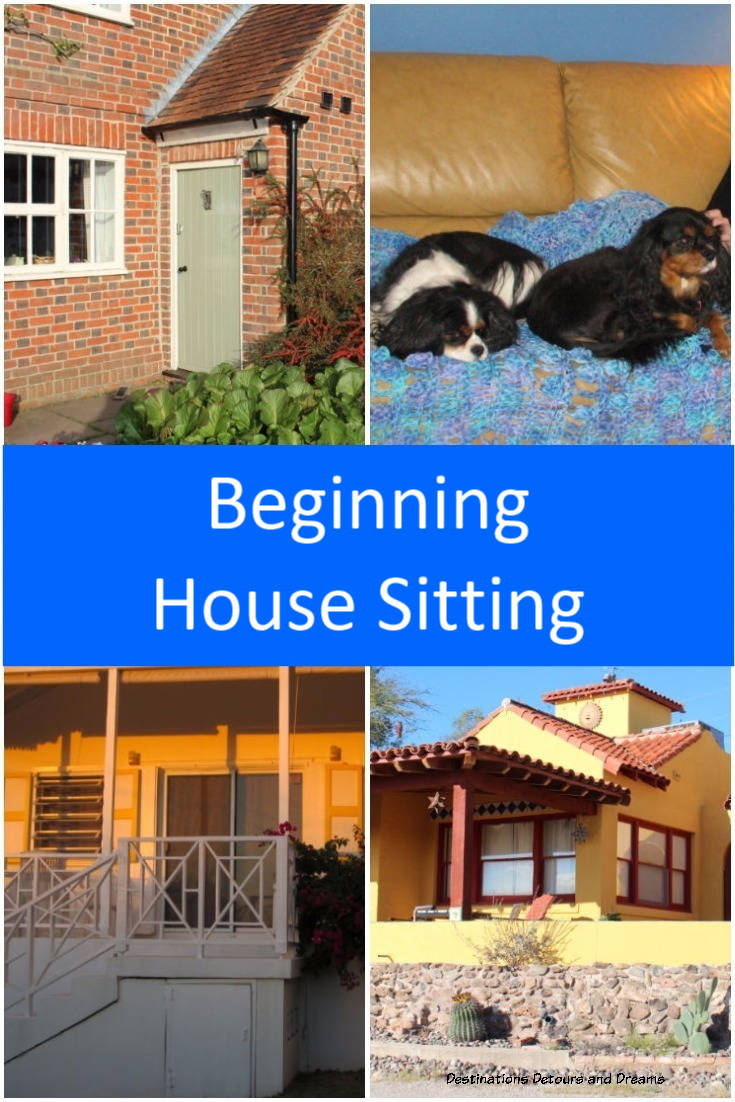 Never miss a story. Sign up for Destinations Detours and Dreams monthly e-newsletter and receive behind-the-scenes information and sneak peaks ahead.