A Dozen Tips for Visiting Barcelona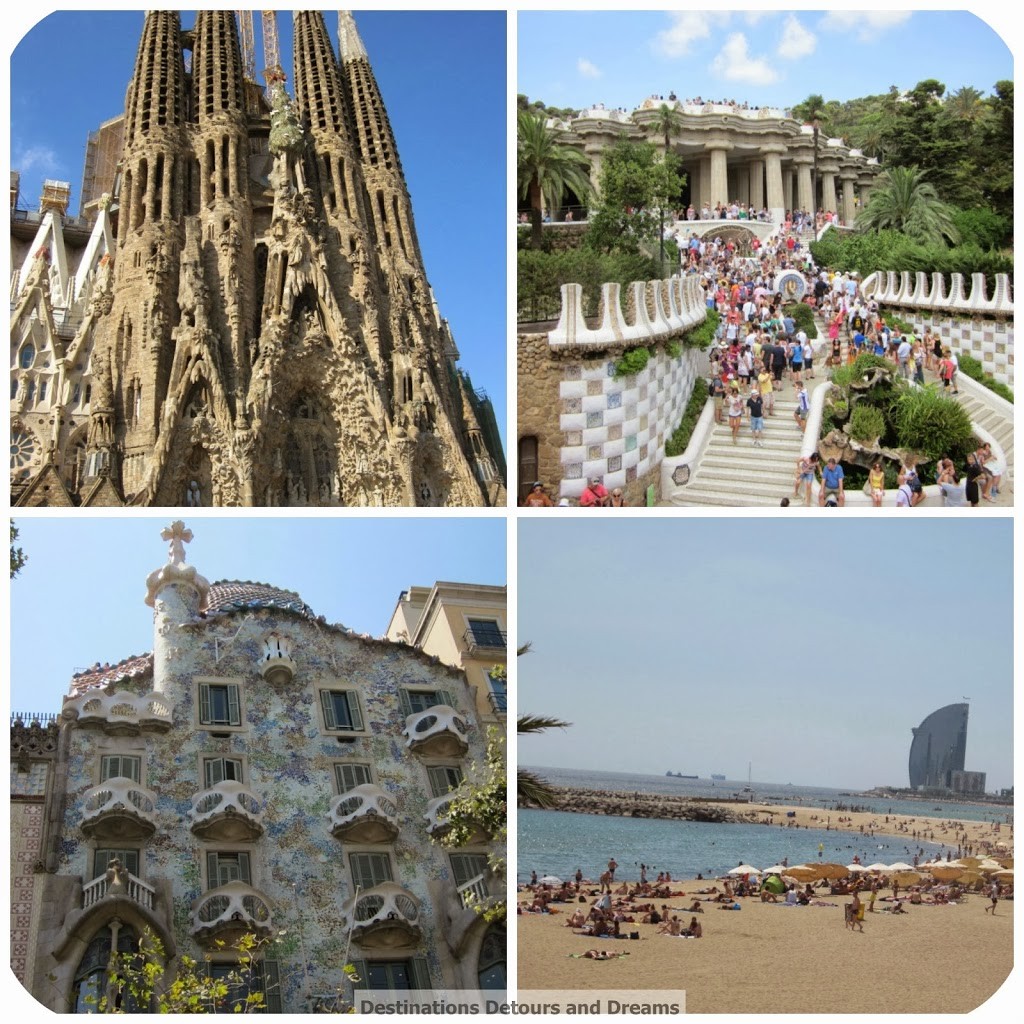 Tips to make the most of your Barcelona visit
Barcelona, Spain is a fascinating city to visit. You can find several posts on my blogs about attractions in the city. Here, now, are twelve tips to make the most of your visit.
Pack a good pair of walking shoes. Barcelona is an extremely walkable city and there is much to explore, particularly its architecture, on foot.
Purchase a guide book with a decent set of self-guided walking tours. The guide book and your good pair of walking shoes will provide hours of interest.
The T10 transport ticket is an economical way to use public transport. The T10 ticket gets you ten journeys on the subway, bus, or tram. Not only does it save the hassle of individual tickets, the cost per journey works out to less than half of individual tickets. You can buy a T10 ticket at any metro stop. Automatic ticket purchase stations are also located at some bus and tram stops.
The Metro, Barcelona's subway, is fast and convenient. But don't overlook the bus as a means of getting around. I preferred it in most cases. It was less crowded and I could sight-see along the way. Although most of the subway cars are air-conditioned, the underground walkways and waiting areas were not. When I factored in the walks to and from subway stations and within the stations themselves, the extra time to take the bus was minimal.
It is a good idea to book a ticket for La Sagrada Familia in advance to avoid long line-ups at the site. Tickets can be purchased on-line. I recommend signing up for a guided tour or the audio headset. The information about the history, the symbolism, and the architectural features will enrich your experience.
Dress appropriately when visiting Barcelona Cathedral or other churches. You may be refused entry if you have bare shoulders and shorts or skirts above the knee. Barcelona is hot in the summer time. Carry a lightweight scarf to drape over your sleeveless top.
Pack or buy sunscreen and mosquito repellent. The sun is hot in the summertime. And you may encounter mosquitoes, particularly in July and August. Repellent is a good idea if you, like me, react badly to bites.
In some restaurants, price may be impacted by where you sit. Food at the bar is generally the cheapest. Many places I visited charged a 10 to 20 percent surcharge for sitting on the terrace. On a nice day, you may opt, as I did, for the terrace in spite of the extra cost, but it is better to be prepared for the charge than surprised and angry when you get the bill.
Consider eating in as a break from restaurant food and a favour to your budget. Prices at the grocery stores are reasonable, although they may be somewhat inflated at convenience stores near tourist hotel areas. If you do not have cooking facilities, consider selections of roast chicken, fruit, and prepared salads. Cured ham is a speciality of the area and relatively inexpensive, as are many cheeses.
Barcelona has two official languages – Spanish and Catalan. Many signs will be in Catalan only, but most people are proficient in both languages. In tourist areas, you will generally find staff and people who speak English. If your Spanish is rusty or non-existent, a small phrase book may be a handy thing to carry should you wind up off the beaten track.
Almost every Barcelona guide article you read will mention pickpockets. Friends who have been there are likely to warn you as well. Barcelona is said to have some of the most sophisticated pickpockets in the world. Be alert and take precautions. Invest in a waist, or around-the-neck, money carrier with a cut-proof strap. Keep it closed and to the front of you. Do not set your bag or camera on the table or over the back of a chair in a restaurant. Keep it on your lap. Do not take all your money and id with you. It is a good idea to have a back-up credit card locked up at your hotel. Men, do not carry your wallet in your back pocket. When you are buying tickets at one of the popular tourist attractions, do not set your wallet down on the counter beside you. Pay attention to the people around you. Be alert and take precautions, but don't let fear stop you from enjoying the city. You will hear true stories about the pickpockets, but many people have visited Barcelona without incident.
Pay attention to the flashing walk signs at street crossing. Once the lights start to flash, you have approximately three seconds to get across before the walk light is completely red and vehicle traffic has the green light.
Do you have any tips to add to mine?
For more posts on Barcelona, check out:
Barcelona Architecture: Modernisme and More
Barcelona's Gaudí: Madman or Genius?