Dining On Salt Spring Island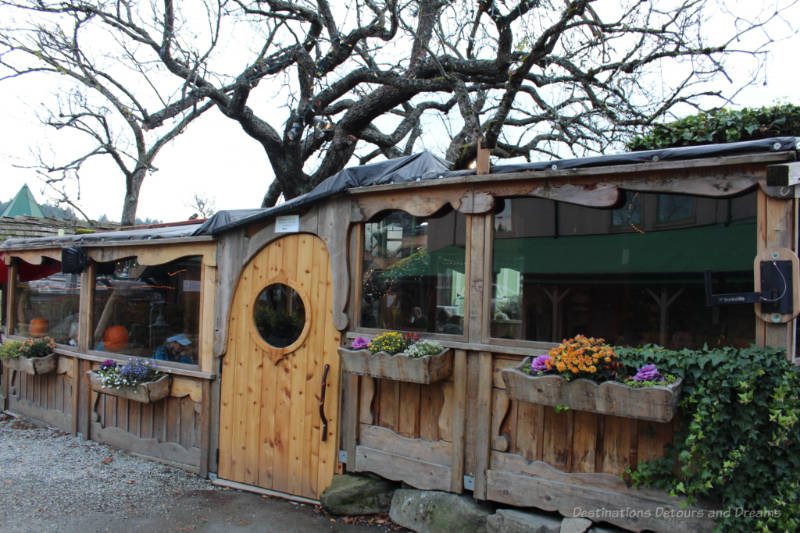 Favourite restaurants on Salt Spring Island, British Columbia, Canada
Salt Spring Island on Canada's west coast has a unique character derived from a combination of natural beauty and an eclectic population that includes artists, healers, hippies, nature lovers, and free thinkers. It is also known for its organic farm produce and artisanal food. That mix makes for interesting and tasty dining. Restaurants I've enjoyed are highlighted in this post.
The Food Garden
Tree House Cafe
Salt Spring Island Inn
Barb's Bakery & Bistro
Moby's Pub
El Loco Taco
Twig & Buoy
More Places To Eat On Salt Spring Island
The Food Garden
The Food Garden is a collection of food trucks in Ganges parked on a lot on Rainbow Road at the corner of Lower Ganges Road. A couple of picnic tables under shelter offer a spot to sit while eating your food. Food available includes organic farm-to-table offerings, poutine, curries, and crepes.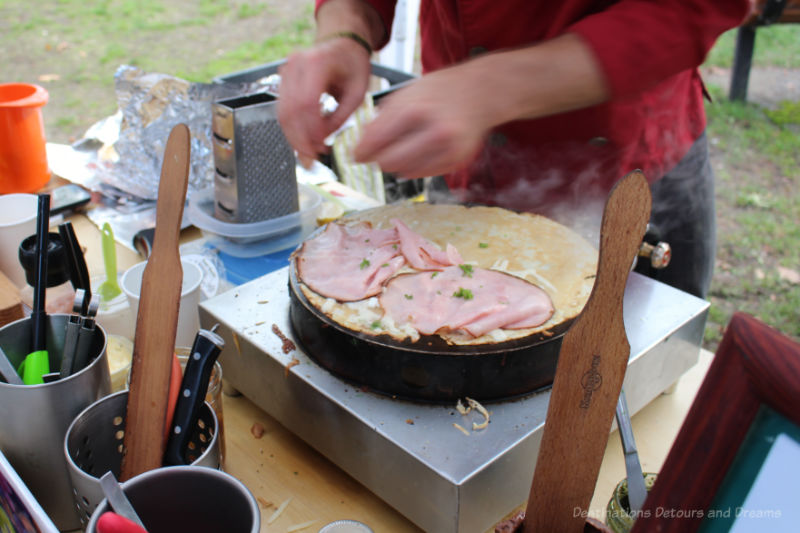 The only truck I've sampled food from myself is The Salty Crêpe, when Adam, the owner, had a special stand set up at the Saturday Market. He makes both savoury and sweet crêpes. My crêpe was excellent and it was fun to watch him prepare it. Gluten-free crepes are also available. My daughter, who has a gluten intolerance, loved them.
(Update July 2021: It appears The Salty Crêpe is currently only operating at the Saturday Market, if it is operating at all.)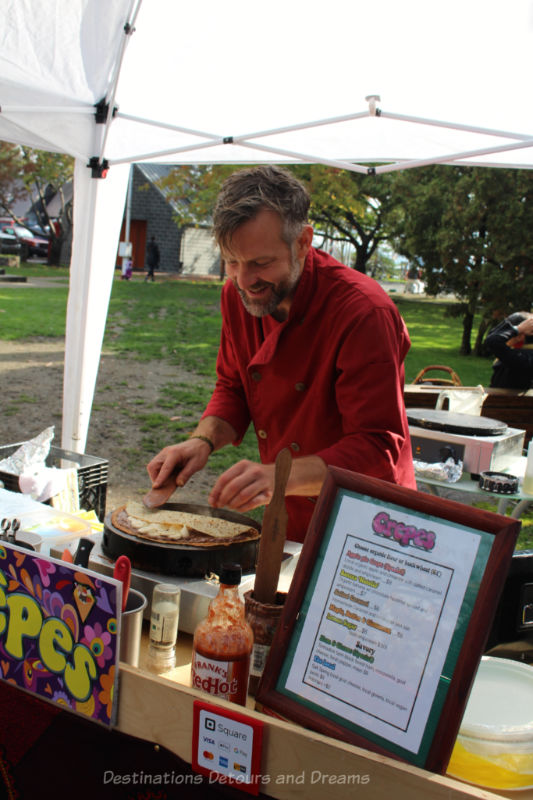 Tree House Cafe
The Tree House Cafe is a landmark in central Ganges. The unusual building dates to the 1920s and has housed the full-service restaurant since 1996. The restaurant appears to have a tree growing out of it. The central patio area features an old plum tree. In the winter time, glass walls are put up around the tree. There is live music on the patio on summer evenings.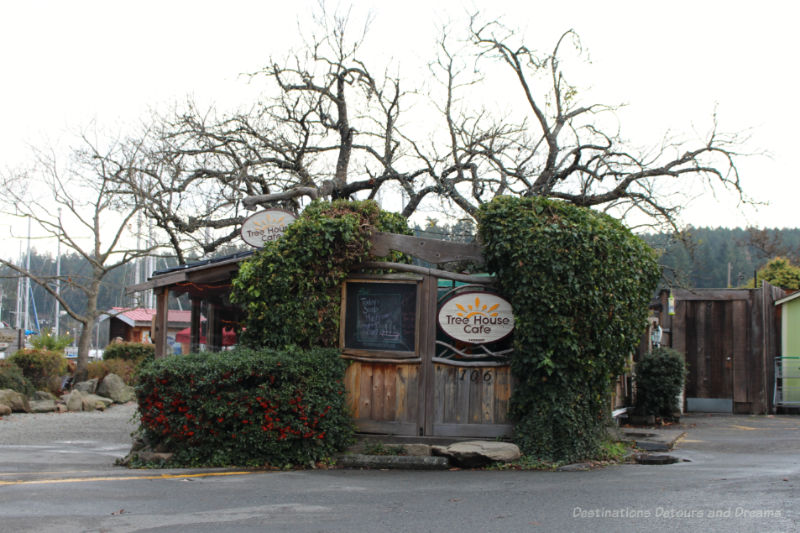 Food is prepared from scratch and includes breakfast specials, burgers, sandwiches, bowls, soup, salads, salmon and souvlaki. Four of us had lunch here and all the meals were excellent.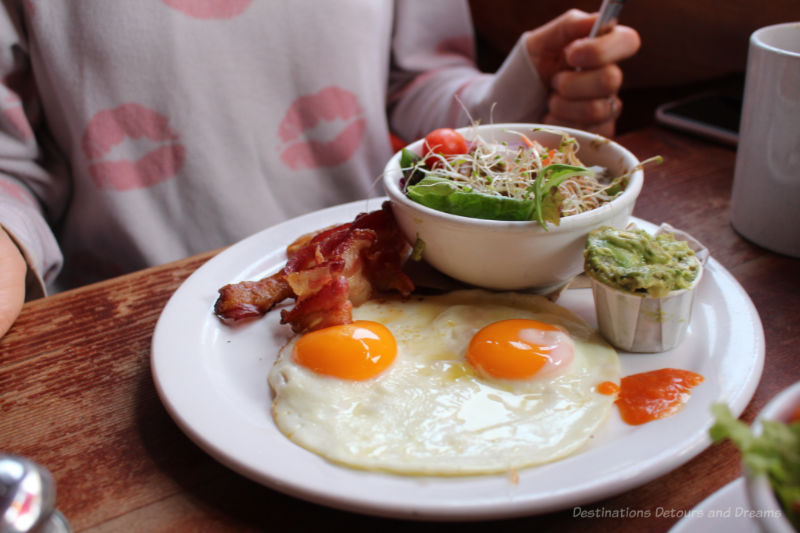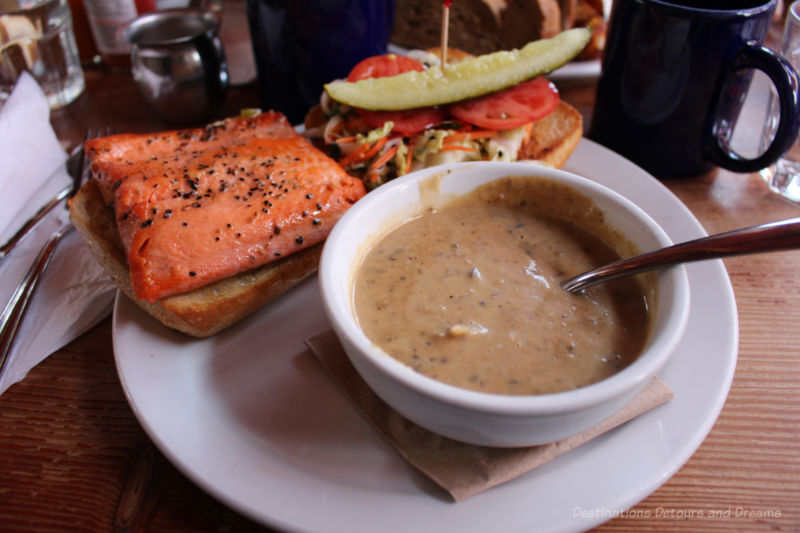 Salt Spring Island Inn
The restaurant at Salt Spring Island Inn in Ganges serves breakfast, lunch, and dinner in a welcoming dining room with large windows and both tables and booths for seating. It serves standard pub fare and has a number of gluten-free options. There is special brunch menu on Sunday mornings, which has some excellent options. We've also had good burgers here.
Barb's Bakery & Bistro
Barb's Bakery & Bistro in Ganges has been a local hotspot for more than 20 years. The original Barb first starting selling bread at the Saturday Market. Today the bistro offers handmade fresh breads and pastries, soups, salads, sandwiches, smoothies, and a wide variety of juice blends, teas, and coffee.
The restaurant is open Tuesday to Saturday from 7 am to 5 pm. It is a colourful place with tables for seating but you must order and pick up your food at the counter where the array of pastries and other goodies will surely tempt you. I cannot vouch for all the food, but the soup and croissant I had would definitely lure me back. The place is popular and there can be line-ups at lunch time.
Moby's Pub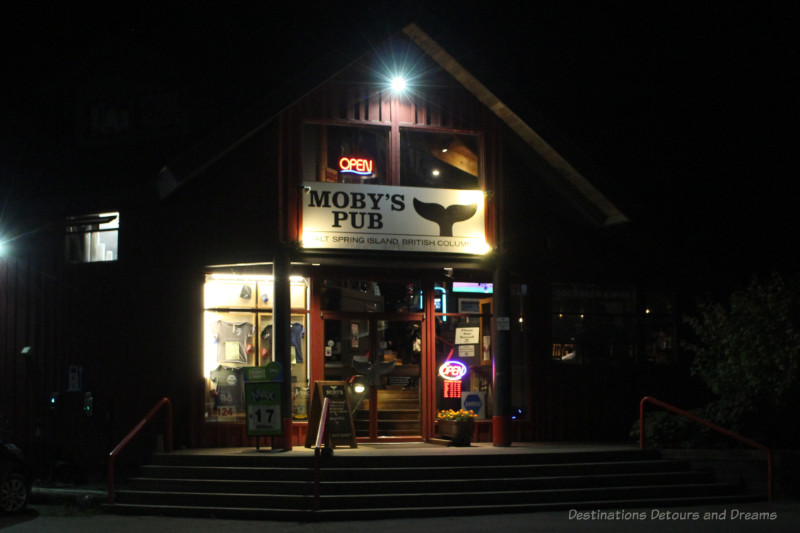 Moby's Pub is located on the waterfront in Ganges and has a waterfront deck. The multi-level restaurant has a comfortable, pub atmosphere. Moby's is open daily from lunch time until late in the evening. The kitchen closes at 10 pm., but the pub is open until midnight or 1 am.
The menu features standard-type pub fare with a west coast twist. Burgers, salads, lamb shawarma, steak, seafood, pad thai, fish and chips, butter chicken, and baby back ribs are some of the items on the menu. A collection of appetizers includes a variety of chicken wings. And duck wings. We tried the duck wings. They were actually duck drumettes seasoned with chili soy sauce and sesame seeds. They were delicious.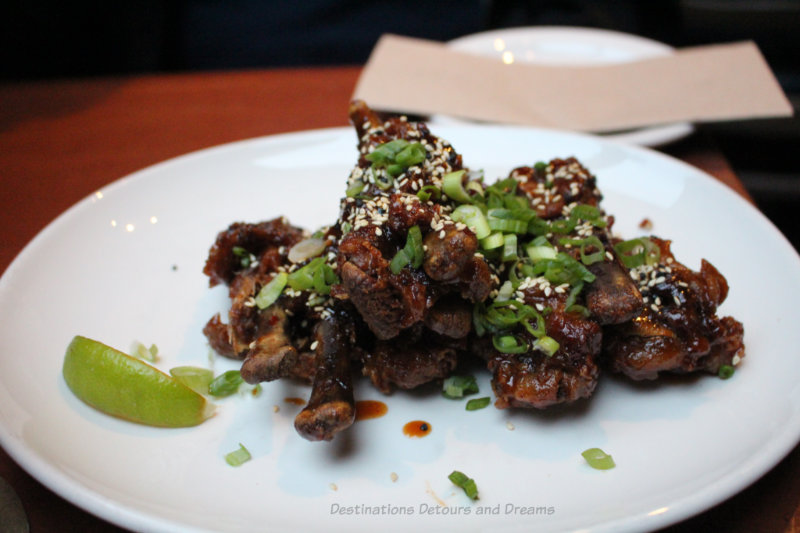 The pub is popular gathering place with pool tables at the front on the lower level, sports games on television sets in the afternoon, and a variety of evening entertainment that includes live music, musical bingo, and trivia. The place can be busy and noisy.
El Loco Taco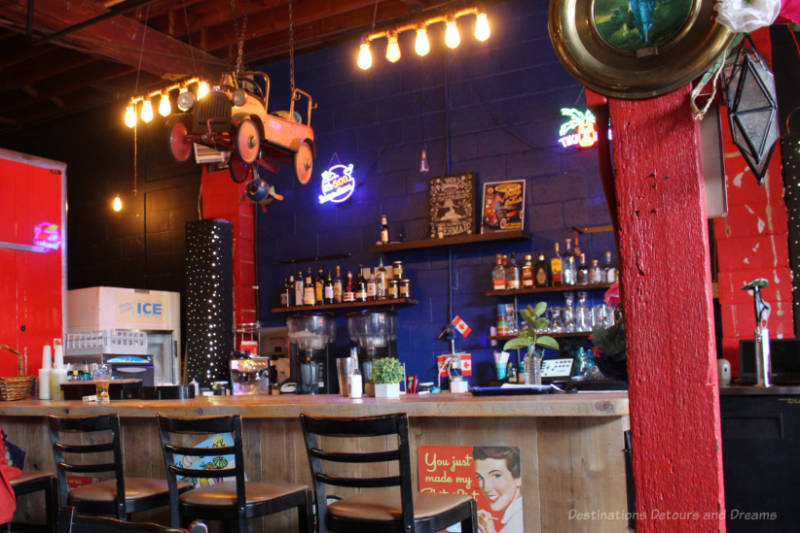 El Loco Taco on Lower Ganges Road in Ganges is a funky, colourful restaurant inside a former service station serving Mexican fare with vegetarian and vegan options. It started as a food truck. That food truck now sits inside the restaurant and serves as the restaurant's kitchen. The manager told us it took many, many turns to get the truck into place once it went through the garage doors.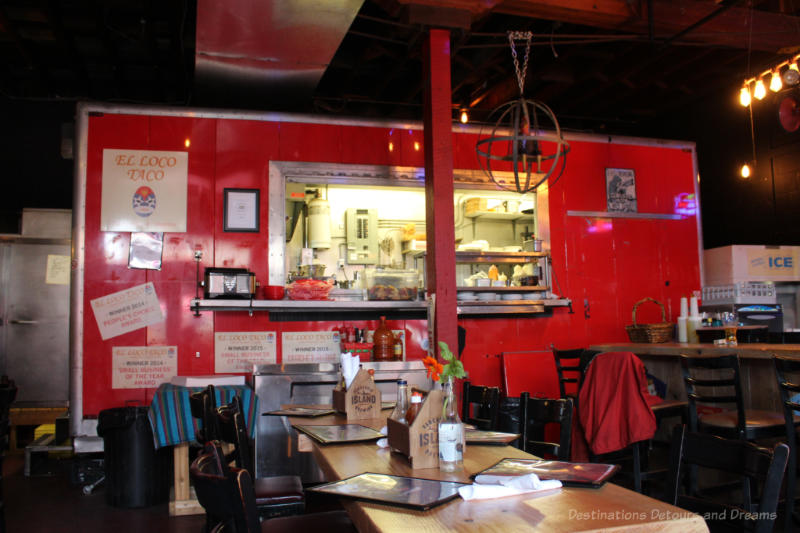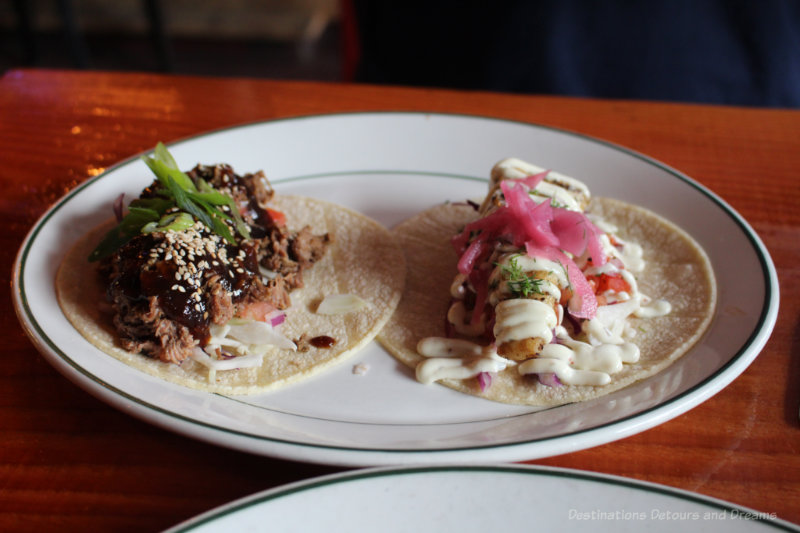 The menu features tacos and burritos, but also includes taco salad, marinated pork, chicken, Spanish rice, and beans. The tacos we had were excellent especially the fish tacos. The churros were so-so.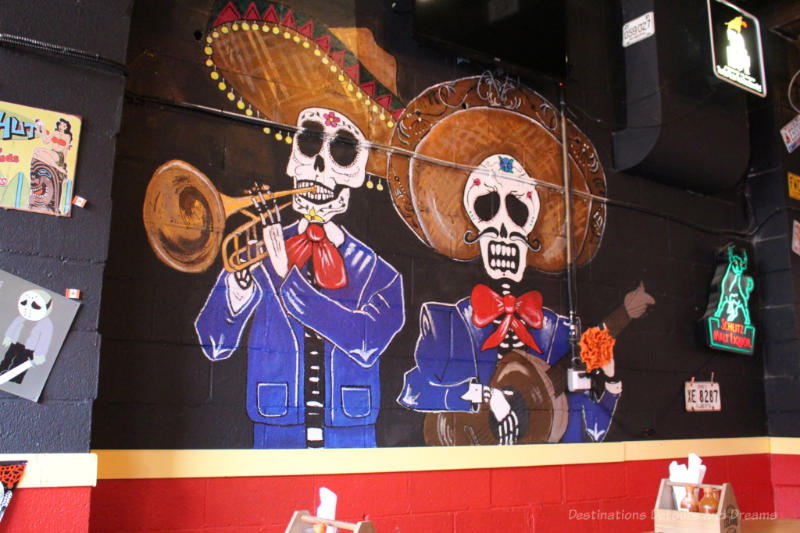 Twig & Buoy
Twig & Buoy is located on Fernwood Road in the northeast end of the island. The cheerful, laid-back and welcoming place is open for dinner spring through fall. The menu features wood fired pizza and a variety of casual and fine dining options, including steak and seafood. There are some wonderful desserts including caramelized Crème Brûlée, a personal favourite. My daughter and son-law had a small wedding at their home with just parents in attendance followed by a lovely wedding dinner at this restaurant.
The restaurant doesn't have a lot of tables. Reservations are recommended.
More Places To Eat On Salt Spring Island
There are some other places I've heard good things about but haven't eaten at myself yet. I'll make a quick mention of those now. Burger Bar 537, located on the Ganges marina board walk, was my daughter and son-in-law's favourite place to go for burgers when they lived on Salt Spring Island. Fernwood Road Cafe, which is open for breakfast, lunch, and coffee throughout the day, has a "comfort food" menu with daily homemade soups and stews, sandwiches, salads, and all-day breakfast. Auntie Pesto's in Ganges has a seasonal menu making use of fresh, local ingredients. Menu items include sandwiches, salads, pastas, and assorted evening entrees. For a fine dining experience, visit Woodley's Kitchen in the Harbour House Hotel in Ganges. Enjoy a fantastic view of the water as you dine.
If you are interested in knowing more about Salt Spring Island in general and things to do there other than eat, read my post Visiting Salt Spring Island.
Never miss a story. Sign up for Destinations Detours and Dreams free monthly e-newsletter and receive behind-the-scenes information and sneak peeks ahead.
PIN IT