Ten Things To Do In Yuma, Arizona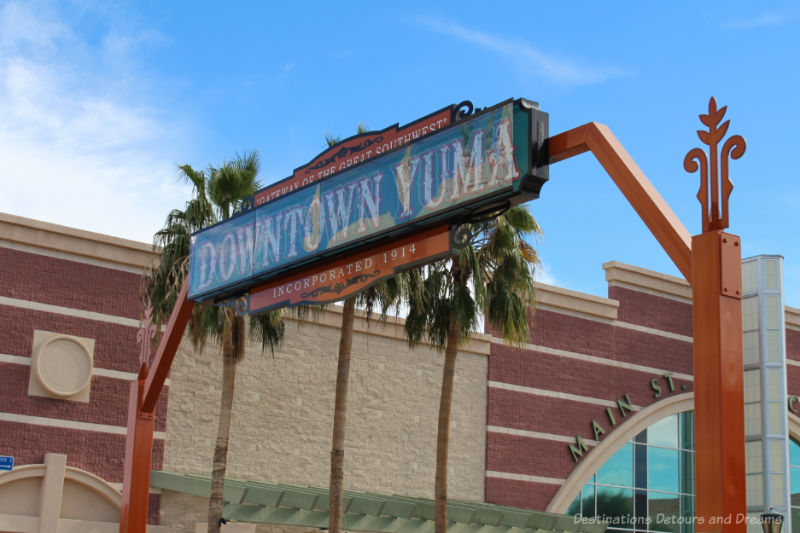 Yuma Attractions: What to see and do in Yuma, Arizona
With sunny skies 91 percent of the year, the American city of Yuma, located on the southwestern edge of Arizona near the borders of California and Mexico, claims to be the Sunniest City on Earth. The promise of sunshine and warm weather makes the city popular with snowbirds. The city's population of 93,000 doubles from January to March.
Although located in the Yuma sub-desert region, Yuma's history has been shaped by water. The Colorado River runs through the city. Standing along the bank of what is now a gentle stream, it may be hard to imagine how fast and deep the Colorado ran before dams were constructed up and down it. The river stretched wide in places. At what is now Yuma, granite outcroppings squeezed the river into a narrow channel. That channel became known as Yuma Crossing, the safest and easiest place to cross the river.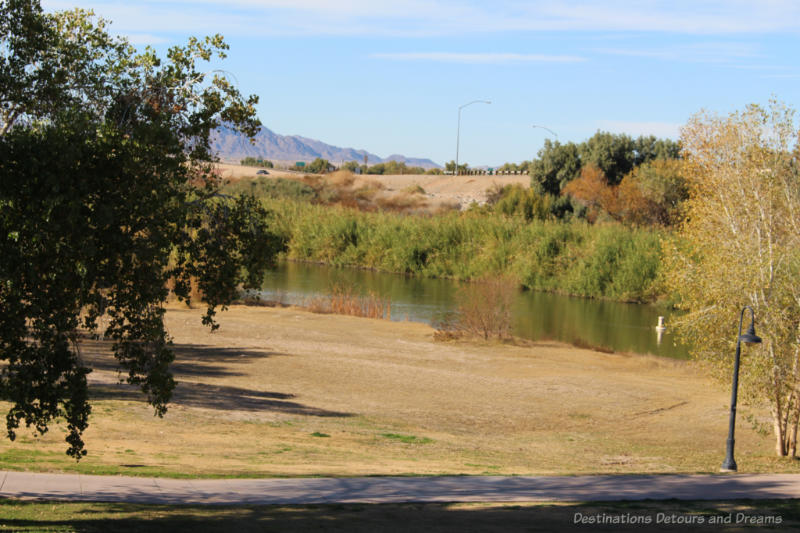 The 1849 gold rush saw thousands pass through what was then known as Colorado City on their way to California. The U.S. operated a depot from the 1860s to the 1880s for shipping goods upriver. The town was destroyed by flooding and rebuilt in 1862, when it was renamed to Arizona City. Arizona City was incorporated in 1871 and renamed to Yuma in 1873.
The Laguna Dam at Yuma was the first dam constructed along the Colorado River. Completed in 1909, it marked the end of the steamboat area and the beginning of irrigated agriculture. Today, agriculture is the largest segment of Yuma's economy with the military and tourism also being important sectors.
Irrigation projects have turned this part of the desert into one of the most productive agricultural areas in the United States. If you eat iceberg lettuce anywhere in the U.S. during winter months, chances are it came from Yuma. Yuma produces 95% of the winter fresh vegetables for the country. Yuma farmers grow 40 different kinds of vegetables and melons.
The nearness of the Mexico border has had an influence on Yuma. Nearly 60% of residents within the county identify as Hispanic. Although Yuma has a great variety of other dining options, Mexican cuisine dominates, be it authentic traditional fare or newer variations.
Yuma's proximity to the Mexican town of Los Algodones draws overnight visitors who make day trips to Los Algodones for inexpensive dental work, medical treatments, or prescription medicines. These visitors often stay in one of the hotels or motels along the Interstate and don't see much of Yuma itself. I would encourage them to take a couple of extra days to visit Yuma as well.
Yuma's prime tourist season is January through March. Average winter temperatures range from 41°F to 68°F. The average summer temperatures range from 76°F to 106°F.
Here are my suggestions for things to see and do in Yuma, Arizona.
1. Historic Downtown Yuma
2. Public Art
3. Sanguinetti House Museum
4. Wine and Craft Beer
5. Pivot Point Plaza and Gateway Park
6. Yuma Territorial Prison State Historic Park
7. Colorado River State Historic Park
8. Wetlands
9. Martha's Gardens Date Farm
10. Los Algodones
Beyond Yuma
1. Historic Downtown Yuma
Wide sidewalks, Spanish-style fountains, and heritage buildings housing unique shops and eateries make strolling through Yuma's historic downtown a pleasant way to spend a morning, afternoon, or full day. There are no high rises, just a laid-back, small-town feel.
Many of the buildings on Main Street date to the 1920s when the road was paved. Buildings in the Brinley Avenue Historic District just west of Main Street date from the 1860s to the early 20th century. You'll find original adobe structures, brick homes, and frame and stucco buildings. Plaques mounted on buildings provide information about their history.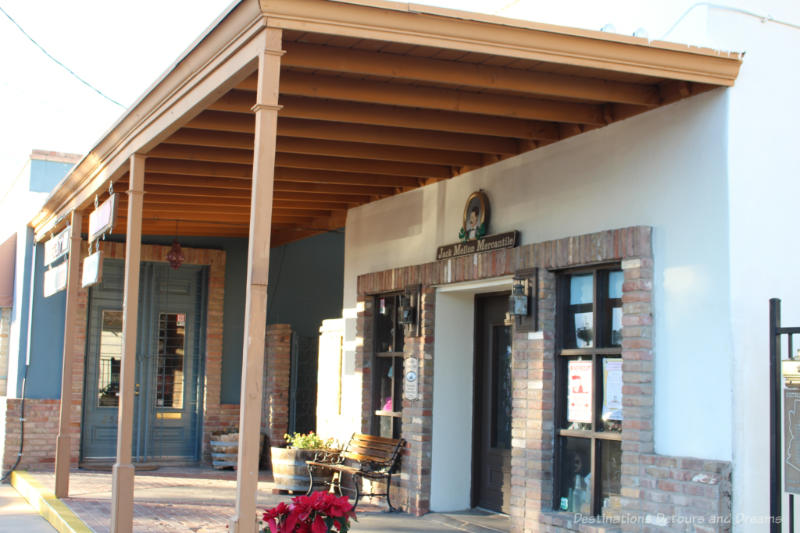 Opening times for shops vary from nine to ten am. Shops generally close at five pm. Most close on Sundays. Don't miss the little shops on side streets or in alleyways and shady arcades. A section of Second Street is known as Pottery Row.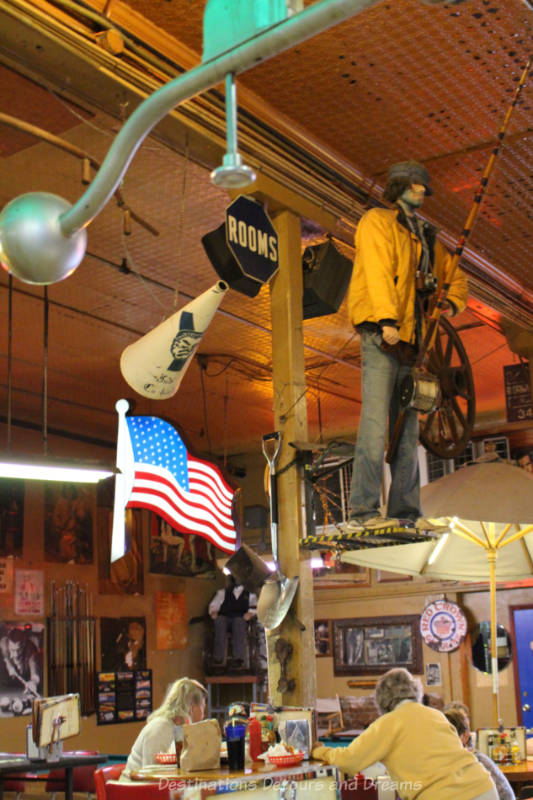 There are numerous places to grab refreshment. Lute's Casino is a particularly popular place to eat. Note that the name is misleading: there is no casino. The restaurant serves hot dogs, burgers, sandwiches, and local Mexican fare. It's not only the food that brings people here. The walls, ceilings, and every available space are filled with an eclectic mix of items.
Read more in my post Exploring Historic Yuma.
2. Public Art
As you stroll through the historical downtown, look for pieces of public art: sculptures and murals. Public art pieces can be found throughout the city with the largest concentration being downtown. This map identifies the pieces and where to find them.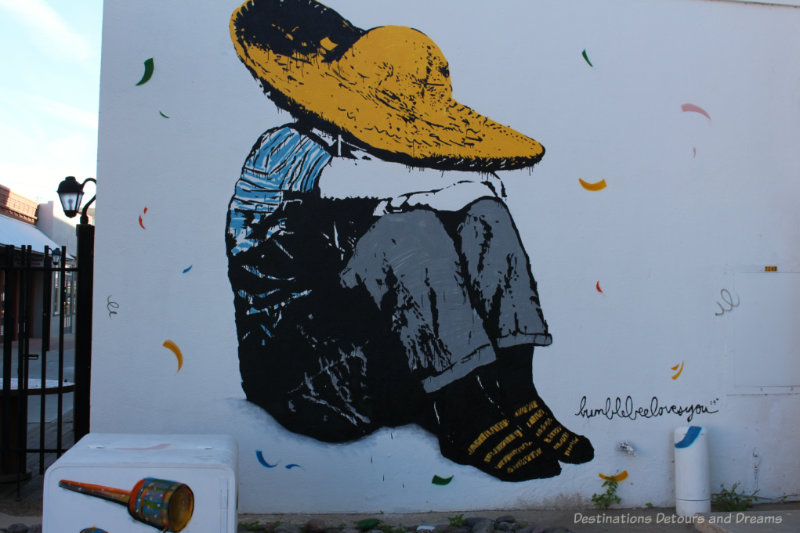 3. Sanguinetti House Museum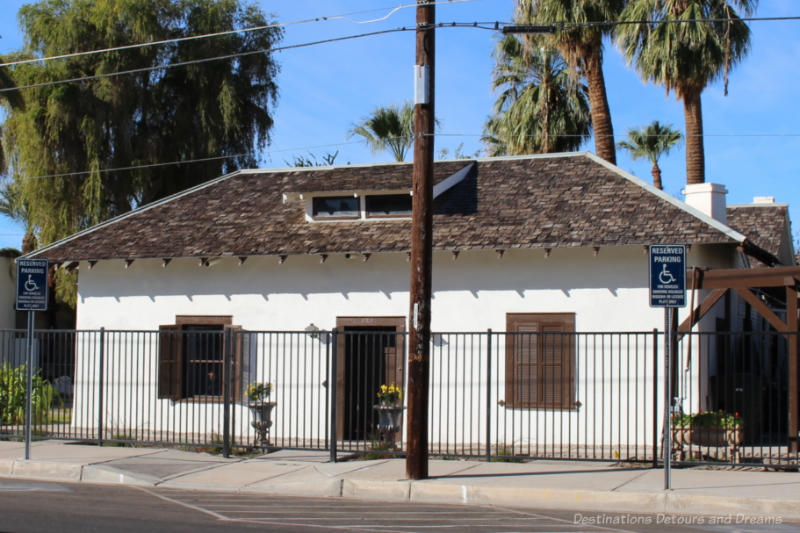 Located at 240 S. Madison Avenue in historic downtown Yuma, Sanguinetti House Museum & Gardens provides a look into Yuma during the late 19th century. The adobe style house was in built in the 1870s for businessman E.F. Sanguinetti and his family. Decorated in period style, the house chronicles the life of Sanguinetti, who was known as the "Merchant Prince of Yuma," and provides a glimpse into old Yuma. Outside you'll find a vintage rose garden.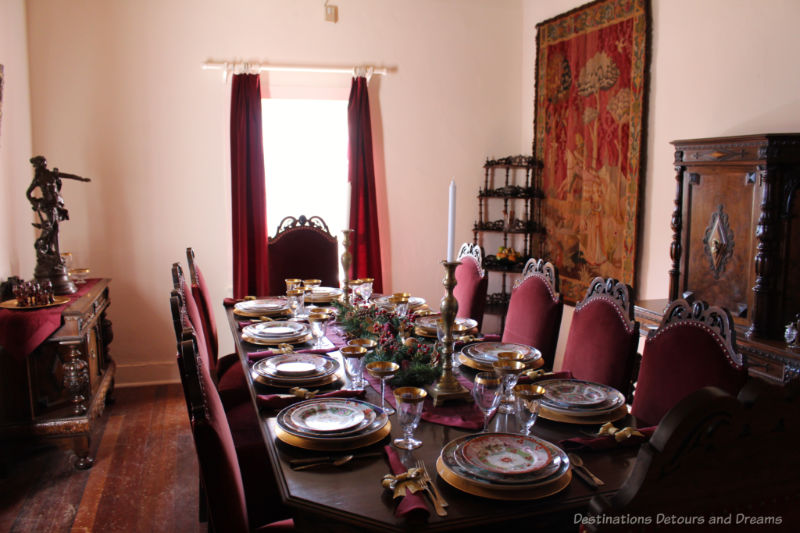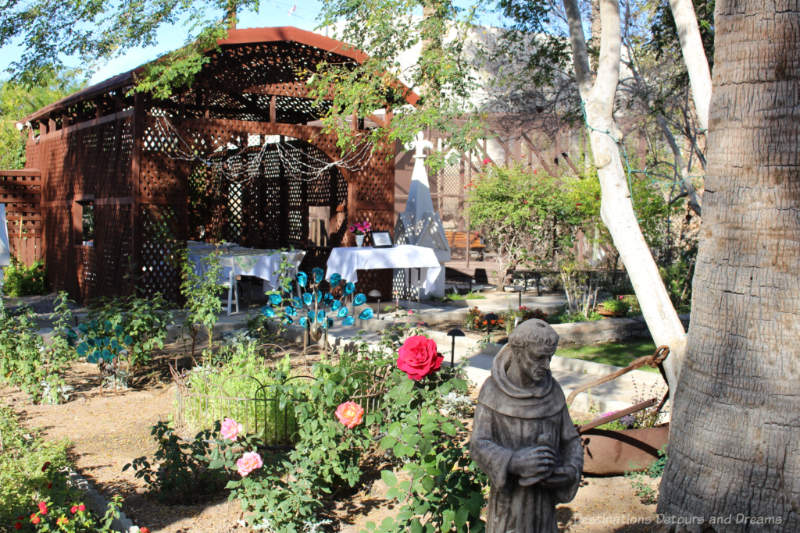 The small museum is open Wednesday to Saturday from 10 am to 3 pm. If guided tours are available, I'd recommend taking one to obtain additional interesting background information from the guide.
4. Wine And Craft Beer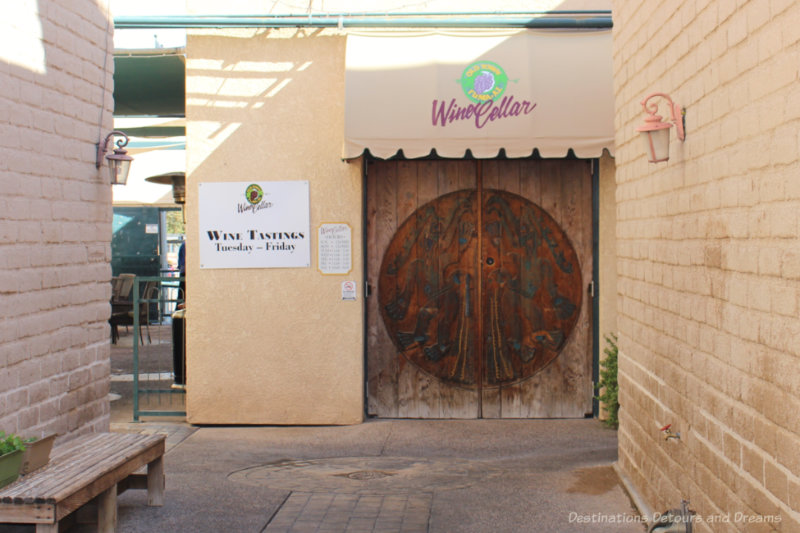 Old Town Wine Cellar in historic downtown Yuma features a selection of over 300 wines from around the world. It offers wine tastings every day with a selection of wines available by the glass.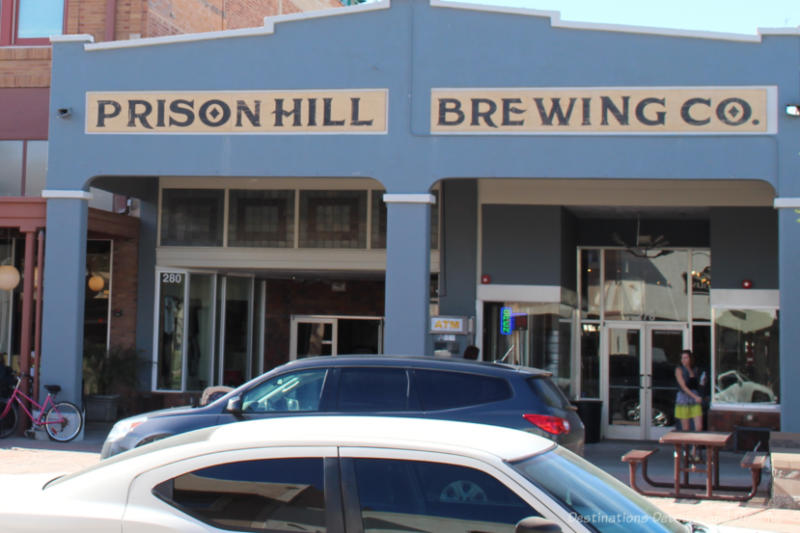 Prison Hill Brewing Co., also located in historic downtown, is Yuma's only craft brewery. It features several locally handcrafted beers and rotating guest taps. There is a restaurant serving a variety of sandwiches, salads, burgers, and entrees.
5. Pivot Point Area and Gateway Park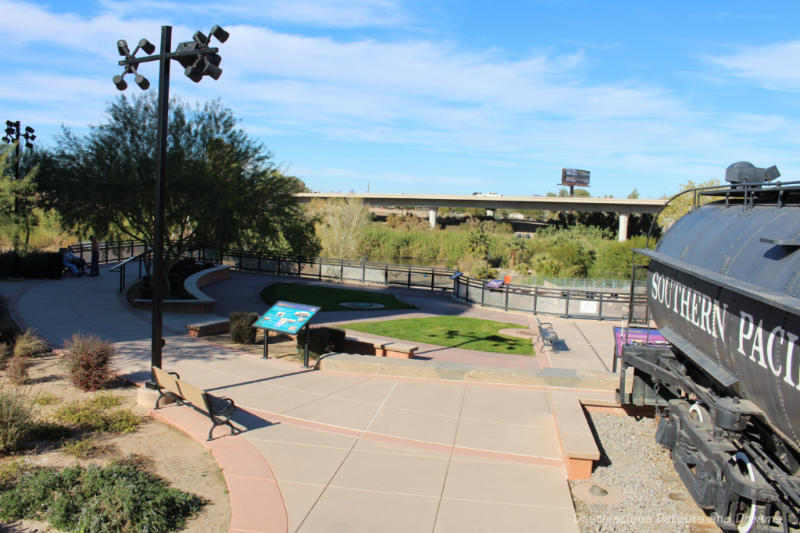 Pivot Point is a public plaza located on the site where the first railroad train entered Arizona in 1877. It features a restored 1907 Baldwin steam locomotive and a number of interpretive panels containing historical information.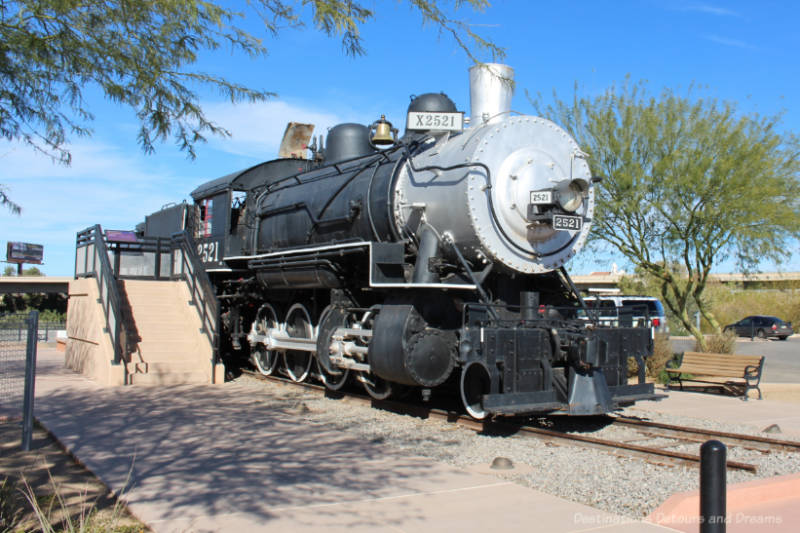 The panels orient the visitor to the Yuma Crossing National Heritage Area, a National Historic Landmark. The area encompasses seven squares miles along the lower Colorado River. It includes Pivot Point Plaza as well as the next three items on my list (Yuma Territorial Prison State Historic Park, Colorado River State Historic Park, and the Wetlands areas).
One of the panels at Pivot Point Plaza features a large-scale map showing nearby links to the city's trail system, which stretches for about 10 miles along the riverfront and East Main Canal.
Pivot Point Plaza connects to Gateway Park along the Colorado River. The park has fishing docks, grills, a river beach for swimming in summer, a sand beach good for building sand castles, picnic ramadas, restrooms, and an outdoor shower.
6. Yuma Territorial Prison State Historic Park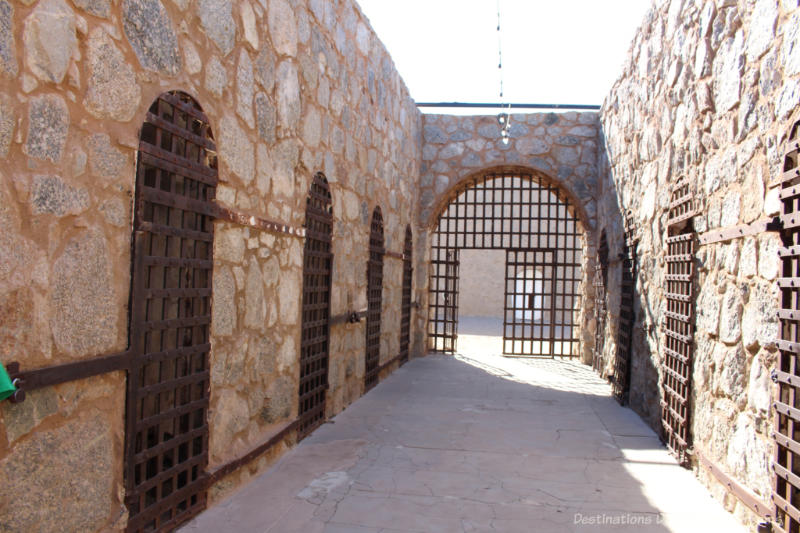 Located on the site of the former Territorial Prison, Yuma Territorial Prison State Historic Park provides information on the history of the prison as well as glimpses into prison life and social norms of the time.
The Territorial Prison at Yuma operated from 1876 until 1909, at which time it had become severely overcrowded with no room for expansion. It closed and inmates were moved to the prison at Florence, Arizona.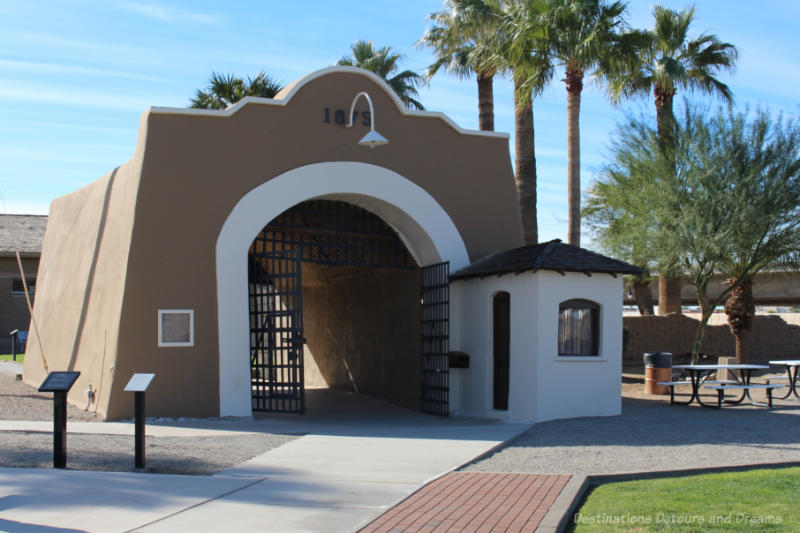 Exhibits in the museum building include information on the prison, its prisoners and their keepers as well as a number of prison artifacts. Behind the museum building, you'll find original cellblocks. Other buildings include the water reservoir, the guard tower, and the sally port (entrance).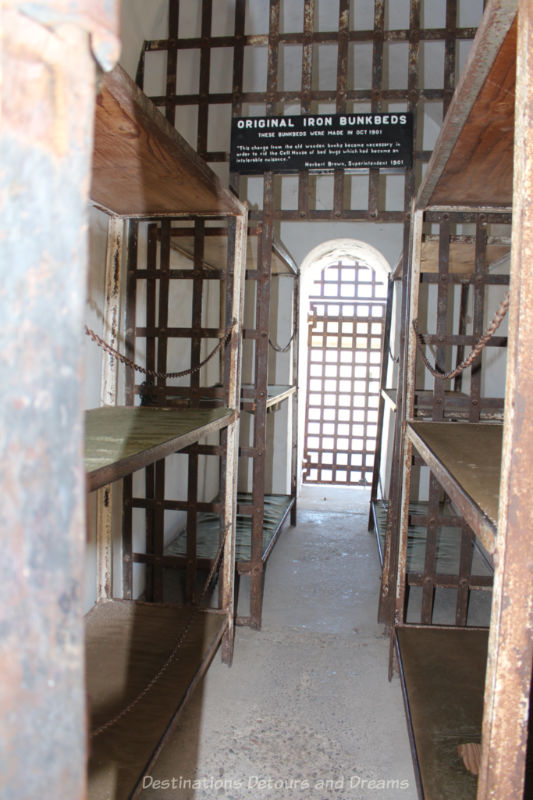 Although the grounds felt a bit eerie to me, I found the museum and historic park to be more interesting than I expected. It was also thought-provoking in its look at prison life and social norms of the time. Convicts referred to the prison as "hell hole." Some Yuma residents considered the place to be like a country club because it had more modern amenities than many Yuma homes. Amenities such as electricity, ventilation, sanitation facilities, and a library.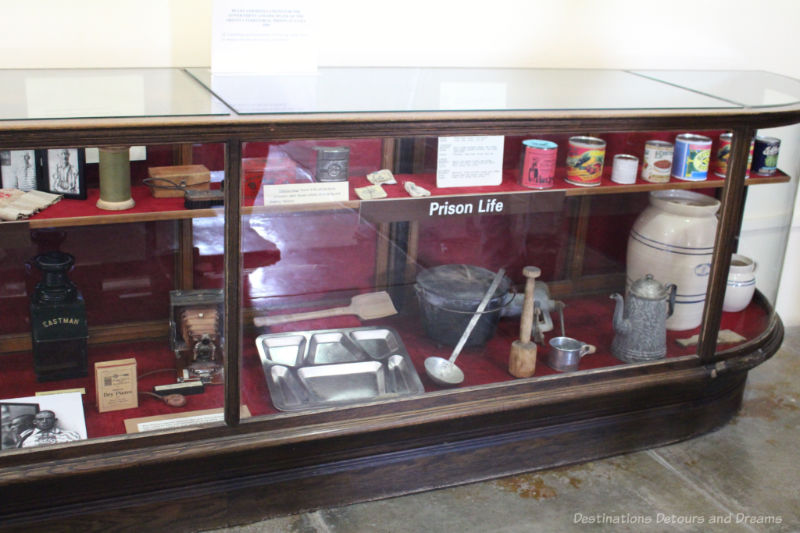 Read more about my visit in the post Yuma Prison Museum: Hell Hole or Country Club? Visit the Yuma Territorial Prison State Historic Park website for information on hours and admission charges.
7. Colorado River State Historic Park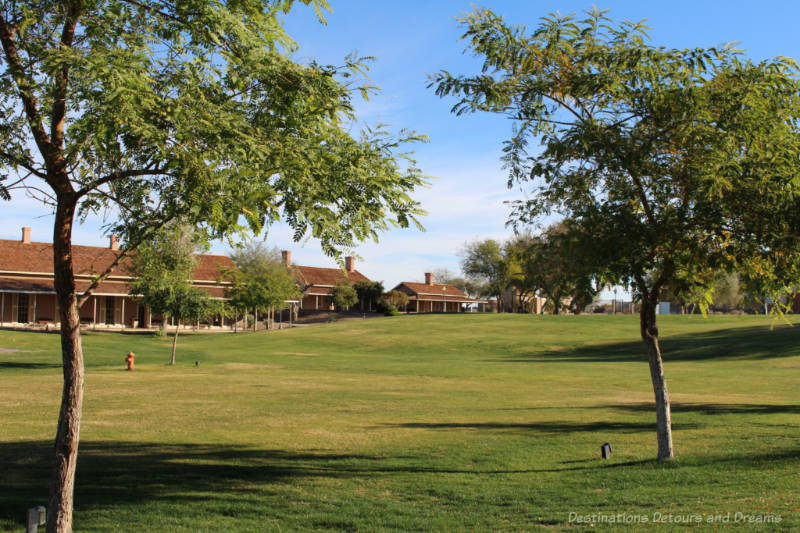 The 10-acre Colorado River State Historic Park was once an important U.S. Army supply station in operation from the mid-1860s to the 1880s. Ocean vessels brought goods to the Gulf of California where they were loaded onto steamboats for the trip upriver to Yuma. At Yuma, supplies were shipped farther upriver or carried overland by mule-pulled wagons.
Five original depot buildings remain. Four of these contain exhibits. Information on the military history of the depot, period displays recreating the Quartermaster's office and living quarters, and a collection of antique wagons, farm vehicles, and a steamboat display in what was once the Storehouse give a look into the life and operations of the depot.
The park also tells the story of man's relationship with the Colorado River. Information about all the dams created along the river can be found in the Storehouse. Displays in the Corral House, which housed grain and tack for mules during depot days, chronicle the construction of the Laguna Dam, the Yuma Main Canal, and the Colorado River Siphon.
The Corral House also contains information about the Yuma East Wetlands restoration. While the dams provided water and power to millions, created irrigation for hundreds of thousands of acres of farmland, and controlled flooding, their creation has had negative consequences to ecosystems. Wetlands have disappeared. Conservation and restoration projects now seek to restore habitats.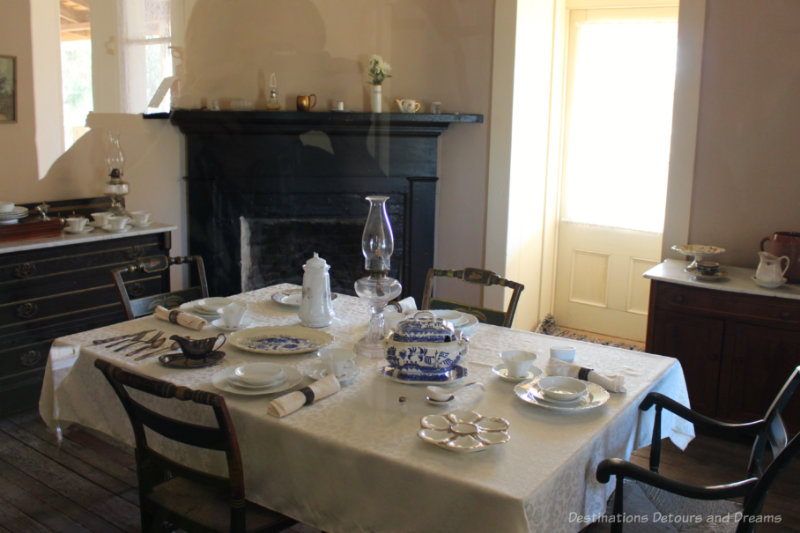 You can read more about the park in my post Army Depot and Colorado River History in Yuma. For more information, including park hours and admission fees, visit the Colorado River State Historic Park website.
8. Wetlands
After learning about the Yuma East Wetlands at the Colorado River State Historic Park, you may wish to hike through them. The East Wetlands, located just east of Yuma Territorial Prison State Historic Park, are a wooded and natural area with several trails through them. Since restoration activities were initiated in 2004, nearly 400 acres have been transformed from a trash dump into a mosaic of marsh, mesquite, cottonwood, and willows. It is a habitat for a variety of wildlife species.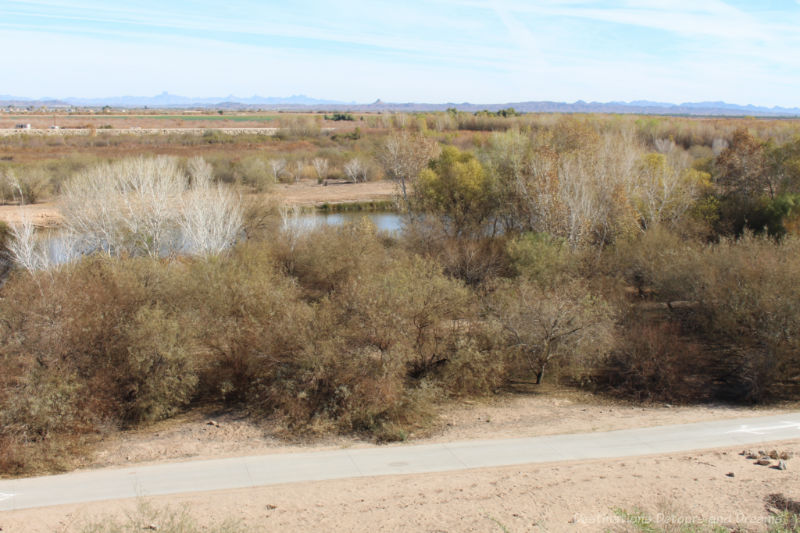 The West Wetlands are a 110-acre riverfront park located off Water Street between N 22nd Avenue and N 12th Avenue. Thirty acres of the "Lower Bench" are restored with native trees and grasses. The eastern end of the park features a fishing pond (fishing license required), a playground, picnic ramadas, a butterfly and hummingbird garden, and lighted multi-use pathways. Centennial Beach, along the Colorado River, has a boat launch.
9. Martha's Gardens Date Farm
Dates may be the oldest cultivated fruit, with cultivation dating back thousands of years. Even though they contain a high degree of sugar, they are a high energy fruit, rich in nutrients, and full of fibre. Medjool dates are considered the "king of dates" among all the many date varieties.
In the 1920s, disease devastated the Medjool date in Morocco. Eleven date palms were given to the United States in an effort to save the variety. After a quarantine period, the palms and their offshoots were given to growers. Today, the date-growing industry thrives in the Bard Valley in southeastern California and across the Colorado River to the east in the Yuma, Arizona area.
At Martha's Gardens Date Farm, you can see the date palm orchards and take guided tours, available November through March. Their large store contains a variety of dates and date products as well as specialty and gourmet food items.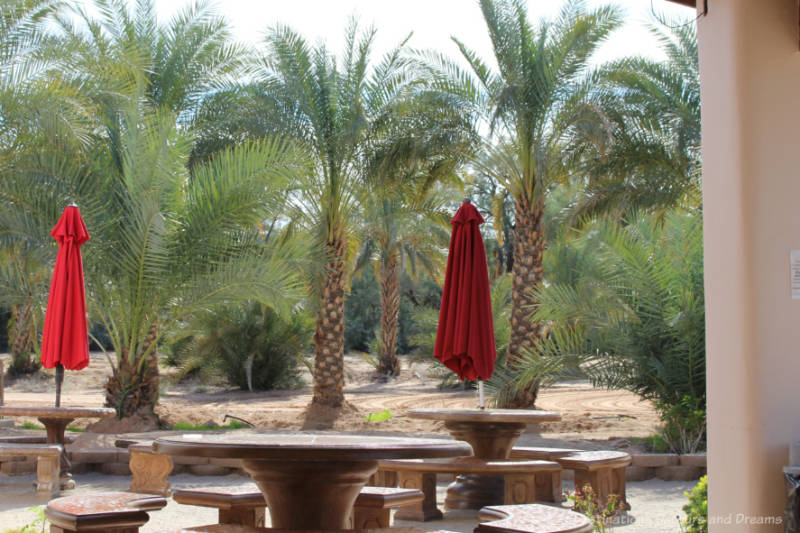 While there, you may want to try a date shake. There is a lovely patio with view of the grounds on which to sit and enjoy your shake.
For more about dates in Arizona, read my post Arizona Dates and Shakes. For more information about Martha's Gardens Date Farm, visit its website.
10. Los Algodones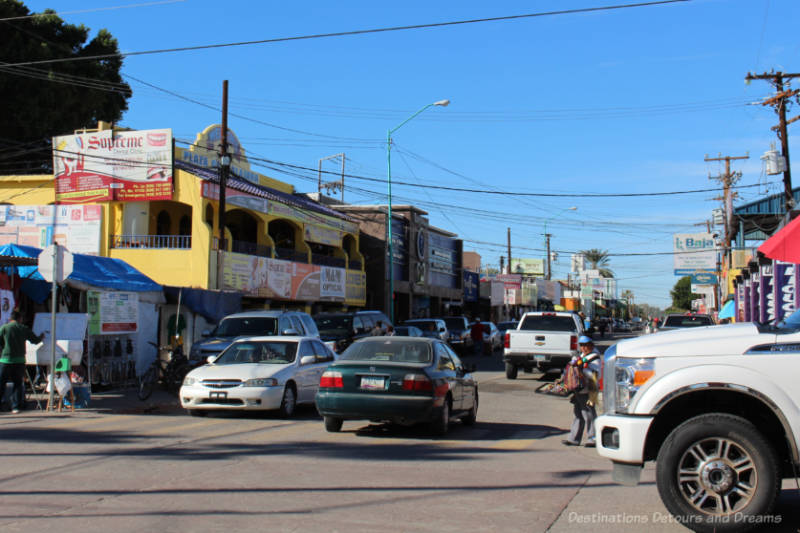 You don't need to have dental work done to visit Los Algodones for the day. Several lively, colourful blocks cater to tourists. Shops offer an array of items for sale. Covered sidewalks are lined with more goods. Shop for Mexican décor and other items, inexpensive trinkets, or souvenirs. Or simply have fun browsing. Along the way, stop for refreshment at one of the many restaurants, patios, or food trucks.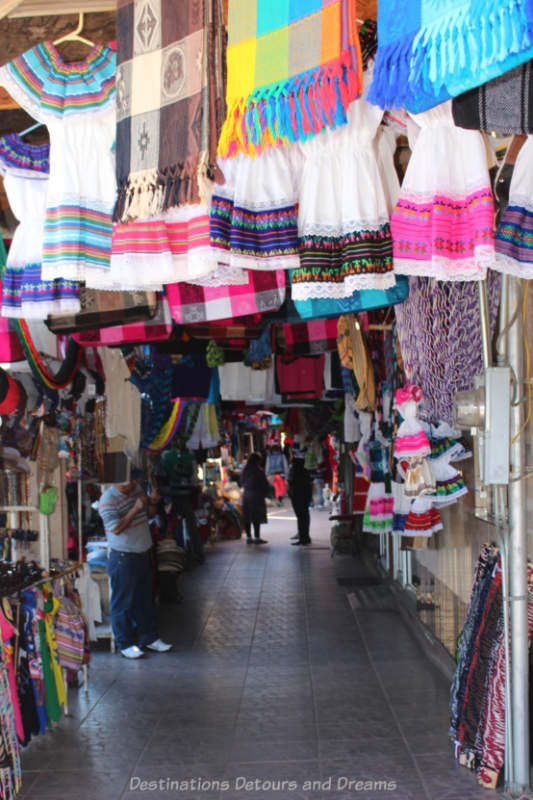 Los Algodones is located approximately 10 miles (16 kilometres) west of Yuma on the border with California. You can park your car in the parking lot on U.S. side of the border for a small fee and walk across the border. Note that the border crossing is closed between 10 pm and 6 am. Don't forget to take your passport.
You can read more in my post Los Algodones.
Beyond Yuma
There are a number of attractions outside the city of Yuma, but within an hour or so drive. I haven't visited these myself, but I want to briefly mention them because you may want to consider these when planning your own visit to Yuma. Visit the websites of the attractions to find information about location, hours, and pricing.
Castle Domes Mines Museum is both a ghost town and a mining museum. Castle Dome City stood larger than Yuma in 1878. Today you can explore the more than 60 buildings of the town. On a guided tour of Hull Mine, you'll see the world's largest and most colourful display of naturally occurring fluorescent minerals.
The Cloud Museum contains an array of Americana collected by one man, Johnny Cloud. The collection, displayed mostly outdoors, includes vehicles, household equipment, old gas station signs, and much more. The Yuma tourism brochure introduces the museum with the phrase "one person's junk is another's treasure."
The Cocopah Museum features objects and depictions of Cocopah history and culture. Examples of exhibits include traditional clothing, beadwork, pottery, traditional tattoo designs, and musical instruments. The Cocopah have long been known as the River People, living along the Colorado River from the Gulf of California to the Gila River in Arizona.
Three national wildlife refuges offer more than 1,000 square miles of desert, river, and mountain to explore: Kofa National Wildlife Refuge, Imperial National Wildlife Refuge, and Cibola National Wildlife Refuge.
Never miss a story. Sign up for Destinations Detours and Dreams free monthly e-newsletter and receive behind-the-scenes information and sneak peeks ahead.
PIN IT