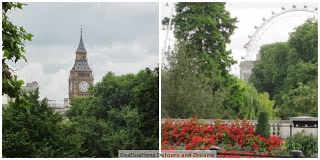 Traditional and modern iconic images of London, England

My August 2013 visit to London, England reminded me how much I love that city. I delighted in seeing the many icons I associate with it. But cities change over time and I also found many signs of the new London.
Traditional London
Ploughman's is one of my favorite pub meals. A good curry can still be found in a pub or an East Indian restaurant. London abounds with restaurants serving traditional meals as well as new and ethnic cuisine.
In July 2013, the UK government laid out plans to privatize the Royal Mail, which traces its history back to the times of Henry VIII. The red pillarboxes are protected by law, but concerns about changes, particularly around service to remote areas and the current six day delivery service, exist within the British public.
Modern London Images
 You can rent a bicycle here and drop it off at any other Cycle Hire station in London. Although cycling has increased in recent years and there are bike lanes in some areas, I think cycling in London traffic would be a harrowing experience, but that may change in the future. London has plans to spend £913 million over the next decade on London's cycling infrastructure.
In July 2013, a 4.7 metre tall blue rooster, scultped by German artist Katharina Fritsch was installed in Trafalgar Square, providing a playful contrast to the military monuments that commemorate Nelson's victory over Napoleon at Trafalgar. It is a humourous touch, given that ultramarine blue and the cockerel are symbols of France, although the artist claims she didn't know the cockerel was an unofficial symbol of France.
The strong diesel smell I always associated with London was gone.
London's iconic red buses are going green, combining the power of an electric motor with a diesel engine.
London Low Emission Zone (LEZ) is a traffic pollution charging scheme to reduce tailpipe emissions of diesel-powered commercial vehicles in Greater London.