Life of a Snowbird in a 55+ Community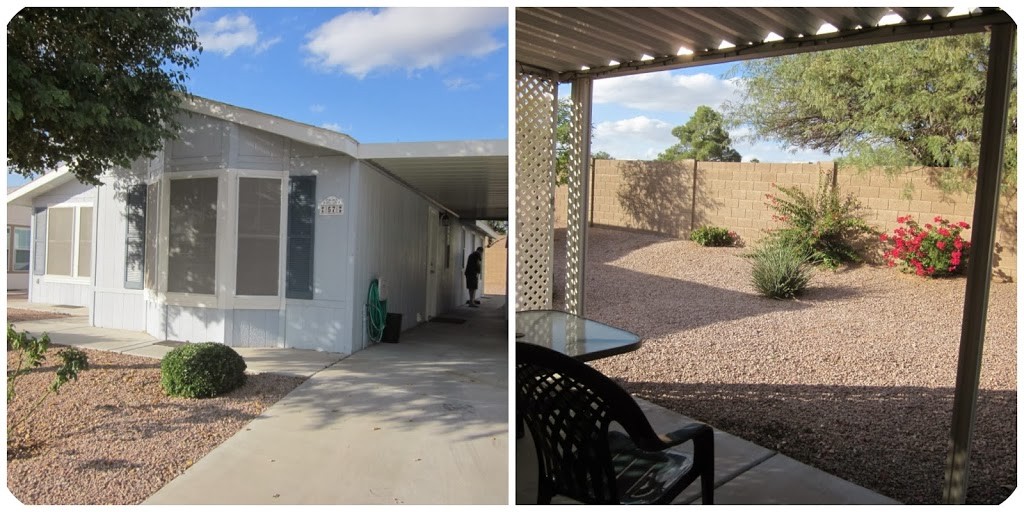 About wintering in a 55+ community, two months into the experience

My husband and I are wintering in Mesa, Arizona. It's our second snowbird winter. Last winter we rented a patio home in a non-age-restricted gated community. This year, we're renting a home in a 55+ community. We've been here two months and are gaining insight into life in a 55+ community.
Background
The greater Phoenix area, and east Mesa in particular, abounds with 55+ communities, of varying sizes and types. Some contain manufactured homes, some have spaces for RVs, some are made up of park models under 400 square feet, and others contain regularly built homes and condominiums. In some parks residents own the land as well as their housing unit, but it is more common that the land is leased from the company owning and running the park.
The amount and type of activities vary from park to park. Each community has its own set of rules. The rules encompass type of buildings on your site, landscaping, and whether pets are allowed. There are likely to be rules around renting out your unit. In many cases, the rental terms must be a minimum of three months. Sometimes background checks are done on prospective renters. Most communities restrict overnight guests to stays no longer than one month. Pool hours for visiting children under 18 years may be restricted. Most communities are gated, some with manned security, others with keypad entry. Some leave their main gate open during daytime hours.
Community
Our community contains 333 homes, all double-wide manufactured homes. The community is on the smaller side, when you consider that some communities contain more than 2600 homes. There is a heated pool and two hot tubs, an exercise room, shuffleboard courts, tennis and pickleball courts, horseshoe pits, a computer club, a library, a games room and social halls. There is a manned security gate.
The administration building contains a large lobby/seating area with a television used for Sunday evening movies and Wii bowling, among other things. People gather to visit over the coffee that is on all day. Popcorn is also available all day.
There are a number of people who live here year round. Others are fellow snowbirds, from Canada and the northern states. Based on limited empirical study, I guess the average age to be mid-seventies, with some older than that and newer residents closer to sixty.
Our Experience
We taken in some, but not all, of the activities. I like water aerobics, done to a water aerobics exercise tape. One of the residents teaches yoga one morning a week. I used the exercise room. Both my husband and I have taken to playing pool occasionally. Last week we tried pickleball for the first time and expect to do more of that.
There are many activities we haven't tried. Shuffleboard started up in January. Unlike pool and pickleball, where whoever shows up plays and teams are made up accordingly, shuffleboard has permanent preset teams.
Other regular activities we've not taken in include a variety of card games, ceramics class, and line dancing. I hope to find a chance to learn mahjong. We are not golfers, but there are groups that get together regularly to golf at courses in the area.
Special events are scheduled. We attended a Christmas dinner where everyone brought a dish (salad, vegetables, or dessert) to accompany the ham prepared for us. If we wanted wine, we brought our own. We attended a concert/dance with a swing band. Attendees brought snacks to share and their own beverages. A group of residents has started a monthly pancake breakfast, selling tickets in advance, as a fundraiser to support activities.
Through talking to people we've met at the activities, we've learned more about the park and activities within it. There is a printed schedule of activities attached to each month's newsletter, but there are things that don't make it to that list. I found out about the weekly yoga class by reviewing the list of special events and their sign-up sheets in the administration building.
A group of people meet informally in the social hall for happy hour each Friday at five. You bring snacks, appetizers, or sweets to share, and your own beverage. Custom has it that the food is set up on a group of card tables. The other round tables in the hall are pushed together to make two long rows, one where the women sit, and one where the men sit. We, along with two other couples, have stirred things up a bit by not segregating.
The schedule lists two water aerobics classes: one at 7:30 am and the other at 8:30 am. However, the 8:30 class stopped towards the end of November, because it is too chilly in the mornings. The 7:30 class are die-hards. They cancel only when the outside temperature is below 40 degrees Fahrenheit (4.4 Celsius). But this week, we broke that "rule" and exercised at 39 degrees. The pool is warm. Getting out after class is chilly, but the ten minutes in the hot tub compensates.
We've hardly used our Mesa public library cards this year. We've found plenty of reading material in the park library.
Reflections
We're enjoying the community. The people are friendly and there is lots to do. So much to do that one has to make choices and say no to things. I am reminded of someone I once worked with, who came back from his first cruise exhausted, not wanting to take another one. He'd felt compelled to take in all the scheduled activities.
You could easily have a very active social life and never leave the community except for purchasing groceries and other necessities. That appeals to some. I enjoy the activities, but also have interests outside the park. I have family and friends in the area and other activities to attend. I like to explore the area.
Given the list of activities I've mentioned, it is easy to think of the park as a recreation centre. But it is more than that. It is a community within a community. Like any community, I imagine there are politics and personalities to deal with. As new renters, we've not been exposed to hot issues or personality clashes, at least not yet, but I'm sure there are some. After all, people live here. I have, however, witnessed the sense of community, people looking out for each other. People bringing food over to the long-time resident whose wife was hospitalized. People gently redirecting the fellow that gets confused. People hugging each other, welcoming them back for another winter.
Have you lived in a 55+ community? What has been your experience?