Our Daily Bread: Grocery Shopping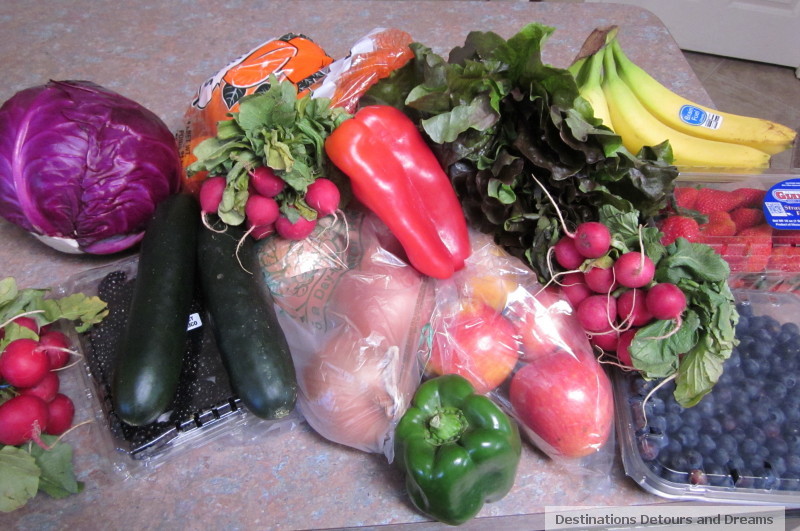 A snowbird navigates food shopping options
If you've lived in a place for several months, you've likely settled into a consistent pattern of where and when you do your food shopping, and have developed brand preferences. My husband and I are residents of Manitoba, Canada, but are spending four months of the winter in Mesa, Arizona. This is our first winter as "snowbirds" and grocery shopping has become one more adventure and learning experience.
We are faced with an abundance of shopping choices. Major grocery chains near us include Albertsons, Fry's Food Stores, Bashas', and Safeway. We are also within walking distance to a Walmart Supercenter.
But the choices don't end there. Sprouts Farmer's Market is a grocery store chain with the feel of an old-time market. In addition to everyday staples, they carry a large selection of produce and bulk food, with many organic options. They have a bakery and a deli, and make their own sausages and hamburger. It was here that I finally found the tahini for my home-made hummus.
Winco Foods is a large store with a warehouse feel. It has a substantial produce section and a bulk food section. You cannot use a credit card here. It is cash or debit only. You bag your own groceries. My husband, who does most of the grocery shopping in Canada, is used to bagging his own groceries. However, that is not for everyone. We met a woman who shies away from Winco because of that. She doesn't like having to unload her own cart onto the cashier's conveyor belt at the other grocery stores. Apparently, the cashiers in Wisconsin take the items out of the cart. I've not yet encountered a store in Canada where the cashiers do that.
Fresh and Easy carries a variety of ordinary food staples, but specializes in prepared food and ready-to-go meals. There are organic choices and a pleasing collection of ethnic foods. We bought a prepared palak paneer (cheese cubes in a spicy spinach sauce) that was as good as any I've had in an East Indian restaurant. At Fresh and Easy, you unload your cart and scan your own items, but staff will bag it for you, as long as the store isn't too busy.
Fresh and Easy is owned by United Kingdom's Tesco. Brits longing for their Marmite or clotted cream can find it there. But they may not be able to for long. Fresh and Easy's future in Arizona is uncertain given disappointing returns. In December 2012, Tesco announced it planned to do a "strategic review".
Trader Joe's is a fun store to visit with interesting products, particularly the selection of nuts, chocolate, and sauces. I also like the selection of cheeses. At Trader Joe's, staff unload your cart and scan the items and bag the groceries.
Flyers with weekly specials at all the stores arrive in Wednesday morning's paper. A 10% seniors' discount is offered at most grocery stores the first Wednesday of the month.
Overall I think we are paying less for groceries than we would be back home, especially when we watch for sales, although my sister-in-law, who lives here year-round, thinks the summer sales are better. Some things are more expensive, such as butter unless it is on sale. But I love the way the butter comes packaged in quarter pound (½ cup) rectangles, with tablespoon measurements marked on the package. As is the case at home, each store has its own brands and those are cheaper than the name brands.
Fish has been a disappointment. It is expensive and the choices not very good. Although most stores have a fish and seafood section, I've been unimpressed with the offerings. Much of what is on offer is farm-raised, often previously frozen. It is all pricey. I remind myself that I am in the middle of the desert, but I do miss Gimli Fish Market.
Fresh produce is the area where we get the best deals. I've been buying most of our fresh produce at Superstition Ranch Market. Prices vary, but are usually low. I've bought 6 peppers for $1, 4 lbs of oranges for $1.50, a half dozen bananas for less than 50 cents, a small head of cauliflower for 39 cents, and 2 lbs of strawberries for $1. Produce prices and quality vary by week. You need to be selective. Some items may be overripe. I've learned to not get too carried away by the low prices and buy more than we can eat before it spoils. Prices have risen some in the last couple of weeks, but are still good deals.
We've been getting our lemons for free from the trees growing at the north end of our community.
We are eating well. We are fortunate to have an abundance of choices. My husband volunteers one morning a week at a Mesa food bank, part of the Society of St. Vincent de Paul. He assembles packages of food and delivers them to people who don't care about the nuanced differences between grocery stores. They just want to be able to eat. At a party I attended recently, someone commented that no matter where you go in the world, there are hungry people. Someone else said, "And there always will be." I want to believe that isn't true, that someday, someday soon, everyone will have enough to eat.