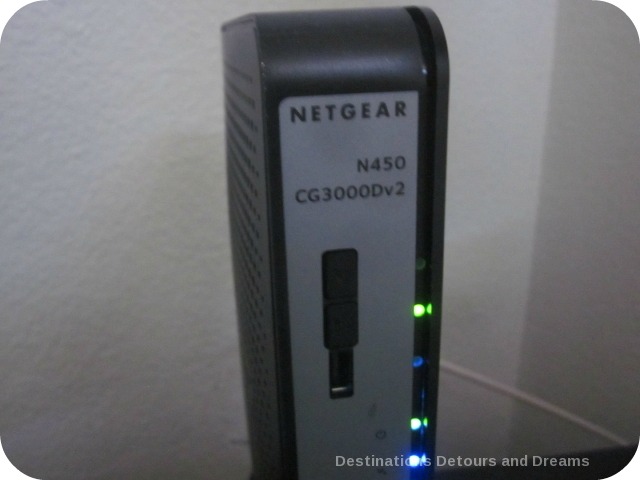 Arranging Internet access in our winter home

The ways in which we connect and interact with each other have changed dramatically over the last fifteen to twenty years, thanks to the Internet, a host of social media sites and smart phones. We, at least in first world countries, now expect and rely on ready access to the Internet.
My husband and I began our second "snowbird" winter in Mesa, Arizona, and are settling in to our rental home in a 55+ community. When we made rental arrangements, we knew there was no Internet access in the unit, but had been told we'd be able to set it up.
My husband and I consider Internet access a necessity. We use it, as do many, for interactions with friends and family via email and social networking sites. It provides entertainment through music and video downloads. We both volunteer for organizations back home and are able to continue those responsibilities through use of the Internet. We find information about activities in the area and keep up with news back home. I do research to support my writing. And, of course, I would not be able to continue my blog without it.
We encountered a few bumps in getting Internet access established, complicated by a lack of communication between the owner and me.
A week before we left for Arizona, I contacted the office at the 55+ community and asked whether we make arrangements with them or deal directly with Cox Communications, the provider who services the community. I was told to deal directly with Cox.
I called Cox and arranged for service in our unit. I was told the modem/router would be delivered on the same day we were scheduled to arrive.
The owner of the unit met us when we arrived. The router was there. However, not knowing I had already made arrangements, she'd arranged to have WiFi installed a couple of days before. Service technicians had come out, installed an outlet for access, and set up a modem/router.
The Internet she'd installed was up and working. But now we had two routers and were likely to each be charged for service.
The next day, we started arrangements to cancel her order and activate our account. We were told it might result in being without Internet for 30 minutes or so.
I spend the better part of the afternoon on three separate phone calls to finally get our service up and running. We were told to switch out the routers, which was extremely simple to do. Too simple, as it turned out. Issues with my account set-up prohibited access. Each person I talked to appeared to set up the account differently and the next customer service person spent time "fixing" it.
The house already had cable television. When we arrived, it was not working, although the owner said she'd checked it several days before. When the service technicians installed Internet access, they bumped a loose connection in the cable box. Another service call was scheduled to fix that.
We now have operational Internet access and cable television. What have I learned from my experience? Would I rent a house again that didn't come with Internet access? It would not be my first choice, but if the house and rental price were right, I likely would. But I'd ask the owner to arrange for Internet access, agreeing to pay the cost via increased rent. Barring that, I'd ensure I understood all arrangements needed to get Internet installed and communicate more closely with the owner.
During the process of getting Internet installed, I was reminded that most Internet providers offer varying levels of service, based on download speed. While we don't need ultra-fast, sonic speed, the very basic levels are not adequate for what we do. The owner of our rental unit had selected the same level as we did. I'm not sure this would always be the case. When making rental arrangements in the future, I will likely ask, not only if Internet access is included, but also what level of service is provided.