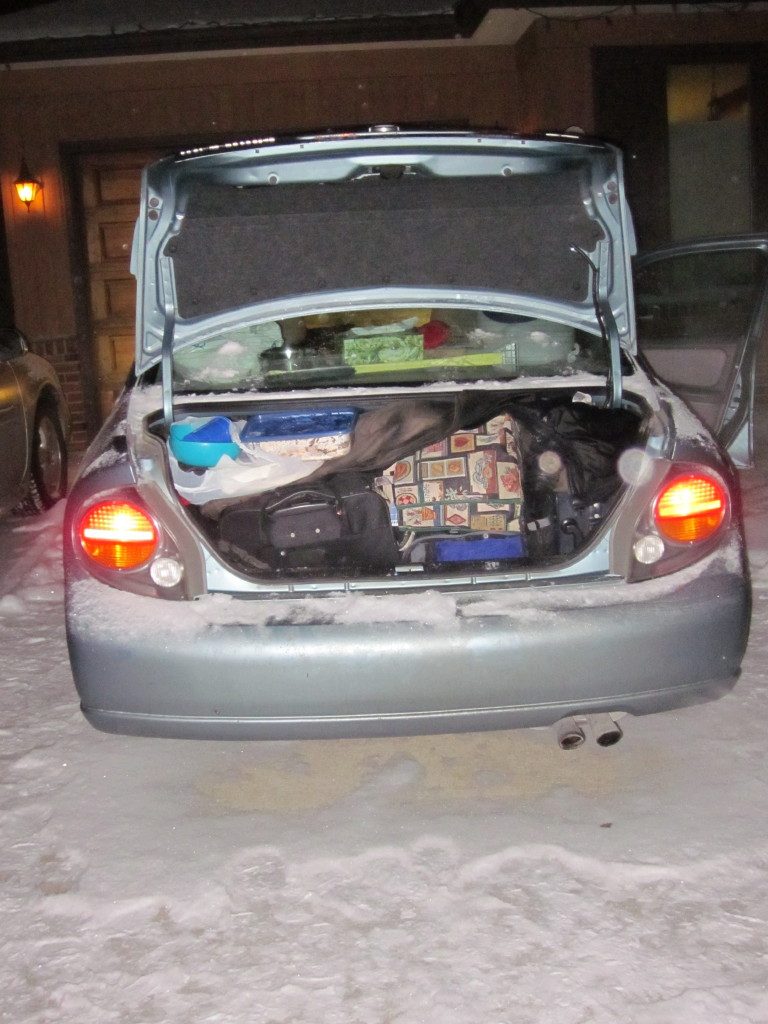 The start of our snowbird winter: the drive from Winnipeg, Manitoba to Mesa, Arizona

After a busy week of last-minute preparations, medical appointments, and visits with friends and family, we crammed our stuff, ourselves, and our two King Charles Cavalier Spaniels into the car, destined for Mesa, Arizona, where we will spend our first snowbird winter. Almost everything I'd hoped to take in Packing for Winter fit into the car. The yoga mat stayed behind.
The highway in South Dakota, which had been closed the day before because of snow, was open and in reasonable driving condition, with a few patches of snow and ice. Forecasts of snow for northern Arizona caused us to revert to our Plan B route. We drove south from Albuquerque, New Mexico and took the I-10 west, then north through Tuscon, Arizona to Mesa, driving through rain for most of the last day.
Three and a half days, one border crossing, nine states, three hotels, and eight gas stations later, we arrived, tired, but happy to be here.
I learned a few things along the way.
U.S. Customs and Border Protection regulations generally allow pet food to cross the border if the food is in the original container and the country of origin is clearly labelled as Canada or the U.S. Pet foods made from lamb or goat must show a U.S. origin. Too late, we remembered advice received from a friend.
Our dogs are good travelers. They are older now and spend most of their day laying around. Being confined to the back seat of a car is not as big a hardship as it might be for younger, more active dogs. Of course, we stopped frequently so they could stretch their legs and walk around.
Sydney, our female dog, can climb over almost anything to get to the food being eaten by the humans in the front seat.
My arthritic foot is worse after sitting all day.
An incredible amount of goods must travel across America, based on the number of big trucks on the highways.
I have to get my friend's recipe for nuts and bolts. I have another friend's recipe for maple cream fudge, but it doesn't turn out the same way when I make it. Thanks to both for the tasty treats on our drive.
A three and a half day road trip gives a passenger a lot of time to brood on things.
I must remember the lid for the morning coffee I take from the hotel into the car.
Our dogs may be smarter than we think. We tried to get them to drink water at every rest stop, but they refused. When we settled into hotel rooms in the evenings, they drank. Do they instinctively know that liquid intake and long car rides are not a good combination?
Not all audio books are suitable for listening to during a road trip. Some require too much concentration and divert attention from the road.
I have become dependent on high speed Internet. The Internet speed in one hotel was so slow, I was sure it was an early dial-up connection. That was the evening we changed travel plans due to weather. I needed access to find an alternate overnight location and hotel.
I still cannot fold a map properly, although I can read one and am a good navigator.
In my husband's world, fortuitous time zone changes, central to mountain, meant he ate two lunches.
There is always a Walmart nearby. Thanks to Walmart Marketplace, we did not have to leave the dogs alone. We bought food for dinner and for the next day's drive.
The drive has left me with a few questions. Why are none of the windshield wiper speeds appropriate for the pace of the rain. How many dinosaur museums are there in the United States? How many Route 66 museums?