Culture Shock: A Book Review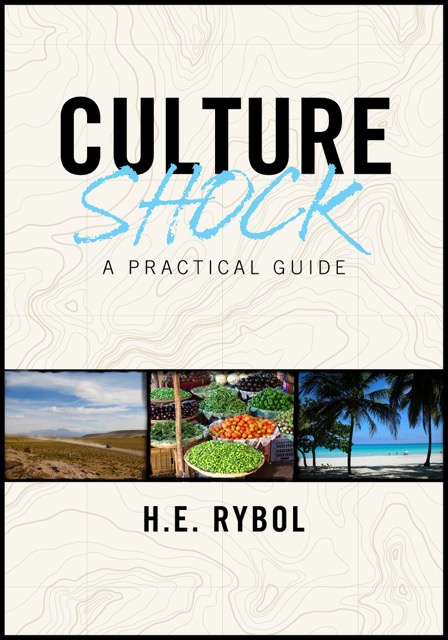 A review of the book offering practical tips and considerations to prepare for living and travelling abroad
Culture shock strips us from our comforts, straight down to our core, puts us eye to eye with our basic needs and propels us into a moment of accelerated growth.
The above sentence is taken from the first chapter of H.E. Rybol's book Culture Shock: A Practical Guide, the chapter in which she explains what culture shock is. The remaining chapters provide tips for dealing with culture shock: how to deal with craving comfort, processing new information, coping without autopilot, difficult situations and alienation, and, finally, how to unite both worlds within yourself.
The goal, in her own words, "is to use simple everyday actions in a purposeful way to ease the stress that comes with everything new." She highlights small steps we can take to handle the transition. But the book is about more than merely managing the stress. It is about dealing with the discomfort of change in a way that allows us to embrace the new and to grow.
I'd always thought about culture shock in terms of relocating to a faraway, vastly different land. But, while reading this book, it dawned on me that we may experience culture shock in less obvious situations: a move to a different part of our own country or on vacation. Many of the tips in this book could be used to aid in dealing with the change associated with moving into a new neighbourhood in one's own city.
H.R. Rybol's advice starts with acknowledging and understanding our own feelings. She describes the roller coaster of emotions we may go through and asks us to develop an awareness around whatever is making us feel "off".
She talks about expanding our notions of comfort. We need to understand what intangible things are most important for our own comfort, be it connection with family and friends, music, sports, food, meditation or something else. Finding a way to incorporate these into our new lives and seeking these things out in our new location helps us cope with the change. Packing tangible items, such as a favourite sweater, a blanket or small item of sentimental value, can help ease our discomfort.
At home, we've developed routines which allow us to function on autopilot for a portion of our day. We know the streets around our home. We use a particular bank and have a grocery store we regularly shop at. Her advice on coping with the overload of everything being new includes building those autopilot moments as soon as possible. Walk the same streets. Find a bank. Pick a grocery store. If we are travelling from place to place, our autopilot routine can centre around how we organize our backpack or suitcase and pack and unpack.
H.E. Rybol's tips stem from her own experience. Although she has shared a small part of that in her packing tips and identifying what her own tangible and intangible comfort needs are, there are no other specific examples of her experiences. I'd hoped to read about those and think they would have helped solidify the advice. But, even without the added emphasis these stories might have given, the common-sense, practical tips are readily grasped and easily executed.
The book is short and written in a conversational style that is easy to read. But it is full of information and one may want to slow down and absorb it, think about how to use the advice in one's own situation. I know that I will be referring back to the tips from time to time. Beautiful photos from H.E. Rybol's travels are found throughout the book.
H.E. Rybol is an adult TCK (third culture kid, a term used to describe children who were raised in a culture outside of their parents' for a significant period of their development years). She's been a backpacker and a solo traveller and has moved to work in other countries.
Culture Shock: A Practical Guide is available as an ebook through Smashwords, Amazon, iTunes, Barnes & Noble, Flipkart, Oyster, Scribd, Kobo, Txtr and Overdrive. A paperback edition will be available soon.
I will end the review with a couple more quotes from the book.
Experiencing culture shock is a gift that helps us find our story within a world of stories and understand how all are connected.

Underneath all of our apparent cultural differences, there are stories we share, regardless of country or continent.
Disclosure: I received a free copy of the book. Opinions and observations are my own.