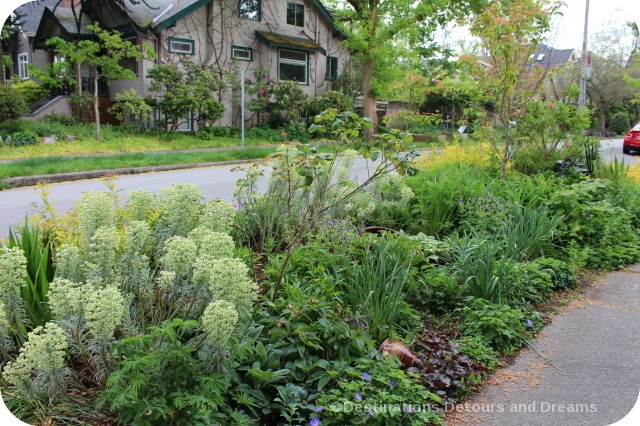 Collaboration between the city of Vancouver and resident volunteers
creates community and beautiful green spaces
On a recent visit to my daughter in Vancouver, British Columbia, as I walked the two blocks from the Sky Train station to her apartment, I stopped at the corner of her street to admire a small garden between the sidewalk and the road. A sign in the garden titled Green Streets said "This garden is being cared for by a local resident involved in the Green Streets program." Walking through the city over the next couple of days, I encountered more such gardens.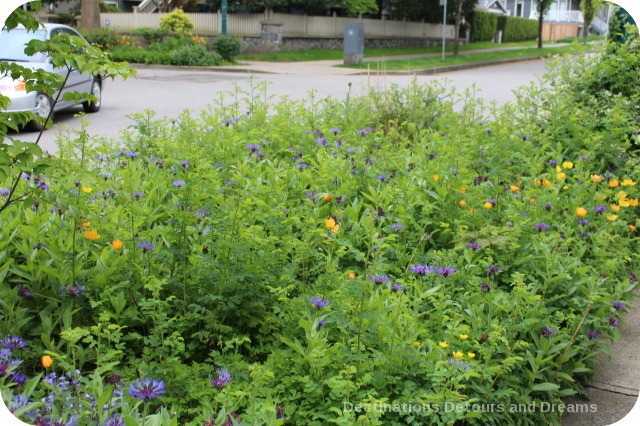 Green Street gardens are planted on traffic circles and corner bulges. The City of Vancouver pays for and does the initial planting. Volunteer gardeners maintain the plots, weeding and watering as required. Gardeners may add personal touches with favourite plants and garden ornaments. The City provides guidance on the types of plants to choose, offers design assistance, and supplies free compost in spring and fall.
Vancouver has watering restrictions in place June through September. Drought-resistant plants are recommended for these gardens. The City also has a ban on the use of pesticides for cosmetic use. Pesticides can only be used on lawn and gardens to control an infestation or destroy a health hazard.
The Green Streets program has rules regarding the size and spread of plants to ensure visibility around traffic circles and corners, access to utility covers (e.g. manholes) for city workers, and unobstructed sidewalk access.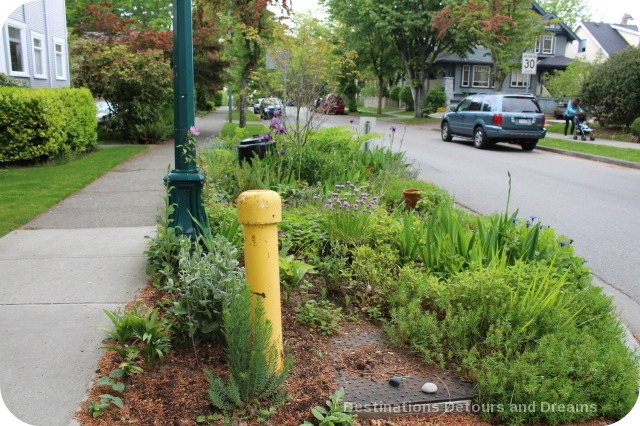 Volunteer gardeners gain a greater sense of community and experience the joy of gardening and creating something beautiful. They also have access to mentor master gardeners.
Green spaces and gardens enhance a city. The Green Streets program is a way to beautify the city and create a stronger community. The Green Streets program website calls these gardens "traffic calming spaces."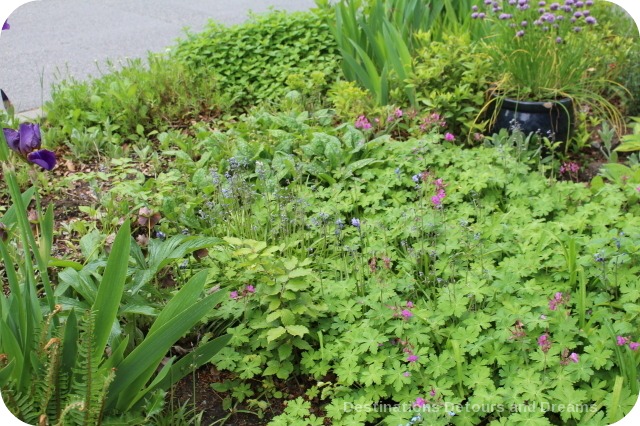 Do you know of other city and resident garden collaborations?