Murals Of Moose Jaw, Saskatchewan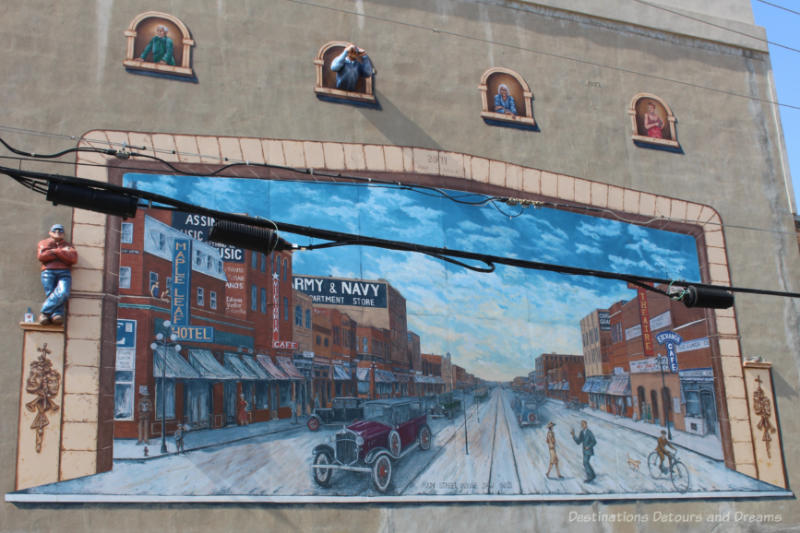 The historic downtown of Moose Jaw, Saskatchewan, Canada, features giant outdoor murals
Moose Jaw is a small Canadian city located in south-central Saskatchewan with a number of tourist attractions. Its walkable downtown boasts historic buildings and colourful murals. A collection of 47 giant outdoor murals depict Moose Jaw's early history.
I enjoyed seeing the murals when I visited the city. I'm showcasing a few of the murals in this post. To see the full collection and where they can be found, visit the Murals of Moose Jaw website.
Note that many of the murals are located on the sides or backs of buildings.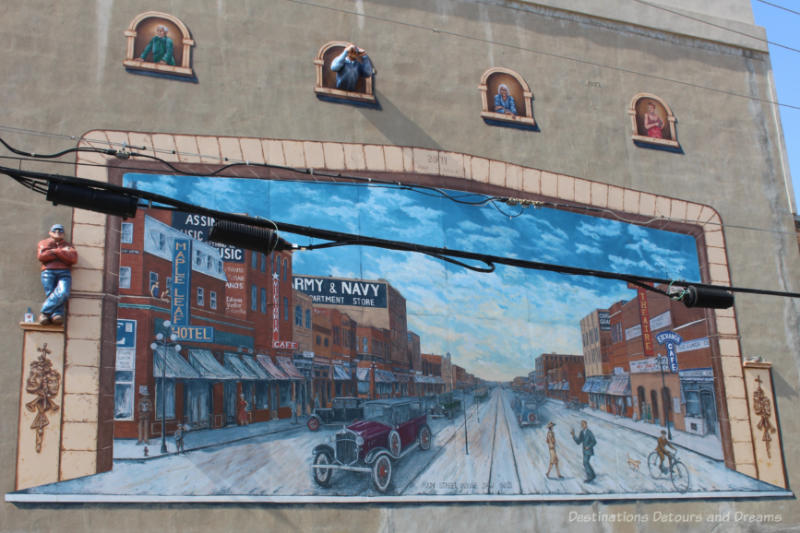 Painted by Grant McLaughlin in 2011, Cruising Main Street on the back of the Old Capital Theatre Building at 217 Main Street North features a lively scene from 1920s Moose Jaw.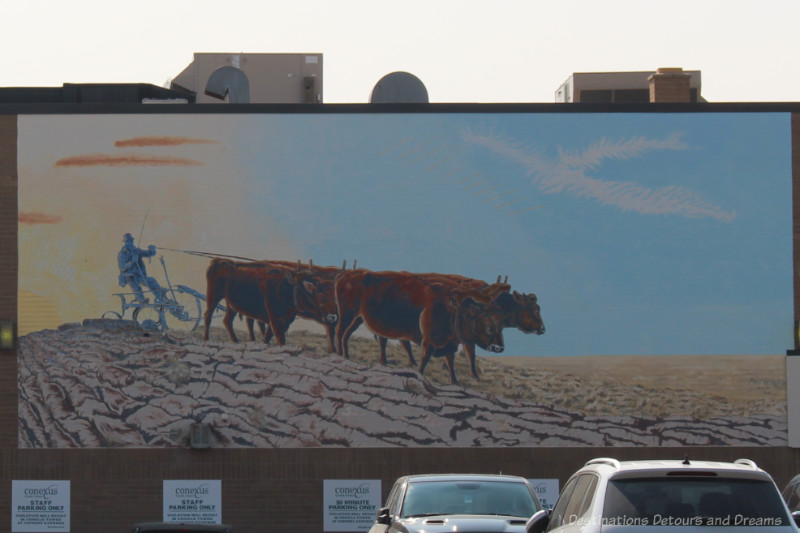 Painted by Paul Geraghty in 1990, Breaking New Ground at 80 High Street West represents the pioneer's hopes of a golden future. The settler had to "prove his land" by breaking five acres per year for five years.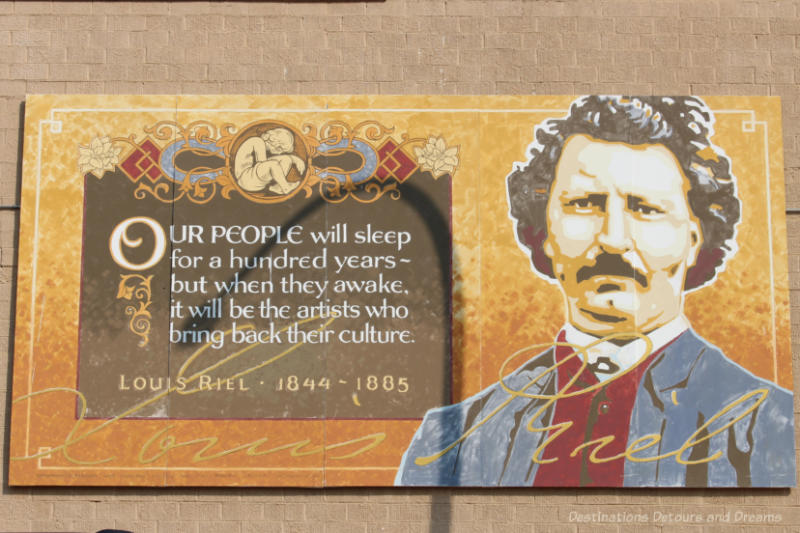 Painted by Ray Renooy in 2007, Tribute to Louis Riel on Hochelaga Street West on the back wall of Patterson Plaza/Rogers/Shoppers Drug Mart features a painting of Métis leader Louis Riel and a quote from him. Louis Riel played a key role in the history of Saskatchewan and in my home province of Manitoba. I've written more about Louis Riel and places to explore his history in my home city of Winnipeg, Manitoba in the post Discovering Louis Riel in Winnipeg, Canada.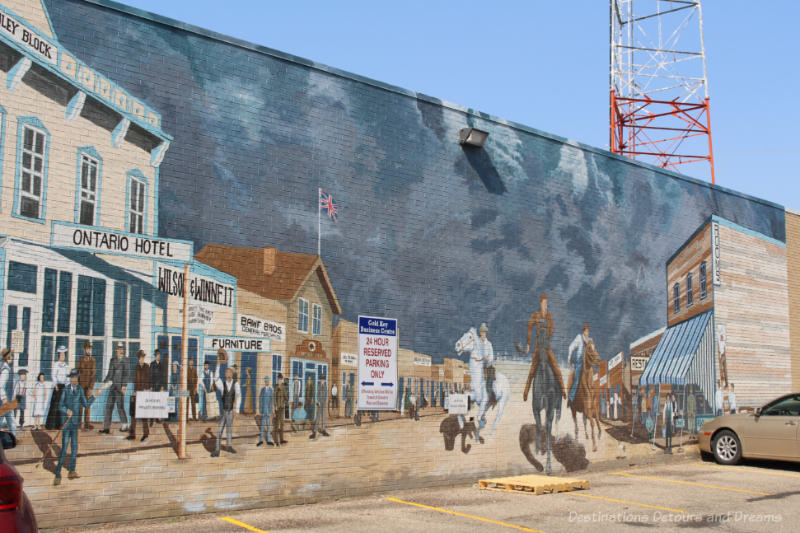 Painted by Dale Cline in 1991, Stormin' Main Street – 1883 on the east wall of 44 Fairford Street West depicts Main Street as a prairie storm is on the way.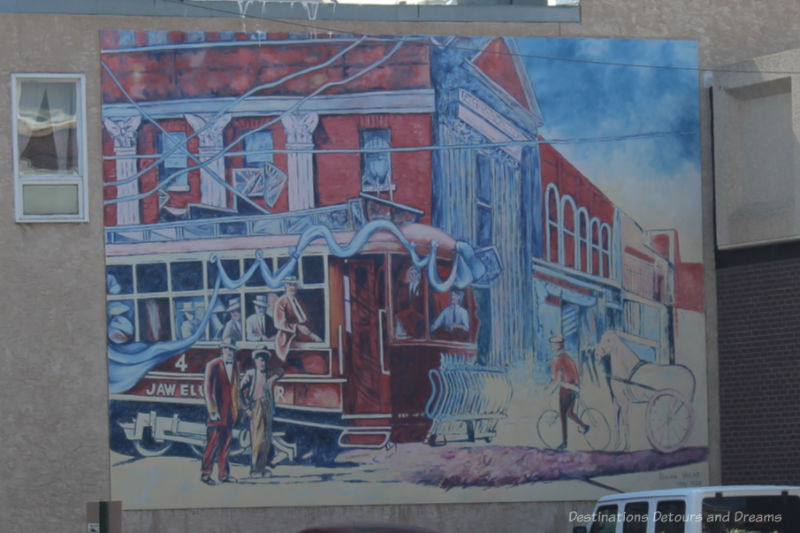 Painted by Brian Volke in 1991, The First Run at 125 Main Street North on the north wall showcases the first run of the Moose Jaw street car on August 19, 1911.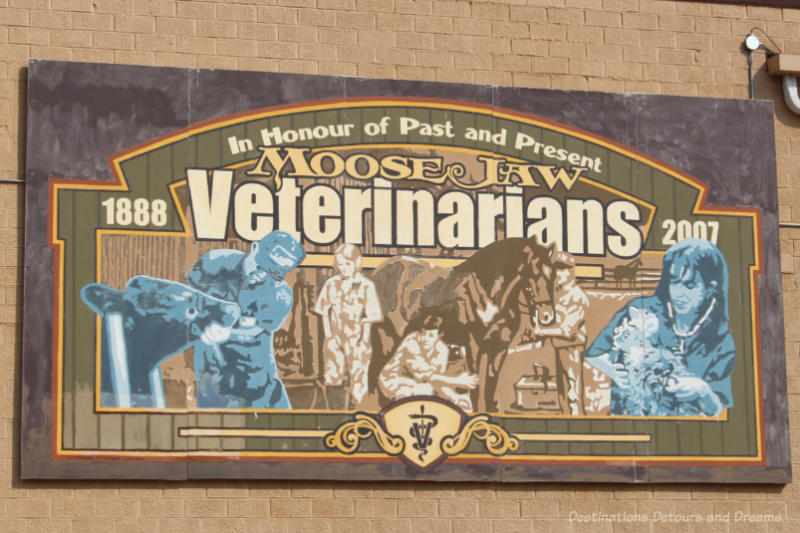 Painted by Noella Cotnam, Veterinarian Mural on Hochelaga Street West on the back wall of Patterson Plaza/Rogers/Shoppers Drug Mart honours past and present veterinarians.
Painted by Grant McLaughlin in 2009, Fire Watch celebrates the history of the Moose Jaw Fire Department. Gradual changes in equipment and methods are illustrated in a series of panels that cover the long east wall at 100 Fairford Street West.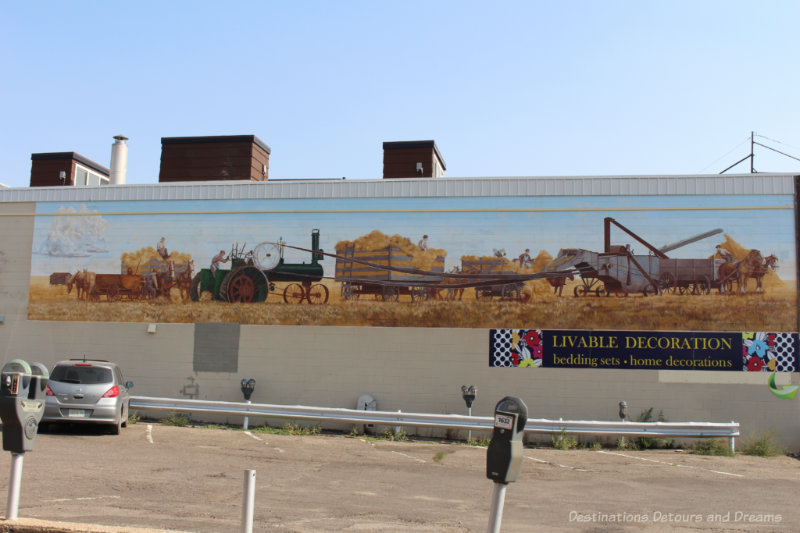 Painted by Paul Geraghty in 1992, Old Time Threshing Bee at 32 River Street East is a tribute to farmers.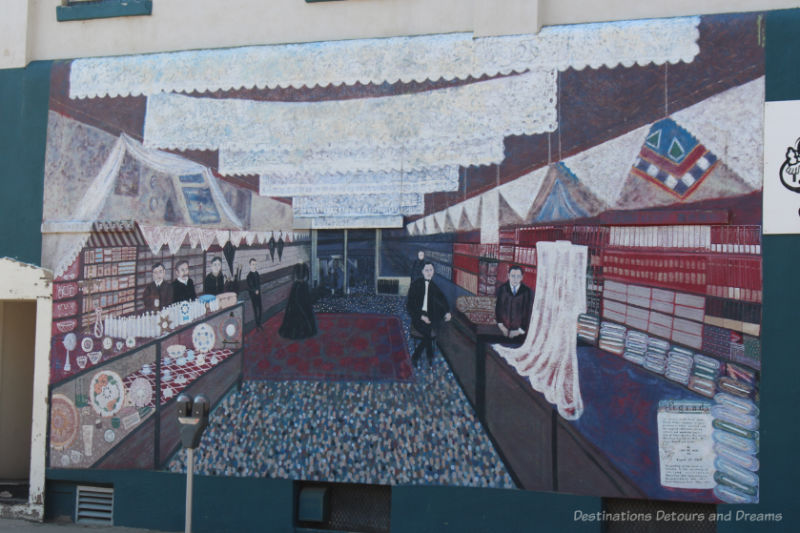 Painted by Ruth Hamilton in 1999, Clarke Bros. Circa 1902 on the west wall of 37 Main Street North shows the interior of the store operated by the artist's father and uncle from 1902 to 1950.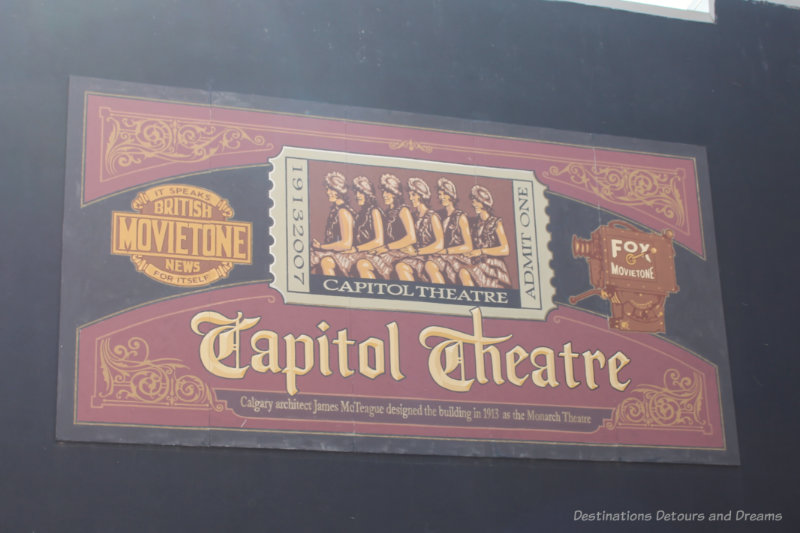 Painted by David Butler, the Capitol Theatre Mural on the north wall of the Cultural Centre depicts a ticket for the theatre during its heyday.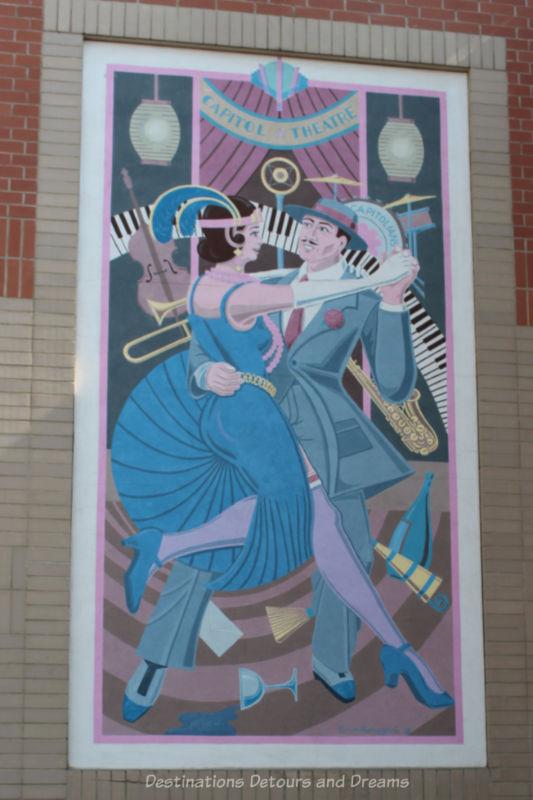 Painted by Brian Romagnoli in 2002, Dancing on River Street on the north wall of 21 Fairford Street East. offers a glimpse of the exciting nightlife of River Street in the 1920s.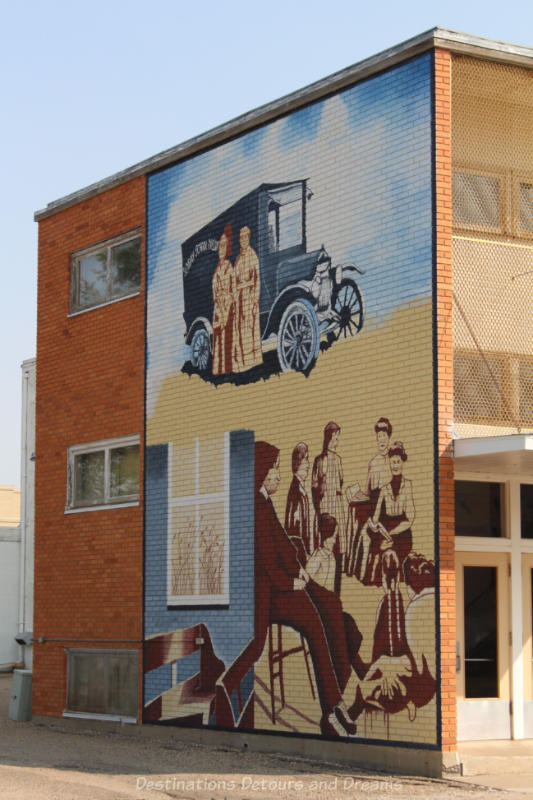 Painted by Marsha Wade Charlebois in 1991, Sunday School at 60 Hochlega Street West pays tribute to Eva Hasell and Winifred Tricehurst who did missionary work in the 1920s.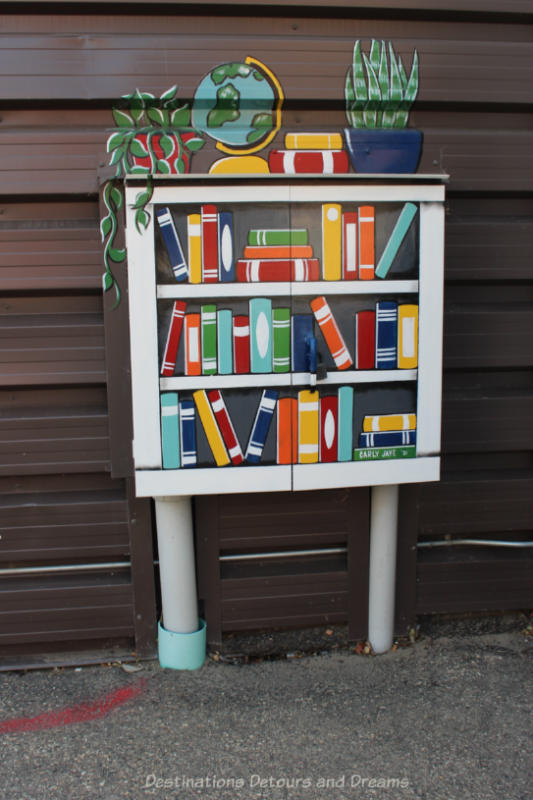 I thought the above painting by Carly Jaye in 2021 was a clever way to decorate/hide a utility box at the side of a building.
Never miss a story. Sign up for Destinations Detours and Dreams free monthly e-newsletter and receive behind-the-scenes information and sneak peeks ahead.
PIN IT