Twinings Tea Tasting in London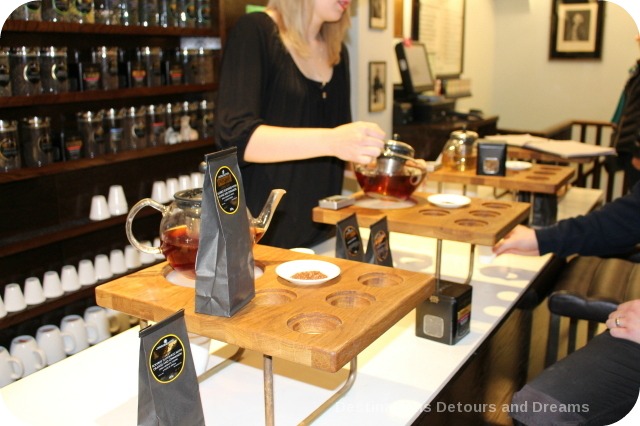 Sampling teas at the oldest shop in the City of Westminster, Twinings flagship store on The Strand in central London, England
Twinings has been selling teas for over 300 years. I visited its London shop at 216 Strand, the location where it all started, for a unique tea-tasting experience.
Today, we associate the British with tea drinking, but that wasn't always the case. Tea did not come to Britain until the 17th century. Writings from the mid-17th century suggest it was still an unusual beverage at that time. In the 17th and 18th century, men (no women) gathered in coffee-houses to learn the news of the day and to do business. Thomas Twining bought Tom's Coffee House on London's Strand, an ideal location straddling Westminster and the City of London. But with a proliferation of coffee-houses, competition was fierce and shop-owners looked for ways to distinguish themselves. Tom's started selling tea. In the 18th century, tea became fashionable and people flocked to Tom's shop.
Today, Twinings sells over 500 varieties of tea throughout the world. And it still sells tea from the shop on The Strand.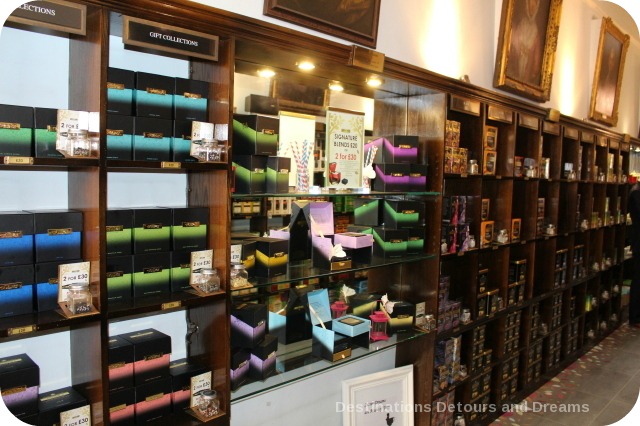 I visited with my husband and a friend. We walked to the back of the narrow shop and sat on stools in front of the Sampling Counter. A wooden shelf sat on the counter in front of me, ready to hold my tea samples.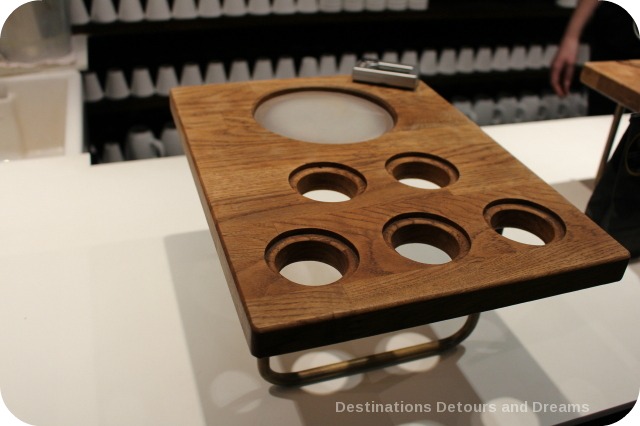 On the wall behind the counter, a television screen showed scenes of tea production in the Far East and tea mixing in the Twinings head office. Two pots of tea are already steeped and we sample those, as the person working at the counter tells us about them and lets us smell the loose leaves. When we asked to sample other varieties, she carefully measured amounts into an immersion basket, added boiling water from a tap at the counter, and set the timer (3 minutes for most teas, 2 minutes for green teas). Twinings has a Tea Academy program which sends people from head office to tea growing regions around the world for a week to experience the tea making process from field to cup. Our server had not been on one of these trips, but nonetheless displayed an amazing amount of knowledge about the entire process.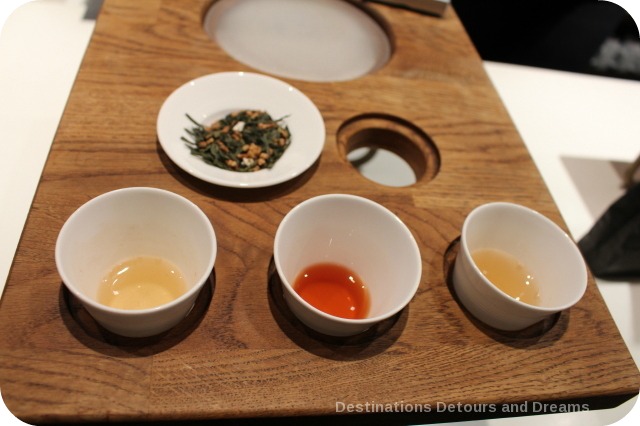 I do not remember the exact names of all the teas we sampled. I do remember that all were very good. Even my husband, not a tea drinker, enjoyed them. There was a green tea with jasmine and popped rice, a Rooibus with orange and cinnamon, a white tea, and an oolong tea.
Tea sampling is free of charge, but it is likely you will not leave the shop without spending something on teas to take home. Loose leaf teas, packages of tea bags, and gift collections are all available for purchase. The new "Pick'n Mix" section, where you can choose individual tea bag selections to create you own collection, is a great option for taking home a variety of teas to taste.
There is also a small museum, a display case highlighting the history of Twinings.
Here are a few interesting facts about Twinings and tea:
In 1837, Queen Victoria appointed Twinings as supplier of teas to her household. Twinings has supplied every successive monarch to date.
Twinings made tea bags for the first time in 1956.
Twinings blenders taste more than 3,000 cups of tea a week.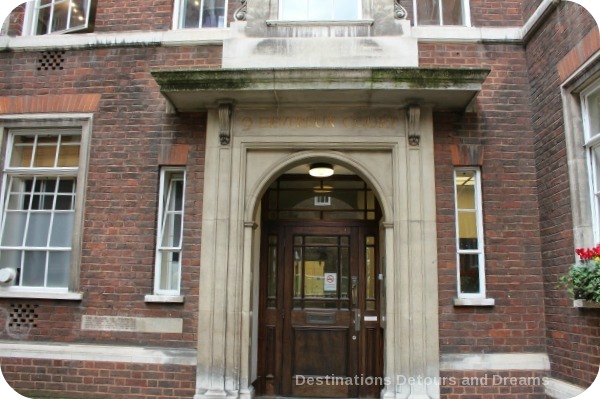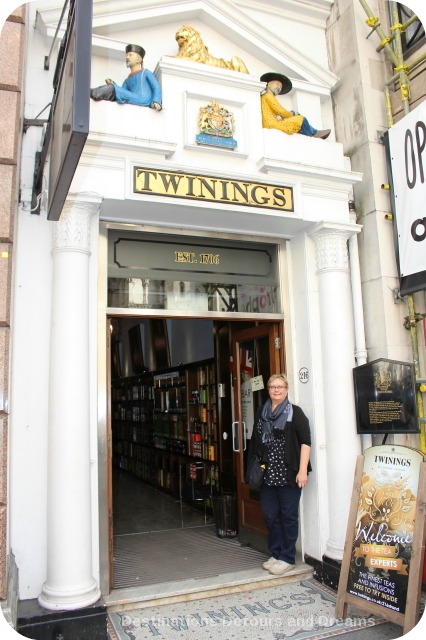 If you enjoyed this post, sign up for Destinations Detours and Dreams monthly e-newsletter. Get behind the scenes information and sneak peeks ahead in addition to a recap of the month's posts.  
PIN IT