Things to Know When Visiting England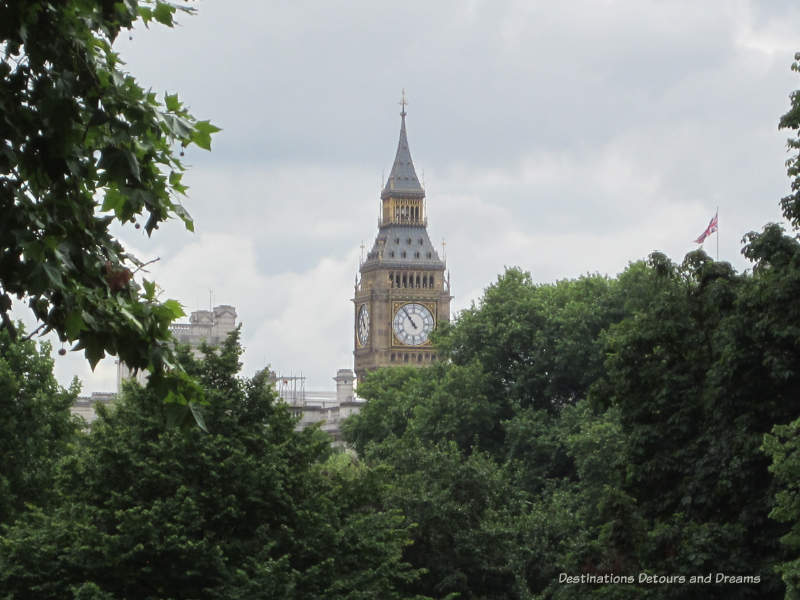 Practical tips for North Americans travelling to England
England is a favourite travel destination of mine. The feeling I get when I land there is almost one of "coming home" although I have never lived there and have no English ancestry. There are similarities with my home country of Canada in terms of language, albeit with a few different words and charming but sometimes incomprehensible accents, and overlapping history. There are also many differences that are a delight to discover amid the bustle of London, the scenic countryside, and pretty villages. For North Americans visiting England and other parts of the United Kingdom for the first time, being prepared for some differences in the logistics of travel can make the trip easier and more enjoyable.
Note: England is one of four countries making up the nation of the United Kingdom. The other three are Scotland, Wales, and Northern Ireland. Much of the information included here applies to the entire United Kingdom.
1. Paying for Goods and Services in the United Kingdom
The unit of currency in the United Kingdom is the British Pound, otherwise known as pound sterling and commonly referred to as the pound. The currency code for pounds is GBP and the symbol is £. The pound is divided into 100 pennies or pence. Pound notes are available in denominations of 5, 10, 20,and 50. One hundred pound notes exist but are rarely used. Coins are available in denominations of £1, £2, 1p, 2p, 5p, 10, 20, and 50p.
(Note: If you visit Scotland, where the unit of currency is also the pound sterling, you may encounter bank notes issued by Scottish banks in addition to those issued by the Bank of England. The Scottish notes may or may not be accepted by U.K. merchants outside of Scotland.)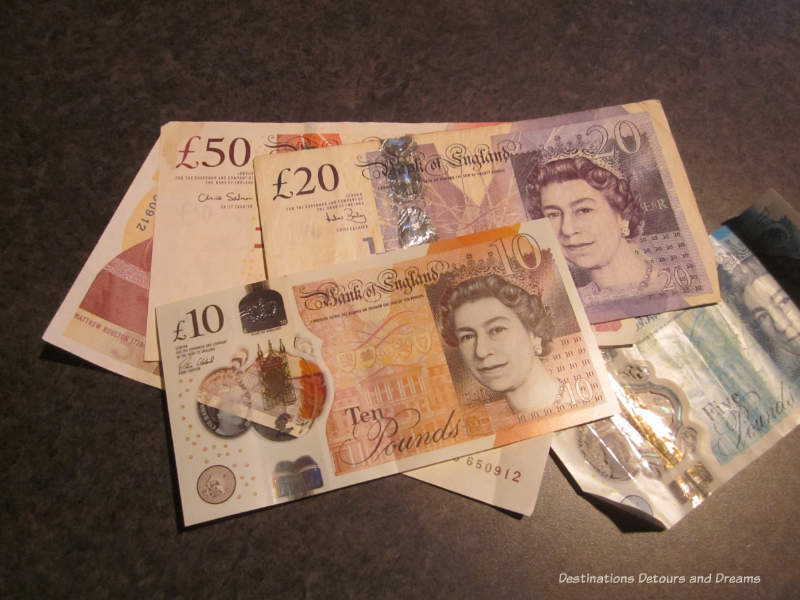 Debit cards are widely used. MasterCard and Visa credit cards are generally accepted, American Express less so. Chip and PIN technology has been in place for over a decade. Chip and PIN technology is standard in Canada and common in Mexico, but many U.S. cards use Chip and Signature technology. With Chip and PIN cards, the cardholder enters a personal identification number (PIN) to validate the transaction. With Chip and Signature cards, the cardholder signature is required either on a paper receipt or on the credit card reader. The Chip and Signature cards may be accepted in places where a paper receipt allowing for a signature can be issued, but may not be usable at automatic kiosks (e.g. rail ticket dispensers). You might want to check with your credit card issuer to confirm the card can be used overseas. Four digit PINs, which are what I am used to, are the standard. I've read that some U.S. institutions allow 5 digit PINs. If your card has a five digit PIN, you should change it to a four digit code to use the card overseas.
"Tap" technology on contactless cards is becoming more common in England. If your card is equipped with the contactless chip, you can simply tap it on the card reader or wave it in front of the machine. Contactless payment is widely used for purchases under £30.
As of January 2018, businesses in the United Kingdom are no longer allowed to add a surcharge for credit card payments. The added fees had been in place to cover the business cost of processing the payment. Not every business charged them, but I have encountered a few that did. Most surprisingly and annoyingly, one was a hotel's online booking site where I had no other option than to pay by credit card.
2 Electricity in the United Kingdom
In England, the standard voltage is 230V. The standard voltage in North America is 120V. Even with this difference, there is a good chance you will not need a voltage converter to use your electrical devices in England. Most modern-day electronics — laptops, phone chargers, tablets – run on both voltage settings. The input voltage range on my laptop battery is 100-240V.  Check the small print on battery packs to find the input voltage. And I do mean small print. You may need a magnifying glass to read it clearly. Other electrical travel accessories, such as hair dryers or electric razors, may have toggle switches to go between 120V and 230V. If you plan to take an electrical device that doesn't fit into either of these two categories, you will need a voltage converter.
Whether you need a voltage converter or not, you will need adapters for any electrical devices you plan to use in England. The electrical plugs and sockets are a different shape in the United Kingdom than in North America. There are 15 different types of electrical outlet plugs used across the world. Using the classification letters assigned by the U.S. Department of Commerce International Trade Association, types A and B are standard in Canada, the United States, and Mexico. Type G is used in the United Kingdom. An adapter is a device that takes as input one type of plug and has prongs in the shape of another type of plug. It doesn't convert voltage, just allows for the connection of electrical devices. There are different types of adapters so make sure you purchase the correct one for transferring Type A or B to Type G or purchase a universal adapter that comes with a variety of plugs to fit outlets around the world.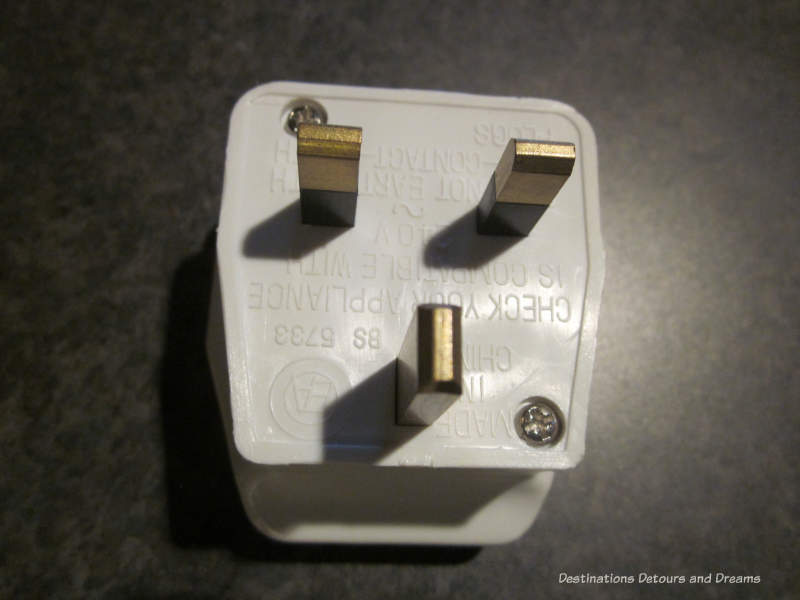 One other note about electrical outlets in the United Kingdom: most have individual on/off switches so power is not constantly flowing to the outlet. You will need to flick the switch to on to have power. I know from experience how easy it is to forget to do that and wake up to a dead phone.
3. Driving on the Left Side of the Road
Vehicles in the United Kingdom drive on the left side of the road not the right as in North America. This is important to know even if you are not driving. Pedestrians need to know which way traffic may be approaching when they are crossing streets. I didn't realize how ingrained looking in a particular direction was until I walked across intersections in England.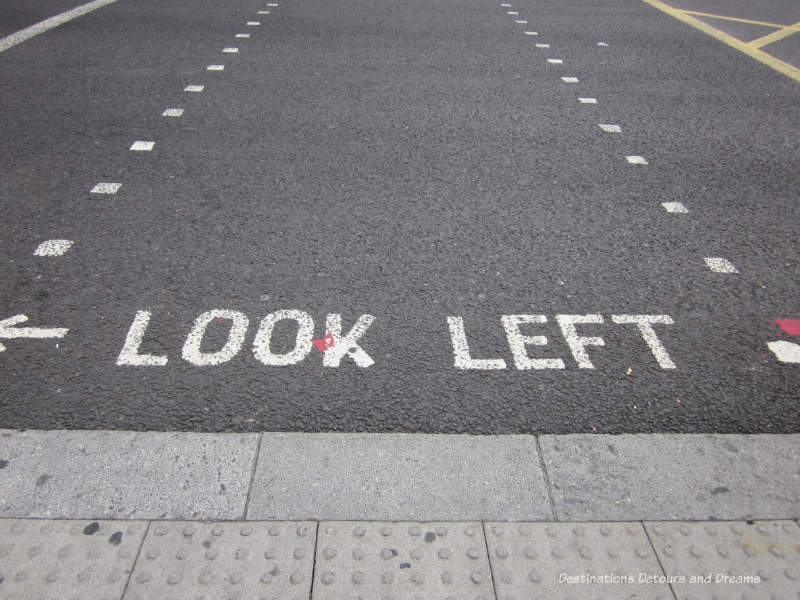 Many pedestrian curbs in the main tourist areas of London have painted "Look Left"or "Look Right" signs on the road to help you. Away from the high tourist areas, you'll rarely find these signs except on some one-way streets. The safest way to approach all intersections is to look both ways. If you make that a habit, you won't be constantly thinking about which way traffic is flowing.
4. Shopping in the United Kingdom
VAT (Value added tax) is levied on most goods and services in the United Kingdom. Unlike most of Canada and the United States where sales taxes are added on top of the amount on the price tag, VAT is included in the sticker price and therefore mostly invisible to the consumer. This is an important distinction to be aware of if you are comparing prices to what you might pay back home. When I would do a mental currency conversion, I needed to make the comparison not to the price tag back in Canada but the price with the appropriate sales tax percentage added.
As a tourist from a non-European Union country, you may be able to get a VAT refund on goods you buy and take home. It is a bit of a time-consuming process and may not be worth the trouble for purchases of small amounts. I have not personally bothered to make such a claim, but I have also not made large amount purchases. Qualifying purchases must be bought from a merchant displaying the Tax Free Shopping sign. You need to obtain a tax refund form from that retailer and may need to show your passport to have the form validated. When you leave the country, show the form and your purchase receipt to U.K. Customs. Allow extra time for this. See the government site for more details. If you travel to another European Union (EU) country before returning home, rules differ in regard to where you hand in the form. I don't know if or how this will change after the United Kingdom separates from the EU.
Clothing sizes follow a different system than in North America. Women's clothing sizes are typically two numbers larger than U.S. sizing. For example, if you wear a U.S. size 12, look for size 14 in the United Kingdom. Men's clothing sizes (e.g. 34, 36, 38, etc.) are the same. As is the case in North America, fit varies by style and manufacturer. Be prepared to try on a couple of different sizes.
Shoe sizing is also different than in North America. Women's shoe sizes are two less than U.S. and Canada sizing. For example, a U.S. size 7 is a U.K. size 5. Sometimes, you will find shoes listed in European sizing. A U.S. size 6.5 is a European size 37, a U.S. size 7.5 is a European size 38, a U.S. size 8.5 is a European size 39, etc. Men's shoe sizes are .5 less than in the U.S.and Canada. For example a U.S. men's size 8 shoe is a U.K. men's size shoe 7.5. The European equivalent is 41 (and size 9 equals European 42, size 10 equals European 43, etc.)
Sock sizing typically matches shoe sizing. You will need to know your shoe size to purchase the right-fitting socks.
All large shops in England are required to charge a fee for single-use plastic bags. This includes grocery stores as well as many other high street stores. Smaller shops may also choose to charge. It is a good idea to bring your own carrier bags, both from an economic and environmental perspective. Alternatively, save and re-use any single-use plastic bags you purchase.
5. Getting Around England
Train service between cities and towns is frequent and reliable. British Rail, the national railway company, was broken up and privatized in the 1990s. Today there are many different train companies serving different parts of the country. It may seem confusing at first, but the system usually works seamlessly for passengers. Any U.K. train company can take your booking and payment for any other train company.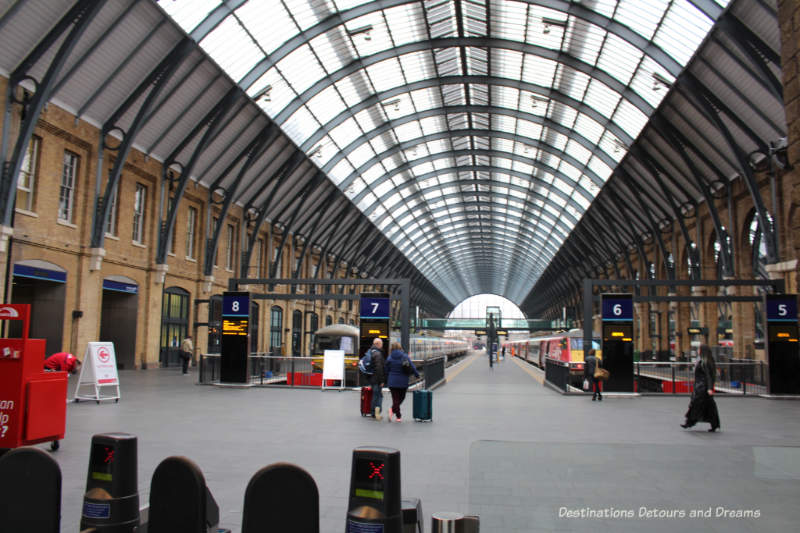 Fares are nationally regulated. Anytime fares can be used at any time of the day. Off-peak fares are a little cheaper, but you must travel at off-peak times which are usually hours outside of rush hours. If you know well ahead of time when and where you will be travelling and your plans are unlikely to change you might be able to obtain an advance ticket at substantial savings.
Schedule and fare information is available at National Rail. Trainline is listed as the U.K. leading independent train ticket retailer.  I have not purchased tickets through them myself,  but I have used their site to find information about train times and fares. I've always purchased tickets directly at train stations.
The British Tourist Board sells BritRail GB passes to tourists. The BritRail GB passes offer unlimited train travel for a selected number of days. The tickets must be purchased before travelling to the United Kingdom. A physical ticket is mailed to you which means you need to purchase well enough in advance to allow for delivery times. Although I have not used these passes myself yet, I think they might make economic sense in some situations.
If you are travelling within the London Fare Zones area, you might want to consider a Travelcard. Travelcards are zonal tickets allowing unlimited travel on London's transport system. They can be issued for one day or for seven consecutive days. When we stayed in Redhill, Surrey, which is outside of London itself but still within the London Fare Zones area, we used a Travelcard to take the train into London for the day and travel to different areas within London via public transport.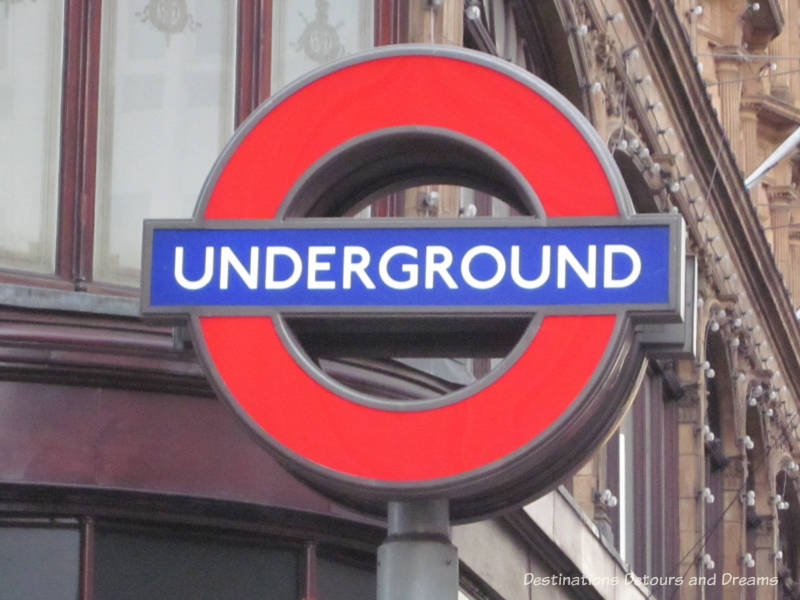 Public transport in London includes a subway system, known as the Underground or the Tube, a bus system, and overground trains. The subway is a quick way to get to other parts of the city, but there can be many stairs and long distances to walk underground. I generally prefer to take the bus unless it doesn't make sense logistically. The bus allows me to see more of the city.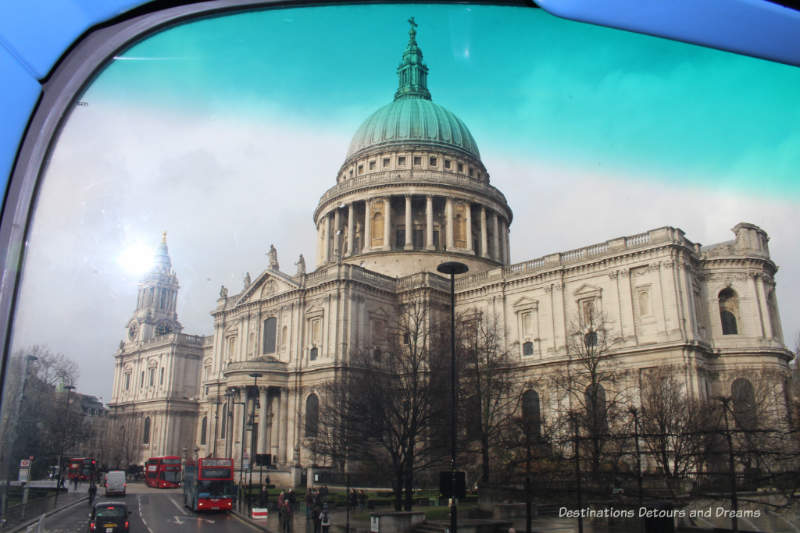 If you are spending several days in London using its public transport system you might want to get an Oyster card. The Oyster card is a re-usable smart card that you load with a pre-paid amount. You pay for transportation as you go by tapping the card at a card reader. The amount of that fare is automatically debited from the Oyster card. You can get the Oyster card or top up the amount on your existing Oyster card at all tube and rail stations as well as London Visitor Centres. Note that taxis are readily available and another good option in London.
Other cities have their own public transport systems. Local bus systems operate in rural areas outside of towns served by the railway. I have used local buses on a couple of occasions. You need to check locally for routes and schedules. Service may be infrequent or limited to certain periods of the day.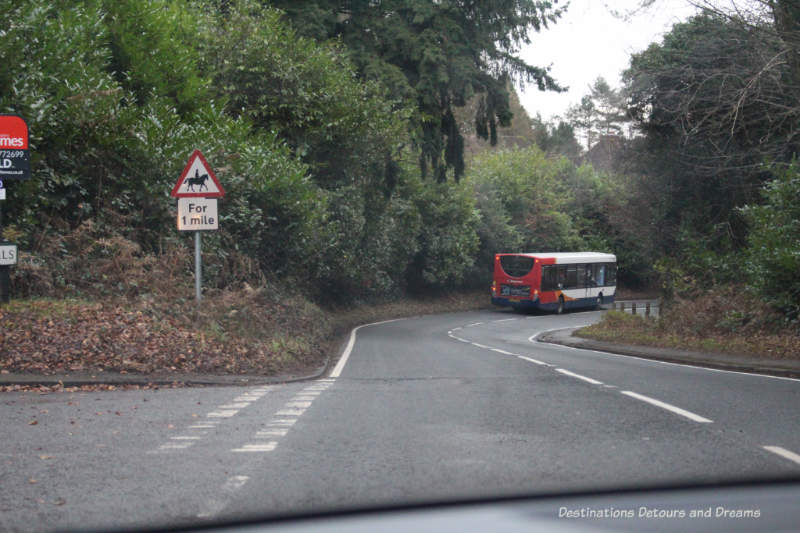 Although car rental is generally more expensive than in North America, it is a good option is you wish to explore the countryside. To learn more about car rental, read Our United Kingdom Car Rental Experience and 11 Things to Know When Renting a Car in England.
6. Tipping in the United Kingdom
The U.K. does not have as strong a tipping culture as North America, but a good rule of thumb is to tip in the 10-15% range at restaurants, including pubs and gastropubs with food service. Check that a service charge hasn't already been added to the bill. It is not customary to tip a bartender when ordering drinks at the bar, but you can round up the payment.
If you are paying by credit card, have cash handy for tips. Not all credit card machines are set to handle tips. At one pub dining room where my husband searched for the non-existent tip option on the credit card payment machine, the bartender told him, "This isn't America."
A tip of 10-15% is also appropriate for taxi cab drivers and tour guides.
7. At The Hotel
I've had comfortable rooms of varying sizes in hotels and bed and breakfasts, but it is useful to remember that in general room sizes are smaller than in the U.S. or Canada. If your room is on the first floor, be prepared to walk up a flight of stairs to what you would normally call the second floor. The floor at ground level is known as Ground.
If you use a washcloth, known as a flannel or face flannel in the U.K., pack it. It is not common for hotels in the U.K. and many other parts of the world to supply washclothes with the sets of towels.
You may have separate faucets for hot and cold water. You may find one common spout in newer buildings with modern plumbing, but two separate taps is still common across the United Kingdom.
As you travel through England and other parts of the United Kingdom, you will discover other delightful, surprising, and quaint differences. Hopefully being prepared for basic logistics will make your travels easier and those other discoveries more enjoyable.
Never miss a story. Sign up for Destinations Detours and Dreams free monthly e-newsletter and receive behind-the-scenes information and sneak peaks ahead.
PIN IT