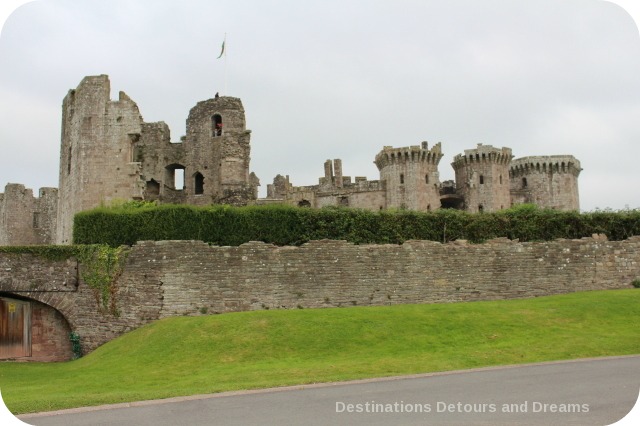 Impressive ruins of a late-medieval castle in southeast Wales
Raglan Castle, set atop a hill just north of the village of Raglan in south-east Wales, creates a commanding presence, visible from nearby roadways. Equally impressive is the view of the surrounding countryside from the castle grounds.
Raglan Castle (Castell Rhagland in Welsh) was built of two different kinds of sandstone and was designed more to impress than to serve as a fortress. Part castle, part palace, it was built late in the day in terms of castle building. More attention was paid to comfort than in earlier castles. Still it was strong enough to hold off Oliver Cromwell's forces for thirteen weeks during one of the last sieges of the English Civil War. The castle was eventually conquered and destroyed. But enough remains in its ruins today to impress.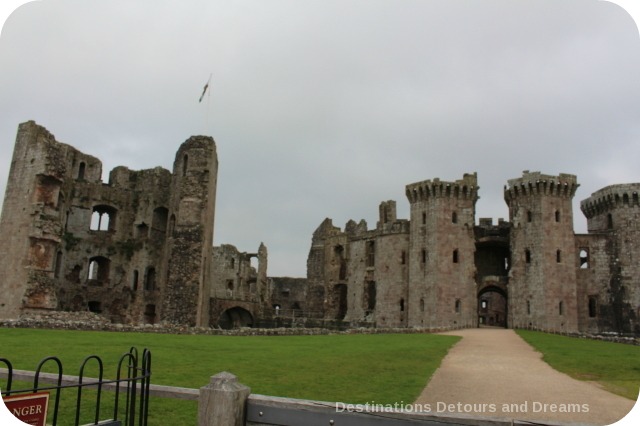 Building of the castle started in the 1430s by Sir William ap Thomas. He began building the Great Tower, subsequently known as the Yellow Tower of Ghent. The hexagonal tower was surrounded by a water-filled moat. Inside, there was a single large room on each floor.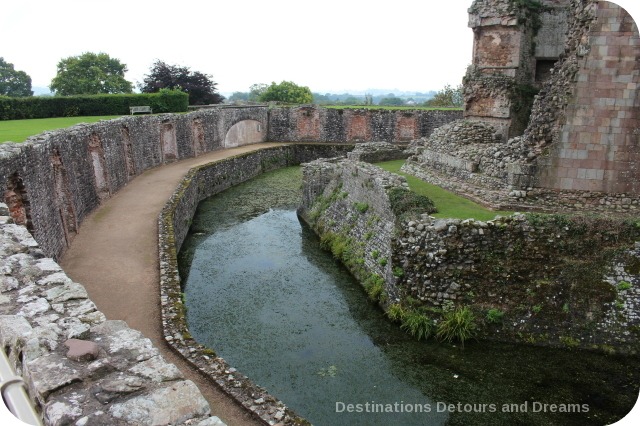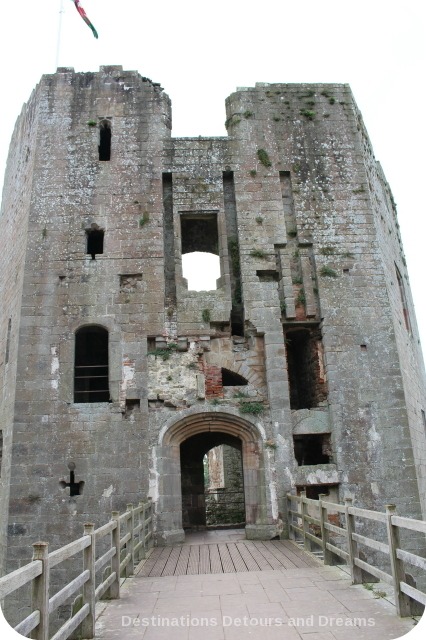 Following ap Thomas's death, his son William Herbert continued to develop the castle. He turned the castle into a palace. He added the Gatehouse and the Pitched Stone Court. He built luxurious apartments for himself and his household set around a fountain courtyard.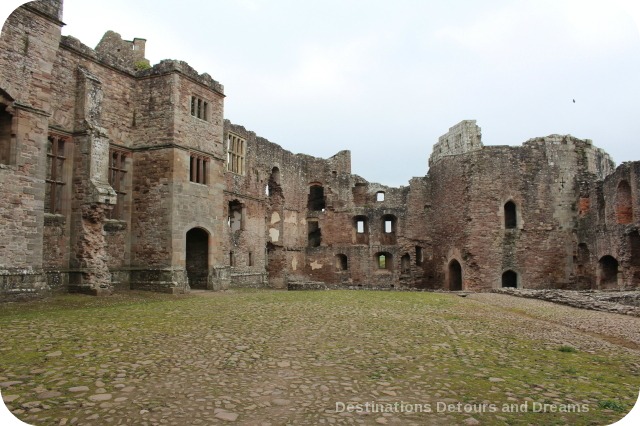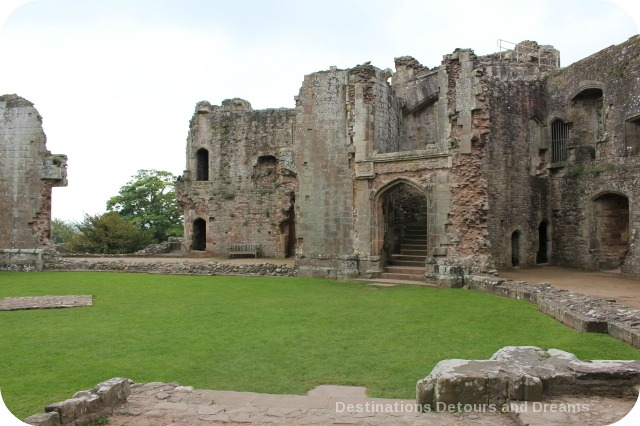 Herbert was beheaded following a defeat at the Battle of Edgecote in 1469, after which there were no major changes to the castle until the ownership of William Somerset, Earl of Worcester, in 1549 to 1590. He made extensive changes to the hall, created beautiful windows filled with heraldic glass, and added the long gallery, a Tudor status symbol. Parliamentary troops besieged the castle in 1646.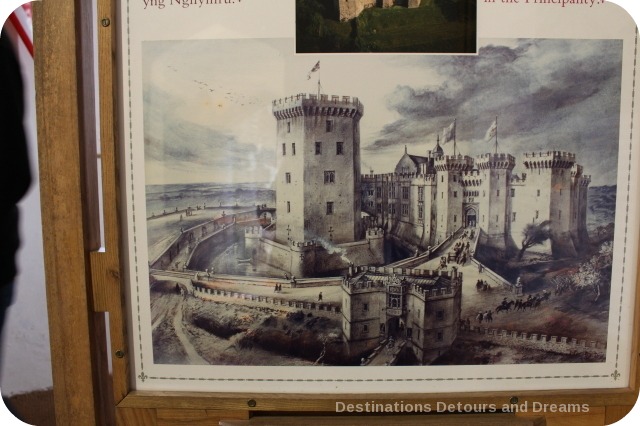 Rooms inside the Gatehouse contain displays detailed the history of the castle and its owners, complete with drawings of what it once looked like.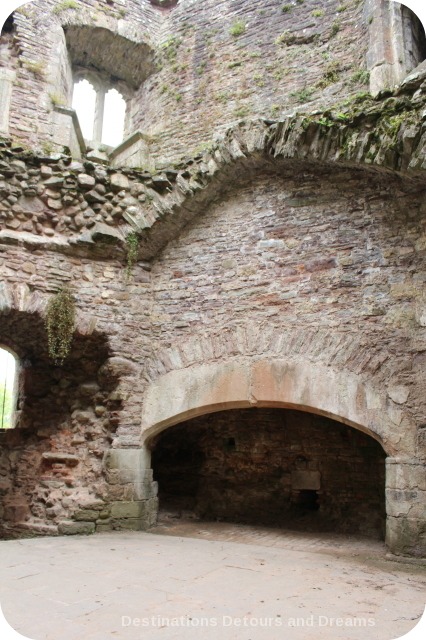 The kitchen was designed with banquets in mind and contained huge fireplaces, serving hatches, and drains. Cellars built over 500 years ago were well-stocked with wines from all over Europe.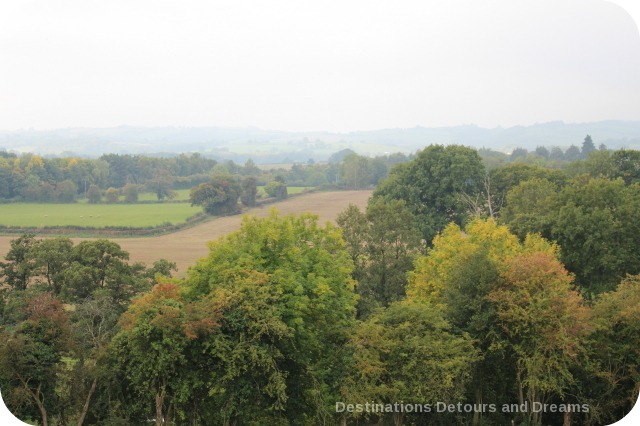 Raglan Castle is well worth a visit. It also has a lovely gift store.
Raglan Castle is open daily, although hours vary by season. There is a large car park on site. Although disabled persons and their companions are admitted free, there are steps within the castle grounds, making wheelchair access limited.
If you enjoyed this post, sign up for Destinations Detours and Dreams monthly e-newsletter. Get behind the scenes information and sneak peeks ahead in addition to a recap of the month's posts.  
PIN IT