Ten Great Country Pubs In South England
Recommended English country pubs in Surrey, Wiltshire, Somerset, and West Berkshire
(Last Updated October 2021)
One of the things many people associate with the United Kingdom is that British institution, the pub. A drinking (and eating) establishment with a quaint name in an historic building. Dried hops hung on low wood-beamed ceilings, log-burning stone fireplaces, large dark wood bar, lively conversation, maybe a dart board in the corner. A gathering spot for the neighbourhood.
The term "pub" is short for "public house", a place licensed to sell liquor to the public. The term came to be used in the 17th and 18th century, but taverns, alehouses, and inns have existed in Britain since Roman times.
Today, the iconic British pub is disappearing. Pub closure statistics published in July 2015 by Campaign for Real Ale say 29 pubs close each week in the United Kingdom. Others renovate and re-invent themselves. Most remaining pubs serve meals, a key mechanism for survival. And, based on my experience, excellent meals.
Thirty years ago, one would have to search out a pub which offered more than a bag of crisps to eat. Of course, that was also in the days when pubs were required to close from 3 pm to 5:30 pm as a result of a 1915 government rule to curb drinking by munitions workers. The rule was rescinded in Scotland in 1977 and in England and Wales in 1988.
Most pubs offer a selection of cask-conditioned ales and beers, beer which continues to ferment in the cask and is tapped and served via a hand pump. In the late 1960s and early 1970s many brewers moved away from the traditional cask methods. Campaign for Real Ale (Camra) was formed in response to what was seen as the domination of the UK beer market by a handful of companies pushing products of low quality. They campaigned for "real ale" and recognized high standards in the beer and pub industry.
Today there are hundreds of breweries offering selections of real ales. A good selection of cask beers is available at most pubs, often featuring products from local breweries. One of the pleasures of visiting pubs in other areas is trying a local brew. If you are unsure about what to select, the bartender will advise based on your preferences and usually offer you a taste.
With the help of friends and some good luck, I experienced a number of great pubs on a recent visit to the eastern portion of southwest England.
1. The Dolphin, Betchworth, Surrey
The Dolphin is a traditional 17th century pub in a picturesque village. The interior of the pub is warm and friendly, matching the iconic pub image. A good selection of food is available. But what truly sets this pub apart is its location. A visit should include a walk through the grounds of the neighbouring church. The church was the setting for one of the weddings in the movie Four Weddings and a Funeral.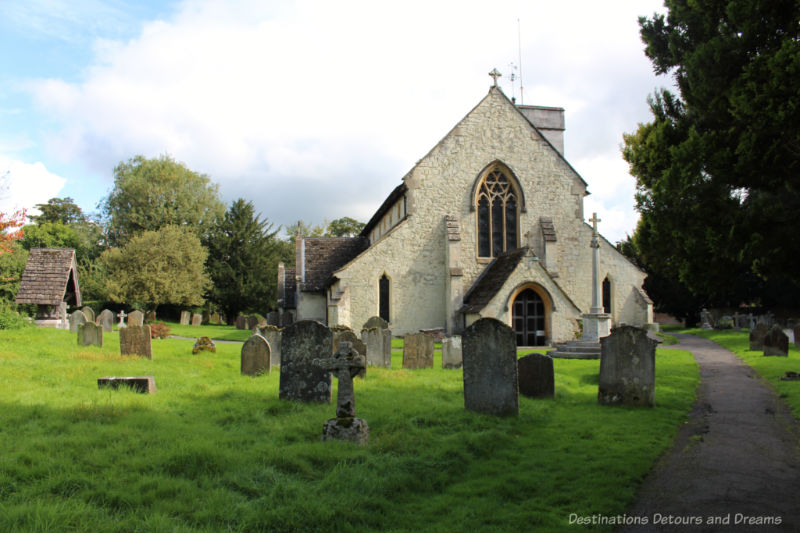 2. The Bell, Outwood Lane, Redhill, Surrey
A drive down a narrow, tree-lined, leave-canopied country lane takes you to The Bell, a 17th century coaching inn in the Surrey countryside. A large bell hangs on the outside at the front. There is a large garden area. Inside a cozy setting with oak beams and fireplaces. At tables elegantly draped in white tablecloths, we ate a top-notch meal.
Our meal came with a delightful surprise. Before our starters arrived, the waitress brought us each a demi-tasse cup filled with mushroom and chicory soup. She called it an amuse-bouche, a French term that roughly translates as "tickle the mouth" or "fun for the mouth". And it did indeed tickle our mouths – the soup was delicious.
3. The King William IV, Byttom Hill, Mickleham, Dorking, Surrey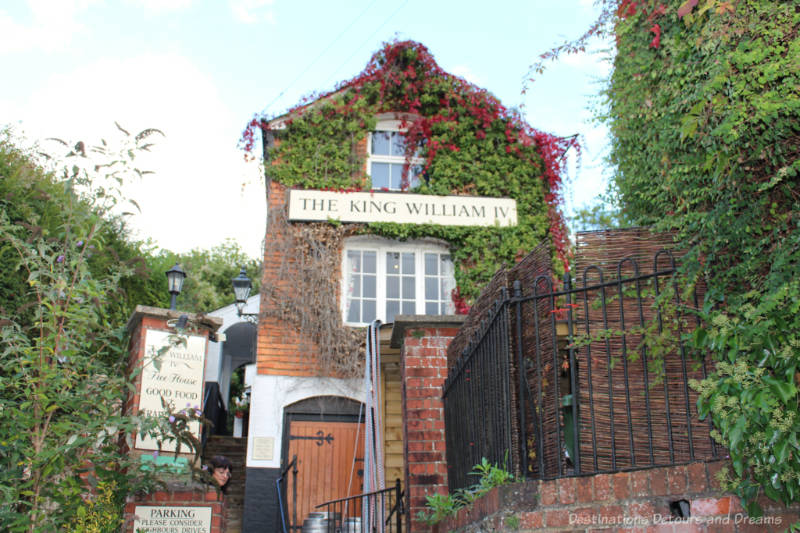 The King William IV dates to 1790. Located on a countryside hill, its terrace offers great views over the Mole Valley. Inside, a wood-burning fireplace offers cozy comfort on cooler days. The pub is popular with hikers on Box Hill, Norbury Park, and Mickleham Downs.
4. Home Cottage, Redhill, Surrey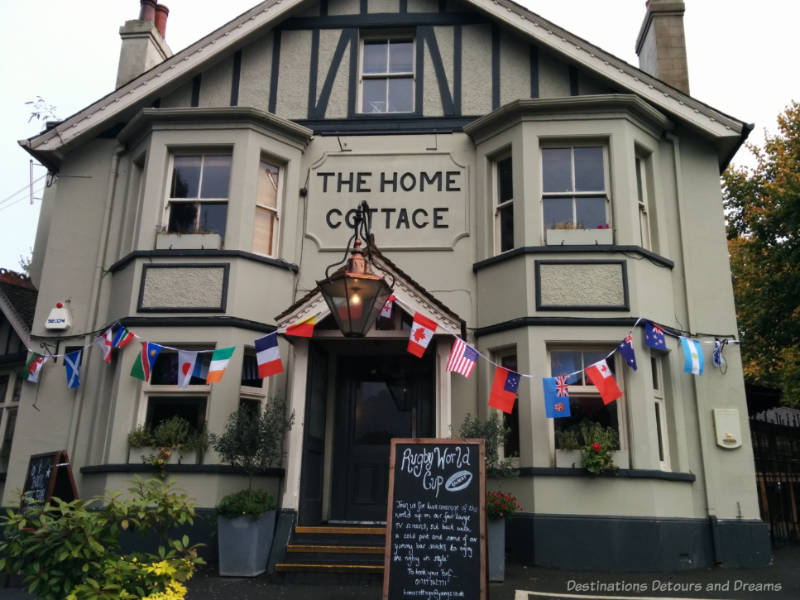 Home Cottage was around the corner from and recommended by our Bed & Breakfast in Redhill. With a good selection of cask ales and wines, and excellent food, it became a favourite eating place. The menu changes daily.
The place extends into several rooms, including a large dining room in the back. Our favourite spot was in the front bar, refurbished to its 19th century style. The names of proprietors across the centuries are written on one wall.
5. The Garland, Redhill, Surrey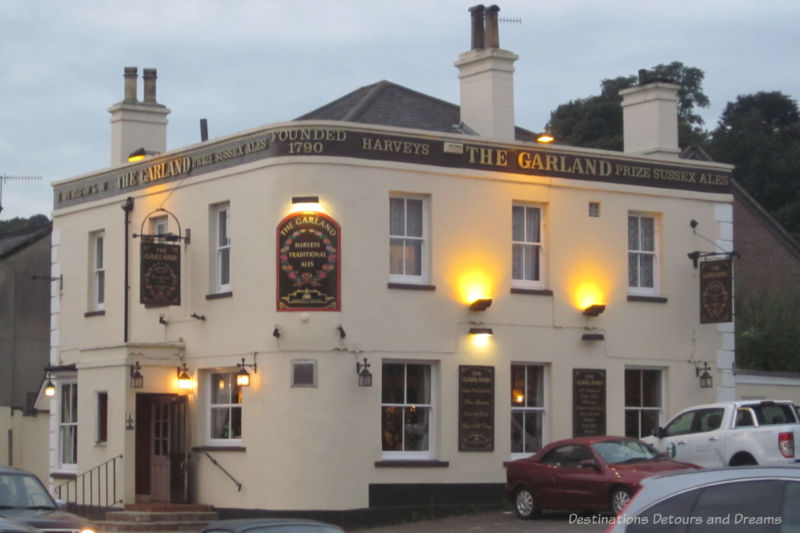 The Garland is a classic Victorian street-corner local dating from 1865. This Harvey Brewers CAMRA-recognized pub features a couple of dart boards and a bar billiards table. Food is available at lunch times and on Friday evenings. There is live music on some Saturday evenings.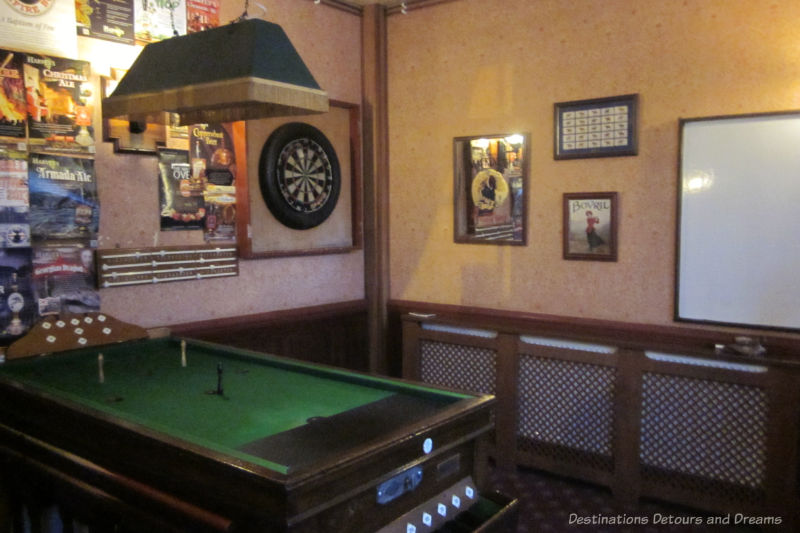 6. Prince Leopold Inn, Upton Lovell, Warminster, Wiltshire
Prince Leopold, born in 1853, was the youngest son of Queen Victoria. After finishing undergraduate studies at Oxford in 1875, he and his tutor rented a country house, nearby Boyton Manor, as a retreat and escape from his overbearing mother. He married Princess Helen of Waldeck in 1882 and both spent time at the Manor. Prince Leopold had a great affection for the place. When the Upton Lovell public house and store were built in 1878 to service the cloth mill that was the commercial centre of the valley, the community exhibited mutual appreciation by naming it the Prince Leopold.
Today's Prince Leopold Inn has a panelled bar-room hung with pictures and artefacts relating to its history in the village, a Victorian snug, a dining room, bed and breakfast accommodation, and a garden overlooking the River Wylye.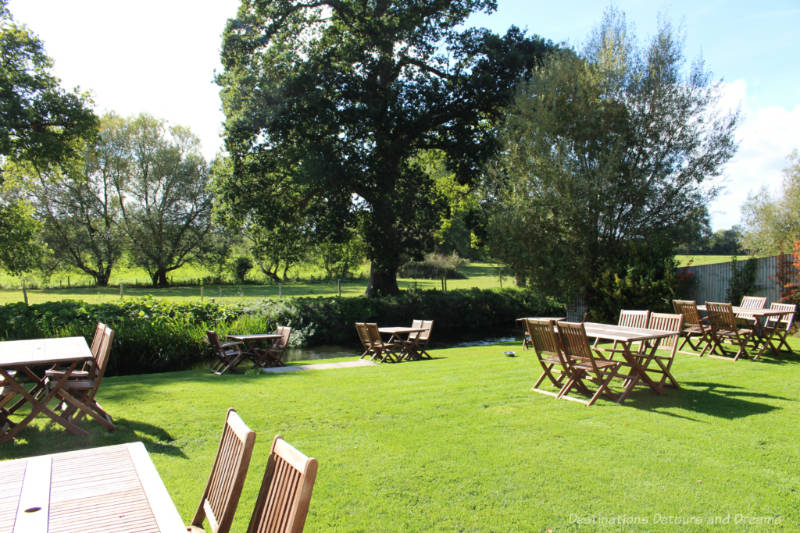 7. George Inn, Norton St. Philip, Bath, Somerset
The George Inn is located fourteen minutes from Bath. The George Inn was built in the 14th or 15th century as a wool store and accommodations for travellers and merchants coming to local wool fairs. A licence to sell liquor is claimed from 1397. Timber-framed upper floors were added in the 15th century. The George Inn was part of the stage coach route between London and South West England.
Today, the Inn is a rambling collection of rooms with wood beams, stone floors, and fireplaces. A garden area at the back overlooks the rolling Somerset hills. A small amount of outdoor seating is also available in the ancient galleried courtyard.
8. George Inn, Croscombe, Wells, Somerset
We discovered another George Inn at Croscombe as we drove through the village. Situated directly on the A371, the pub looked inviting. The George Inn is a 17th century freehouse which has won the CAMRA rural pub of the year award in 2009/2010, 2011/2012, and 2015. In addition to the cosy bar area, the pub has a dining room, and outdoor garden area. After questioning the landlord about his accent, we discovered he was a fellow Canadian who met his English wife at nearby Glastonbury, home of a famous five-day music festival.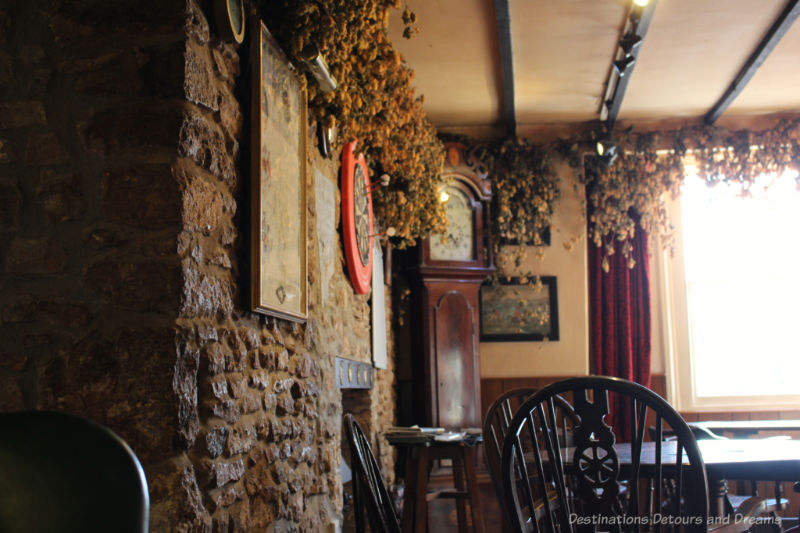 9. The Compasses Inn, Gomshall, Guildford, Surrey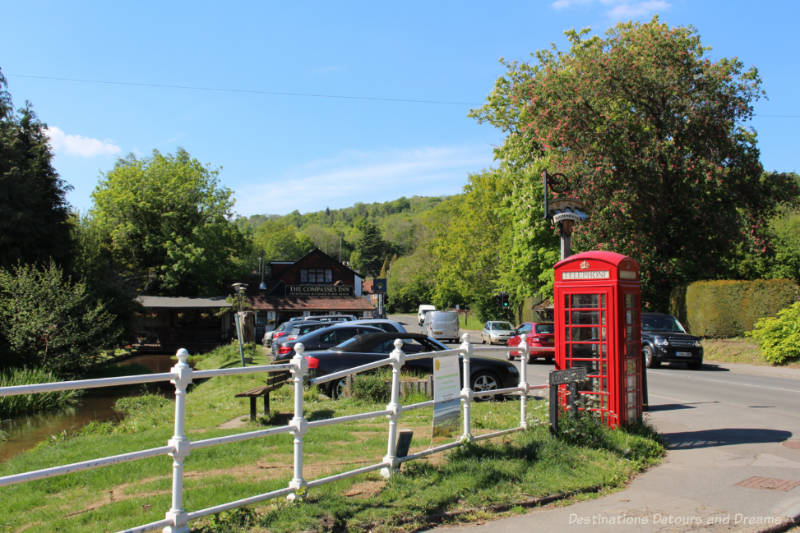 The Compasses Inn is a riverside pub serving beer and food in the beautiful village of Gomshall. There is a lovely outdoor seating area with a small children's play area.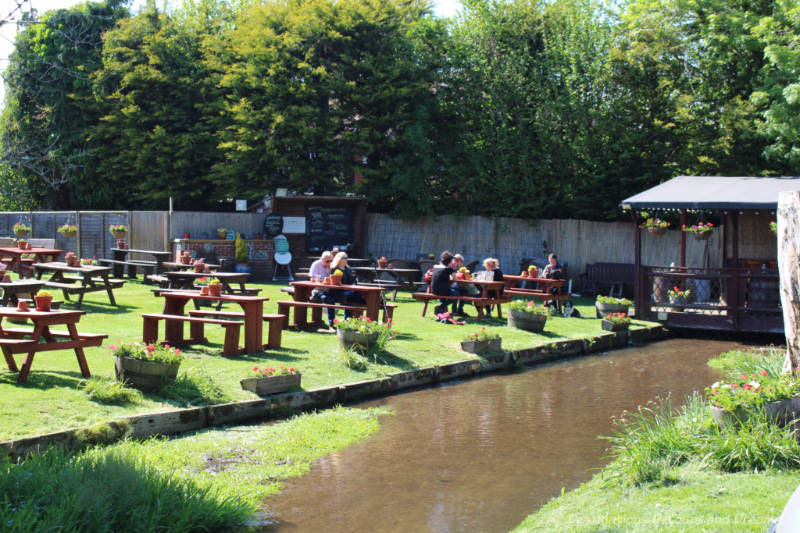 10. Swan Inn, Newton, Newbury, Berkshire
The beautiful garden area beside a bridged stream at the historic Swan Inn is very popular in summer. Dining additions to the 16th century coaching inn are very comfortable, but I preferred the cozy, more tradition feel of the back room with the bar.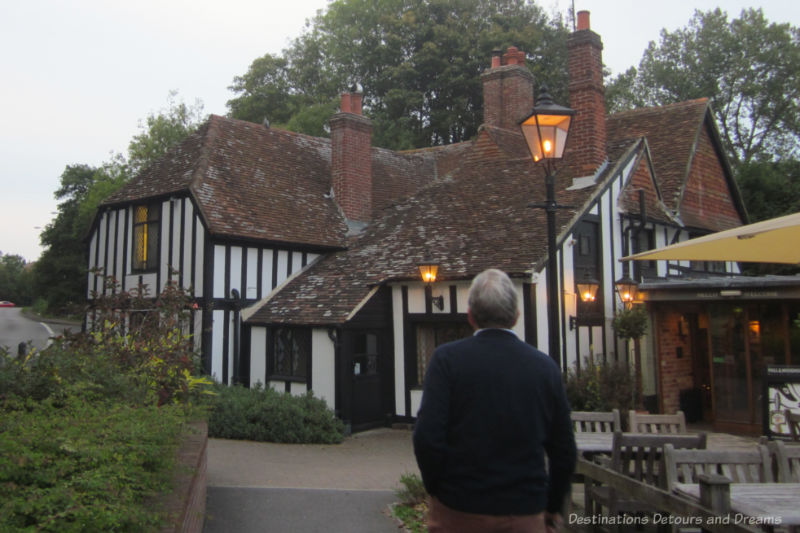 Bonus: The Sportsman, Mogador, Tadworth, Surrey
The Sportsman has been a personal favourite for years. It was such a favourite with friends that they bought a house close to it. Housed in a 16th century royal hunting lodge, the cozy, dog-friendly pub features a extensive side gardens and both bar and restaurant dining. It is a stopping point for walkers, cyclists, and horse riders.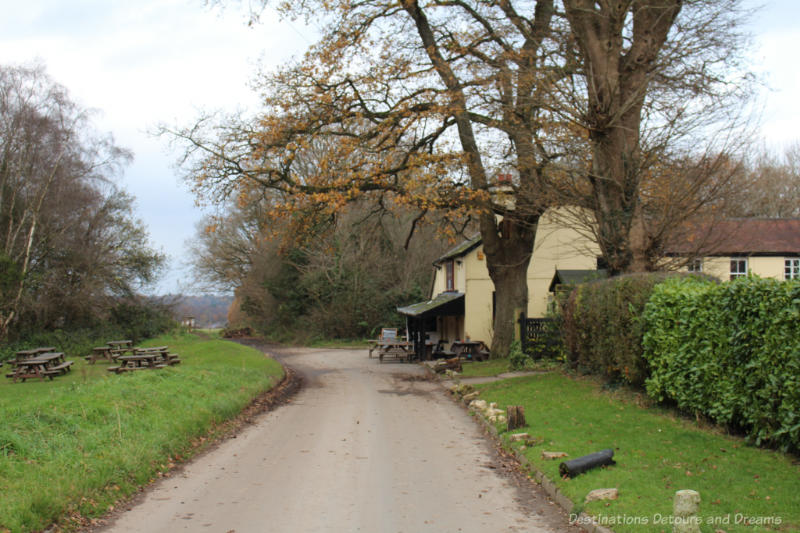 If you are interested in locating other pubs in these areas or other areas of England, CAMRA's Good Beer Guide and The Good Pub Guide are great resources, as are online traveller review sites. Ask locals for recommendations or simply explore on your own.
Note: I received no compensation of any kind from the establishments mentioned. My friends and I chose these locations of our own accord and visited at our own expense.
Destinations Detours and Dreams monthly e-newsletter contains behind the scenes information, sneak peeks ahead, travel story recaps and more. SIGN UP HERE
PIN IT