Our United Kingdom Car Rental Experience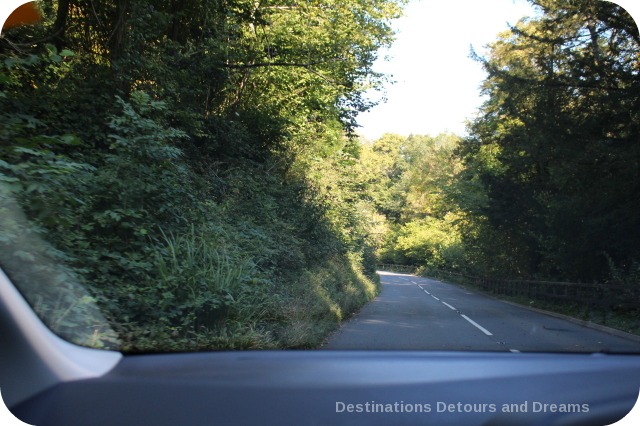 Understanding rental options, driving on the left side, navigating, . . .
My husband and I rented a car for a portion of our most recent visit to England and Wales. We've rented cars in the United Kingdom before, but enough time had passed since our last visit that we had to discover the process all over again. We had more to deal with than driving on the other side of the road. (In North America, we drive on the right side of the road; traffic in the U.K. is on the left.)
Booking the Rental
As per our usual mode of operation, we started our search for a car rental online. Through that search, we located useful information and gained insight into what we might expect to pay.
Although my husband and I are of an age where 70 no longer seems old or far away, we still have some years before we reach that milestone. If we were already there, our search would have been more difficult. Many U.K. car rental companies will not rent to someone over the age of 70. In some cases, the age limit is 74 or 75. It appears there are a few places with no age restrictions, but I don't know how easy these would have been to find.
There was a significant additional cost to renting an automatic transmission versus a manual. Eager to save money, we decided on the manual transmission. I learned to drive on a manual transmission car, but haven't driven one in decades. Fortunately, that didn't matter. It was my husband who would do the driving. Although he has more experience than I do with manual transmissions, it had been a few years since he'd last driven one. He didn't agree to my suggestion of borrowing a friend's car to practice with before our trip, saying it might be more confusing. In the U.K., the shifting would be done on the left, not on the right. Note that even though the steering wheel and gear shifts are on the other side in British cars, foot pedals are in the same position as in North America. (Postscript: My husband adjusted quickly to the manual transmission. It was the first time he'd seen a 6 gear transmission.)
As we began comparing options online, we became increasingly confused around the details of what was included, especially with regard to insurance. We went to our local office of the Canadian Automobile Association. They offered a prepaid package which seemed like a fantastic deal. (Postscript: there was an additional charge for tax which upped the price somewhat and some additional charges we were prepared for, such as the fee for drop-off at a different location than pick-up.)
Third party liability is a legal requirement in the U.K. and is generally included in the base car rental price. Collision insurance, or collision damage waiver, is usually an extra charge which reduces your liability in case something happens to the car, from as high as the full cost of the car to something more manageable. That more manageable amount varies from company to company and can be as high as £1500. An additional coverage, car hire excess insurance, is available to reduce that amount to zero. The cost of this additional coverage can be more than the overall rental cost. In past rentals in North America, we've relied on my credit card coverage for collision coverage. I called the company to confirm if I could do the same in the U.K. The answer was yes, but we would have to decline all car rental company offered collision insurance. The prepaid package deal CAA had for us included the collision damage waiver. We decided not to rely on credit card coverage. And after a fair bit of discussion, we decided to take a risk and not buy the excess insurance. (Postscript: We had no incidents or damage to the vehicle and never had to deal with insurance claims.)
When we picked up the car, the car rental agent reminded us the car ran on petrol (gasoline in North America language). This was important because half of the cars in the U.K. run on diesel. We would not want to select the wrong fuel type at petrol stations.
We also chose to pay the car rental company for a full tank of petrol, which meant we would return it empty. We don't usually do this because of the cost, but in this case the price quoted was comparable to that at petrol stations. I remembered our last U.K. car rental eight years prior when we were to return the car with a full tank. Thinking we would find another petrol stations closer to Heathrow, we passed by our last chance to fill up on the motorway. We returned the car with an empty tank and as a result were charged double for the petrol.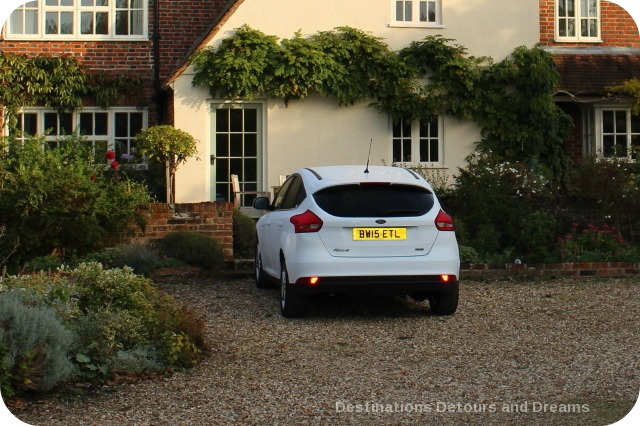 Driving in the U.K.
The most obvious difference about driving in the U.K. versus North America is driving on the left side of the road instead of the right. For our first couple of days, as I sat in the passenger seat, I felt my husband over-adjusted and went too far to the left. I leaned forward and watched out the window to see how close he was to the white line. Sometimes he was on it. Sometimes he was over it. Most of the time he was properly in the lane and the perception of being too far to the left was only in my head.
Then there are the roundabouts. Roundabouts are becoming more common in North America, but we've still not encountered any areas with the prevalency that occurs in the U.K. The two or three lane roundabouts at busy intersections can be the most disconcerting. A number of very busy roundabouts have traffic lights to control entry. In all cases, we needed to remember to enter to the left and proceed in a clockwise direction.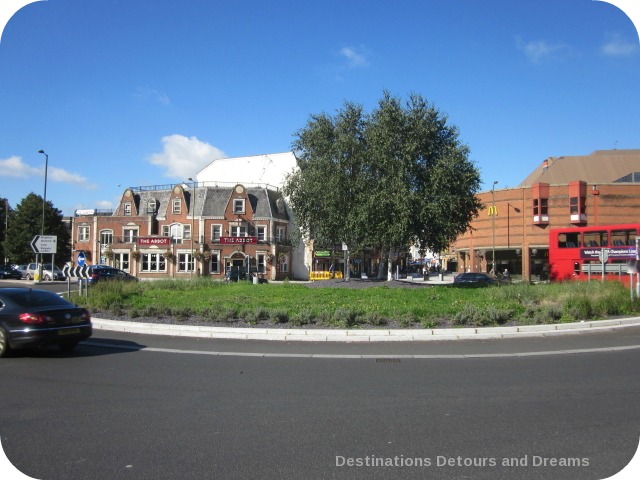 It is always a good idea to learn the rules of the road, traffic signs, and speed limits when driving in a foreign country. Most of the signs we encountered were visual enough to easily interpret the meaning. But there are also unofficial rules of the road. Prior to renting our vehicle, my husband queried our British friend about these. So when another vehicle at an intersection flashed its head lights at us, we knew the driver was signalling us to go ahead. Headlights may also be flashed as a thank-you for letting someone into the traffic flow.
Distances between locations are short by North American standards. But distances between exits on the motorways (M roads) can be long, sometimes more than twenty miles. This can be problematic if you miss your exit or if you wind up on the motorway in the opposite direction of where you want to go. I think we handled any back-tracking and regrouping with incredible calmness.
Similarly, there can be quite a distance between services on the motorways. We were amazed when we stopped at a services exit to find a mini-town. A large parking lot full of people, a mall with stores and restaurants, and further down the road a petrol station and another restaurant. We thought there must be a village here, but found out that was not the case. This was solely services for drivers on the motorway. It was a beautiful Sunday afternoon. Whether people out for a weekend drive made this a busier place than normal we didn't know.
We experienced variable speed limits for the first time. Sections of the motorways are designated as having variable speed limits. At times when the speed limit is different from the standard, the overhead signs alert drivers. Studies have shown that in times of congestion traffic actually flows better if everyone slows down a little. Trying to keep at the usual speed results in stop-and-go situations and creates bottlenecks.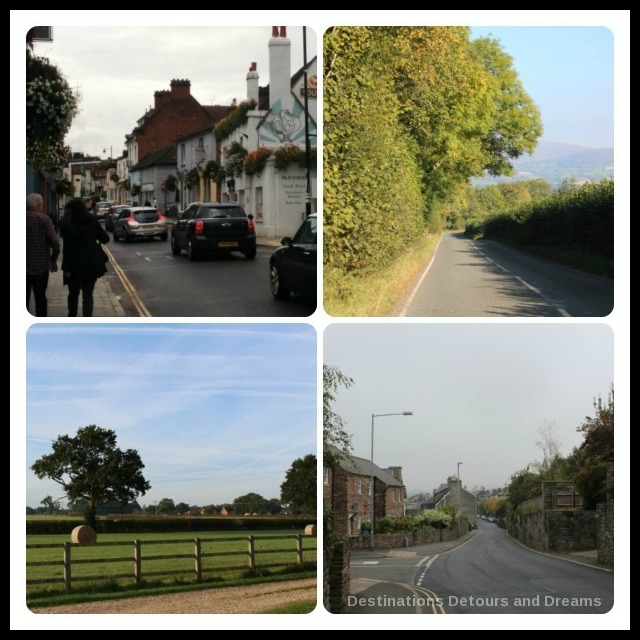 We don't use GPS and did not have one in the rental car. We relied on old-fashioned paper maps, signage, my navigational skills, and the occasional reference to Google maps on my phone. I had to think fast the few times when signs were so obscured by foliage I couldn't read them until we whizzed past. My husband was always prepared to drive through roundabouts more than once, especially those with several streets emanating out like spokes on a wheel, to give me enough time to read and comprehend all the signage and ensure we selected the correct spoke. We had a few wrong turns and the occasional turning around, but generally managed to get where we wanted to be. There was even one time we found the remote craft village I wanted to visit after we gave up and followed what appeared to be signs to a different craft village!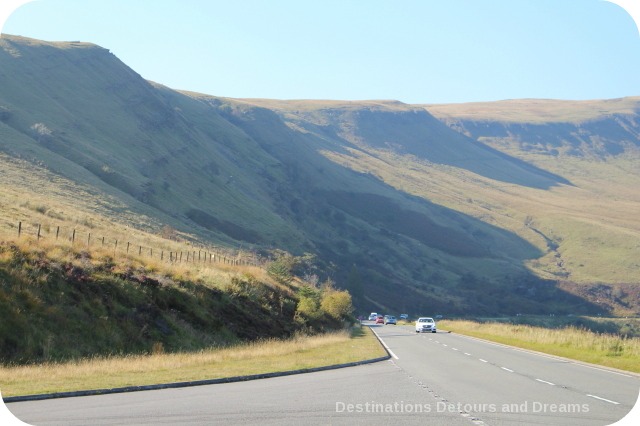 What has been your experience renting and driving a car in a foreign country?
If you enjoyed this post, sign up for Destinations Detours and Dreams monthly e-newsletter. Get behind the scenes information and sneak peeks ahead in addition to a recap of the month's posts.  
PIN IT