A Merry Time at Merridale Cidery
An orchard walk, a cider tasting and faeries at Merridale Cidery & Distillery
in Vancouver Island's scenic Cowichan Valley
The scenic rolling hills of the Cowichan Valley thirty minutes north of Victoria on Vancouver Island, British Columbia are known for organic farms, local food and award-winning wineries. And a cidery. Merridale Cidery & Distillery is an apple orchard, a craft cider maker, a small batch distillery and a wedding and event venue. It made for a pleasant stop on the day trip my sister and I made to the Cowichan Valley.
The Grounds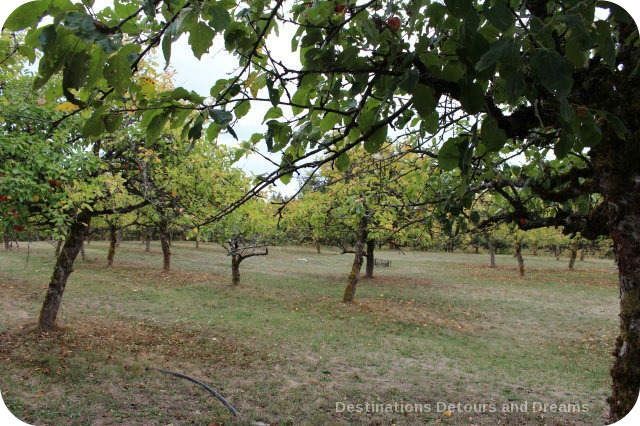 Cider starts in the orchard. Merridale uses 18 varieties of apples grown in British Columbia in their assorted ciders, 9 of which are grown in their own orchards. Merridale uses sustainable farming practices without herbicides or pesticides. The Orchard Walk is an uneven, natural hiking trail through Merridale's orchard. There are over 3500 apple trees grown using organic practices.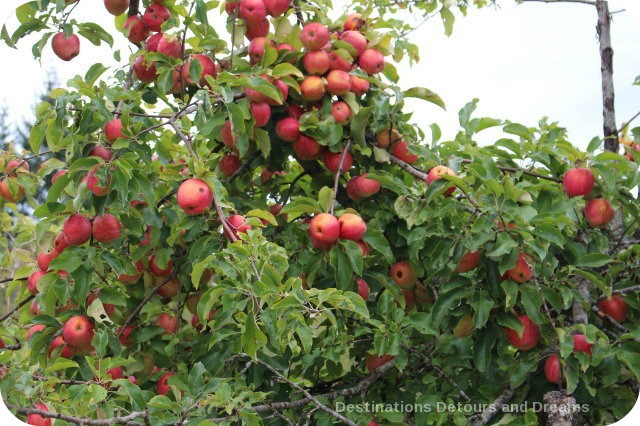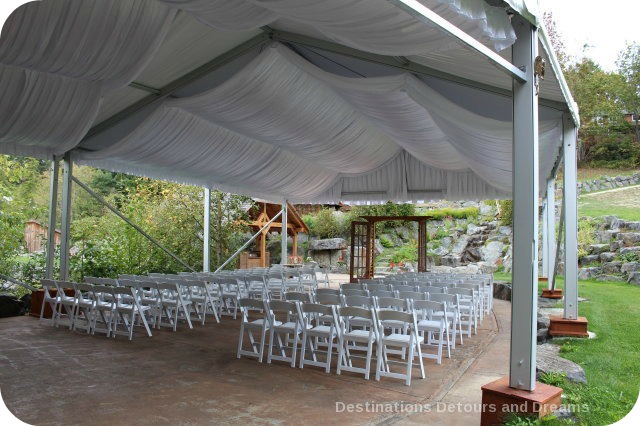 Behind the Ciderhouse, in a lovely landscaped area, is an outdoor tent which can be booked for weddings or other events. The indoor restaurant area is available for moving the reception indoors. On other parts of the property, we found a few more unusual displays.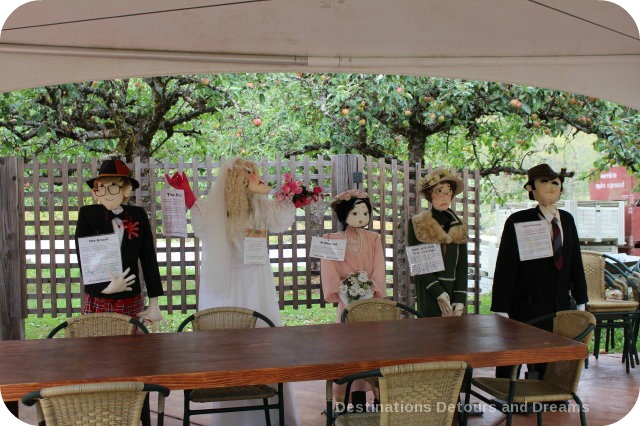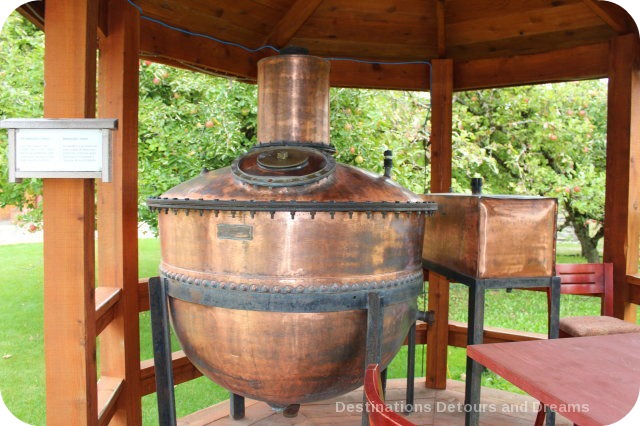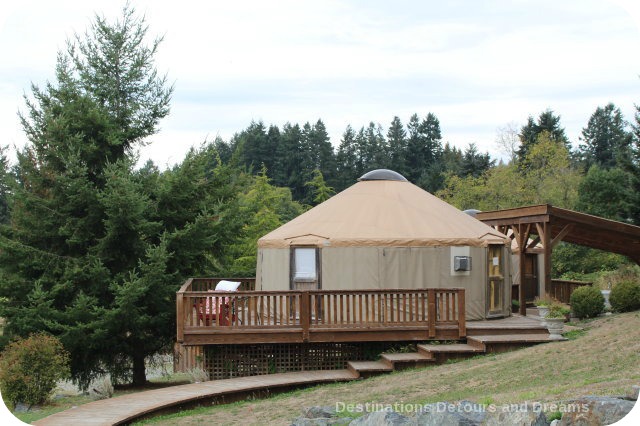 Tasting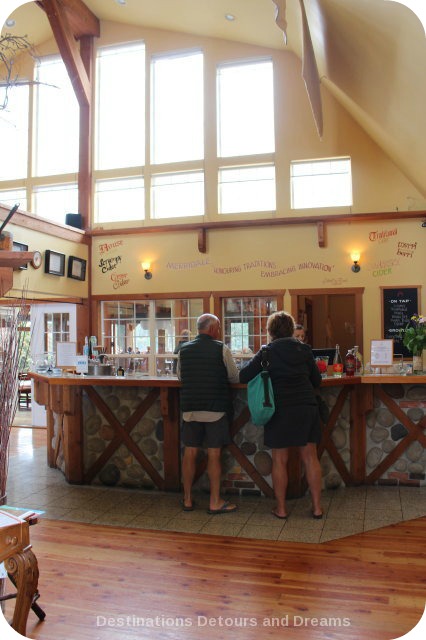 Cider and brandy tastings are available in the tasting room for a fee ($ 4 or $5). Unlike some wineries where the tasting fee is waived if you buy a bottle of wine, the tasting fee applies regardless of what you buy. The fee is donated to a charity. Each month a different charity is the recipient. The tasting fees on the day of my visit went to Canucks Autism Network.
Merridale ciders are made from 100% juice and only the first pressing is used. The juice is fermented slowly and naturally. There are two cider sampling options in the tasting room: New World Cider and Old World Cider. The New World cider is described as easy drinking and fruit forward. The Old World cider is made in the European style with deeper, more complex flavours. My sister and I ordered one New World Cider tasting and one Old World Cider tasting and shared, so we could each have a small taste of all the ciders on offer. Although I've never been a great fan of cider, there were a few I liked. I hadn't realized how many versions of cider there are and how different they can taste from each other. Maybe I could become a cider fan.
New World Ciders:
House: A effervescent style cider made from a blend of English cider apples, this is one of Merridale's best sellers.
House Dry: A drier version of the House, it tasted a bit like white wine.
Merri Berri: This is made with a blend of local apples fermented slowly, then blended with B.C. black currant, cherry and raspberry juices. It was not as sweet as I would have expected for a fruit blend. I could imagine sipping it outside on a nice summer afternoon. (It is only available from spring to fall)
Winter Apple: This cider is fortified with brandy. Our tasting guide said it has been described as "apple pie in a glass". It did taste like apple pie. A nice dessert cider.
Old World Ciders:
Scrumpy: A strong oaky blend of sharp crab apples and tannic cider apples. It is Merridale's strongest cider and is a little cloudier in colour than the others. I found this one too sharp for my taste.
Traditional: This English-style cider is another of Merridale's best sellers. It has a nice balanced flavour.
Cyser: This award-winning cider is a blend of aromatic cider apples and wildflower honey from Merridale's own orchard.
Pomme Oh!: A cider fortified with brandy. It has a honey forward taste and an apple finish. Another nice dessert cider. I couldn't decide which I liked better – the Pomme Oh! or the Winter Apple.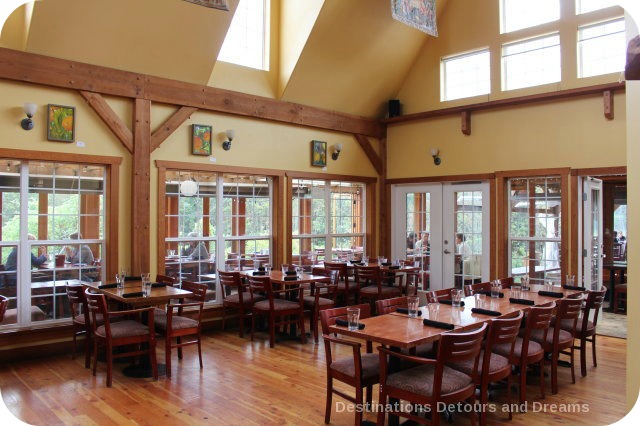 Merridale also makes brandy, gin and vodka, all made entirely from B.C. fruit. Brandy tastings are available at the tasting bar, but not gin or vodka tasting. A flight of 3 "mini" versions of signature cocktails can be ordered in the lounge or bistro.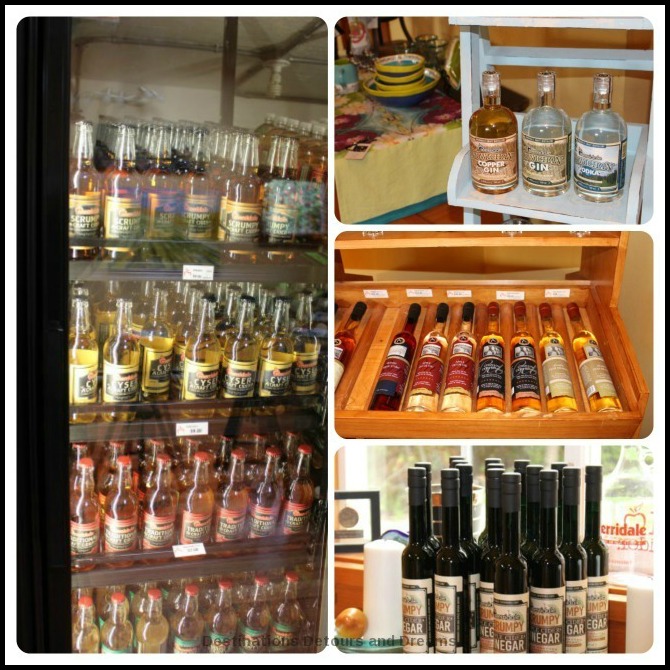 A store attached to the tasting rooms sells a variety of crafts and local food specialties. And Merridale's own products, which includes cider vinegar in addition to its alcoholic products.
Faeries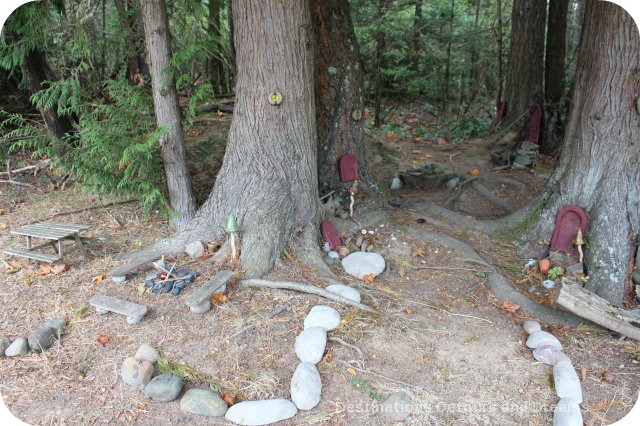 Deep into the Orchard Walk are a series are faerie gardens and signs about faeries.
Do you know how to spot faeries? Faeries are most easily seen when you don't look directly at them. It may help if you soft-focus your eyes, look straight ahead and concentrate on your peripheral vision.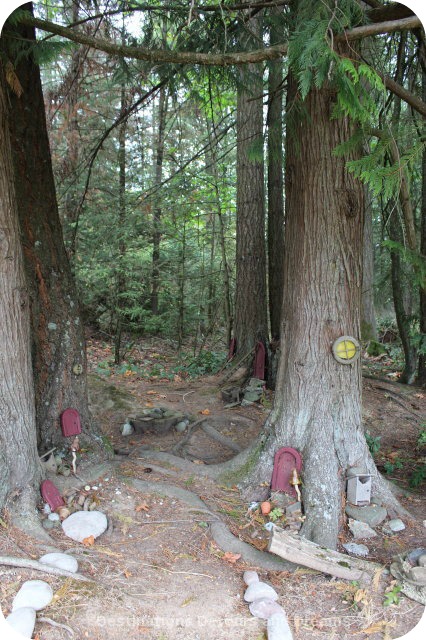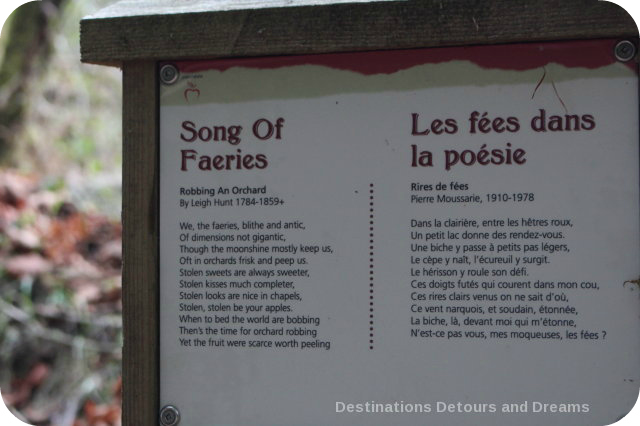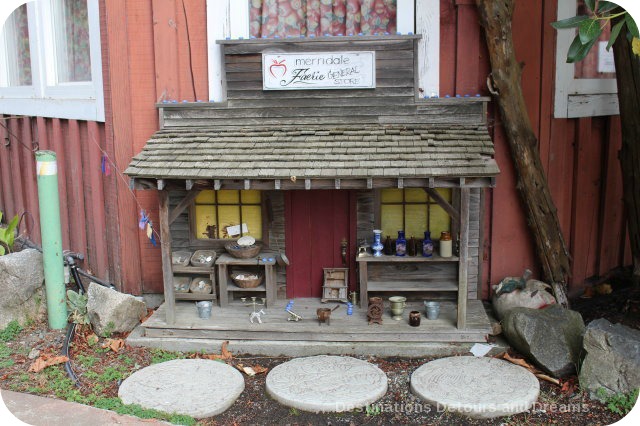 Merridale Cider & Distillery is located in the Cobble Hill area of Cowichan Valley. It is open daily. Hours vary by season. Check their events calendar for special events.
PIN IT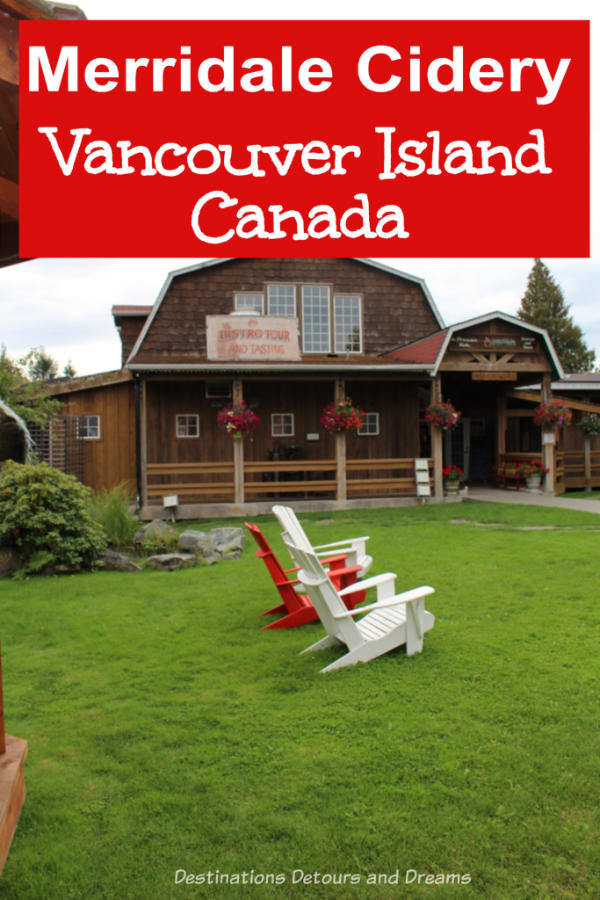 Never miss a story. Sign up for Destinations Detours and Dreams free monthly e-newsletter and receive behind-the-scenes information and sneak peeks ahead.