Abkhazi Garden: The Garden That Love Built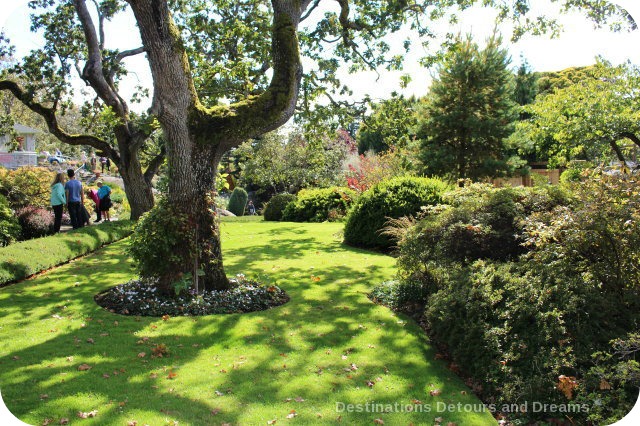 Abkhazi Garden in Victoria, British Columbia was a forty year labour of love
for Prince and Princess Abkhazi
There are many places in Victoria, British Columbia, aka "The Garden City", to view beautiful gardens from public spaces to private residences to formal and commercial gardens. One such garden is tucked away in a residential part of the city. Abkhazi Garden is the result of forty years of design and care by Prince and Princess Abkhazi. The Princess said, "The garden became our child."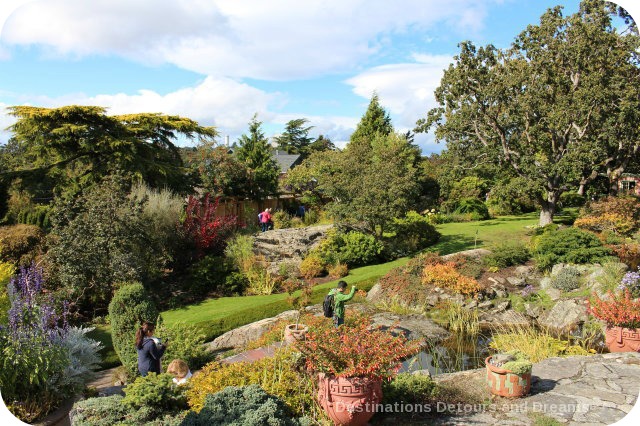 Defining features of the garden are its glaciated rock outcroppings and mature Garry oak trees, characteristic of southern Vancouver Island. The garden was an artistic endeavour for the Abkhazis. They carefully chose plants to enhance the natural beauty.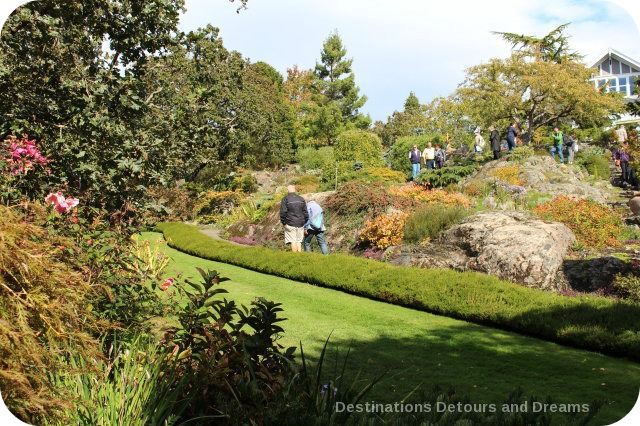 The story of the Abkhazis is as fascinating as the garden. Peggy Pemberton Carter was orphaned at the age of three and later adopted by a rich, childless couple. After her adopted father died, she spent her early adult years travelling the world with her adopted mother. She met the exiled Prince Nicholas Abkhazi in Paris in the 1920s. The Abkhazis were hereditary rulers of Abkhazia along the Black Sea in Georgia. Nicholas and his mother had fled the Russian Bolshevik Revolution. Peggy and Nicholas developed a friendship, corresponding over many years and occasionally meeting in person.
In 1938, after her mother died, Peggy moved to Shanghai, the city of her birth. She was interned in a camp near Shanghai during World War II. She kept a secret diary during this time, which was later published in 1981 under the title A Curious Cage. Nicholas joined the French army. He was captured and held as a prisoner-of-war. Peggy and Nicholas lost contact during the war.
After the war, Peggy came to Victoria on the invitation of close friends. She bought the land which would become Abkhazi Garden. In January 1946 Peggy received a letter from Nicholas. They agreed to meet in New York City. That meeting led to an engagement and a wedding in November of that year. They settled in Victoria, where they worked on their garden.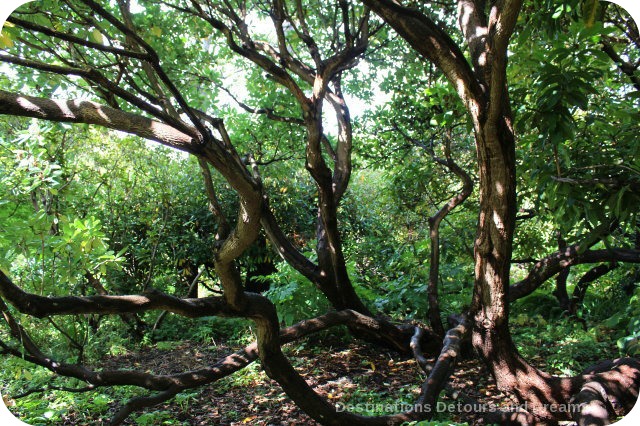 Peggy met her guests at the gate. They began their visit with a walk through rhododendrons and woodlands. It was September when I visited and the rhododendrons were not in bloom, but the woodland was lovely and peaceful. The rhododendrons begin blooming in early January and continue through June.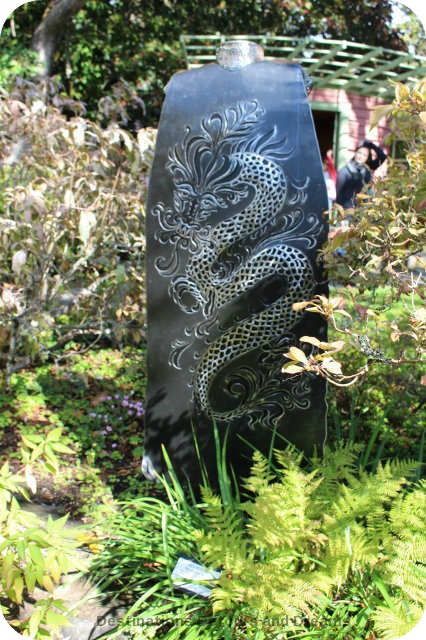 A number of art pieces blend into the garden landscape. The garden was home to a special exhibition during 2016. Four metal dress sculptures were placed throughout the garden. They were the works of artist Bev Petow and had been inspired by ball gowns worn by Peggy.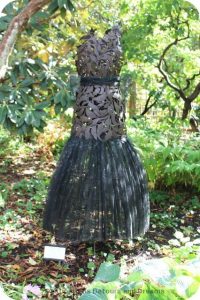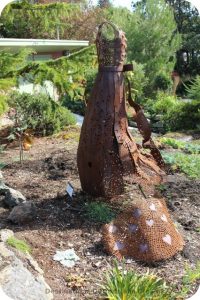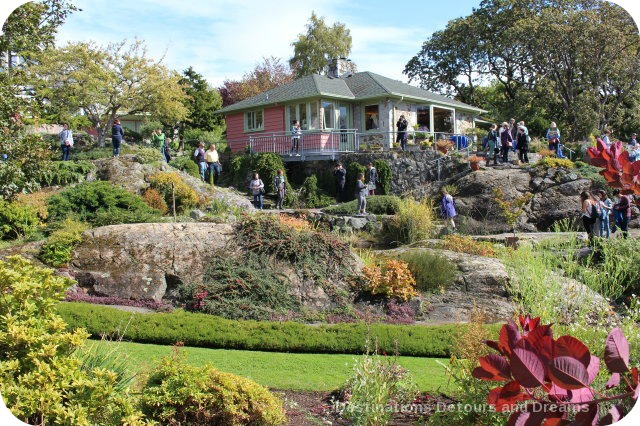 Prince and Princess Abkhazi built a house on the property. Today that house is the Teahouse at Abkhazi Garden. It serves light lunches.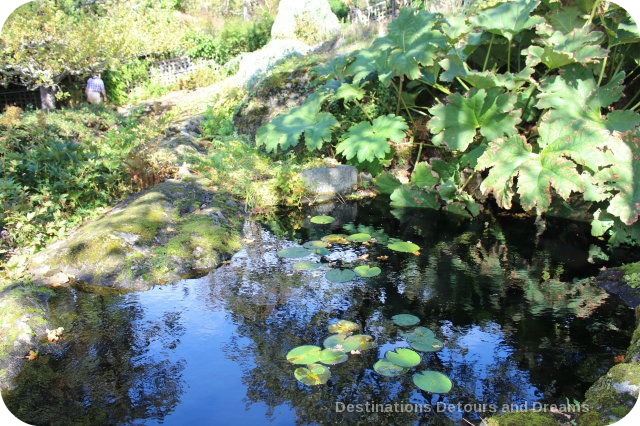 Nicholas died in 1987. Peggy stayed in the house for two more years. She died in 1994 at the age of 92. The property changed hands a few times until the British Columbia Land Conservancy bought it in 2000 to save it from being turned into a townhouse complex. Today it is a fully organic garden. No herbicides or pesticides are used.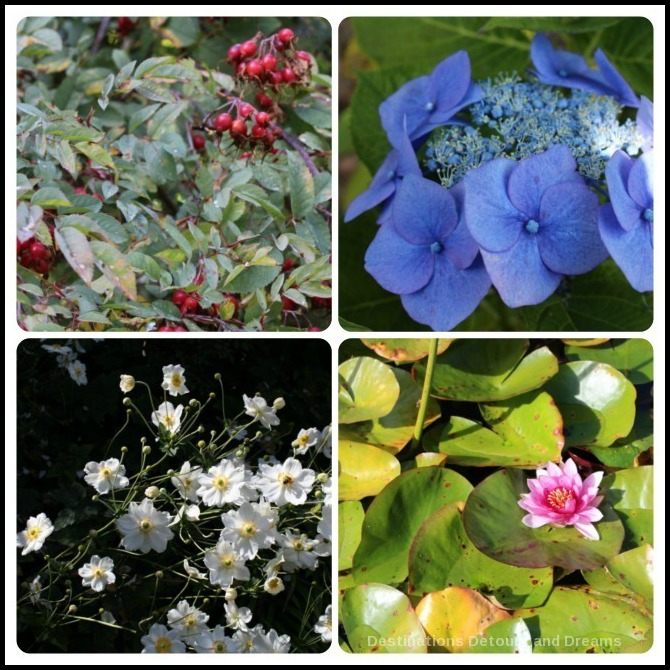 Abkhazi Garden is open daily from April through September, and Wednesday through Sunday October through March.
Destinations Detours and Dreams monthly e-newsletter contains behind the scenes information, sneak peeks ahead, travel story recaps and more.  SIGN UP HERE
PIN IT