Six California North Coast Highlights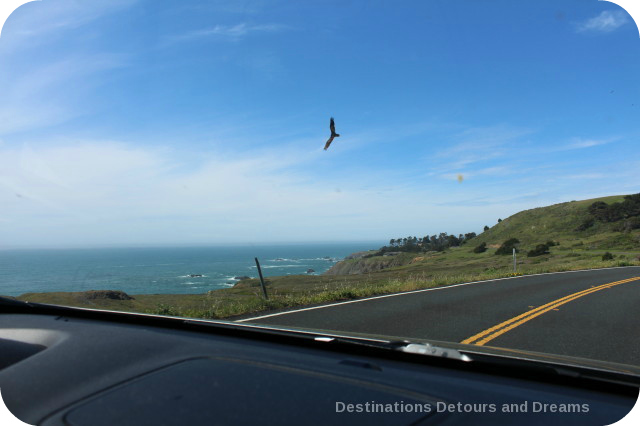 Mendocino Village, Mendocino Coast Botanical Gardens, Glass Beach,
MacKerricher State Park, Pacific Star Winery and Avenue of the Giants
A drive along California's Pacific Coast is amazing no matter which section of the state you travel. My husband and I began our trip north from Oxnard, diverted inland north of Capitola and rejoined Highway 1 about nine miles south of Mendocino Village. The highway is known as Shoreline Highway at this point. It was here we found the most stunning scenery. And the twistiest roads!
Mendocino Village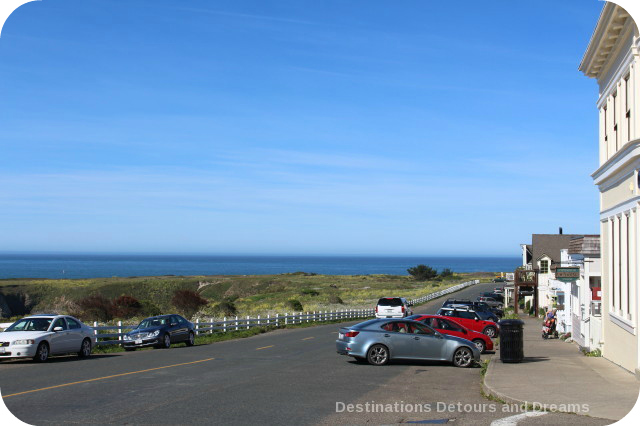 If you watched the old television show Murder She Wrote with Angela Lansbury, Mendocino Village may remind you of Cabot Cove, the fictional setting for that show. That's because the show was filmed in Mendocino Village. Set on a slightly hilly peninsula, it is a charming town surrounded on three sides by coastal bluffs.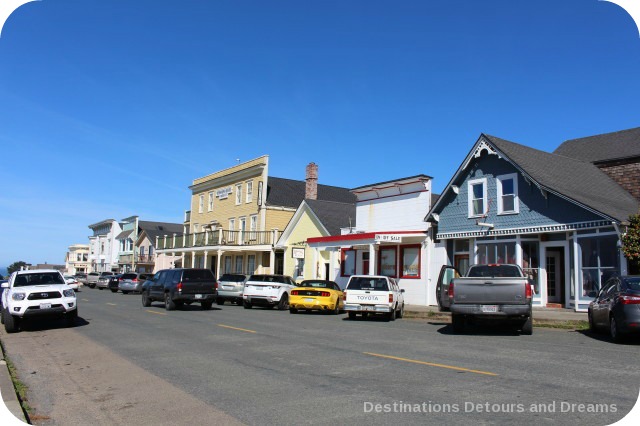 Once a logging and mill town, Mendocino Village is now known as an artist community. It contains unique shops, galleries and restaurants. Many Victorian homes have been turned into bed-and-breakfast inns.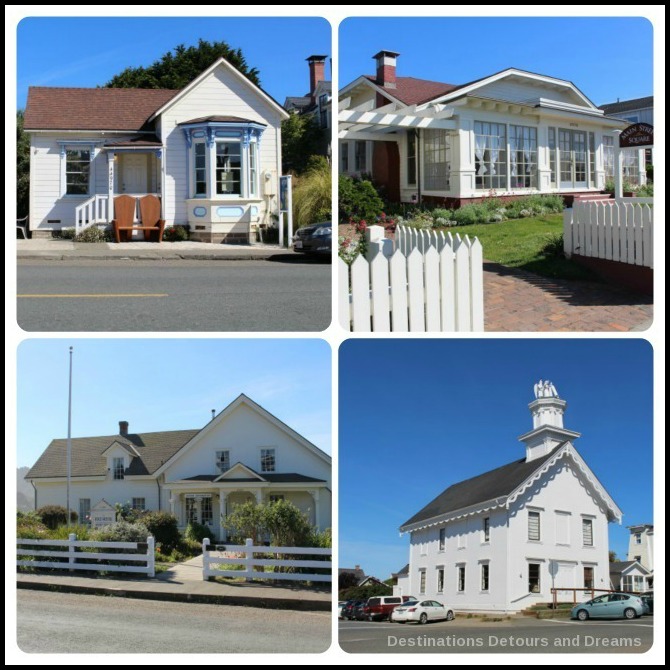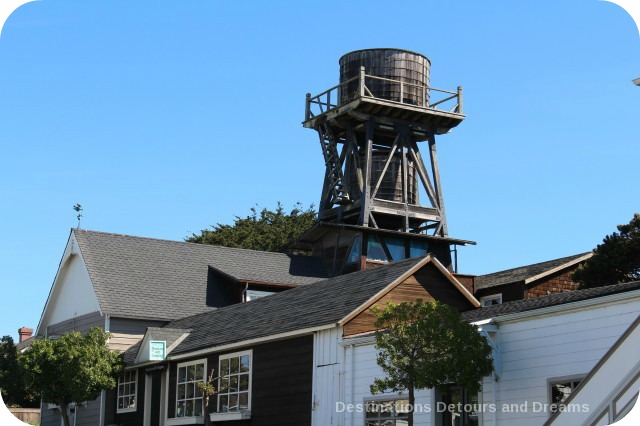 Early settlers piped water from nearby creeks and rivers into their homes. Tall windmills caught coastal breezes to power the pumps and water tanks were elevated to allow for adequate water pressure. Most of the windmills are now gone, but many of the water towers remain. Some have been converted into artist studios and gift shops.
At the edge of town, Mendocino Headlands State Park offers walking trails and scenic views.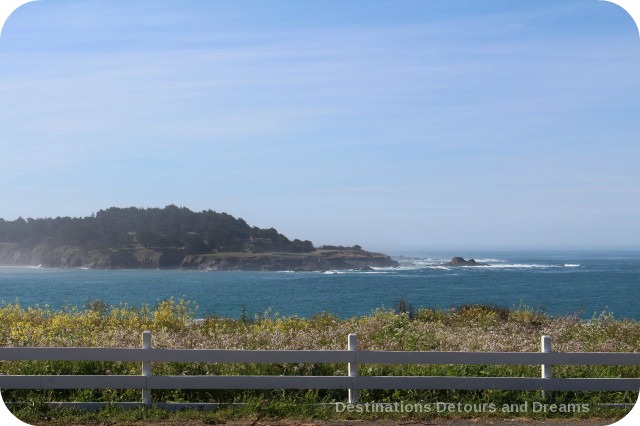 Mendocino Coast Botanical Gardens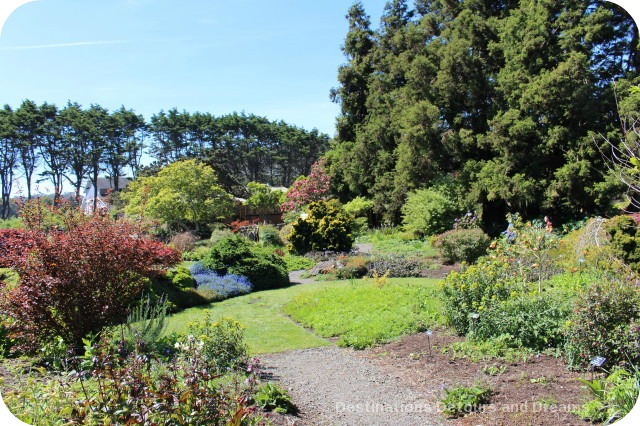 Mendocino Coast Botanical Gardens in Fort Bragg contain a variety of flowers and grasses which bloom from spring to fall. The Gardens are best known for their rhododendrons which bloom in March and April, but they contain a variety of other plants as well, including cacti, succulents and coastal prairie plants. A coastal bluff provides magnificent ocean views.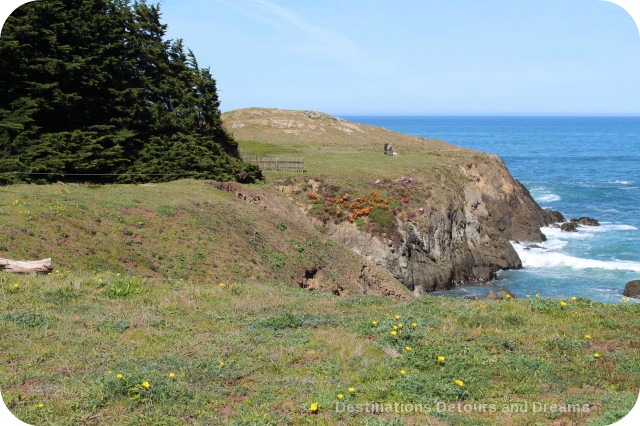 Glass Beach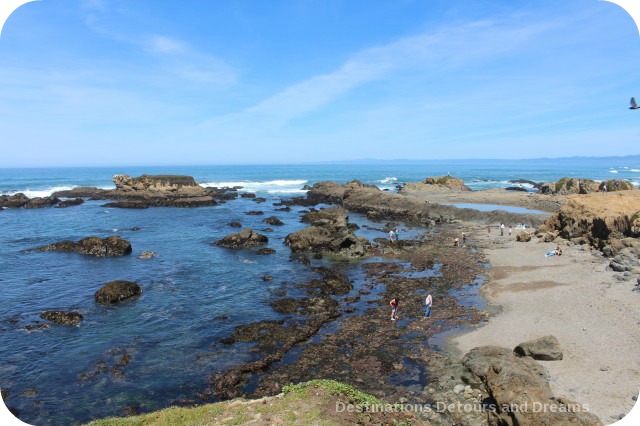 Glass Beach in Fort Bragg is a former dump site. It stopped being a dump site in 1967. Metal and other objects were moved away, but glass and pottery remained. Over time, waves tumbled these into small, smooth stones. The sea glass brings thousands of tourists to the beach each year.
There are actually three glass beach sites, all former dumps. Glass Beach #3 is the most commonly visited. To get to it from Highway 1, turn west on Elm Street and drive a few blocks to Glass Beach Drive. The amount of sea glass has depleted over years due to the amount of collecting which was done. There is now much less glass than there once was. You can still hunt for glass. If you find a gem, take a photo and put it back. It is now illegal to remove glass from Glass Beach. Even if you don't look for sea glass, the natural beauty of this spot is worth a visit.
If you don't find any sea glass at Glass Beach, you may want to visit the free Sea Glass Museum just south of Fort Bragg.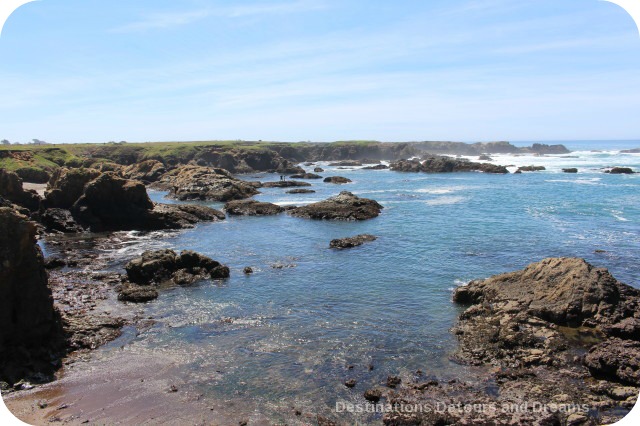 MacKerricher State Park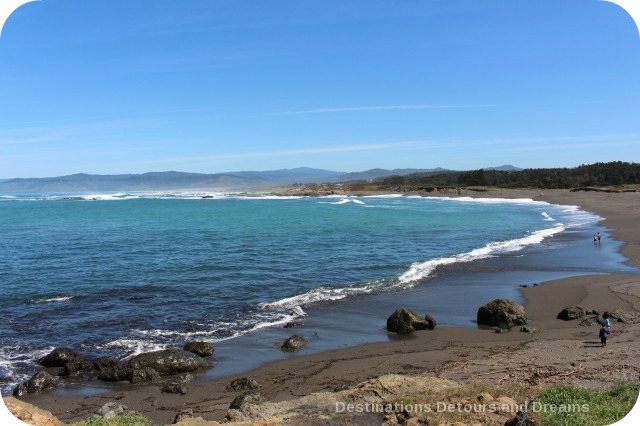 Glass Beach is technically part of MacKerricher State Park, but it is not reached via normal park access. Mackerricher State Park is three miles north of Fort Bragg. The park has a variety of habitats. Seals may be seen offshore. The headland is a good lookout point for whale watching in winter and spring. The beach is calm and sandy. I enjoyed the walkways leading to vista points.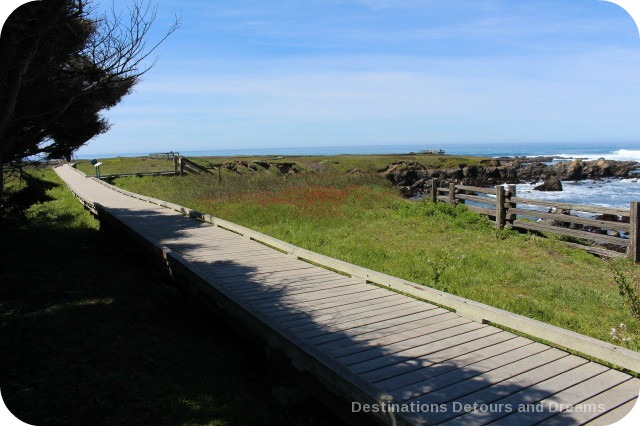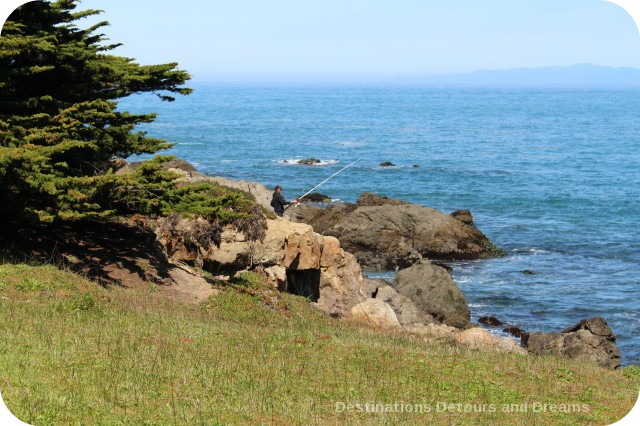 Pacific Star Winery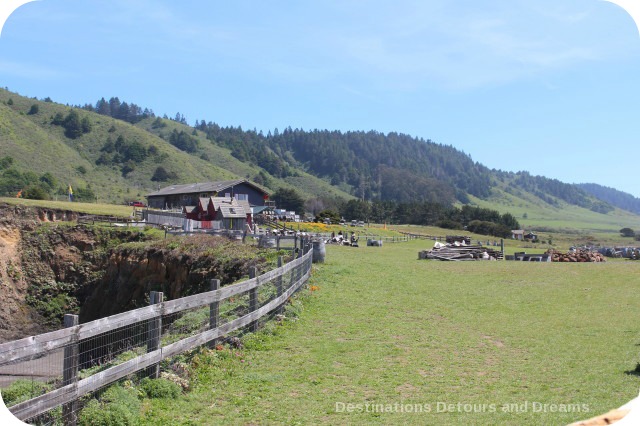 Twelve miles north of Fort Bragg, Pacific Star Winery is worth a stop whether you are a wine lover or not. The views are spectacular. You can picnic on the cliffs. There are many spots to sit and view the scenery. Samples are available in the tasting room for a fee. Or you could purchase a bottle to drink outdoors with your picnic.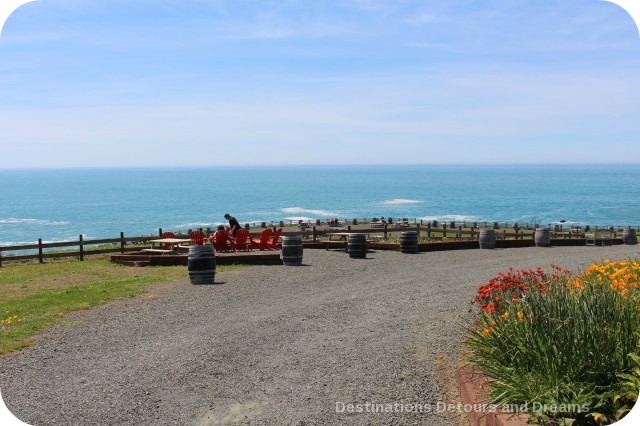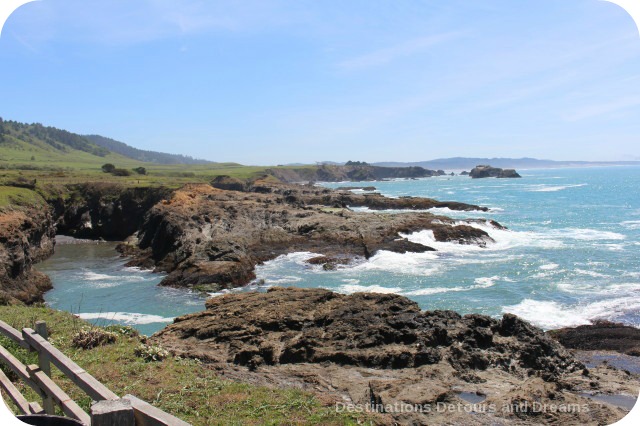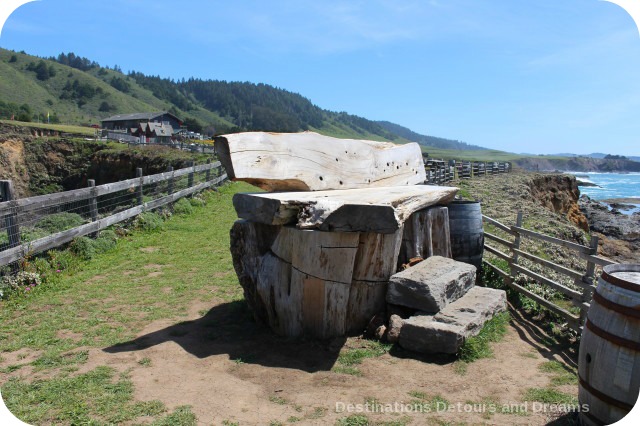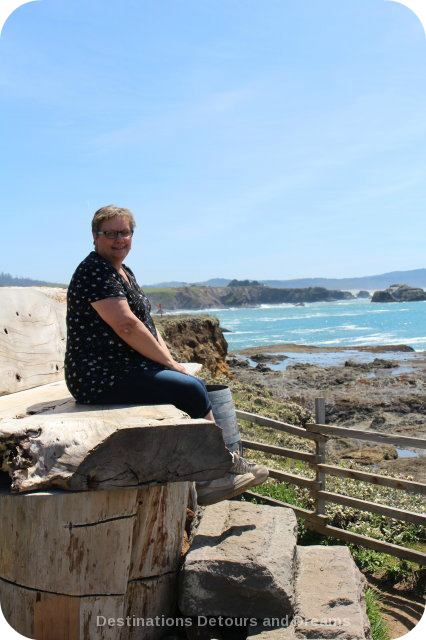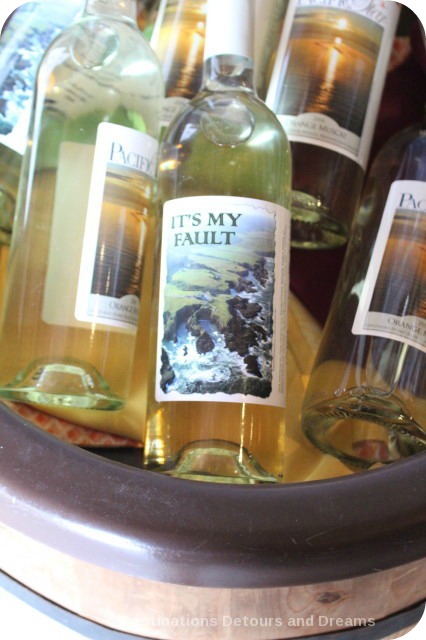 Avenue of the Giants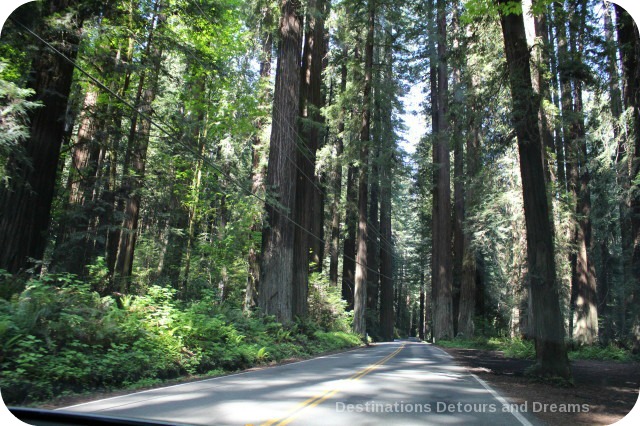 About thirty miles north of Fort Bragg, Highway 1 bends inland to join up with US Route 101 and take you into redwood country. Redwoods are the world's tallest trees. Avenue of the Giants is a scenic 31-mile drive off US Route 101 along the old highway just north of Gaberville. The drive has towering redwoods on either side and is surrounded by Humboldt Redwoods State Park. Its Visitor Center is located along the Avenue and worth a visit. In addition to containing park information, it houses a free museum with information about redwoods and history of the park. For more information on the Avenue of the Giants, read Walk and Drive Through Towering Redwoods.
This was truly a spectacular drive. Have you visited this area? Do you have other highlights? For information on the Oxnard to Capitola portion of our coastal drive, read California Coast: Oxnard to Capitola.
PIN IT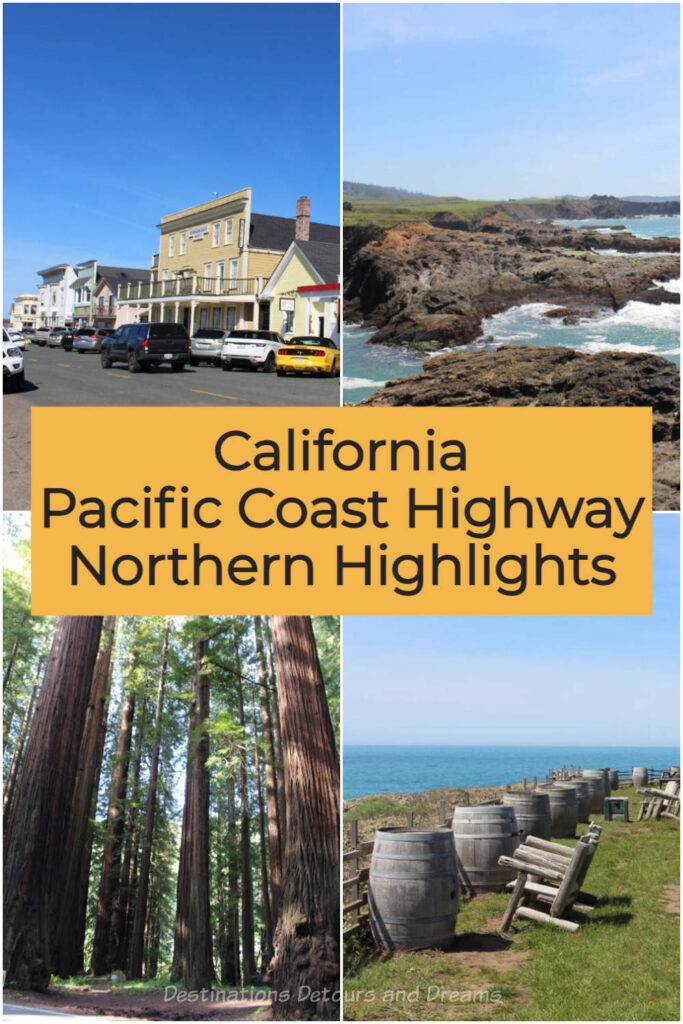 Never miss a story. Sign up for Destinations Detours and Dreams free monthly e-newsletter and receive behind-the-scenes information and sneak peeks ahead.