Toronto Distillery District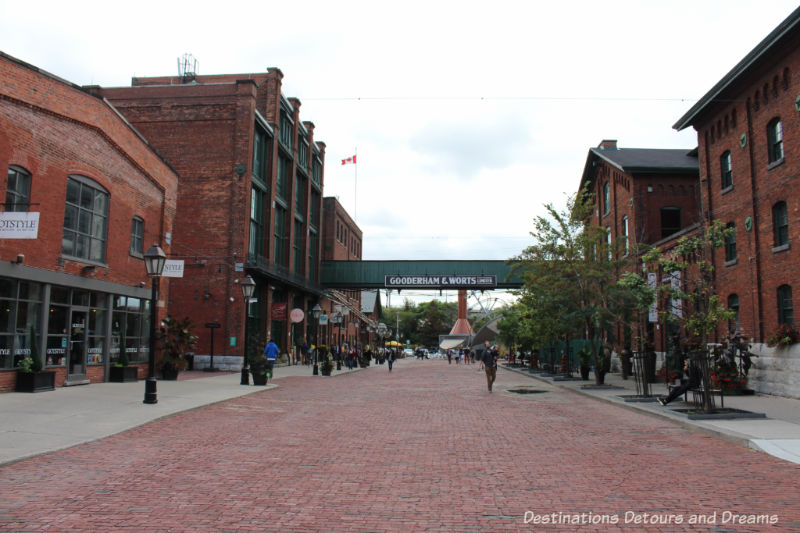 A Victorian industrial site in Toronto, Ontario
is now an arts, culture, and entertainment destination
The Distillery Historic District in Toronto, Ontario opened in 2003. It is a former Victorian industrial site transformed into a "village" of one-of-a-kind shops, galleries and art studios, restaurants, cafés, and theatres. The 13-acre complex of 30 brick and stone buildings is a National Historic Site of Canada.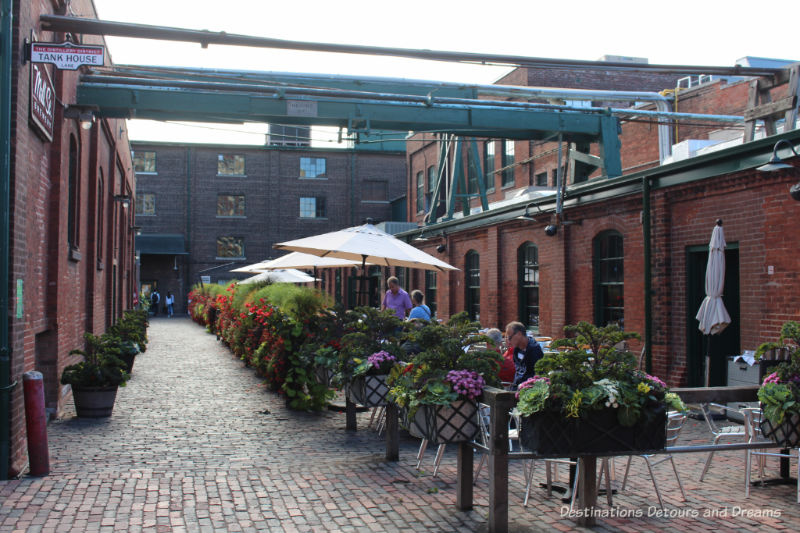 In 1832, brothers-in-law James Wort and William Gooderham erected a grist mill with a 70-foot brick windmill. In 1837, they built a still to convert surplus grain from the mill into whiskey. Exploiting new technology and commercial opportunities, their company Gooderham & Worts Limited grew steadily. A large stone distillery was erected between 1859 and 1861. A brick malthouse, kilns, warehouse, shops and offices were added in following years, all before 1900.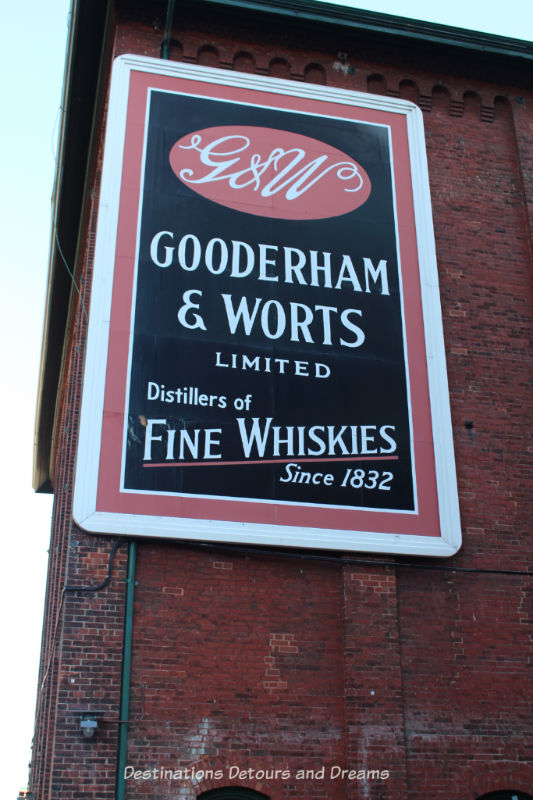 Change came with World War I and the passage of Ontario prohibition legislation in 1916. The Gooderhams allowed the British government to use the distillery to produce acetone and ketone, used in making explosives. After the war, when prohibition was not lifted, they sold the distillery to Harry C. Hatch. In 1920, the Canadian government granted the distillery the right to "denature" alcohol (render it undrinkable by adding chemicals) for industrial use in products such as antifreeze, window washing fluids, solvents, and varnish.
During Word War I, most Canadian provinces enacted prohibition laws. Most provinces repealed their prohibition laws in the early 1920s. It was not until 1927 that prohibition ended in Ontario. In 1927 Hatch and his associates acquired Hiram Walker's & Sons, creating Hiram Walker-Gooderham & Worts. Hiram Walker's Windsor plant along the U.S. border got most of the company's business. American prohibition was still in effect and would remain so until 1933. Gradually, production at the Toronto distillery was cut back. The last whiskey was made in 1957. Rum and industrial alcohol became the plant's main products. In 1987, Hiram Walker-Gooderham & Worts was acquired by Allied Vintners. In 1990, the site closed down. It was abandoned and became derelict while the future of the property was debated and heritage reports were commissioned.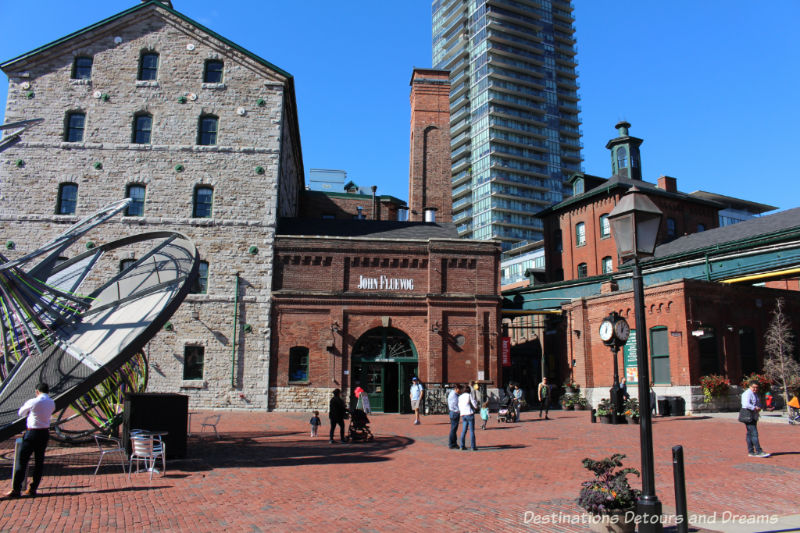 Today, the brick buildings house shops, galleries, and restaurants offering a range of dining experiences that include comfort food, ice creams, coffee, French fusion, Japanese, Mexican, and seafood. Wide cobblestone walkways offer room for public art and patios.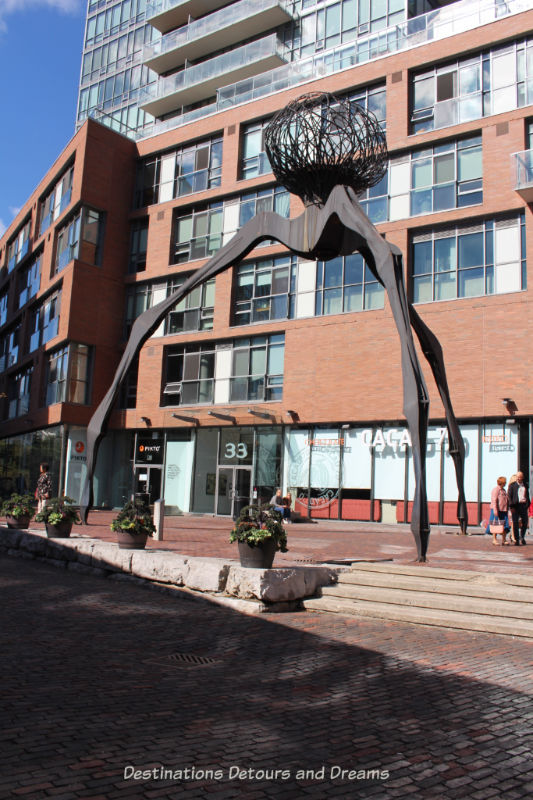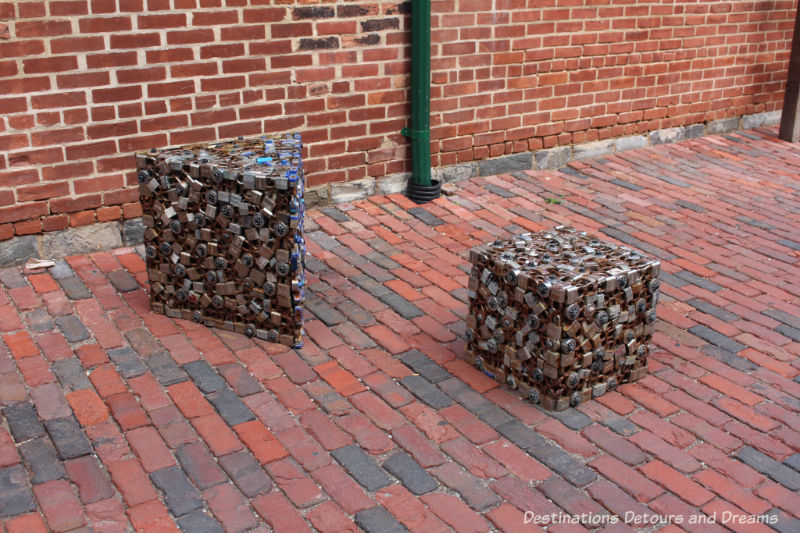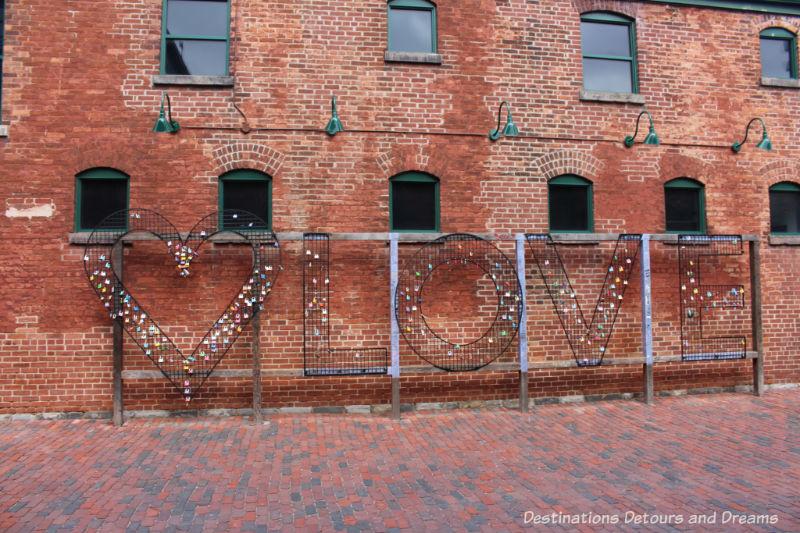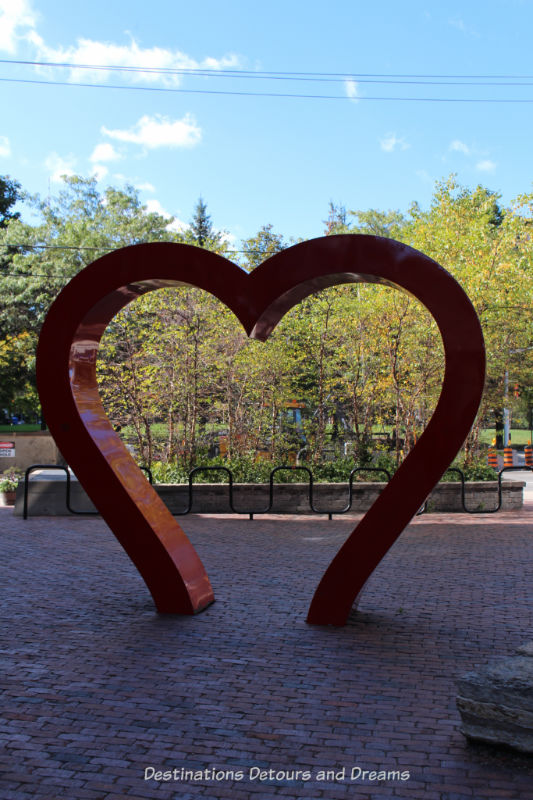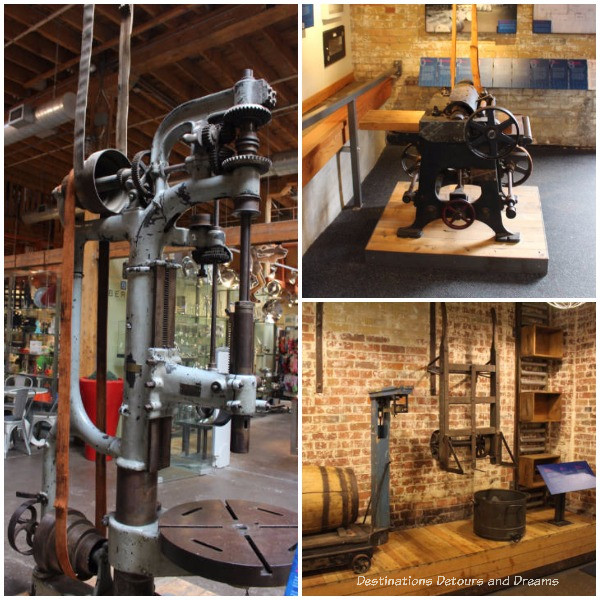 The history of the site is not forgotten in its modern use. Displays throughout the various buildings showcase artifacts and describe processes used. The distillery employed its own coppersmiths to create a wide range of items and parts in-house.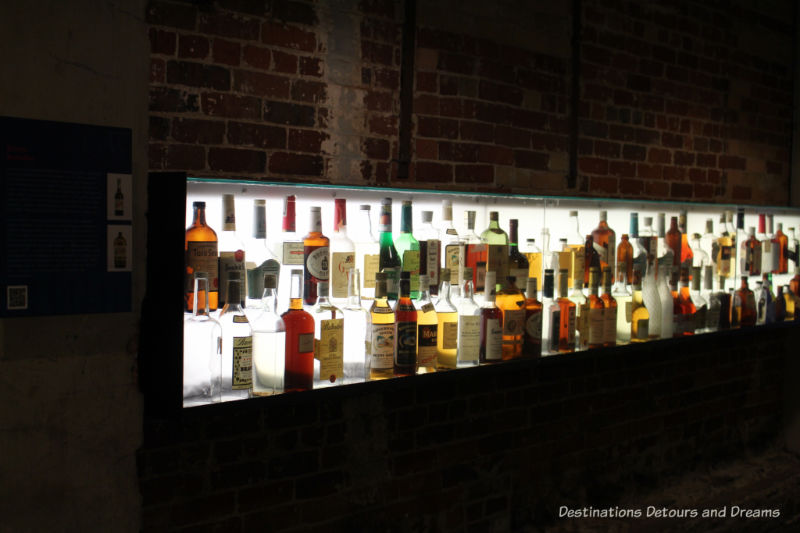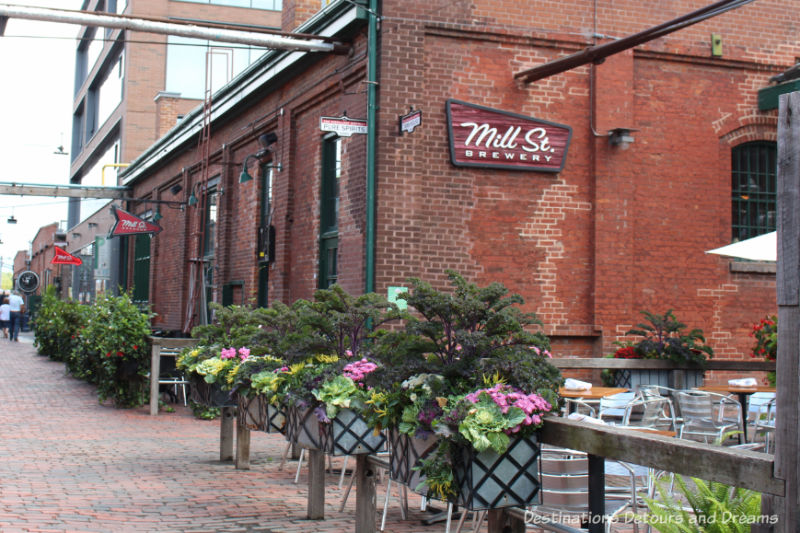 And brewing still occurs on the site. Mill St. Brewery, a craft beer microbrewery, is located in the district and offers daily tours. The Ontario Spring Water Sake Company follows traditional Japanese methods to make sake. A recent addition to the District is the Spirit of York Distillery, which makes vodka and gin in what was once the Gooderham & Worts malting room. A glass wall between the tasting lounge and the distillery allows visitors to view the distilling process.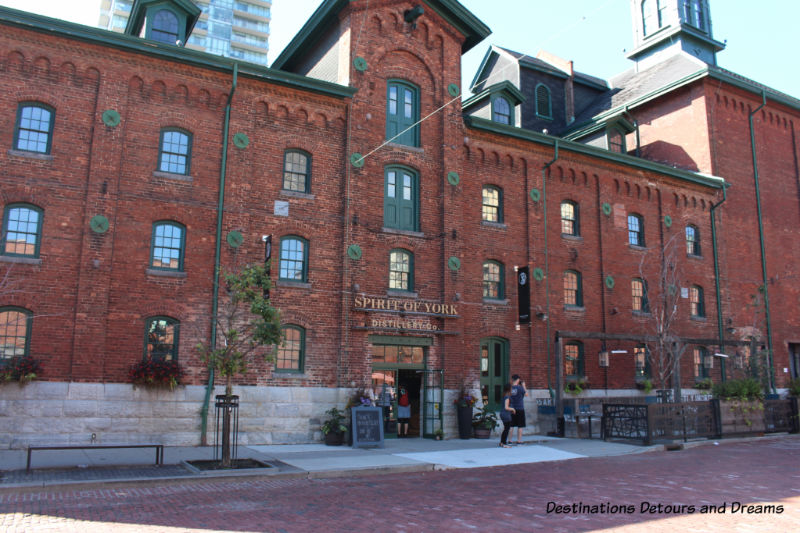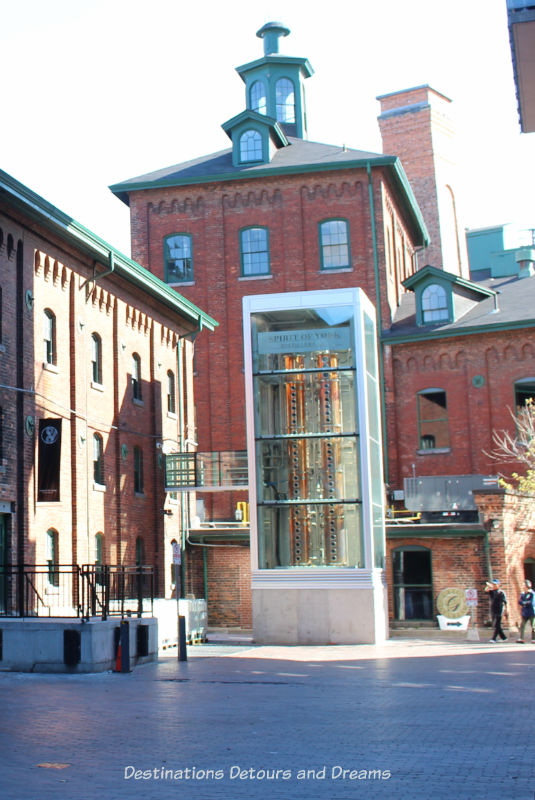 The Distillery Historic District is located just south of Toronto's downtown core and north of the Gardner Expressway on Mill Street between Parliament and Cherry Street. The area is a good destination for spending a few pleasant hours browsing shops or galleries, dining or enjoying a drink or coffee with friends.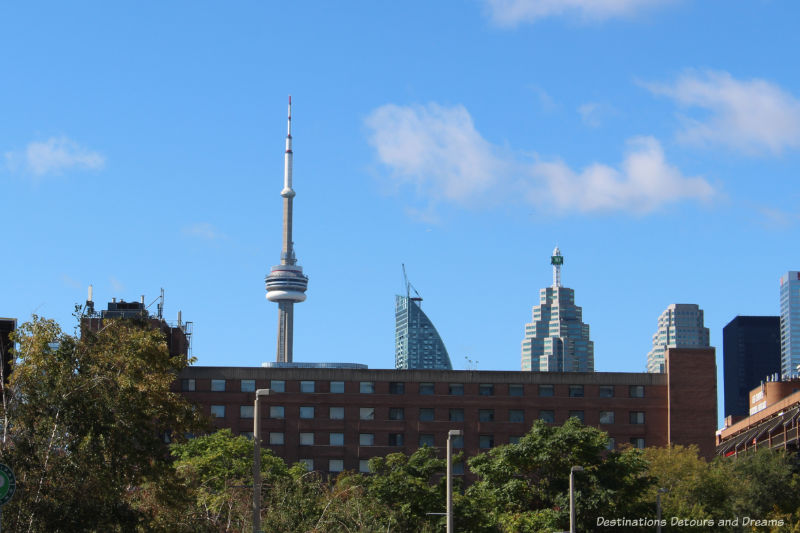 Never miss a story. Sign up for Destinations Detours and Dreams monthly e-newsletter and receive behind-the-scenes information and sneak peaks ahead.
PIN IT