Alive With Flora, Fauna, and Fun at a Winnipeg Nature Preserve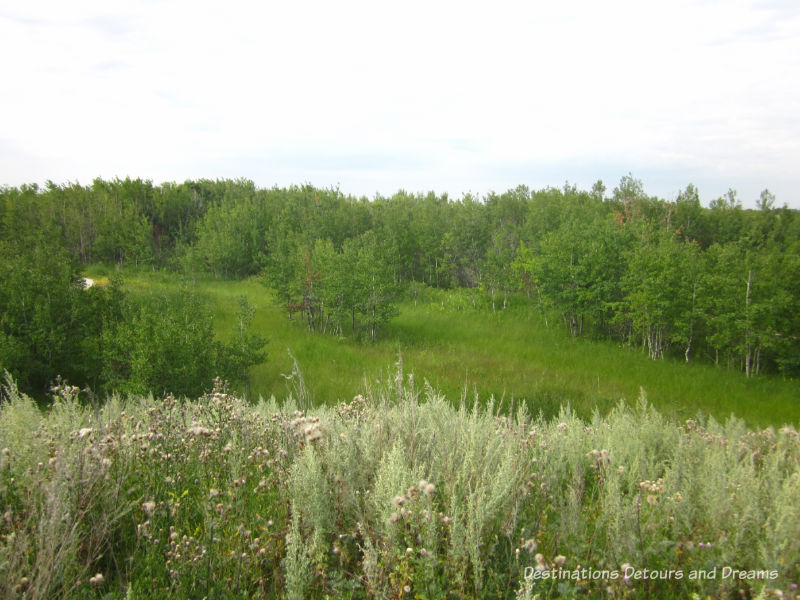 Connect with nature at FortWhyte Alive in Winnipeg, Manitoba, Canada: nature trails, wildlife viewing, outdoor recreation
FortWhyte Alive is a 640 acre nature preserve in south-west Winnipeg, Manitoba. On the site of what was once a cement quarry, it features prairie, forest, lakes, and wetlands. FortWhyte Alive is dedicated to providing environmental education and outdoor recreation. It promotes awareness and understanding of the natural world and actions for sustainable living.

Although I visited FortWhyte Alive many times when my daughter and step-daughters were young, this summer was my first visit back in a lot of years. The facility had expanded its offerings. There was a new building and restaurant. The natural beauty and appeal remained. There is much to see, do, and learn here.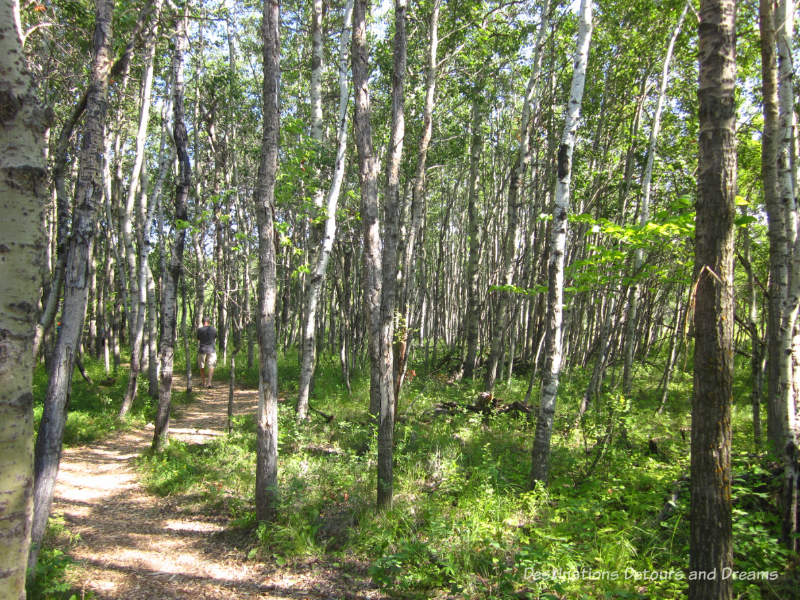 You can hike or cycle on several paths through the park. Bicycles are available for rent. Watch for wild flowers and wildlife along the way. Listen to the birds and the crickets. Smell the freshness.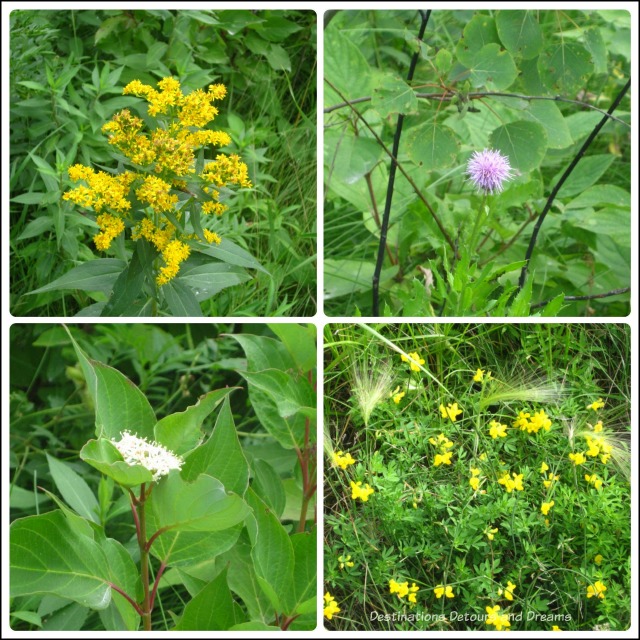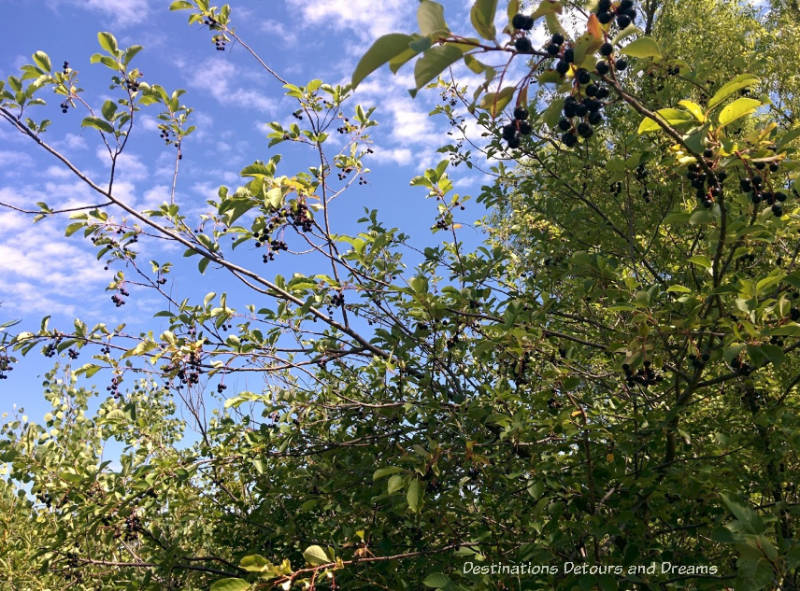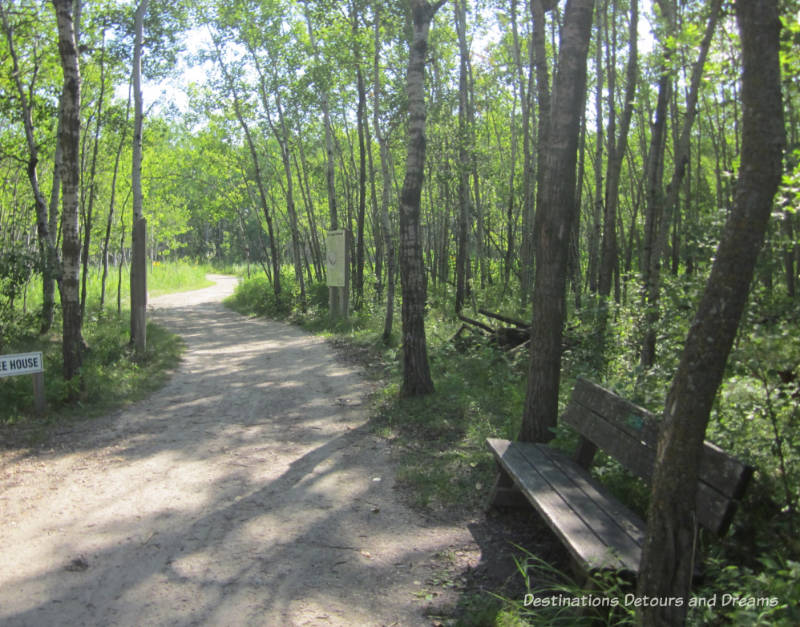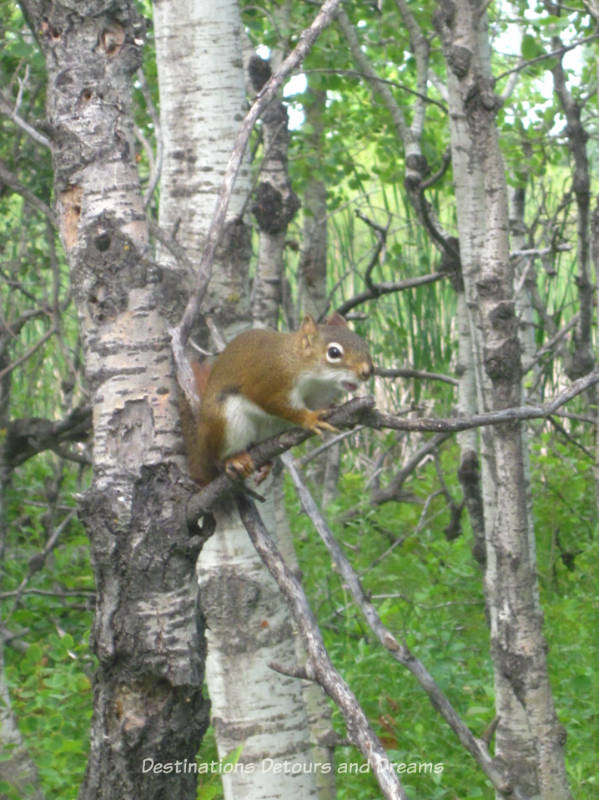 Outdoor exhibits include a sod house as would have been built by early settlers and a couple of tipis. The 12 by 20 foot sod structure housed 6 to 8 family members and possibly a couple of oxen in winter. Although the holes were plugged, tiny visitors like mice and bugs were common. Tipi is a Dakota word for "place where one lives". The plains tribes were a nomadic people following the bison and homes needed to be easily moved and assembled.
A herd of 30 bison, aka buffalo, roam the 70-acre Bison Prairie. These animals are known both as bison and buffalo. Bison is the genus name given by scientists. Early North American settlers called them buffalo because they compared them to water buffalo. The bison were far off in the field and barely visible when I visited. If you want to be sure of getting a better view of the bison, take one of the hour-long Bison Safaris offered once or twice a week May through September. The safaris sell out weeks in advance, so plan ahead.
Displays inside FortWhyte Alive provide facts about bison. Here is a sampling:
A bison's natural life span is 40 years
A bison's eyesight is poor, but its sense of smell and hearing are excellent. It can smell water miles away and can live without water for days in a prairie drought.
In a blizzard, herds face the snowy wind in a V-shape with biggest bulls at the front. When the animals at the rear get covered over, the whole herd moves ahead and takes a new stand.
Cows, not bulls, lead the herd.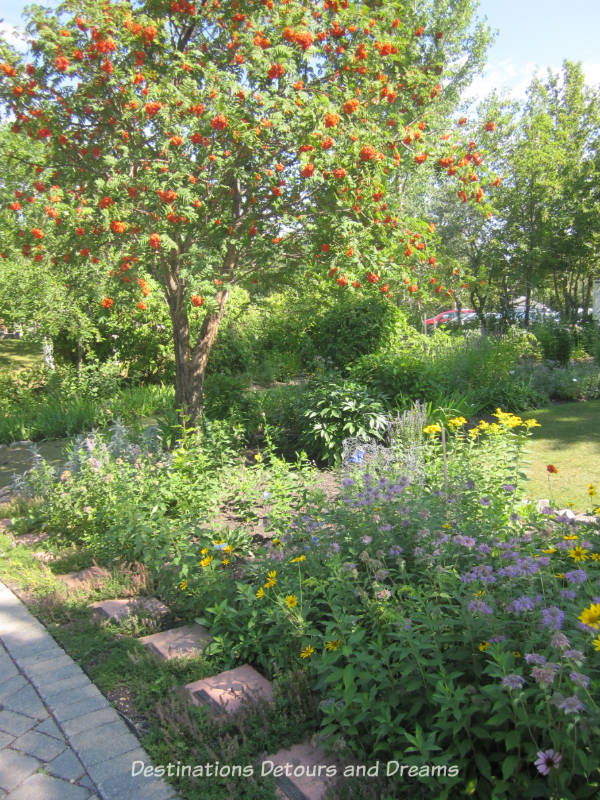 An interpretive centre houses an indoor aquarium displaying local freshwater fish, a burrowing owl and prairie dog exhibit, several dioramas, and the Touch Me museum of mounted wildlife.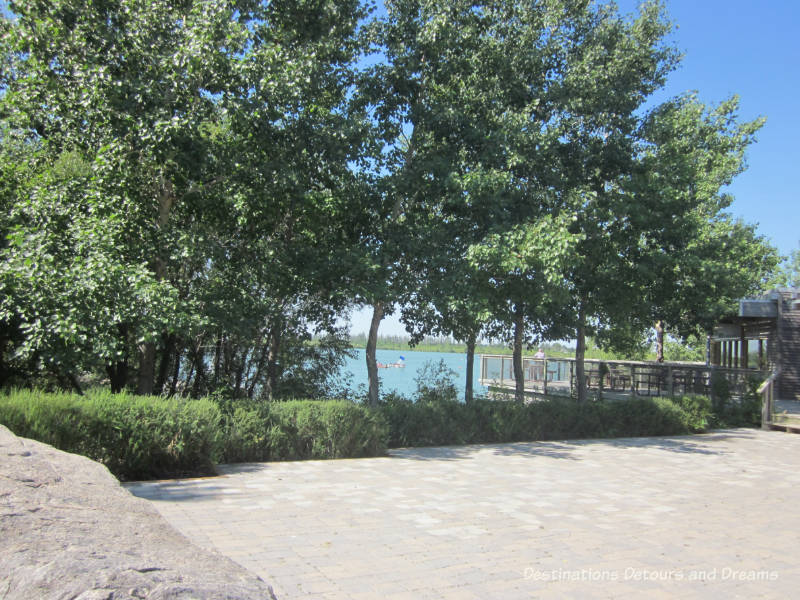 The lakes at FortWhyte Alive are stocked with Manitoba sport fish and open to year-round catch and release fishing. You can also sail, kayak, or canoe.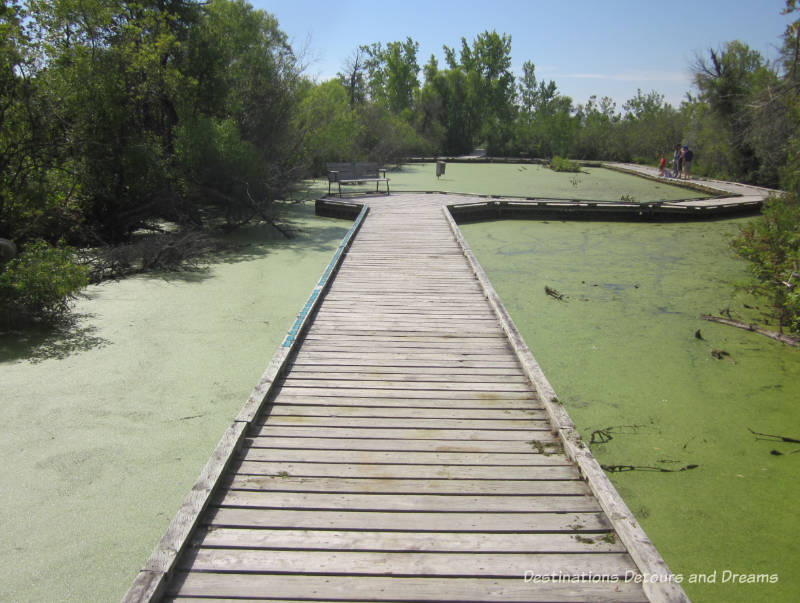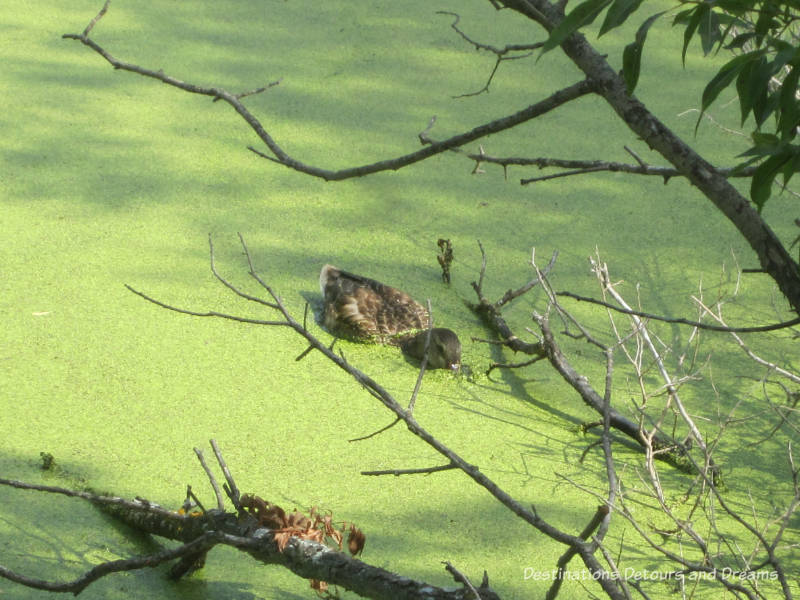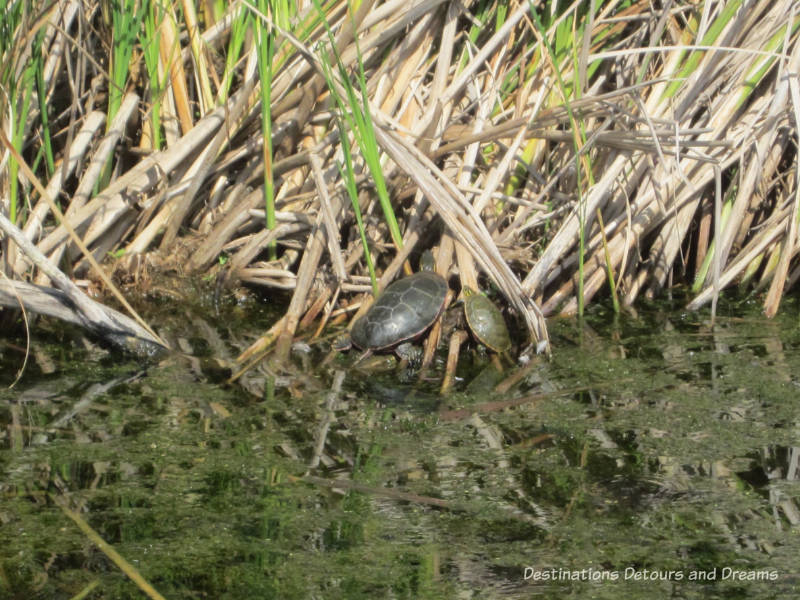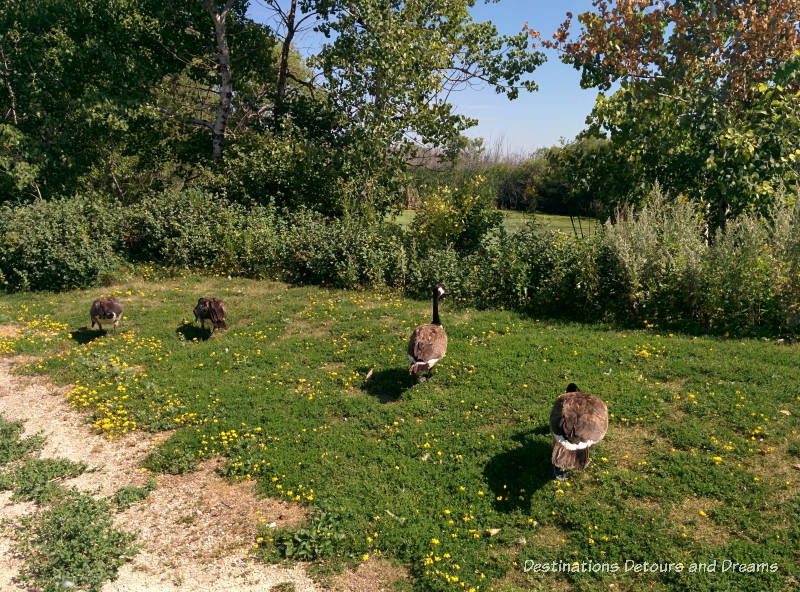 FortWhyte Alive is open year-round. The fall Sunset Flights are spectacular. Arrive before sunset to watch thousands of geese flock in and land on the lakes for the night. The winter offers ice-fishing, skating, cross-country skiing, and tobogganing. I remember winter deer sightings as well.
FortWhyte Alive offers many educational and recreational programs, special events and seasonal tours. Visit their website for information.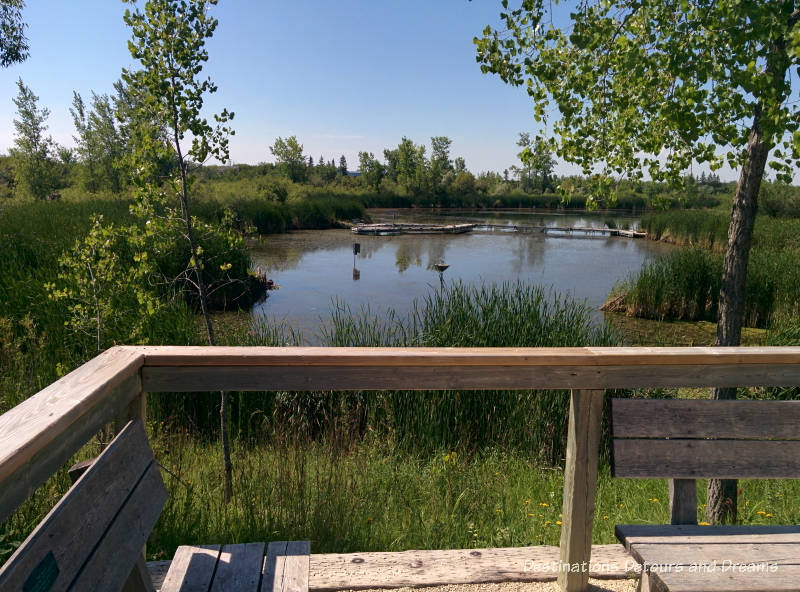 Never miss a story. Sign up for Destinations Detours and Dreams free monthly e-newsletter and receive behind-the-scenes information and sneak peeks ahead.
PIN IT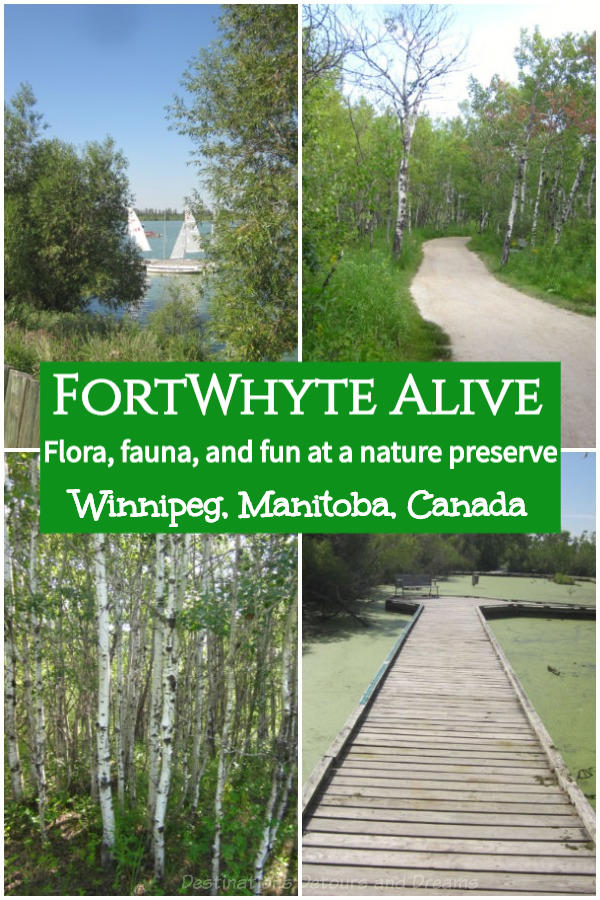 This post is linked to Travel Photo Discovery