Where to Stay in Vancouver, British Columbia: University Accommodation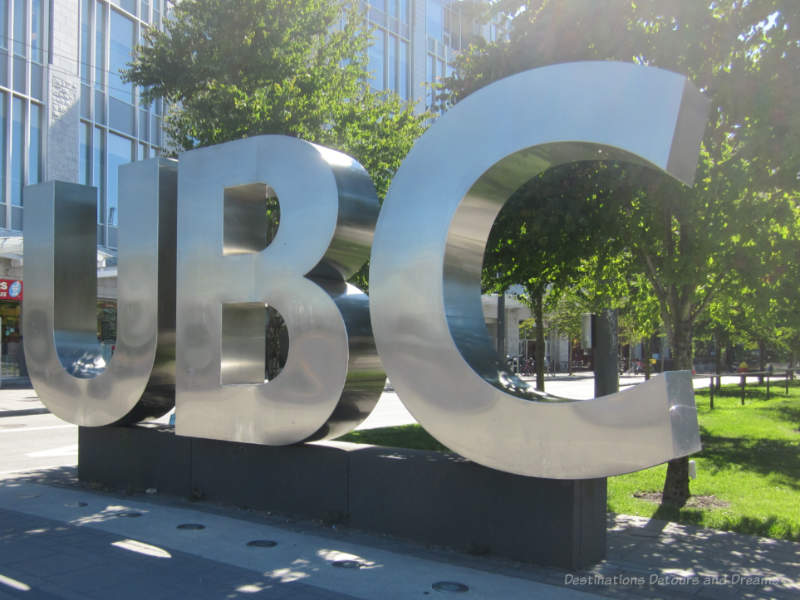 Accommodations at University of British Columbia on its beautiful campus offer an affordable option to hotels in Vancouver, British Columbia
Vancouver, British Columbia is a beautiful city with plenty for a visitor to see and do. It can also be expensive, particularly if looking for a hotel room in the height of the summer tourist season, as I found out when looking for a place to stay in Vancouver in July. So, I looked into an alternative – accommodation at a university campus.
Many universities and colleges across the world rent their residence spaces to vacationers during school breaks and between sessions. It is a way to generate additional income by filling empty spaces while offering travelers an affordable alternative to hotels.
The University of British Columbia (UBC) offers short-term housing rentals from mid-May to late August each year. Options vary from single or double hostel rooms to standard suites (studio, one, or two-bedroom) to premium one-bedroom suites.
The Space
We opted for a studio suite that came with kitchen facilities, wifi and television. Because our visit was split, with a week in the middle when we travelled somewhere else, we stayed in two different suites, spending three nights in Gage Apartments and four nights in Ponderosa Apartments.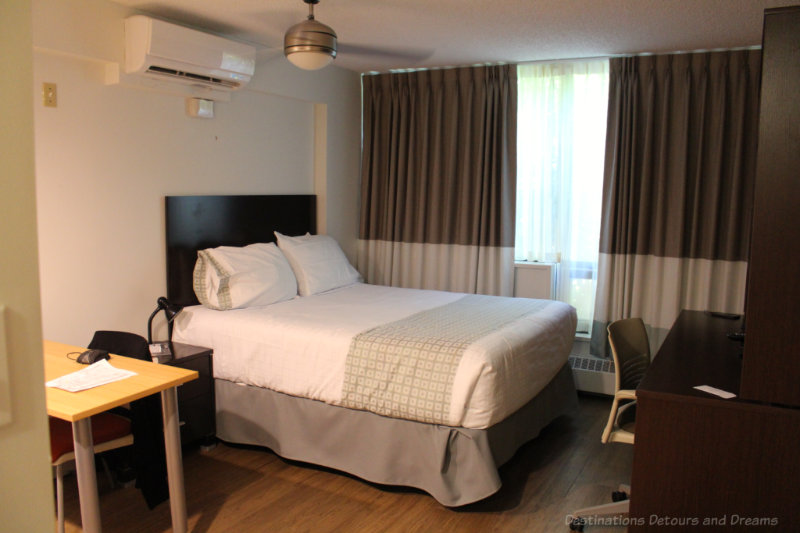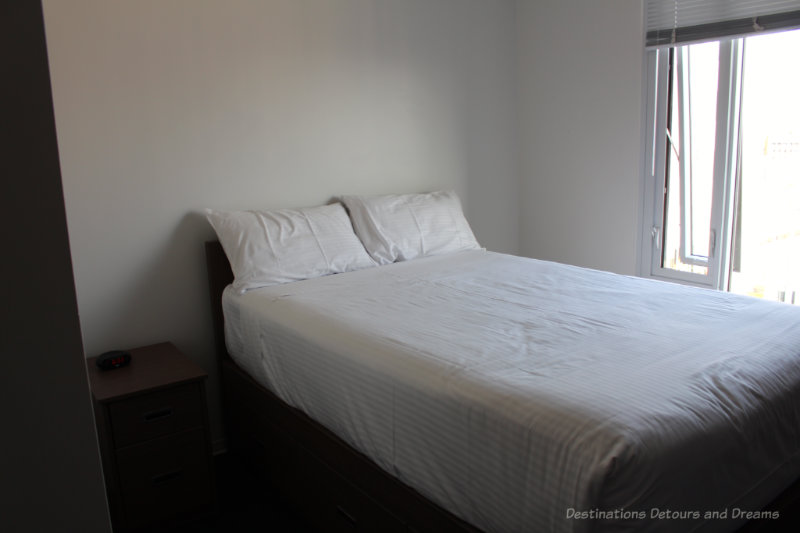 The rooms were small, but comfortable and well organized for two people. Décor was plain. There were no pictures on the walls. In fact, there were a few spots where paint was peeling as a result of the removal of whatever the student resident had hung on the wall.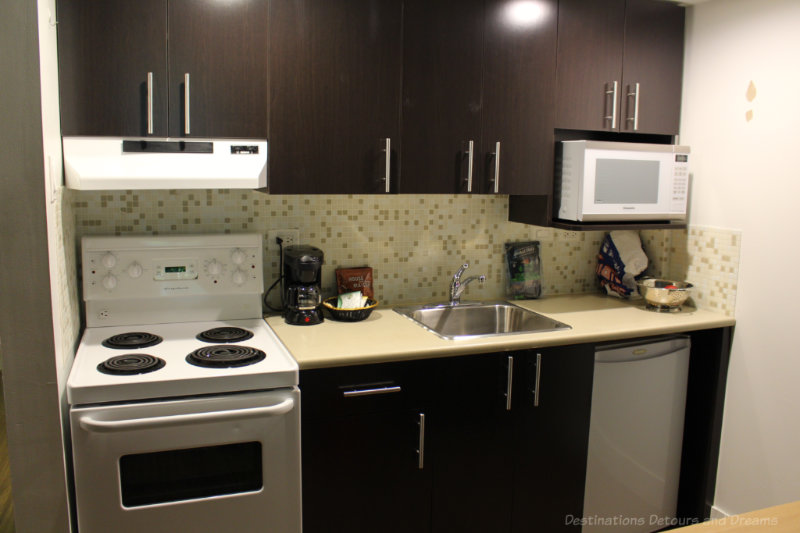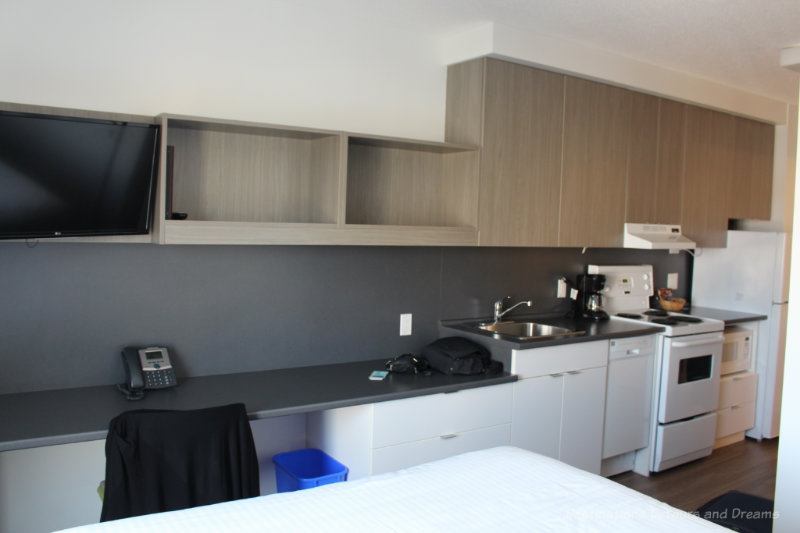 The kitchens were stocked with two different sized pots, a fry pan, a broiler pan (that could be used as shallow roaster), a toaster, coffee maker, electric kettle and just enough dishes and cutlery for two people. The Gage suite had a half-size refrigerator and no dishwasher. The Ponderosa suite had a full-size refrigerator and a dishwasher.
Amenities and Service
Gage Apartments had air-conditioning. Ponderosa Apartments did not. Typically, air-conditioning is not necessary in Vancouver, but it was unusually hot during our July visit. Air-conditioning would have been nice. Still, I managed to spend time in Ponderosa during the day without undue discomfort. We kept the window open overnight and closed the drapes during the day. Note that the lobby area, which had seating areas, was air-conditioned.
Wifi was fast. There was daily maid service similar to what you'll find in a hotel. They did not wash our dirty dishes.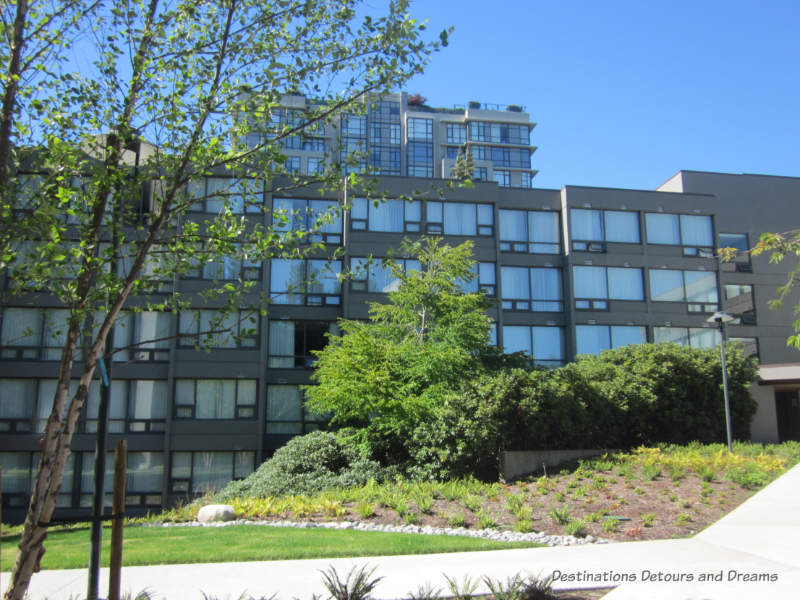 Front desks at both locations were manned 24 hours a day. Staff were friendly and helpful. Although the long desk in Ponderosa had ample room for both of us to set up our laptops, there was only one chair. We requested and received an additional chair. When we needed tickets printed for an event we'd booked online, the front desk happily did that for us.
We did not have a car. For those with vehicles, parking is available at an additional daily cost.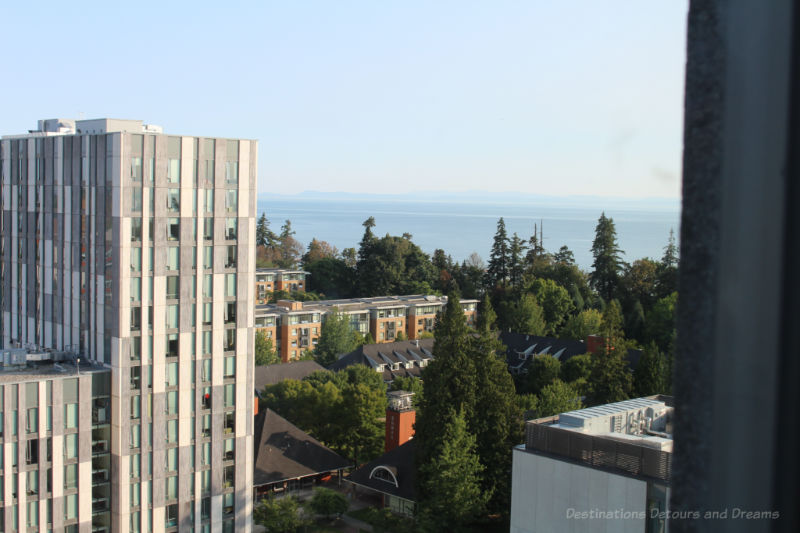 Location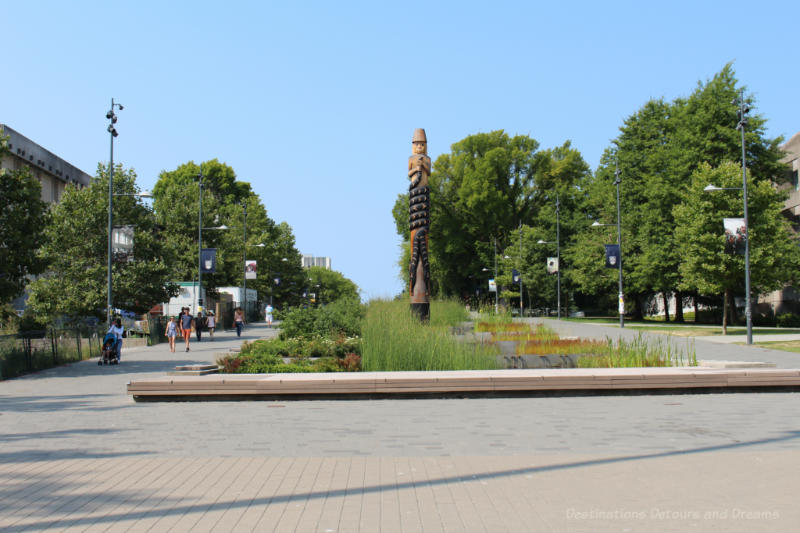 The University of British Columbia's Vancouver campus is located at the western tip of the Point Grey Peninsula. It is a beautiful campus surrounded by forest on three sides and ocean on the fourth.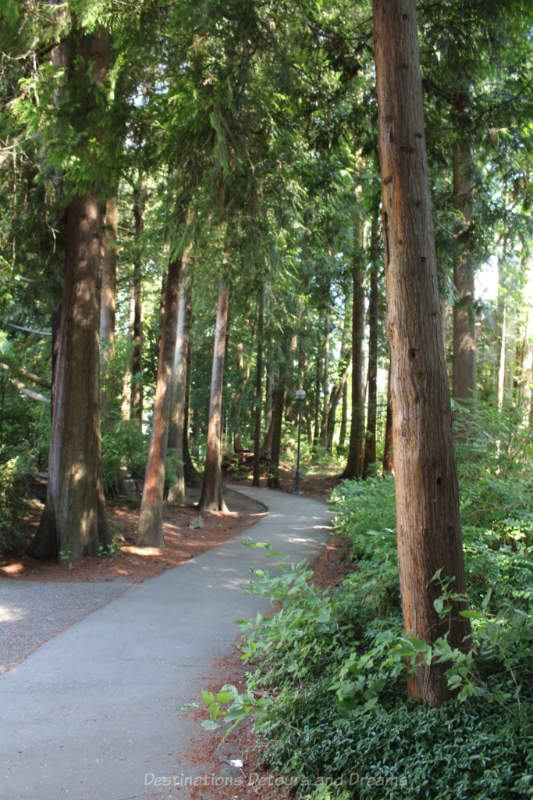 UBC is approximately a 30-minute bus ride from downtown Vancouver. This means a little farther distance to some of the more central tourist attractions than if you were staying downtown. Public bus service, however, is good and can get you to other parts of the city as well as downtown. The campus itself is huge (more than 400 hectares). Two city shuttle buses run through it. Regular bus fares apply. (Note: there are also attractions on campus, such as the UBC Botanical Garden, Nitobe Memorial Garden, Rose Garden, Museum of Anthropology, Pacific Museum of Earth, and the Morris and Helen Belkin Art Gallery. Pacific Spirit Park bordering the campus offers a network of trails through forested lands for hikers, runners and cyclists.)
There are eateries and bars on campus and convenience type stores selling groceries. Many of the casual eateries were closed by early evening, but there were a few open later. The Westbrook area at the south end of the campus contains several restaurants, bars and stores, including a major grocery store.
Although university was between sessions, the campus was far from empty. There were summer classes and a variety of international summer programs in progress. I loved the young, active vibe.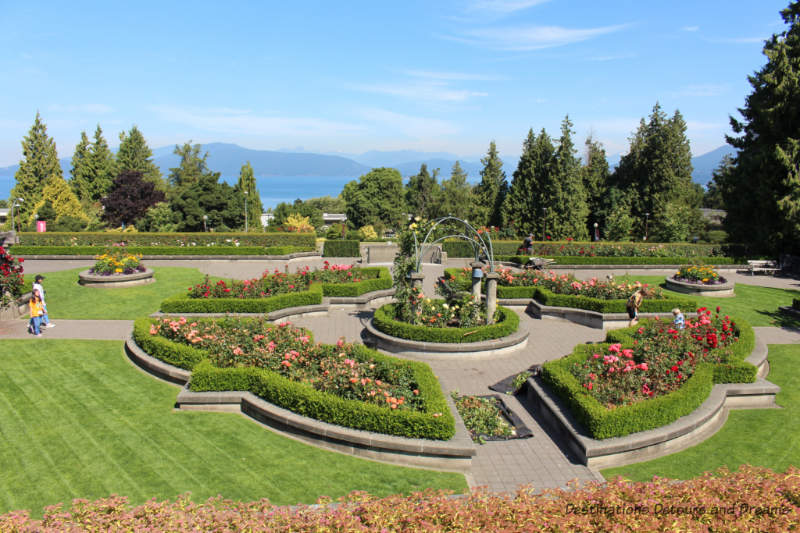 The Verdict
Our stay was very comfortable and we enjoyed the surroundings. While still not a super budget option, our stay at UBC was more economical than the hotel options I'd been looking at. Having a kitchen means the opportunity for further savings by preparing some of your own meals. We didn't cook a full meal in our short stays, but we did eat breakfast, snacks, and a light supper in our room.
I would certainly stay at UBC accommodations again. The experience has also made me consider college and university housing as accommodation options in travels to other locations.
Never miss a story. Sign up for Destinations Detours and Dreams free monthly e-newsletter and receive behind-the-scenes information and sneak peaks ahead.