Finding Heritage Craftsmanship at a Missouri Theme Park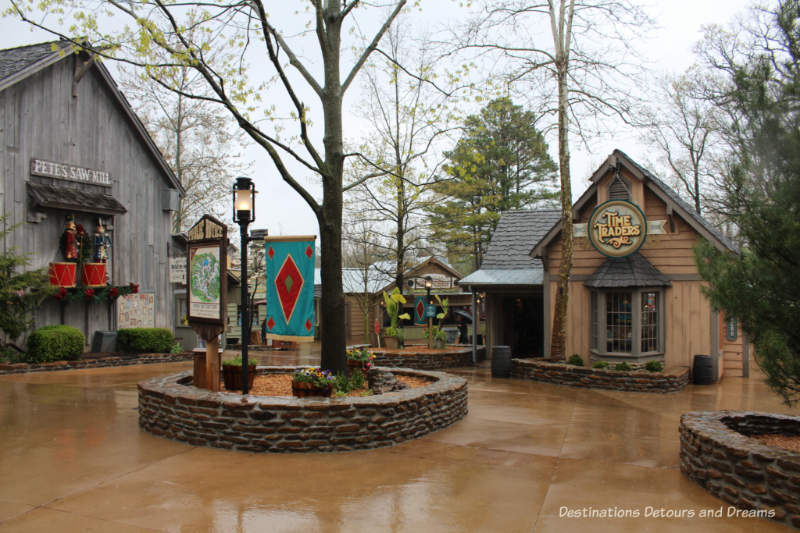 Silver Dollar City theme park in Branson, Missouri is "The Home of American Craftsmanship" with over 100 resident craftsmen demonstrating their crafts
Would you expect to find master heritage craftsmen at a theme park? That is what I found at Silver Dollar City in Branson, Missouri. The 1880s-styled theme park looks and feels like an Ozark mountain village from the late nineteenth century. It contains historical buildings and amusement park rides and attractions and features a variety of performances. But it is its craft tradition that most interested me when I visited and sets this theme park apart from others.
The people of the Ozarks were resilient, making most everything they needed themselves. Craftsmanship became part of everyday living. When the Herschend family opened the theme park in 1960, they saw how the craftsmen could bring authenticity and interest to the park. They travelled the countryside looking for the best craftsmen who might be interested in demonstrating at the park.
Today Silver City has over 100 resident craftsmen, some of whom are second or third generation craftsmen carrying on the family craft. Apprentices learn from the masters. The City established the Master Craftsman and Apprentice Program to teach, preserve and perpetuate American heritage crafts. The U.S. Congress declared Silver Dollar City "The Home of American Craftsmanship."
Demonstrations occur throughout the park. In the two videos below, the blacksmith talks about the fire and heat used in his craft and a glass blower demonstrates his craft.
Works produced by the craftsmen are available for purchase in shops in the park.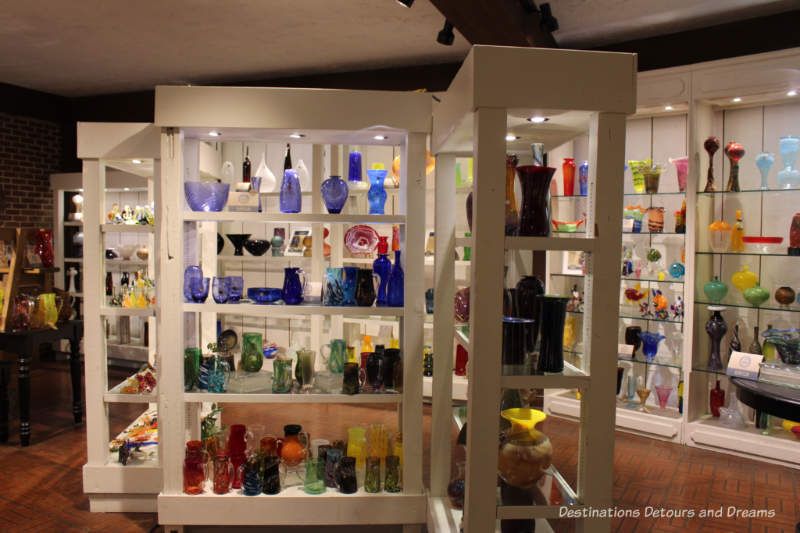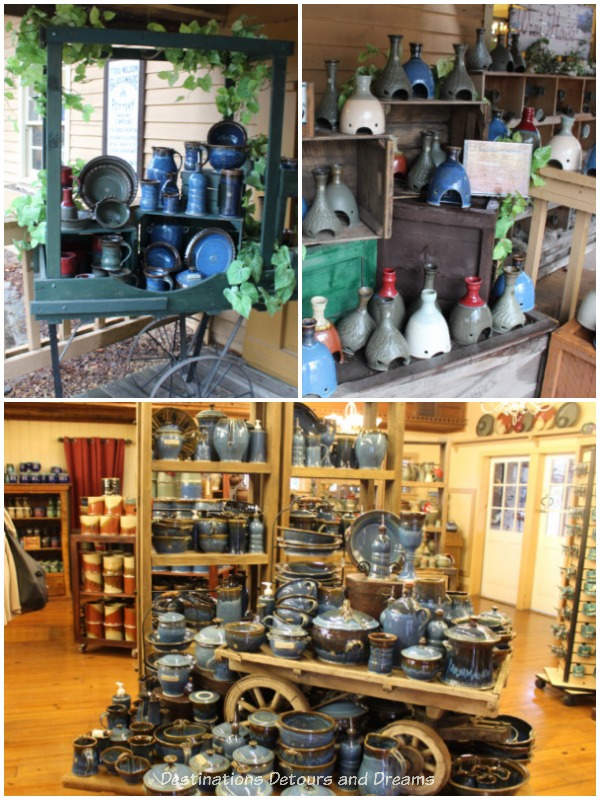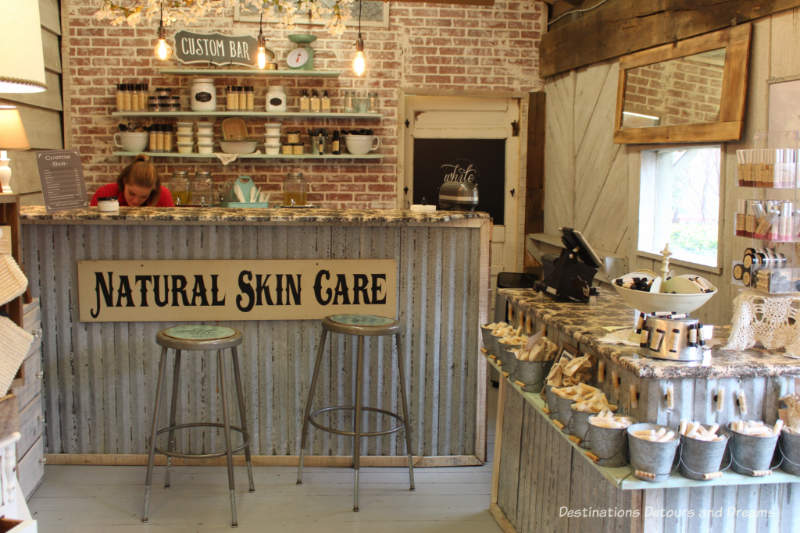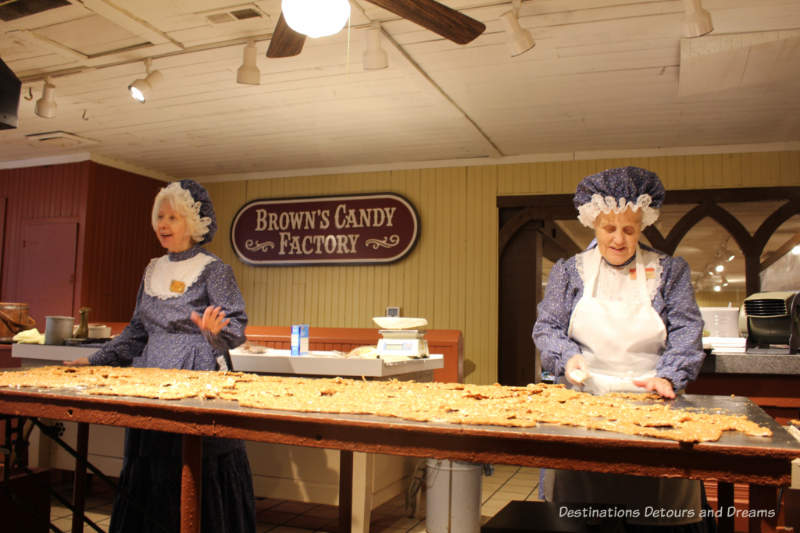 Candy maker June Ward is known as Silver Dollar City's Queen of Candy. She has been working at the park since the summer of 1968. The candy makers still use the recipes from fifty seasons ago. June was delightful when she talked and joked with us. (I visited the park with a group of fellow travel journalists attending the 2018 North American Travel Journalists Association conference.)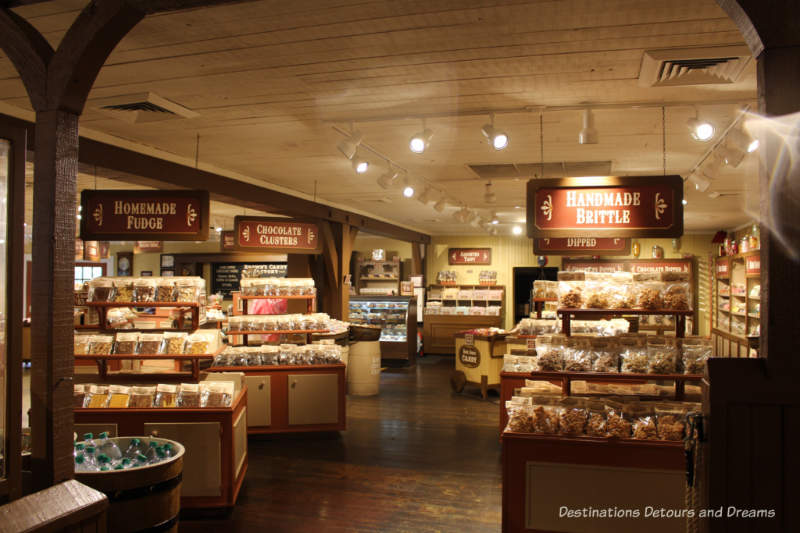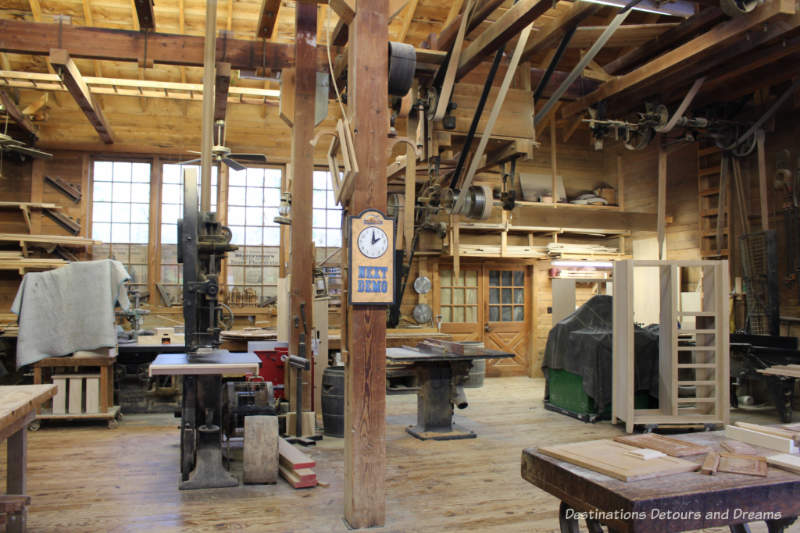 Furniture maker Warren Cook was teaching high school industrial arts when he took a summer job at Silver Dollar City almost three decades ago. He liked it so much he didn't go back to school in fall, but stayed on and became a Master Craftsman.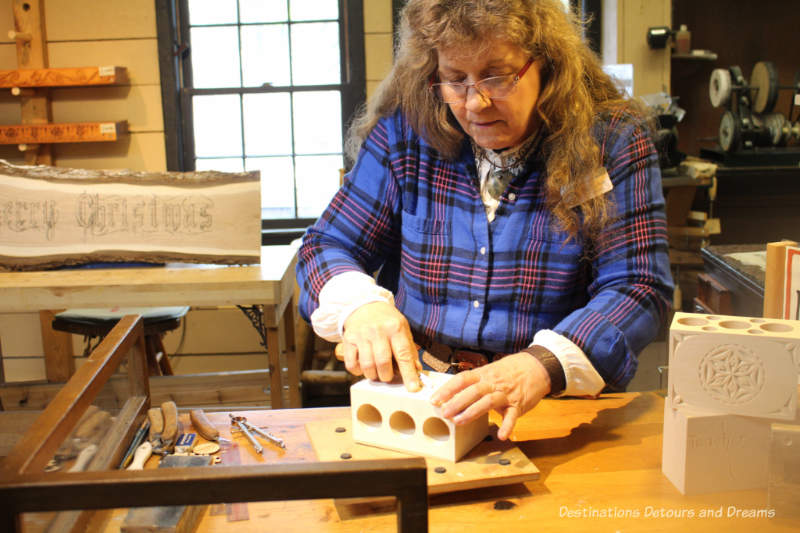 In the early 1960s, wood carver Peter Engler convinced the Herschends to hold a three-day crafts festival, bringing in additional craftsmen. Today the National Crafts & Cowboy Festival at Silver Dollar City is the country's premier craft festival. It takes place over several weeks in fall. It was that festival that brought renowned chip woodcarver Pam Greesham to Silver Dollar City more than three decades ago. She took a break from her carving to tell us her story. She'd encouraged her husband to take up wood carving when he needed to find something else to do. She later tried one of the patterns in his book and discovered she loved the craft. Attending one of the National Crafts & Cowboy Festivals as a visiting craftsmen, she appreciated and took to heart advice given to her by a more experienced carver. The festival and the community of craftsmen led Pam and her husband to move to Branson.
In Silver Dollar City's The Craftsmen Journal brochure, Pam said this,
"When I make a piece for a family, their story becomes part of my art. When they take it home, my story becomes part of their story, and we're forever connected."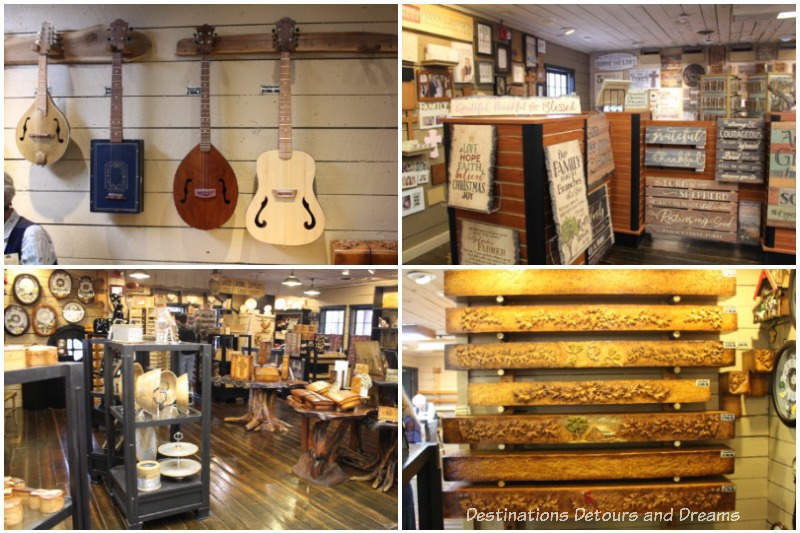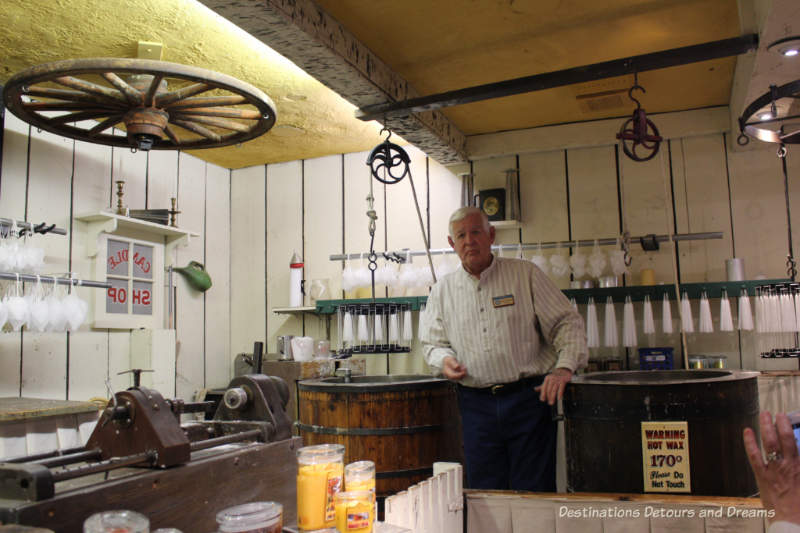 In the 1800s, candles were made from animal fat called tallow. Tallow candles had to be kept in metal boxes to keep mice from eating them. They smelled and smoked when they burned. Candlemakers at Silver Dollar City today use paraffin wax.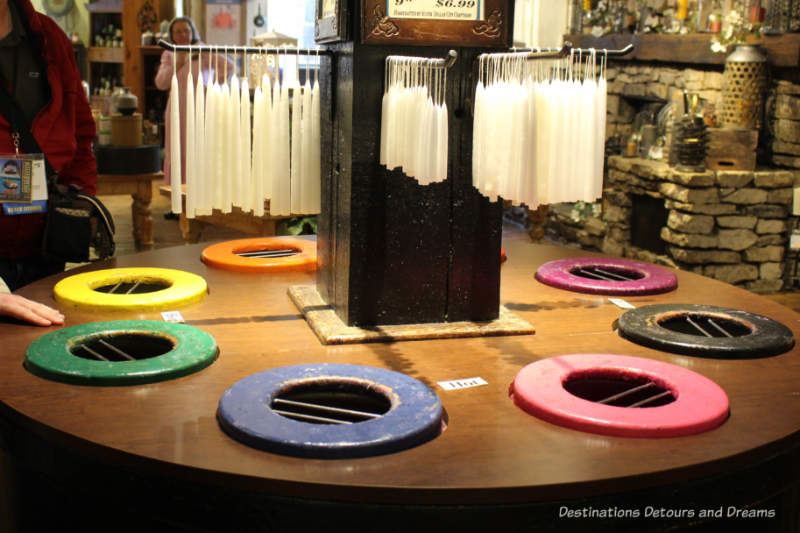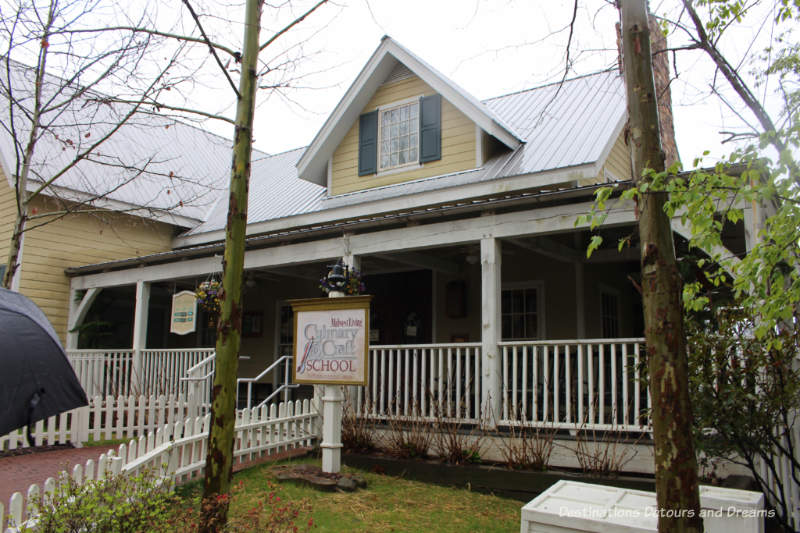 The Midwest Living Culinary & Craft School offers culinary classes using recipes from the test kitchens of Midwest Living magazine. They also hold special events and dinner classes. During our visit to Silver Dollar City, my husband attended a class given by Debbie Dance Uhrig. They learned to make almond cheesecake in a pressure cooker and a blueberry amaretto sauce to top the cheesecake. (Note: all craft demonstrations are included in the price of admission to Silver City, but there is an additional fee for culinary classes.)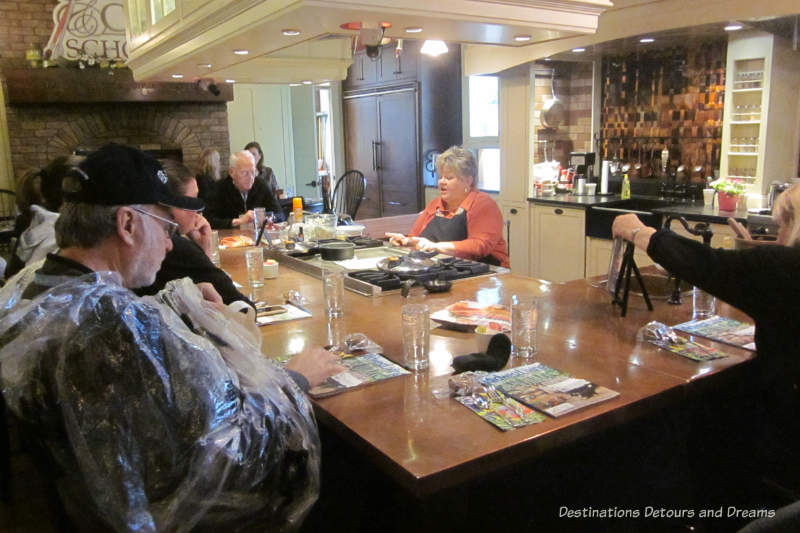 There are other food crafts at Silver Dollar City outside of the Culinary School.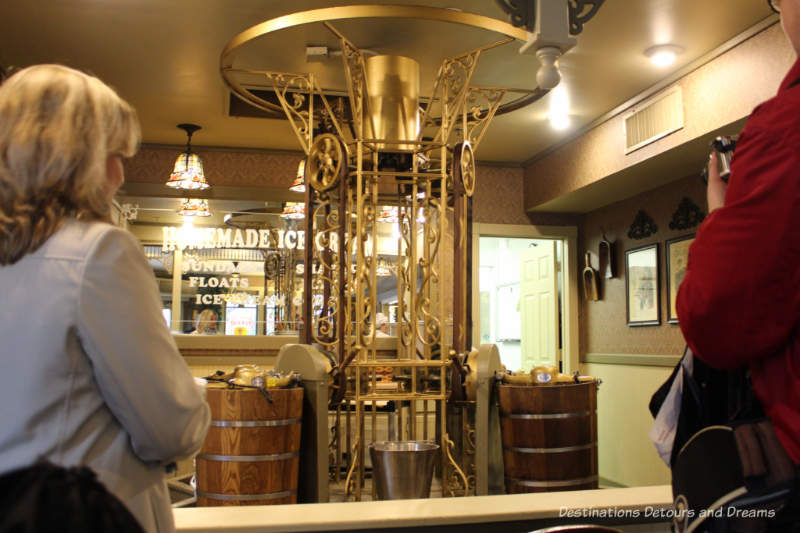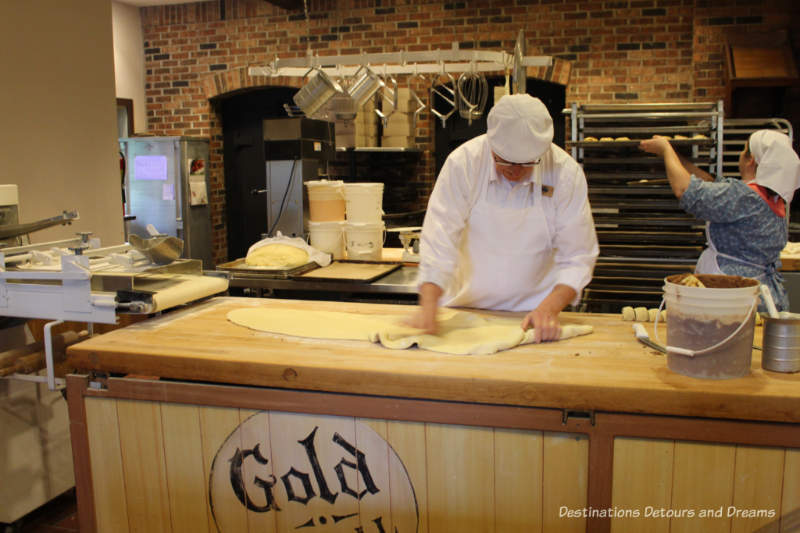 Silver Dollar City is open from mid-March to late-December. Hours vary by month and season. Check the schedule on their website. There are more artisans to see than I've featured. Others include a knife maker, a leatherworker, and a cut glass craftsman. It's fascinating to watch them work and learn about their crafts. It is also a delight to browse through the collections of their pieces in the shops. This would be a good place to buy that unique gift for someone special or to treat yourself.
For more information on Silver Dollar City read my post Silver Dollar City: Branson's 1880s Theme Park.
Never miss a story. Sign up for Destinations Detours and Dreams free monthly e-newsletter and receive behind-the-scenes information and sneak peaks ahead.
PIN IT