Silver Dollar City: Branson's 1880s Theme Park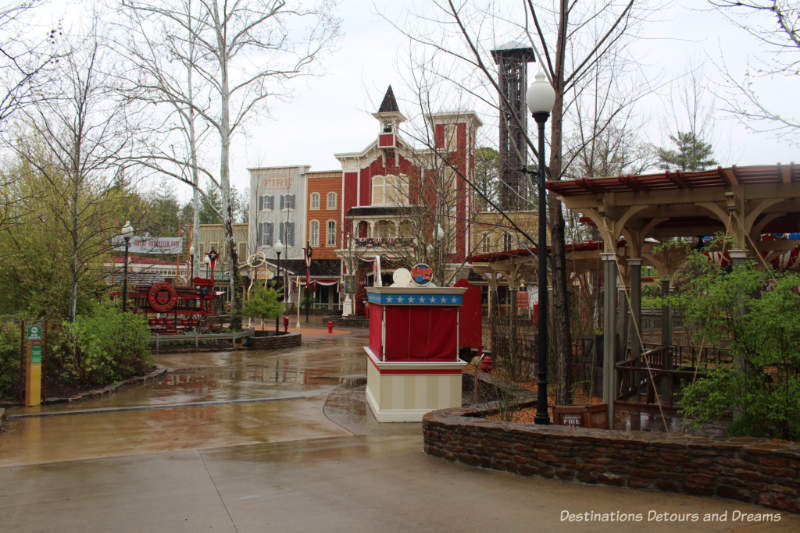 With the look and feel of an Ozarks mountain village, Silver Dollar City in Branson, Missouri offers amusement rides and attractions, historical buildings, heritage craft demonstrations and entertainment
The 1880s style theme park Silver Dollar City in Branson, Missouri is an amusement park, historical village, entertainment venue and heritage craft centre. I visited the theme park when I attended the 2018 North American Travel Journalists Association conference in Branson. An outing to Silver Dollar City was on the agenda. As you will likely notice in some of the photos in this post, it was a grey, rainy afternoon, but that didn't dampen my interest in this attraction that is both modern and old-fashioned.
History
Silver Dollar City developed around Marvel Cave, Branson's first tourist attraction. It was originally called Marble Cave because people believed its limestone walls were marble. A mining company was formed in the 1880s to mine the marble. A small town named Marmaros formed. However, there was no marble and the only thing mined was nitrogen-rich bat guano. By 1889, the mine had shut down and the town became a ghost town.
By this time word of the natural wonder of the cave had spread, thanks largely to a Scientific American magazine article in 1885. Canadian mining expert William Henry Lynch bought the cave. He and his daughters opened it to public tours in 1894.
In 1950, Chicagoans Hugo and Mary Herschend and their family took over the cave from the now-elderly Lynch sisters. They made improvements to make cave access easier. They then looked at what they could do above ground to create a pleasant area for waiting guests. In 1954, a visitor to the cave told them about the former town Marmaros, where he'd been born over eighty years before. The idea of recreating a 1880s mining town was born.
Silver Dollar City has grown and expanded over the years. Now encompassing over 100 acres, it is still owned and run by the Herschend family.
Historical Village
Silver Dollar City has the look and feel of an 1880s Ozarks mountain village.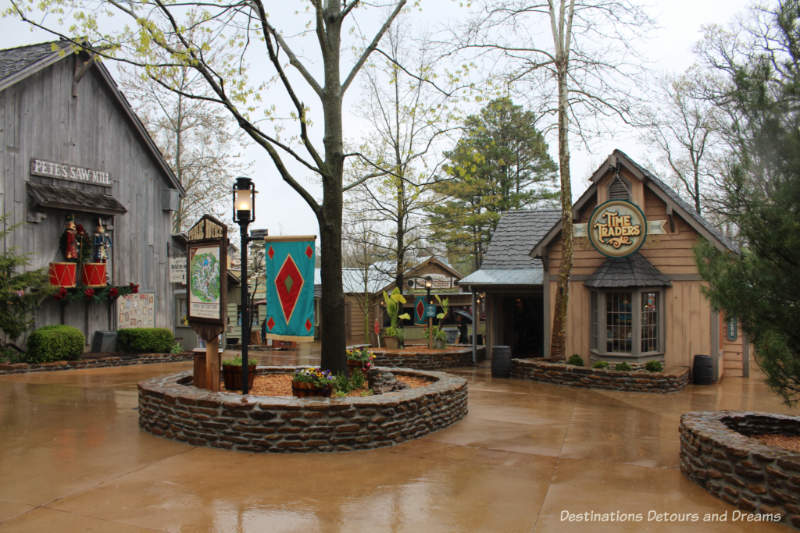 Mary Herschend was committed to authenticity and to preserving the natural beauty of the area, particularly trees. Historical buildings on site include a log cabin and a one-room school. Visitors get a sense of what life was like on an 1880s Ozark homestead inside McHaffie's Homestead. The hewn-log cabin was built in 1843 and moved and reassembled in Silver Dollar City in 1960.
The Wilderness Church is a log chapel built in 1849 on Bear Creek near Branson. It was dismantled and rebuilt in the park in 1960. Locating the chapel in the park was one of the few times a tree was cut down to make room for buildings. Mary allowed a giant sycamore tree to be chopped down only if it was hand carved into the church's pulpit. Sunday services are held in the church.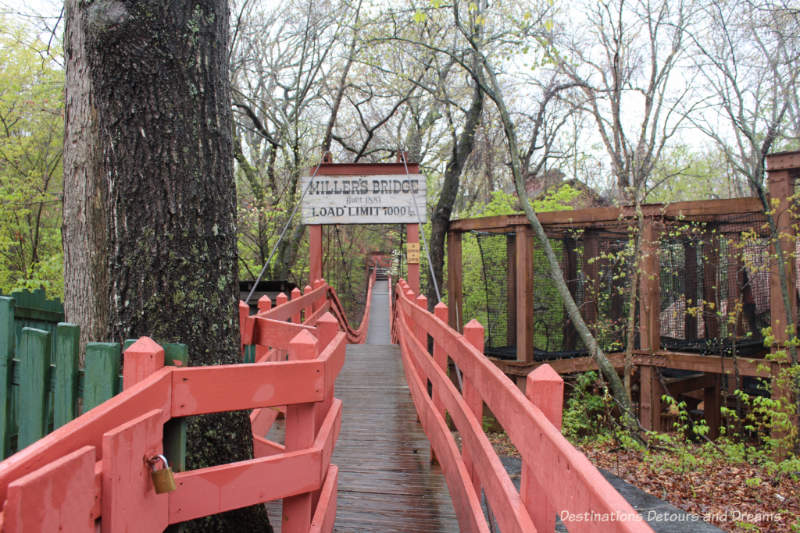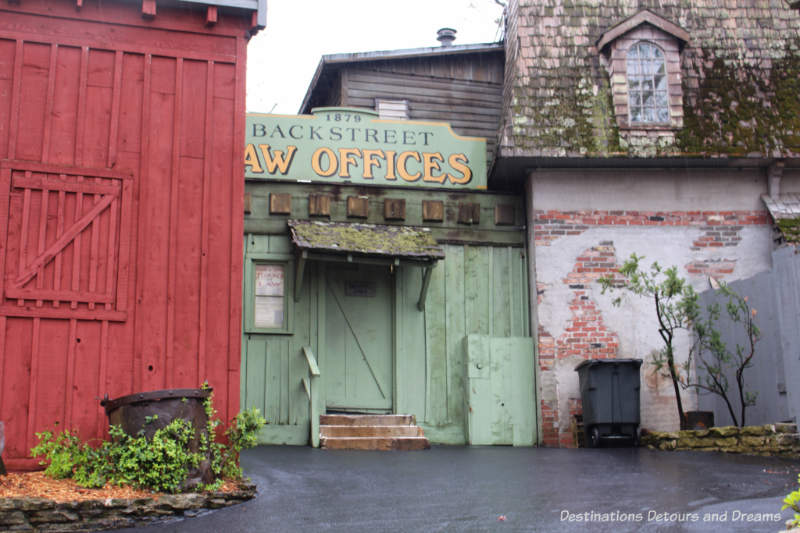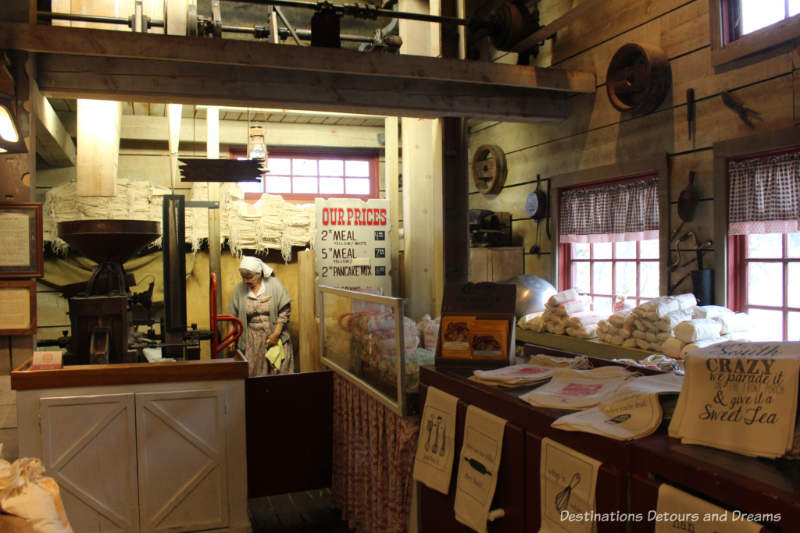 Amusement Park Rides and Attractions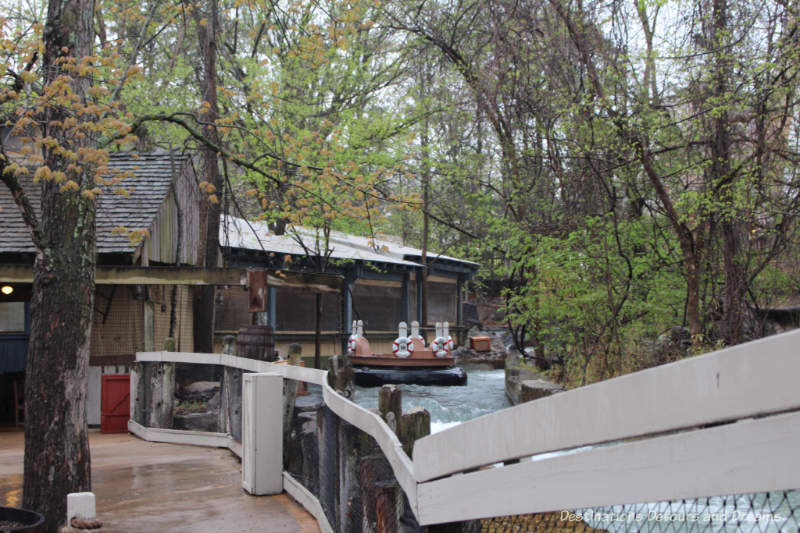 Silver Dollar City has over 20 amusement-park type rides, including swinging and carousel rides, a whitewater rapid ride, and a Spanish ship swaying on a pendulum. The rides use modern technology but are themed to keep an old-fashioned look. There is something for all ages, from a gentle gliding butterfly ride to a ride skyrocketing 8 storeys. Youngsters can play in the splash park. Entire families can wage an all-out water gun war. There is a fun house with slanted floors and mirrored walls. Goats, rabbits and a miniature horse live in the barnyard.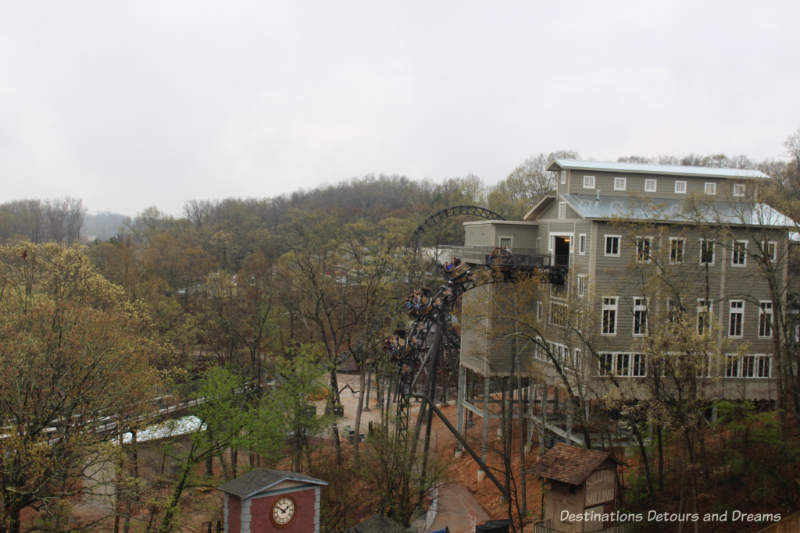 The newest addition is Time Traveler, the world's fastest, steepest, and tallest spinning coaster. Not only do the cars climb, loop, and drop along the track, they do a 360-degree spin as they travel making each ride a unique experience. I don't do roller coasters and I wasn't going to start with this ride. I watched others on the coaster and heard the screams and "omigods" as the cars did a 10-storey straight drop straight out of the station. Others in my group did ride the coaster. The thrills enticed some of them to ride more than once.
Tours into Marvel Cave are still available. The cave is a wet limestone cave with formations that are alive and growing.
The Home of American Craftsmanship
Silver Dollar City is home to over 100 resident craftsmen who demonstrate heritage crafts throughout the village. There are blacksmiths, glass blowers, potters, wood workers, candle makers, and candy makers. The U.S. Congress recognized Silver Dollar City's role in preserving these traditions by naming it "The Home of American Craftsmanship." There is also a culinary school offering cooking classes.
This is the aspect of the park that most interested me and where I focused my time. I've written a separate post about it. Read Finding Heritage Craftsmanship at a Missouri Theme Park.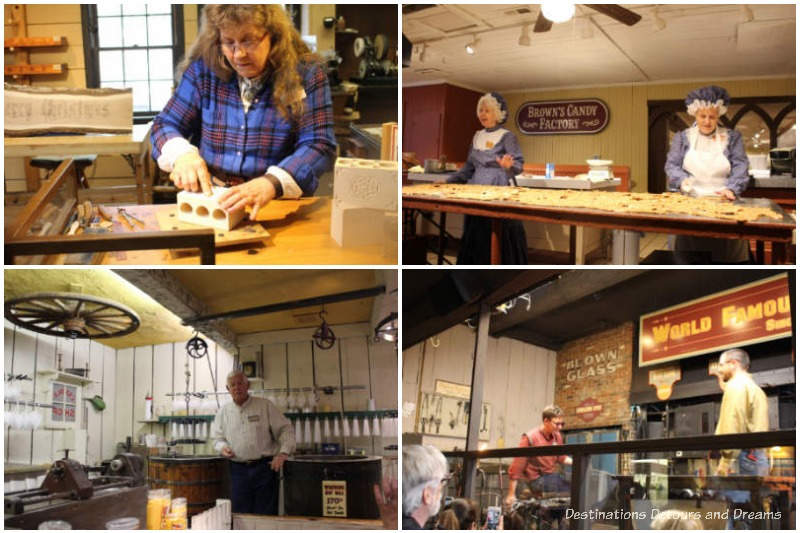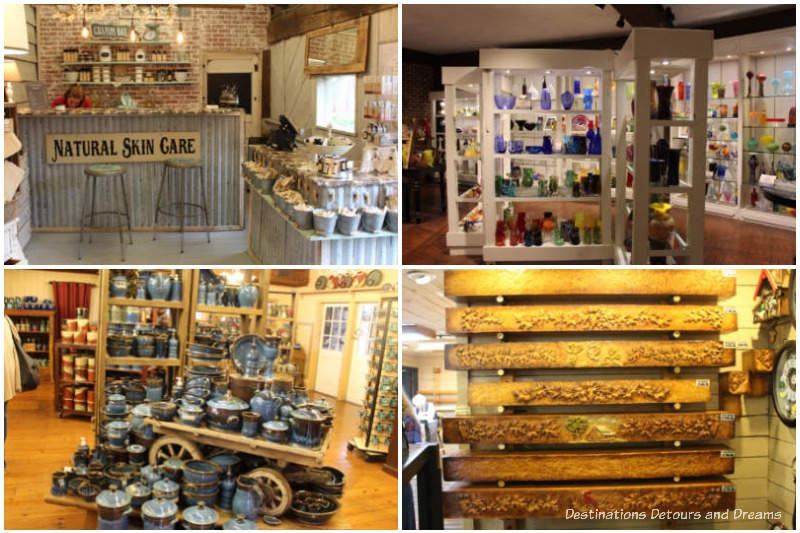 Entertainment
Entertainment which includes banjo picking, country, bluegrass and gospel music, and Wild West comedy can be found at various locations within the park. From mid-March to Mid-October, the amphitheatre stages evening variety shows, weather permitting. Festivals and special themed events bring visiting performers to the park.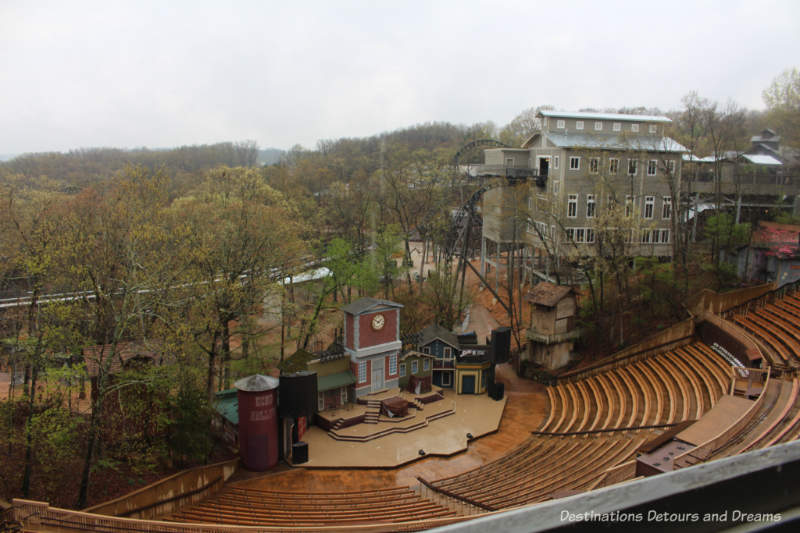 The Festival of Wonder was on when I visited Silver Dollar City. One of the acts brought in for that was the Earth Harp Collective and I had the chance to see an earth harp performance. The earth harp is the world's longest playable string instrument.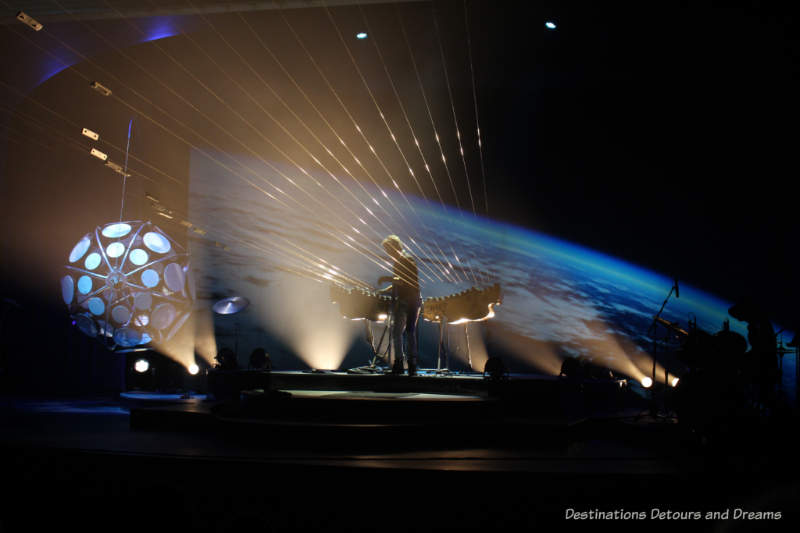 Visiting Silver Dollar City
There are plenty of opportunities to purchase food throughout the park, including homemade ice cream, breads and pastries from the bakery, snack food, and sit-down meals. Much of what is available would be classified as homestyle food. It includes things like succotash, skillet meals, kettle chips, funnel cakes, burgers, hot dogs, fry bread, pork rinds, fried chicken, pulled pork and baby back ribs.
Silver Dollar City is open from mid-March to late-December. Hours vary by season, usually opening at 9:30 or 10:00 am and closing at 6:00 or 7:00 pm. There are a few later evenings in summer. During the Christmas season (November, December) hours shift to a later opening at 1:00 pm and staying open until 9:00 or 10:00 pm to accommodate the Christmas lights. The park is generally open daily during the summer but may be closed Mondays and Tuesdays and the occasional other day other times of the year. Check the calendar on the website before planning your visit.
If you plan to go to Silver Dollar City more than once during your visit to Branson, purchase a season pass. A season pass is cheaper than two one-day admissions. All attractions and entertainment, with the exception of culinary classes and a special Lantern tour of Marvel Cave, are included in the price of admission. Regular Marvel Cave tours are included.
Pay attention to the various vintage signs on building fronts and sides throughout the park. Along with old advertisements, you'll find signs with employee names. Silver Dollar City employees get their own sign after working in the park for twenty-five years.
There was a lot to see and do at Silver Dollar City. There was much I didn't get a chance to see in just a few hours. I'd go back to see more of it and spend more time with the craftsmen. I might even consider going on a ride or two (but likely not the Time Traveler).
Never miss a story. Sign up for Destinations Detours and Dreams free monthly e-newsletter and receive behind-the-scenes information and sneak peaks ahead.
PIN IT