Strike It Rich: Alaska Gold and Oil History at Gold Dredge 8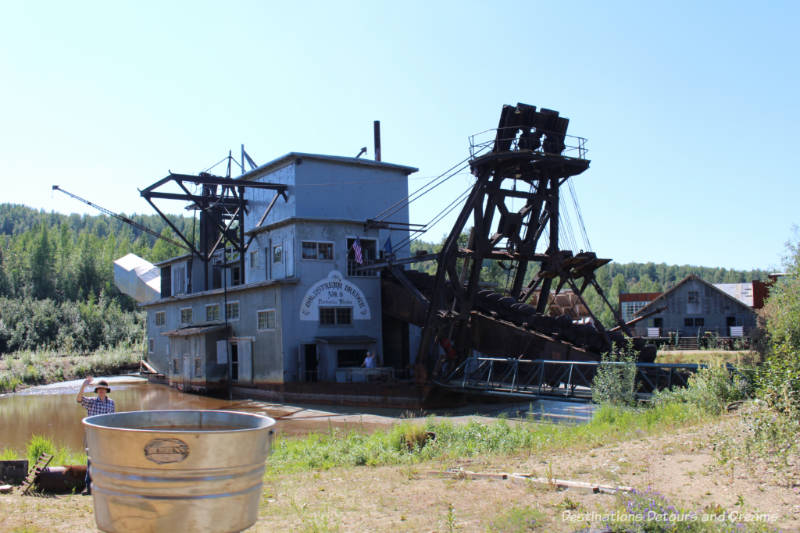 See the Alaska pipeline, discover gold mining history and pan for gold at Gold Dredge 8 in Fairbanks, Alaska
(Thanks to Explore Fairbanks for hosting my visit to Fairbanks. Opinions and observations, as always, are my own.)
Both gold and oil have played a significant role in the history of Fairbanks, Alaska. I learned more about that history as it came alive on the Gold Dredge 8 tour.
Pipeline
The Gold Dredge 8 experience began in a field under a portion of the Alaska pipeline running above ground. The Alaska pipeline was built between March 1975 and May 1977 to transport oil from Prudhoe Bay to Valdez, the northernmost ice-free port in North America. The pipeline runs for 800 miles of rugged and remote terrain. It crosses 3 mountain ranges and 34 major rivers. The pipeline is 48 inches in diameter.
Soil sampling done along the route during construction determined whether the section of pipeline in that area would be built above ground or underground in a more conventional manner. In areas of unstable soils, the pipeline was insulated and elevated. Aboveground sections follow a zig zag configuration to allow for expansion and contraction due to temperature changes and for movement during earthquakes.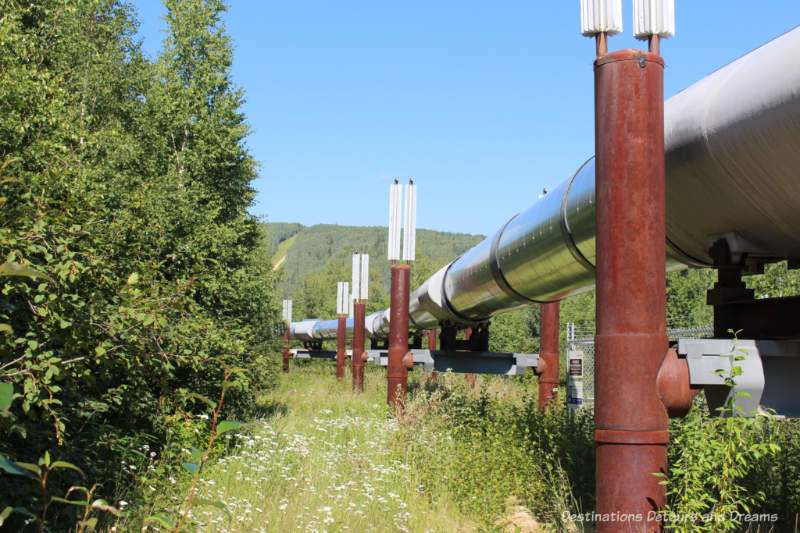 The building of the pipeline created a boom time in Fairbanks. The pipeline and its oil remain important to the economy of Fairbanks and to Alaska as a whole. The pipeline transformed Alaska from the most heavily-taxed state to the most tax-free state.
Tanana Valley Railroad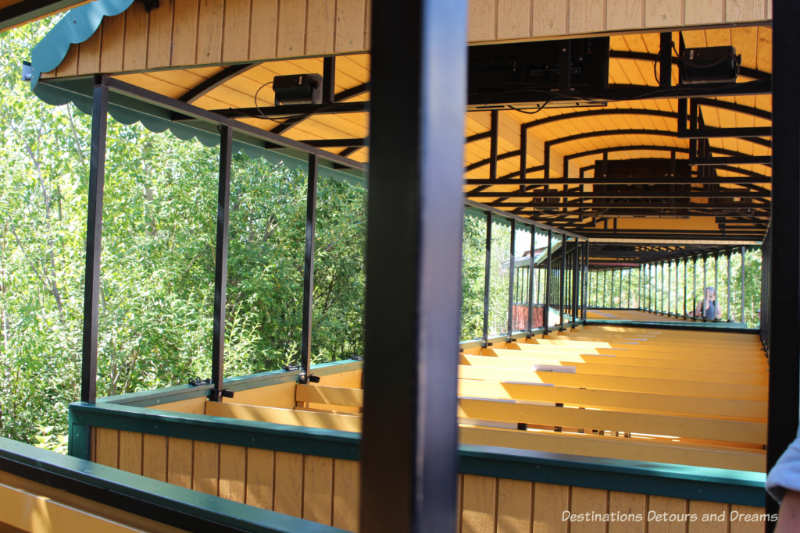 After learning about the pipeline, we boarded a replica of the narrow gauge Tanana Valley Railroad for a short ride to the dredge.
Gold Dredge 8
It was Gold Rush fever that created the city of Fairbanks. In 1902 Italian immigrant Felix Pedro found gold north of Fairbanks. Around the same time, E.T. Barnette set up at trading post on the banks of the Chena River at what is now Fairbanks.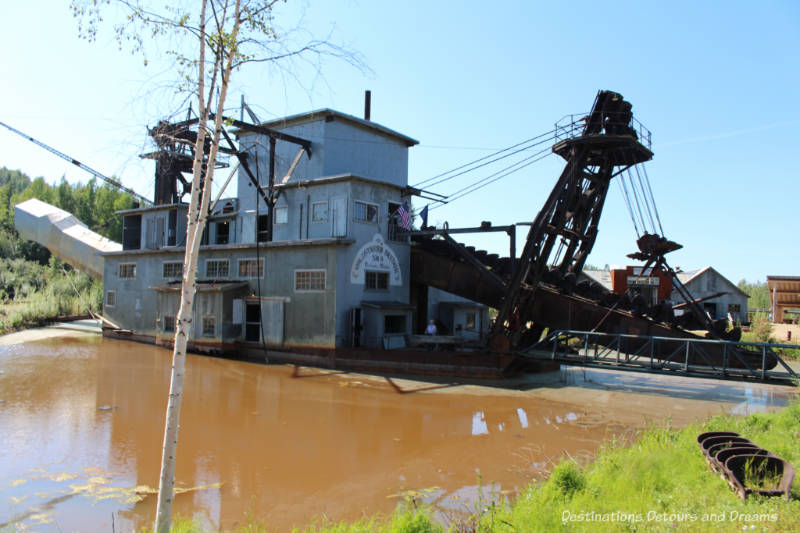 The train took us to Gold Dredge 8, where we learned a bit about that gold mining history. Gold Dredge 8 operated between 1928 and 1959. It is now a National Historic District.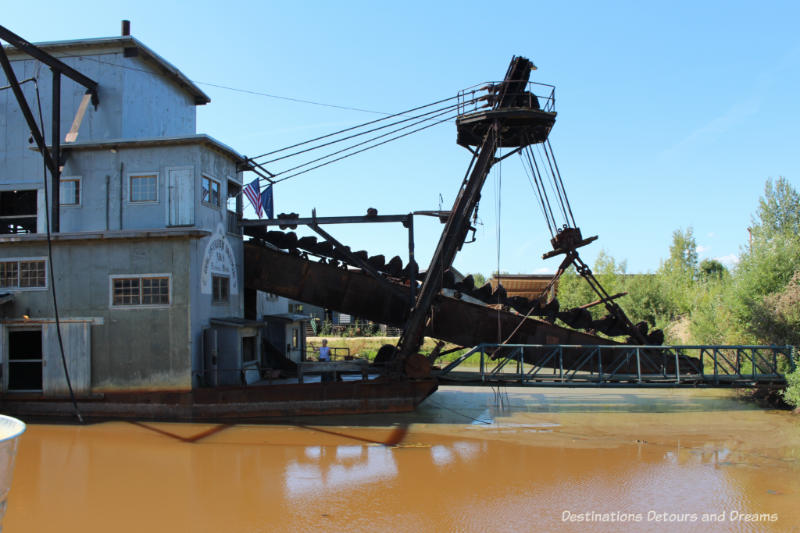 A dredge has been described as a mechanical gold pan. It is mining machine that uses a continuous line of heavy steel buckets (the "ladder") to scoop gold-bearing gravel from the bottom of a stream or man-made pond. The gravel was dumped onto screens and washed to separate the heavy gold from the waste rock.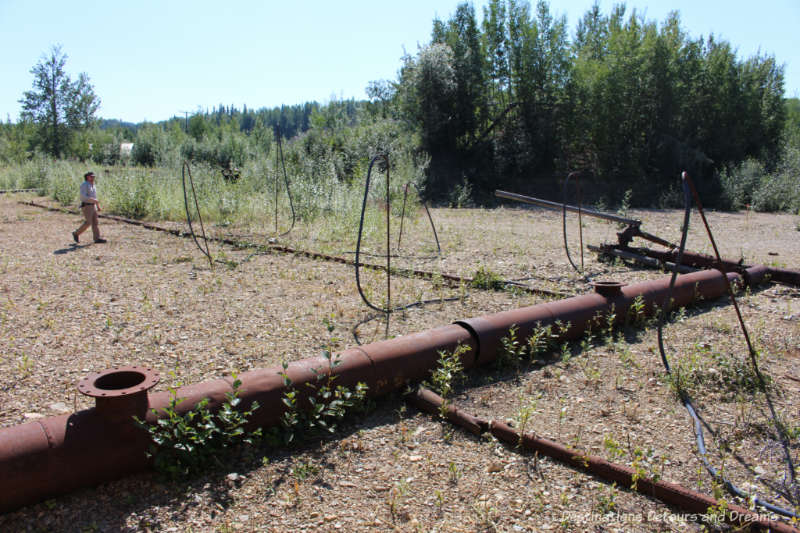 On our train ride to the dredge we passed a field of water pumping equipment where we learned about water being pumped from rivers and "shot" onto gold-bearing areas to create a pond for the dredge to work in. I'd seen a few of these water cannons in and around Fairbanks, as part of decorative landscaping or a historical marker. Now I understood what they were.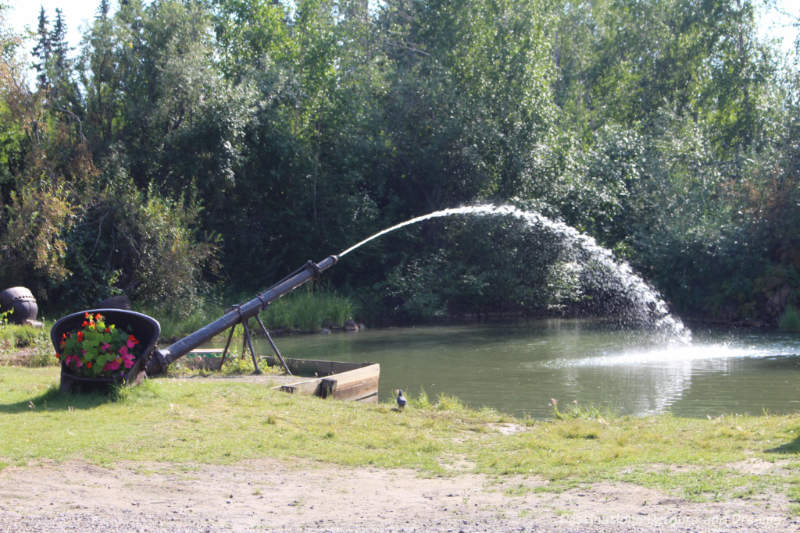 The U.S. closedown order on gold mining during World War II, high costs following the war and fixed gold prices led to a decline in gold mining around Fairbanks, but there is still "gold in them thar hills" and current operating gold mines.
Panning for Gold
At Gold Dredge 8 we had the opportunity to do our own panning for gold. The concept is the same concept used by the dredge machine. Gold in sand or soil will settle to the bottom because gold is heavy/dense, and dirt, sand and rock will wash away, leaving the gold behind. We added water, shook the pan, drained water and rock and sand away, and repeated.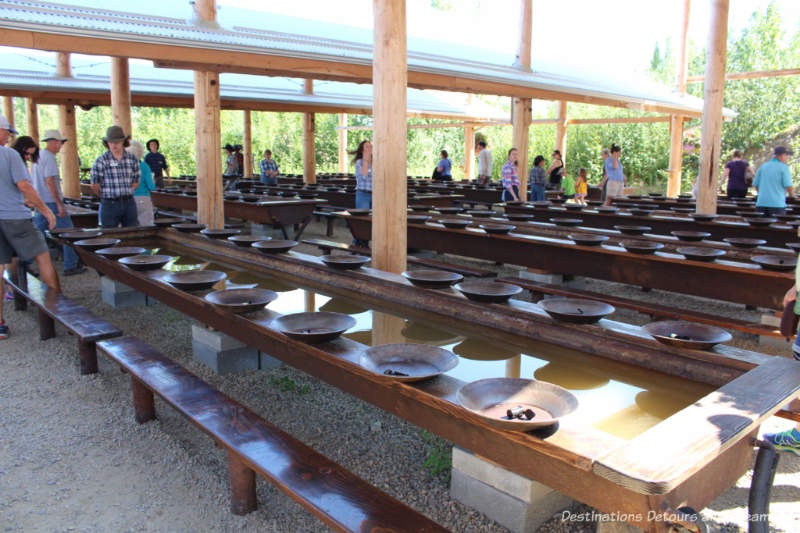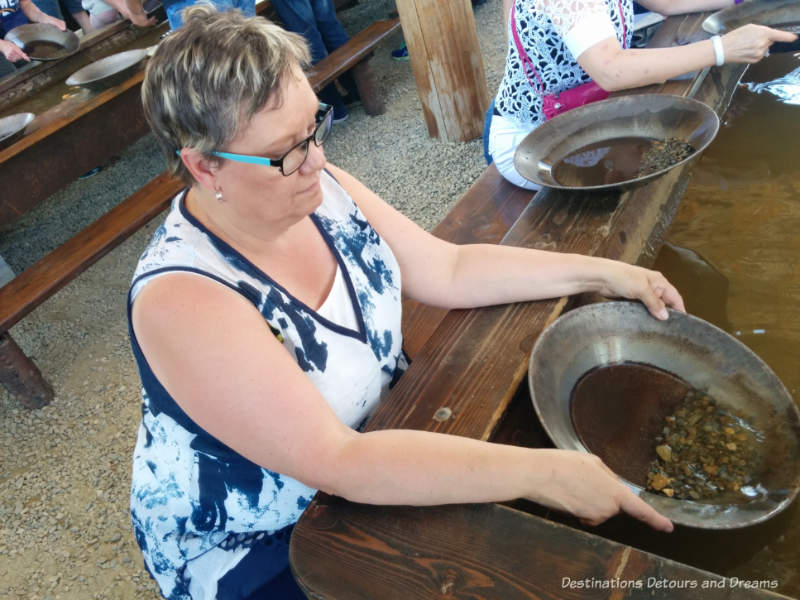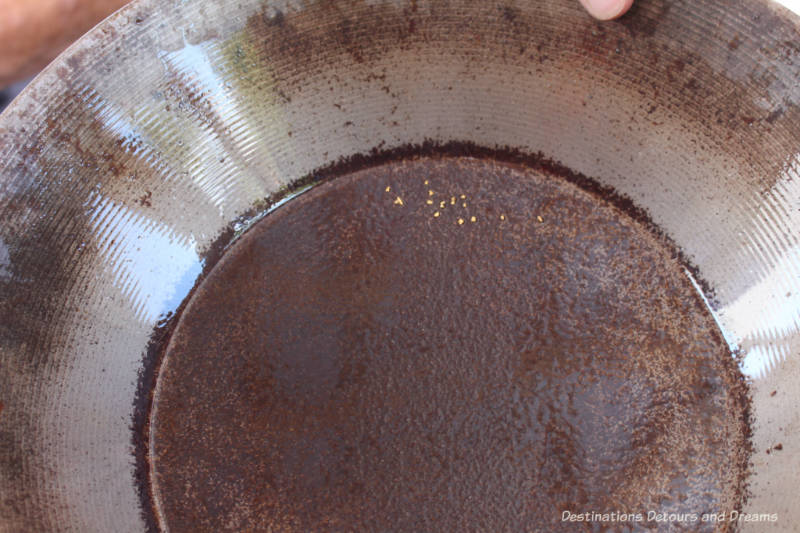 Everyone wound up with a few specs of gold dust. Staff weighed them to assess worth. Mine amounted to about $11 at current gold prices. We could purchase jewelry or magnets with insets for our gold dust. I just brought mine home inside the film container provided at the Dredge. I'm not sure what I will wind up doing with it.
Summary
I took the afternoon tour on a very hot day. There is little shade at the entrance area where we waited for the tour to start and where we learned about the pipeline, although there were umbrellas available. On such a hot day, the morning tour might be a better option. I learned some interesting things about the pipeline and gold mining, although some of the engineering details were lost on me. Gold panning turned out to be more fun than I had expected.
Gold Dredge 8 tours run twice-daily from early May to mid-September. The tour takes about 2 hours. It is operated by the Binkley family, who also operate the Riverboat Discovery.
Never miss a story. Sign up for Destinations Detours and Dreams free monthly e-newsletter and receive behind-the-scenes information and sneak peaks ahead.
PIN IT