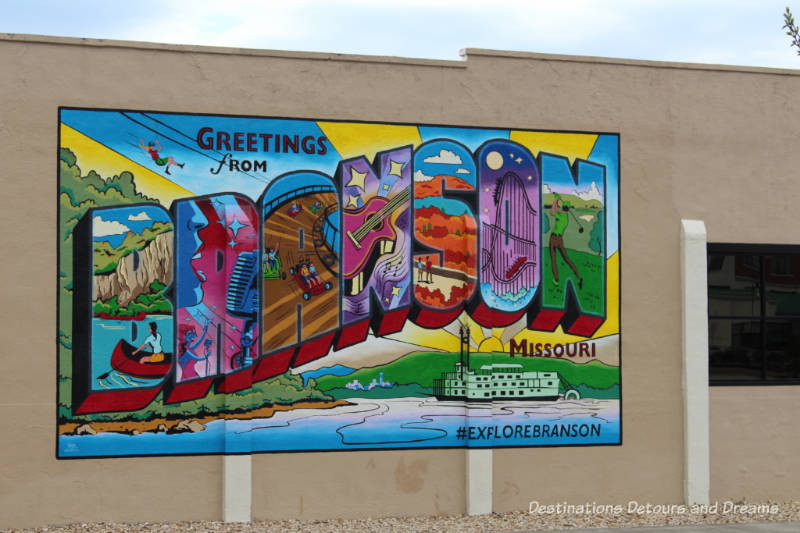 There is a lot more to do than attend shows in Branson, Missouri,
a friendly "small town" city in the scenic Ozarks
Branson, Missouri surprised me. Granted, I didn't know much about the city other than its reputation as a live show entertainment destination before I visited for the 2018 North American Travel Journalists Association conference. I discovered the shows but also much more.
So Much to Do in Branson
There is a lot to do Branson! Yes, there are the shows. Over 50 theatre venues with more theatre seats than on Broadway offer live music of various genres and eras, comedy, variety, and magic shows from 10:30 in the morning to 10:30 in the evening. But you can find plenty to do even if you never attend a single show.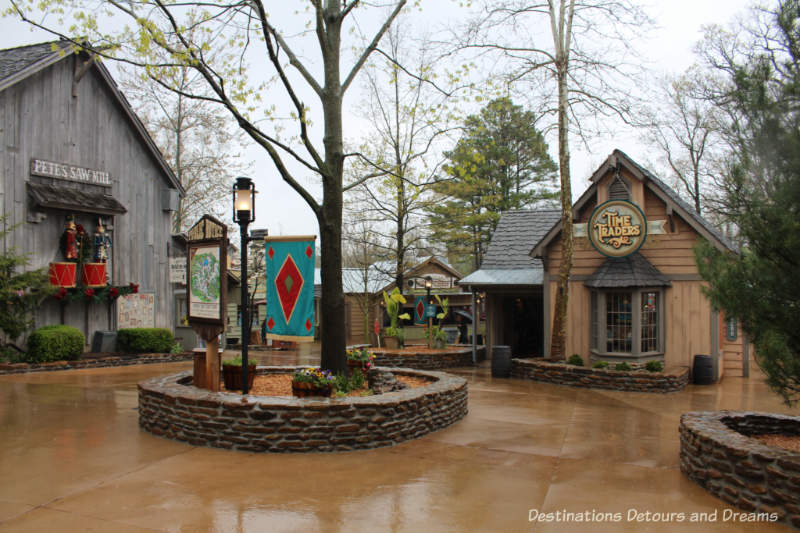 Silver Dollar City is a 1880s-style theme park featuring resident craftsmen demonstrating heritage crafts, shops, live shows, tours 300 feet below ground into wet limestone caves, and amusement park rides, including the new Time Traveler, the world's fastest, steepest and tallest spinning roller coaster.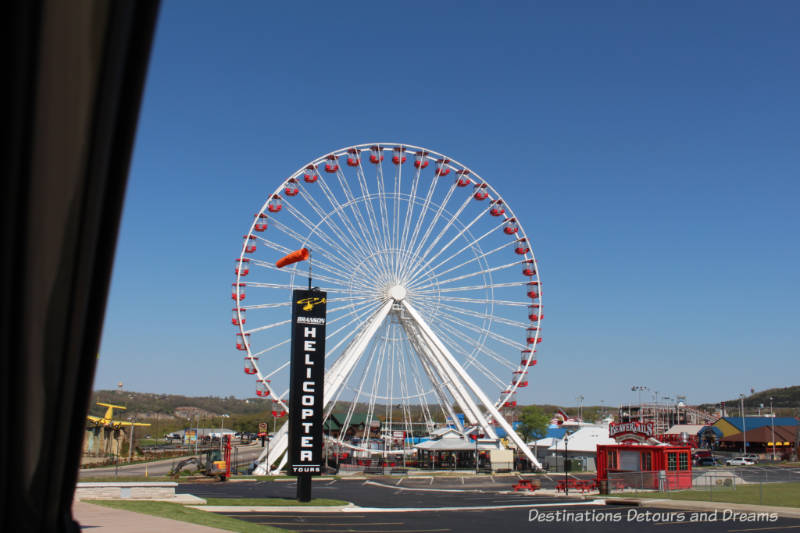 The Branson Strip, the section of Highway 76 where the majority of show venues are located, contains water and amusement parks, miniature golf venues, and the Branson Ferris Wheel. Here you'll also find several museums: the Hollywood Wax Museum, Ripley's Believe or Not Museum, a toy museum, and the Titanic Museum. The Ralph Foster Museum, located on the College of the Ozarks campus, contains a vast collection of historical artifacts and is known locally as the "Smithsonian of the Ozarks." Other museums in the area include a tractor museum, a fishing museum, a veteran's memorial museum, a BB gun museum, a dinosaur museum, and the Ancient Ozarks Natural History museum.
There are award-winning golf courses, fishing adventures, and water activities. Branson Landing is a modern boardwalk with shops and restaurants and a water fountain that hourly becomes a synchronized show of light, sound, music and fire. You can ride a golf cart through a cavern at Top of the Rock. A heritage railway offers 40-mile round trips into the scenic Ozark Mountains.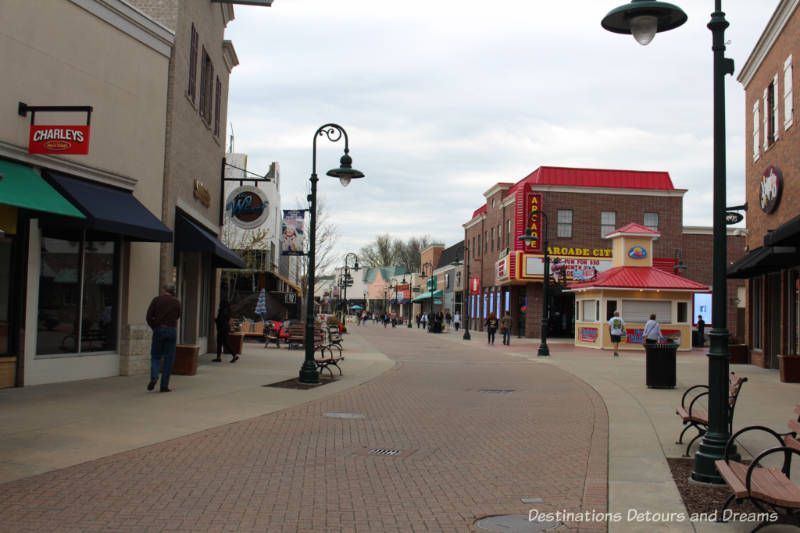 For more information about things to do in Branson, read More Than Shows: 11 Branson Adventures.
Scenic Setting
Branson is located in the White River Hills area of the Ozarks. The White River rises from the Boston Mountains in northwestern Arkansas and flows north into southern Missouri where it bends to flow southeasterly back into Arkansas and join the Arkansas River. Dams along the river have created the 22-mile-long Lake Taneycomo (short for Taney County Missouri). Lake Taneycomo borders downtown Branson. The waters are home to some of the best trout fishing in the United States. At the southwestern edges of Branson you'll find the larger Table Rock Lake, also created by a dam on the White River. Table Rock Lake is renowned for bass fishing.
The terrain around Branson is one of forested slopes, limestone cliffs, cedar glades, waterfalls, caves, streams, and springs. It was pretty when I visited in spring with new foliage in early stages. I'm told it is stunning in fall.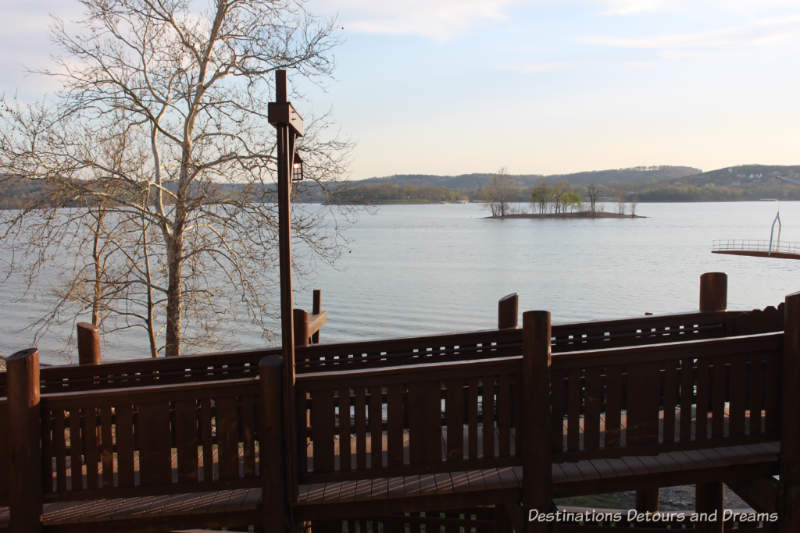 Small Town, Big Names
Although it welcomes 8 to 9 million visitors a year, Branson, with a population of only 12,000, retains the vibe of a small town, where casual attire is welcome everywhere.
As is the case in many small towns, you may keep running into the same people. On our first afternoon, we rode the free tram service through downtown. We saw the tram driver two days later when he was driving the bus for a conference outing and again on other outings. People know each and their stories. When tourism reps pointed out buildings and landmarks we drove past, they told us stories about the persons who owned the buildings or had a significant connection to the building, often telling us about the relationship of that person to themselves (perhaps a neighbour) or to other businesses and venues in town. It was the people, not the buildings themselves, that mattered.
People stop to talk to each other. A fellow conference attendee felt bad having to hurry back from her downtown stroll without buying cookies from the Girl Guide selling them at the local historical society museum. It wasn't the lack of a sale that felt like an offence; it was not having time to chat for a few minutes.
There are big names that have been associated with this small city, like Roy Clark who was the first celebrity to put on a show in Branson and Andy Williams who was the first non-country star to build a theatre in Branson. But perhaps the biggest names are local, non-performers.
One of these is the Herschend Family. Herschend Family Entertainment is considered the largest family-owned themed attractions corporation in the United States. In Branson, they own Silver Dollar City, White Water outdoor water park, Talking Rocks Cavern, Dolly Parton's Stampede dinner show attraction, Showboat Branson Belle, and Silver Dollar City's Wilderness Log Cabins, RVs & Camping. The first tourist attraction in Branson was Marble Cave, a cave with limestone walls discovered by geologists in the 1860s. In 1894 Canadian mining expert William Henry Lynch purchased the cave and he and his two daughters opened the cave to the public. In 1949 Chicagoans Hugo and Mary Herschend bought the cave from the now-elderly Lynch sisters and began holding square dances in it. They opened Silver Dollar City, built around the cave, in 1960 and continued to expand it over the years.
The other name which kept coming up during my time in Branson was Johnny Morris, founder of Bass Pro Shops which started in nearby Springfield. Morris has had a significant impact on Branson's tourism industry. He owns Big Cedar Lodge, an elegant wilderness resort with restaurants, a spa, meeting spaces, land and water adventures, golf courses and cottages and cabins. He acquired the first parcels of land that are now Dogwood Canyon Nature Park, a 10,000 acre natural preserve with hiking, biking, fishing, tram tours and cabins for rent. His most recent venture is Top of the Rock, which sits at the highest point in Taney County. Top of the Rock offers a variety of recreational opportunities and attractions, including Lost Canyon Cave and Nature Trail, Ancient Ozarks Natural History Museum, several dining options, a wedding chapel, a Jack Nicklaus Signature golf course, an Arnold Palmer-designed practice facility, and a championship golf course designed by architect Tom Fazio.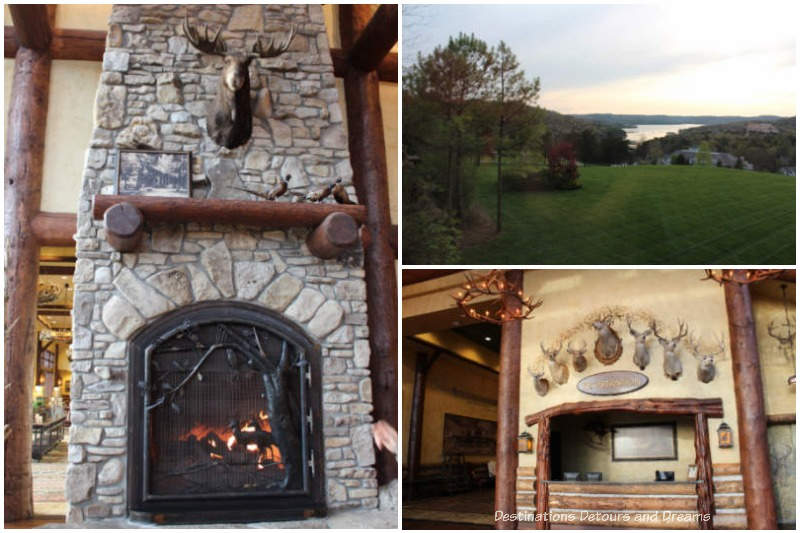 Is It Staged or Real?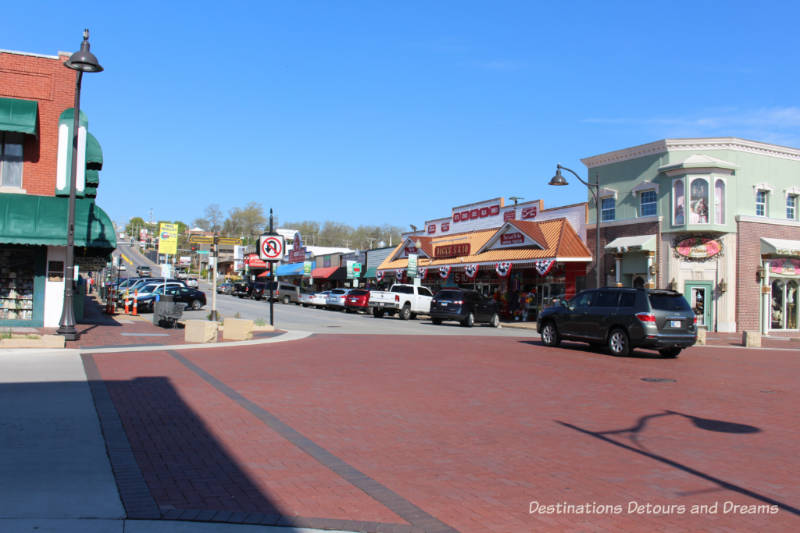 If you take away the vehicles angle-parked on wide streets in historic downtown Branson, you might think you've stepped into another era. Many of the buildings date to the early 1900s. Nostalgia reigns at Dick's 5 & 10 store where you'll find 1,500 square feet of old-time candy, vintage toys, household goods, souvenirs, retro items, toiletries, crafts, and novelty items. The store has been owned and operated by the Hartley family since 1961.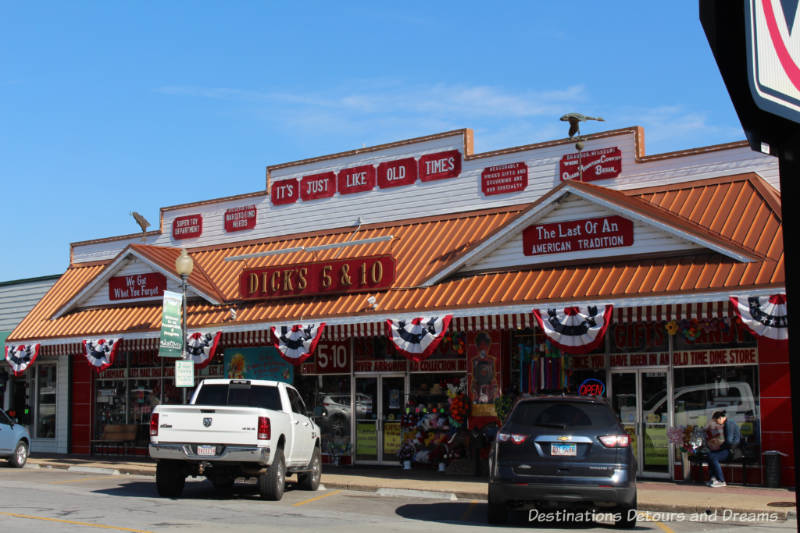 When I walked through downtown's clean streets with its well-maintained building facades, I felt as if I might be on a movie set. But the few blocks of downtown are not a made-up story. Although tourism may be a factor in keeping the buildings pretty, real-life happens here. The businesses, stores and restaurants serve locals as well as visitors.
The sense of the staged blended with the authentic struck me at other times in Branson. The Branson Strip is like one long amusement park. Other parts of the city felt like genuine small-town Middle America.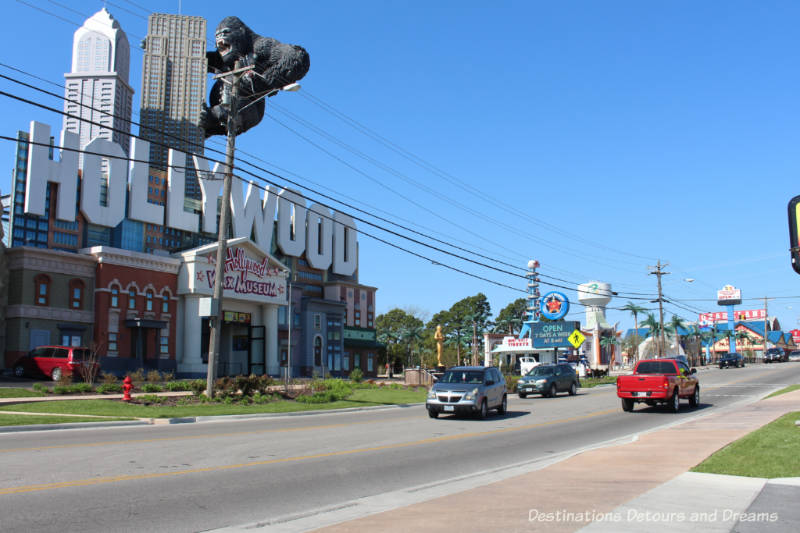 Hospitality
The distinctive Ozarks accent and the greetings of "How y'all doin'?" may have contributed to my feeling of entering a stage set. I knew this accent only from television shows, where it belonged to hillbillies and simple people in spoofs. Here the accent was no exaggerated put-on, it was as real and genuine as the hospitality of the people behind the voices.
The man at the ticket outlet who sold a show ticket to my husband spent half an hour talking with my husband about Branson, its history, and things to do in the area. A group of Australian quilters sat in front of us when we went to the dinner show on the Showboat Branson Belle. One of them talked to us at intermission. The ladies were touring the area after attending a quilt show in another city. The woman who talked to us expressed surprise at the way people greeted them and came out of shops into the streets to see them, not necessarily to try to sell them something, just to talk to them.
Friendliness and hospitality are one of the things I will remember most about Branson.
Family, Faith, Freedom and Flag
I'd noticed something else about the nature of Branson that I wasn't quite sure how to describe until the tourism rep driving a group of us on a post-conference tour did it for me. "Branson is all about family, faith, freedom, and flag," she said.
All of the shows are family-friendly. Not all may appeal to every age group in your family—your teens may roll their eyes at a show featuring older music—but you won't find anything inappropriate for young children in the shows, and, with the variety of shows available, you'll likely find shows to interest all ages in your family. The majority of show venues do not serve alcohol.
Among the numerous show options, you will find several with Christian religious themes, either spectacular stage dramas based on Bible stories or gospel musical entertainment. Don't be surprised to hear a gospel number included in the repertoire of other musical variety shows.
Branson salutes veterans and active duty armed forces year-round. It works with veterans groups to present events and hosts America's largest Veterans Homecoming celebration each November. Every show includes recognition of veterans and armed forces, either via a musical number incorporated into the show or an announcement at the start or around intermission. We attended the show Million Dollar Quartet, which is one of the few exceptions. I was told the reason there was no recognition of vets at that show was because the licensing terms of bringing this show into Branson stipulated no changes of any kind to its script and format.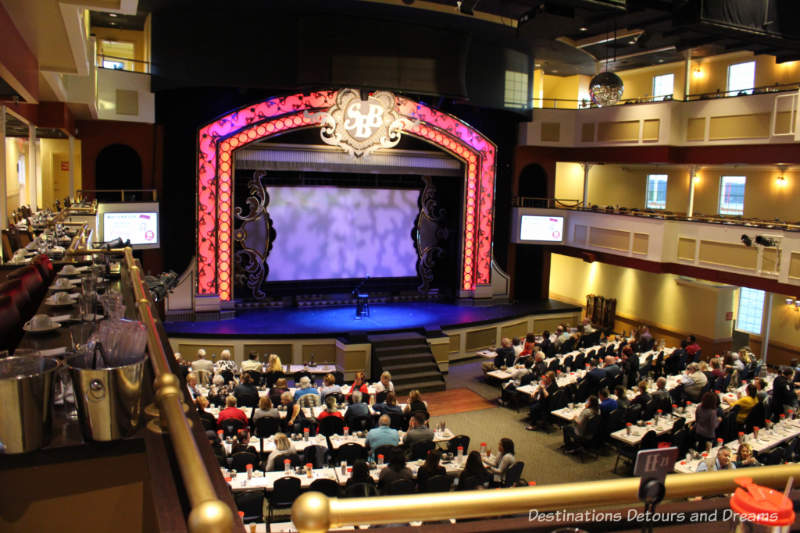 Branson is unabashedly patriotic. I was a bit taken aback at my first encounter with this. The dinner show of music, comedy and magic on the Showboat Branson Belle ended with a gospel number, a couple of numbers honouring fighting forces and veterans, and finally with the song God Bless America. As a Canadian I felt a bit excluded, as if the entertainment was meant for people other than me. It dampened the uplifted feeling left by the fast-paced, rousing, and hysterical tribute to movie songs performed just prior to the intermission.
As I experienced more of Branson, I began to view this a little differently, largely because of the friendliness and genuineness of the people I met. Pride in their Ozark heritage, local area, and America are just part of who they are. They don't pretend to be something other than what they are when they welcome visitors into their midst.
Yes, Branson surprised me – and made me want to make return visits. For my recommendations for what to do in Branson, see my posts Ten Things To Do In Branson, Missouri.
Never miss a story. Sign up for Destinations Detours and Dreams free monthly e-newsletter and receive behind-the-scenes information and sneak peaks ahead.
PIN IT