Ten Things To Do In Branson, Missouri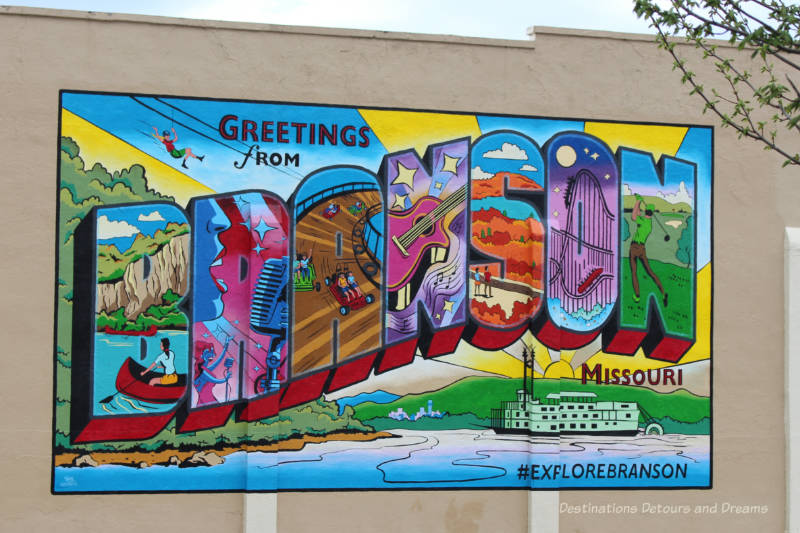 Top things to see and do in Branson, Missouri
Branson, nestled in the Ozarks foothills of southwestern Missouri, has long been a popular vacation destination. Well-known for its collection of entertainment theatres, there is a lot to do in Branson beyond going to a show. There are amusement parks, shopping centres, museums, and a raft of natural attractions in the surrounding scenic landscape of lakes, forested slopes, limestone cliffs, waterfalls, caves, streams, and springs.
The city of about 12,000 people was named after Rueben Branson, the postmaster and proprietor of the area's general store in the late 19th century. It welcomes eight to nine million visitors a year, yet it has retained the vibe of a small town in many ways. People are friendly and welcoming and take time to talk. A sincere "How y'all doing?" in a distinctive Ozark accent starts many a conversation.
A tourism representation I dealt with described Branson as being "all about family, faith, freedom, and the flag." Branson is a family-oriented vacation destination. In among the many shows, you'll find several with Christian themes. It's not unusual for other musical variety shows to include at least one gospel song. You'll also find special recognition made at shows for active duty and veteran armed forces personnel. Branson hosts America's largest Veterans Homecoming celebration each November.
Branson surprised me when I visited. I hadn't expected there to be as much to see and do as there was. You can read about my impressions in Surprised By Branson.
June through August are peak tourist season months for Branson. In November and December, the entire town gets into the holiday spirit and many people consider this the best time to visit. The months of April, May, September, and October are shoulder seasons and may be good options for people wanting to avoid the crowds. The months of January, February, and March are considered off-season. Many attractions are closed in the chilly winter weather as are many shows.
Branson has sometimes been described as "family-friendly Las Vegas." I think that only partially describes Branson. The natural setting also offers outdoor adventure and a "summer at the lake" feeling. Here are my ideas for what to do in Branson.
1. Shows
Branson is known as the Live Entertainment Capital of the World. More than 100 live shows run morning, afternoon, and evening. They feature music of varying genres: country, gospel, pop, rock 'n' roll, big band, swing, bluegrass, jazz, and more. You'll also find comedy, illusionists, and acrobats. Variety and tribute shows reign supreme here. The popular Dolly Parton's Stampede provides dinner alongside live horse riding, music, and comedy. The Sight and Sound Theatre brings Bible stories to life with state-of-the-art technology, a panoramic stage, and the ability to house sets four stories tall.
Shows are family-friendly. Most theatres do not serve alcohol. Families also feature prominently on the stage. Several families have been mainstays of Branson's entertainment scene for years: the Presley's of Presley's Country Jubilee, the Haygoods, the Mabe family of Branson's Favourite Baldknobbers, and the Duttons.
In 1907 Christian minister Harold Bell Wright published his novel about the Ozarks, The Shepherd of the Hills. It became an international best seller and established Branson and Southwest Missouri as a tourist destination. The Shepherd of the Hills Outdoor Drama reenacts the novel with over 90 actors and actresses, horses, sheep, mules, and donkeys. The homestead of John and Anna Ross, where Wright frequently camped, is now the site of Shepherd of the Hills, which features an adventure park with ziplining and roller coasters, a viewing tower, a restored cabin, and a farm and playland in addition to the outdoor drama.
For more information, read the article I wrote for Travel Awaits: 7 Key Things to Know About Branson Shows. Visit the Explore Branson website for a complete listing of shows.
2. Amusements Along The Branson Strip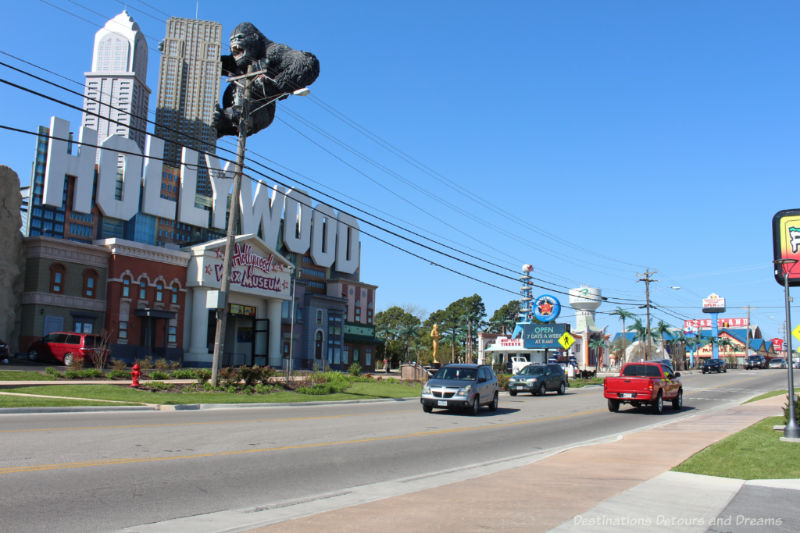 Branson Strip, a three-mile section of Highway 76 running through town, glows with neon lights that give it a bit of nostalgic feel. Many theatres are located along this strip. There are numerous other amusements that seem to turn the whole strip into its own amusement park. You'll find mini-golf, go-kart tracks, water parks, theme park rides, arcades, laser games, and eateries.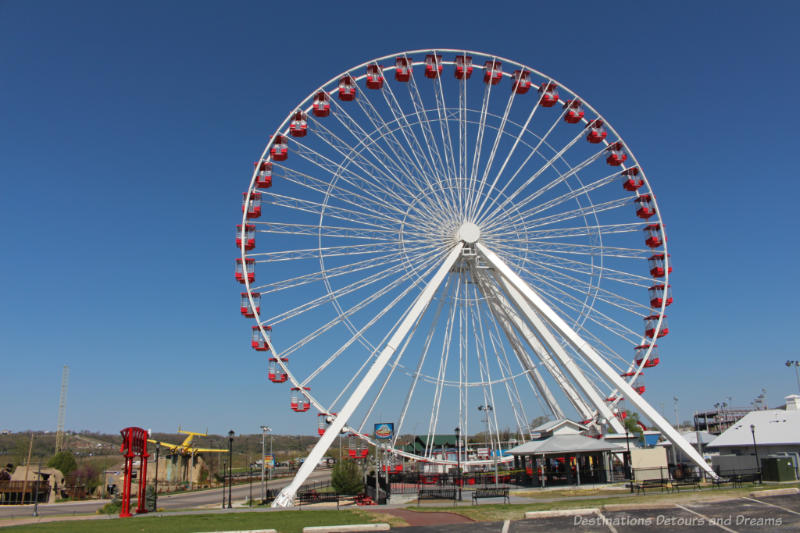 The Strip is home to the 150-foot-tall Branson Ferris Wheels, which offers great views of the Strip and the Ozarks. Weather permitting, the wheel is lit up each evening with a Music and Lights Spectacular.
See the Explore Branson website for information on all the attractions along the east end of the Branson Strip and the attractions along the west end of the Branson Strip.
3. Historic Downtown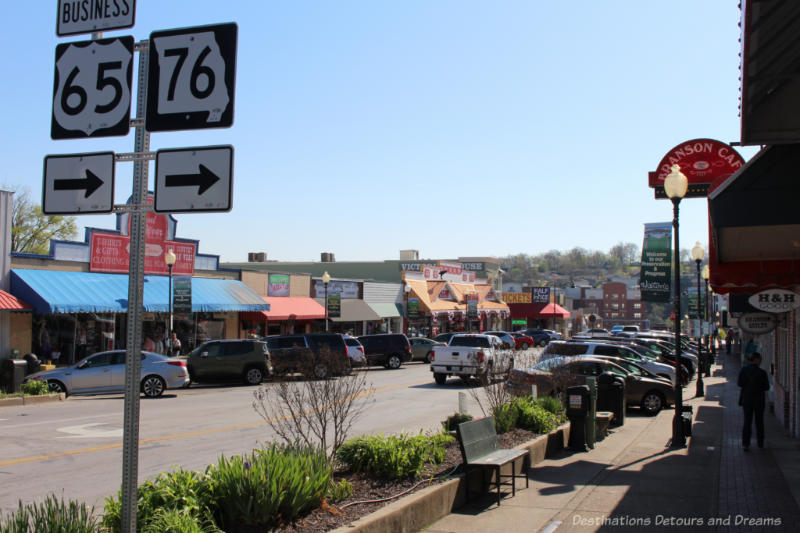 Branson's historic downtown feels like stepping back in time or onto a movie set featuring small-town America from an earlier era. The restored buildings dating to the early 1900s, Victoria lampposts, and wide streets with angled parking are a sharp contrast to the glitz of the Branson strip. It is a compact area of several blocks that is easily walked. You'll find unique shops, old-time eateries, and other restaurants.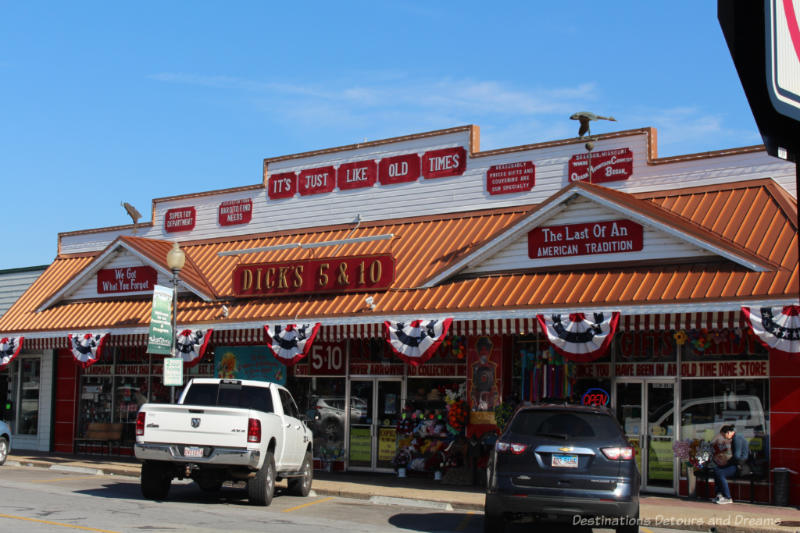 Be sure to visit Dick's 5 & 10, a nostalgic 5 & dime store that has been owned and operated by the Hartley family since 1961. Its 1,500 square feet of space is a throwback to the days of the 5 & dime stores. You'll find old-time candy, vintage toys, historic collections, household goods and décor, gifts, souvenirs, clothing, and novelty items. Look up to see the trains running overhead.
The Branson Centennial Museum is located in the historic downtown. The small museum features the historic timeline of Branson and a Music Show timeline of stars and entertainers who have or are performing in Branson. Its gift shop has the largest selection of local books in the county. Admission is free. Donations are welcomed.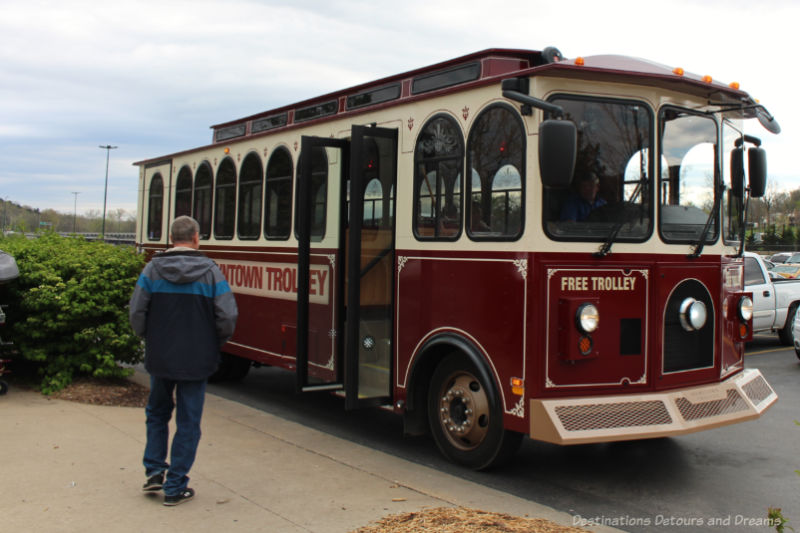 A free trolley runs through downtown. You can hop on and off at any of its 12 stops, including one at Branson Landing.
4. Branson Landing
Situated next to historic downtown Branson along the Lake Taneycomo waterfront, Branson Landing is a combination of a town square, modern boardwalk, and open-air shopping centre. Between the Belk department store on the north end and Bass Pro Shops on the south end, the sidewalls of Branson Landing are lined with stores offering clothing, accessories, gifts, home décor, and specialty items. You'll find many of your favourite brands.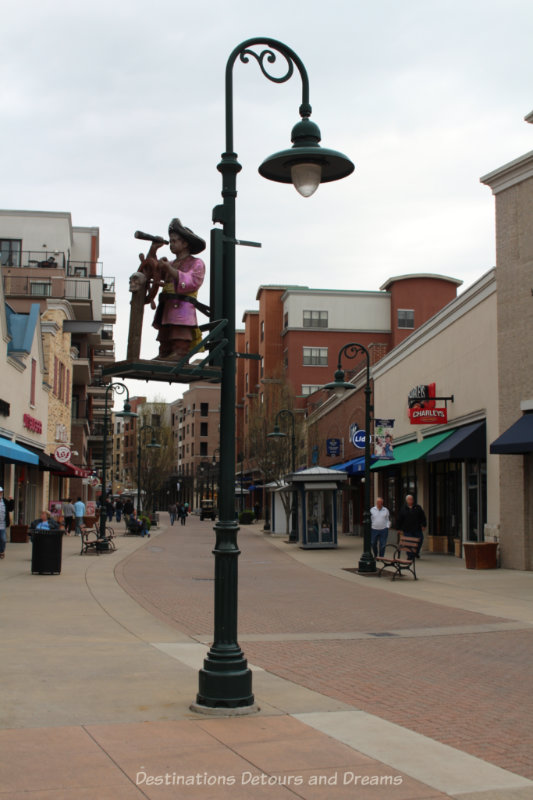 At Branson Landing, you'll also find rides, games, arcades, and axe-throwing. Branson Landing is also full of places to grab a meal or snack, many with outdoor patios overlooking the lake or Branson Landing Fountains.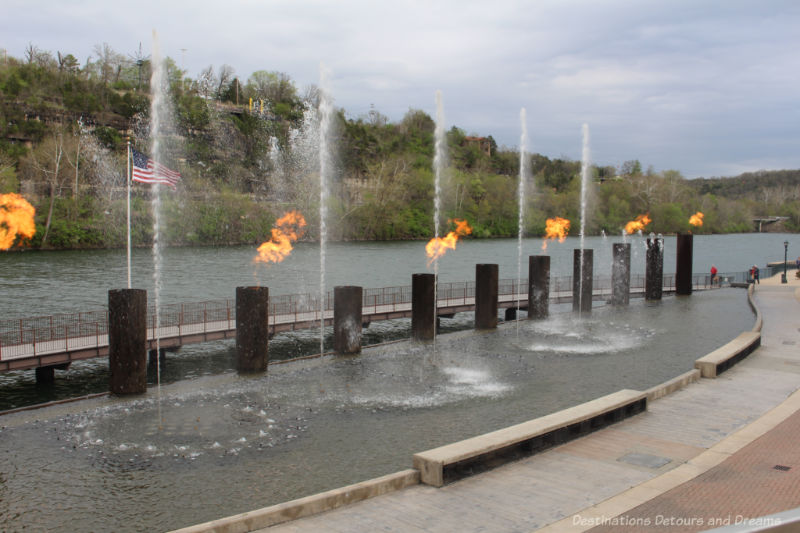 Branson Landing Fountains are located in the heart of Branson Landing's Town Square. In an hourly spectacular show, the fountains shoot 120-foot geysers with fire cannons blasting, all choreographed to light and music. The shows begin daily at noon. Check the schedule here.
5. Silver Dollar City
Silver Dollar City is among the top-rated theme parks in the United States. It is an amusement park, historical village, entertainment venue, and heritage craft centre, all in one location. The 1880s-style theme park had the look and feel of an Ozark mountain village.
Silver Dollar City developed around the site of Marvel Cave, a wet limestone cave that became Branson's first tourist attraction in 1894. Creation of the current Silver Dollar City began in the 1950s with expansion and additions over the years. Underground tours of Marvel Cave remain one of the attractions, but they are numerous other attractions as well. The park contains amusement rides for all ages. The Time Traveler, the world's fastest, steepest, and tallest spinning roller coaster, features three inversions including a 95-foot-tall vertical loop.
There are a number of historical buildings on site, including an 1843 log cabin, and 1849 church, and a one-room schoolhouse. Resident craftsmen and craftswomen demonstrate heritage crafts from woodworking to glass blowing to pottery to blacksmithing to candy making. The craft demonstrations were a highlight of my visit. The goods created by the artisans purchased at gift stores throughout the park. A master culinary craftsman conducts cooking classes.
Silver Dollar City is also an entertainment venue. Musicians, magicians, and comedians perform in various locations in the park. Festivals and special themed events occur throughout the year.
For those who remember the 1960s television show The Beverly Hillibillies, you may be interested to learn that five episodes of the eighth season were filmed at Silver Dollar City.
There are also a variety of eateries in the park. Silver Dollar City is open from mid-March to late-December with specific hours varying by season. Note that if you plan to spend more than one day in the park, a season ticket is a cheaper option than individual day admissions. I've written more about Silver Dollar City in the posts Silver Dollar City: Branson's 1880s Theme Park and Finding Heritage Craftsmanship at a Missouri Theme Park.
6. Showboat Branson Belle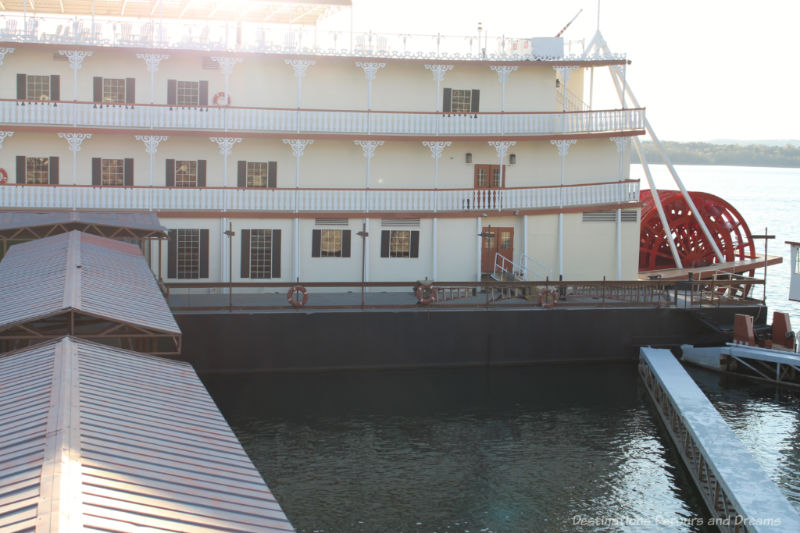 The Showboat Branson Belle is a riverboat that offers lunch and dinner cruises on Table Rock Lake. As you cruise, you are served lunch or dinner at long tables and entertained with a show of music, comedy, and magic. There are some windows along the side of theatre and you will have a couple of opportunities before the show and during intermission to get out on deck to view the lake and surrounding scenery, this is not a sightseeing cruise. The meal and the show will take most of your attention.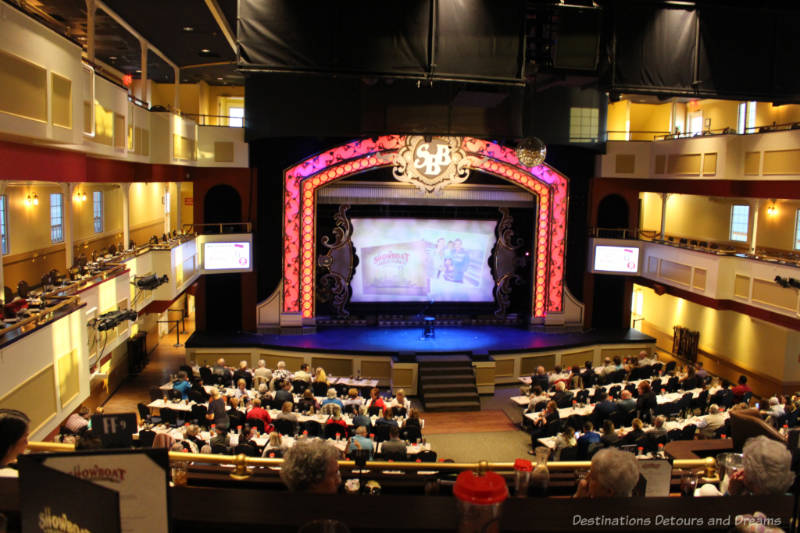 7. Quirky And Unusual Museums
One of the things that surprised me about Branson was the number of museums. On the Branson Strip, you'll find a couple of the museums you'll find in similar tourist locations, namely the Hollywood Wax Museum and Ripley's Believe It Or Not, but other museums on the Strip and throughout Branson are more unique.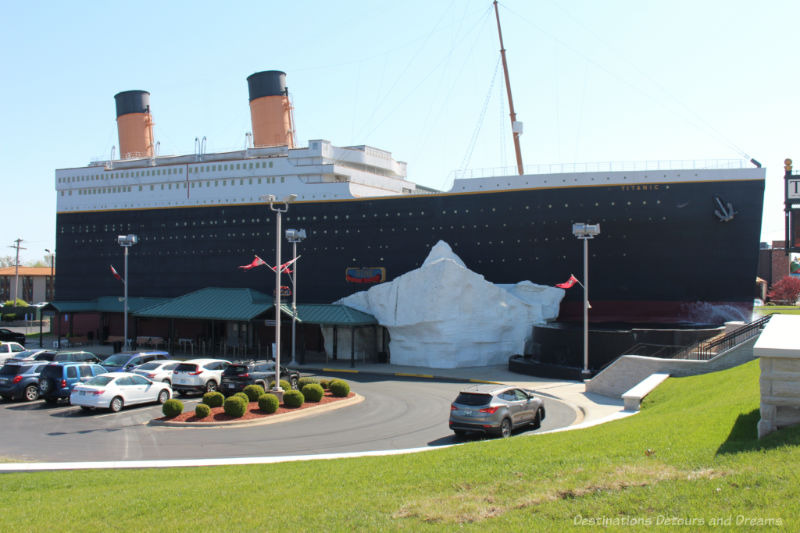 The most famous of these other museums may be the Branson Titanic Museum. Located on the Branson Strip, it shares stories of those who perished during the ill-fated 1912 Atlantic crossing, features authentic artifacts from the ship, and had recreated areas of the ship.
Other museums include the World's Largest Toy Museum, the History of Fishing Museum, the Celebrity Car Museum, the Shipwrecked Treasure Museum, the Branson Auto and Farm Museum with vintage farm equipment and vehicles, the Dinosaur Museum featuring life-sized dinosaur replicas, the Veteran's Memorial Museum, and the Creation Museum where visitors experience and learn about the stories of the Bible.
The Ancient Ozarks Natural History Museum at the Top of the Rock resort features prehistoric creatures, the American West and civil war, and collections of Native American artifacts and artwork.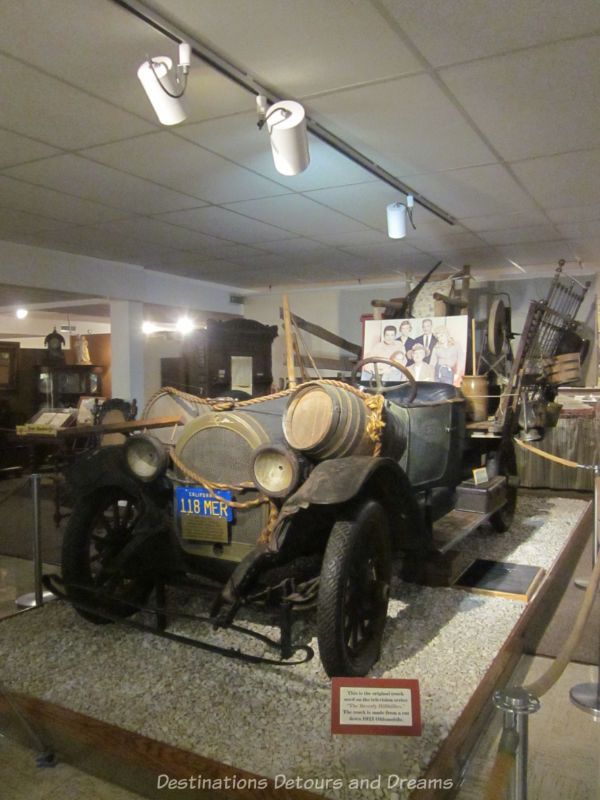 The thousands of artifacts at the Ralph Foster Museum, located on the College of the Ozarks campus, showcase the history of the Ozark region. It has sometimes been called the "Smithsonian of the Ozarks." Among the museum's eclectic collection is the 1921 Oldsmobile turned hillbilly wagon the Clampett family drove in the 1960s television show The Beverly Hillbillies. You can read my post on the Ralph Foster Museum here.
The College of the Ozarks is also home to the Gaetz Tractor Museum. The college is a liberal arts college known as Hard Work U because it provides the opportunity for full-time students to work at campus jobs or industries in lieu of paying tuition fees. Other things that can be seen and toured on the campus include the mill where student grind whole-grain meal and flour, the fruitcake and jelly kitchen, and Hoge Greenhouses, home to a large collection of orchids and other plants.
8. Water Activities
While I love being at the waterfront, I am not a water adventurer. I prefer calm cruising or viewing the scenery from the beach. For those whose are more into water adventures than I am, three lakes in the Branson area offer many opportunities for water activities amid the beautiful Ozarks scenery.
Find world-class trout fishing on Lake Taneycomo, flowing through the heart of Branson. Main Street Marina offers cruises on the lake and self-guided adventures on Craigcats, kayaks, paddleboats, and Hydro Bikes. Branson Jet Boats takes you on a 14+ mile tour down Lake Taneycomo complete with stories, spins, twists, and turns. For those interested in an adventure above the water, try Parakeets Pete's Waterfront Zipline.
Table Rock Lake is renowned for its bass fishing. Along its almost 800 miles of shoreline, you'll find many beaches. Its clear waters are great for boating, fishing, sailing, waterskiing, wakeboarding, and parasailing. There are many scuba diving sites. The Spirit of America offers guided catamaran cruises. There are numerous campsites and over 100 resorts adjacent to the lake.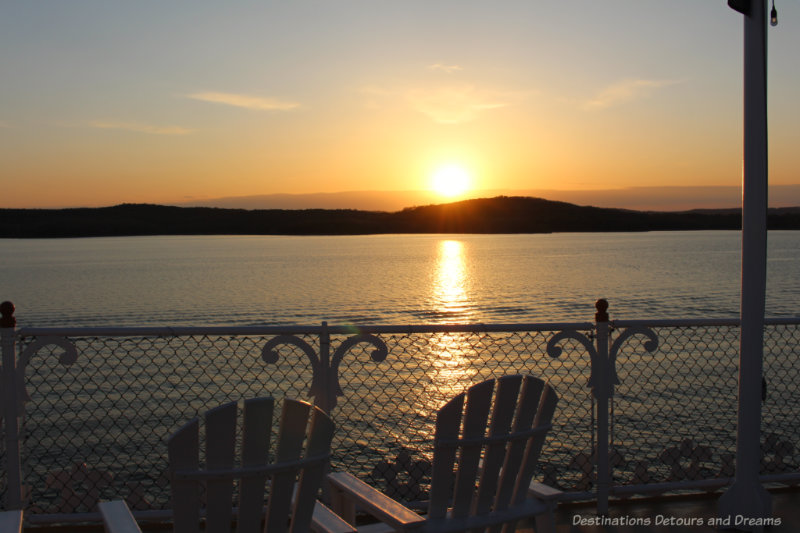 Bull Shoals Lake spans the border of Missouri and Arkansas and features nearly 20 parks along its wooded borders. It is a popular fishing destination. It is also popular for tubing, wakeboarding, jet-skiing, swimming, and boating. Much of its rugged forested shoreline is undeveloped. Calm waters and smaller crowds make it a favourite with families.
9. Lost Canyon Cave And Nature Trail Tour
Explore rock formations, waterfalls, and views of Table Rock Lake via an electric cart at Top of the Rock Resort. The tour takes you into a four-story cave with a cascading waterfall. There are view balconies and a cave bar accessible by a mining-style elevator. The two-and-a-half-mile journey takes approximately 40-50 minutes.
I did not take this tour, but colleagues did. They came back raving about how much fun they'd had. Note that you must be 18 year of age or older to operate the electric carts.
10. Golf
I am not a golfer, but for those that are Branson is a growing golf destination with award-winning courses. Gary Player, Jack Nicklaus, Arnold Palmer, and Tiger Woods have all designed courses in the Branson area. See Explore Branson for a complete list of courses.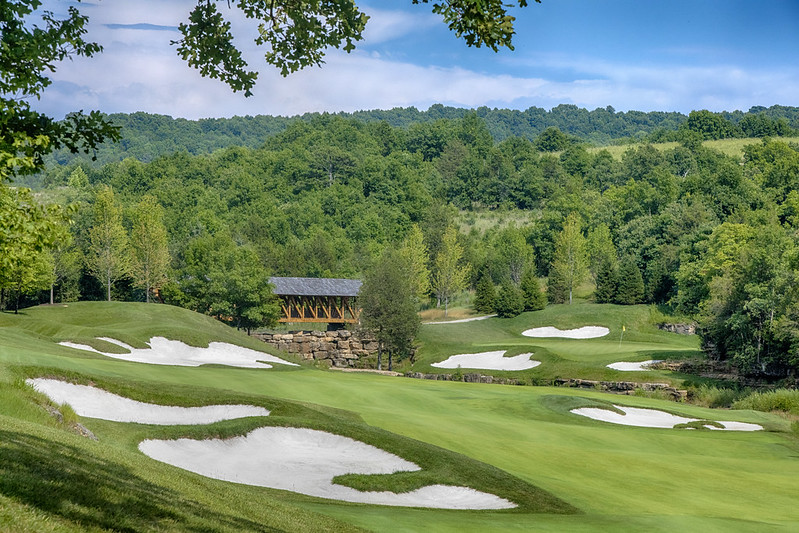 Bonus Things To Do In Around Branson
Branson Scenic Railway
The Branson Scenic Railway runs excursions through the scenic countryside of the Ozark Mountain foothills on a vintage passenger train. The one hour and forty-five minute narrated ride offers views not seen via other modes of transportation.
There are two routes. The northern route goes as far as Galena, Missouri, to the James Valley. The southern route extends into Arkansas to the Barren Fork Trestle. The direction of the route is determined minutes before the train's departure from the historic 1905 depot in downtown Branson.
Dogwood Canyon Nature Park
Enjoy natural beauty and rugged scenery at Dogwood Canyon Nature Park in Lampe, Missouri, 40 minutes outside of Branson. Paved walking and biking trails wander through an unspoilt natural setting of evergreens and dogwoods, and pass by streams, waterfalls, and limestone bluffs. Take a guided 90-minute Segway tour or a two-hour tram wildlife tour to see bison and elk. Explore the park on horseback. Fish for trout in the spring-fed waters.
Never miss a story. Sign up for Destinations Detours and Dreams free monthly e-newsletter and receive behind-the-scenes information and sneak peeks ahead.
PIN IT