Experiencing An English Village Fête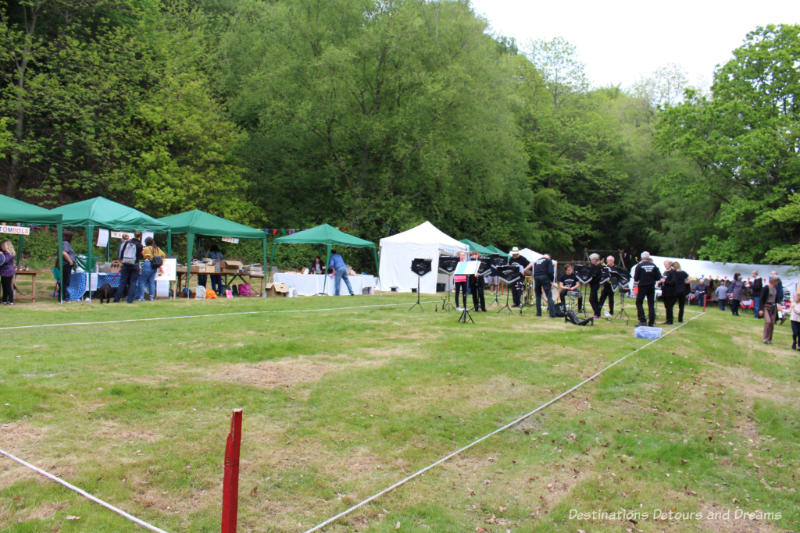 A small village fête showcases the elements of a traditional English fête
Until recently, my only experience with an English village fête was watching an episode of Midsomer Murders on the television. To a North American like myself, the fête seemed a quaint relic of the past, a mythical characterization of idyllic country life, but the English fête (pronounced as fate) is a very real and present-day event. I learned how charming it could be when I had the opportunity to attend one.
Fairs, originally marketplaces for buying and selling of stock, have featured in British life since medieval times and in modern day have evolved into agricultural shows. Fêtes are a slightly different version dating back to the 1920s and 1930s. According to an article in British Heritage Travel, the village fête, which had its roots in charity where ladies of the parish made items to be sold for charitable causes, declined in the 1970s and 1980s, but is now enjoying a comeback and is common in villages keen to enjoy a stronger sense of community. Fêtes are outdoor events held on village greens or recreation grounds with a variety of activities. They are typically organized as fundraisers by volunteer committees of a residents' association or the parish church. Some fêtes charge entry fees, but many are free with the activities being the things that raise money.
I attended a village fête in Coldharbour, a village four miles southwest of Dorking in the centre of the Surrey Hills Area of Natural Beauty. Although it was a relatively small fête, the British friends who accompanied me assured me it was an excellent representation of a traditional village fête. What are the elements of a village fête?
Village Fête Sale Stalls
Standard sale stalls at a village fête include a second-hand book stall and a bric-a-brac stall. Although types of other stalls vary from fête to fête, it is common to see flowers and plants, craft items, and homemade cakes and jams for sale. Local charities may set up information stalls.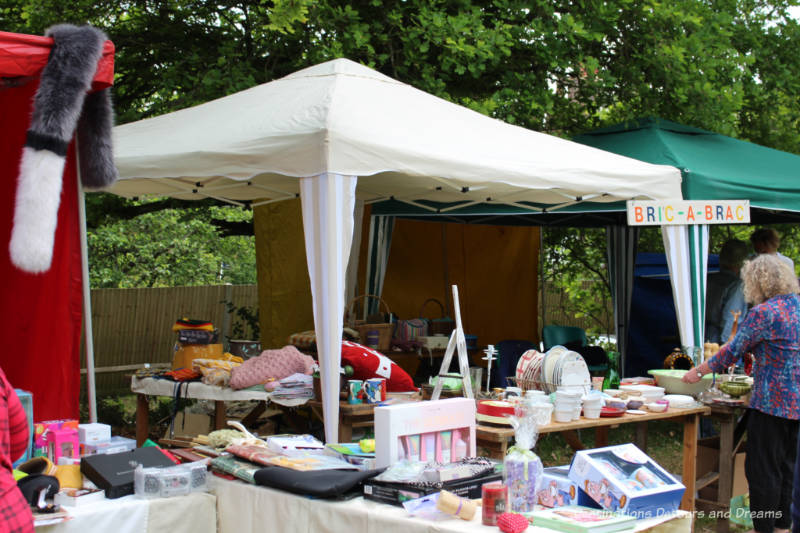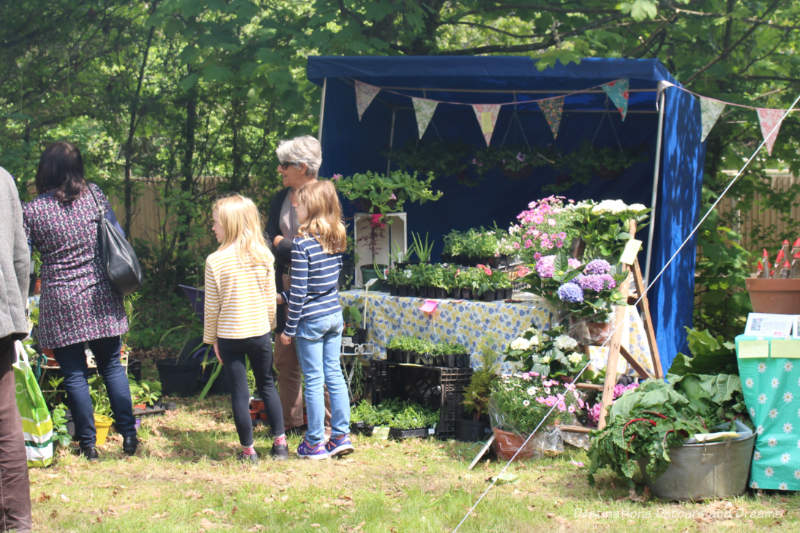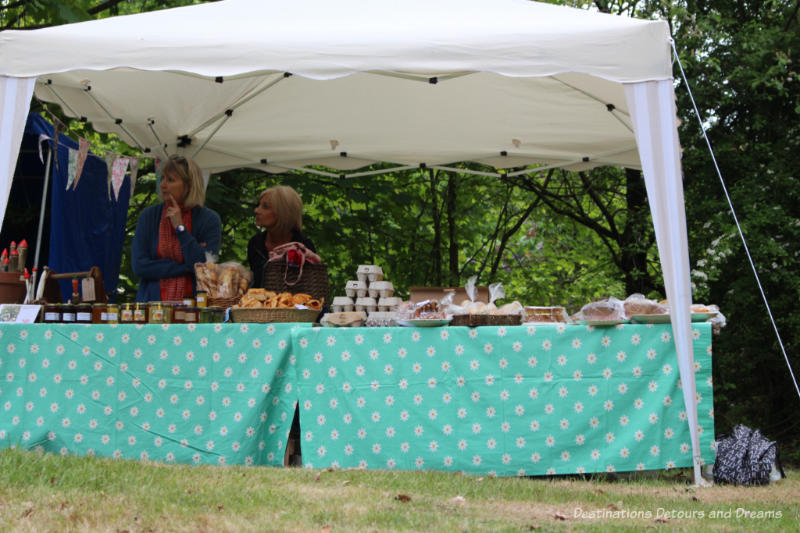 Village Fête Games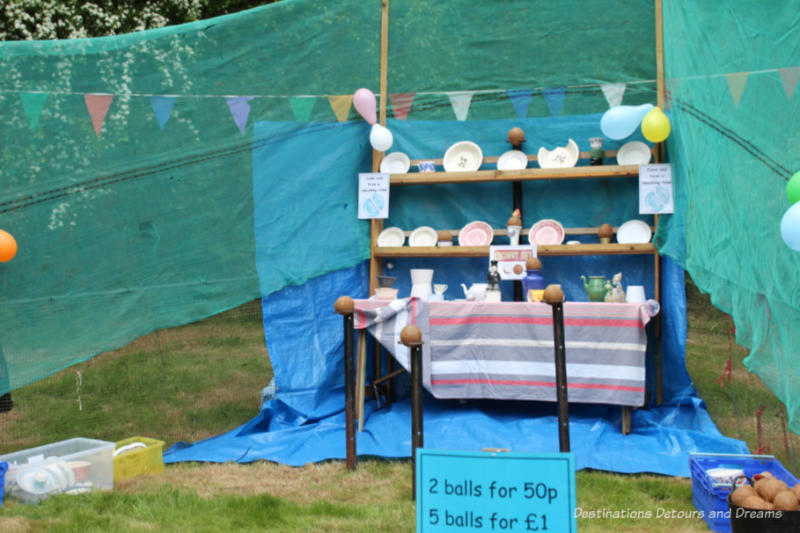 Carnival-type games are a big part of the village fête. Standard games include crockery smashing, the coconut shy in which you can win a coconut by knocking it off its stand with a heavy wooden ball, wet sponge throwing, Welly wanging where participants fling Wellington boots as far as possible, hoopla where you pay for hoops to throw over objects and win those objects if successful, and hook-a-duck in which you use a pole with a hook at the end to pick plastic ducks from a pool of water winning whatever prize is written under your duck.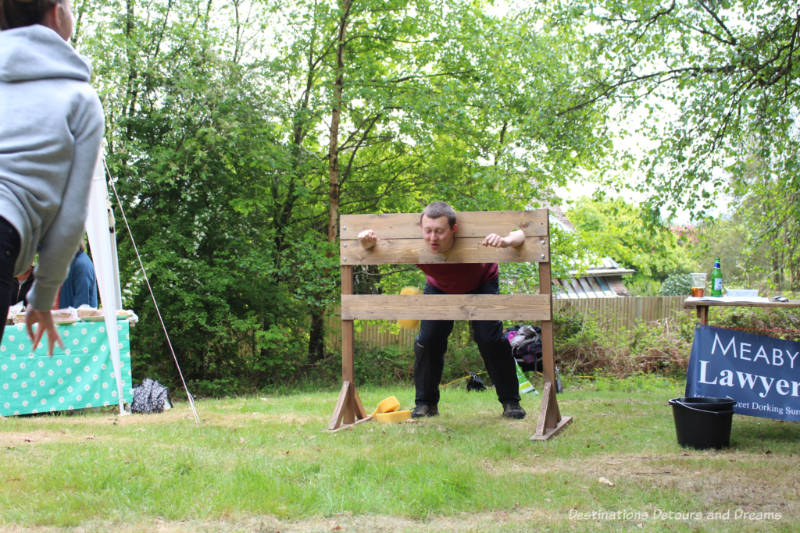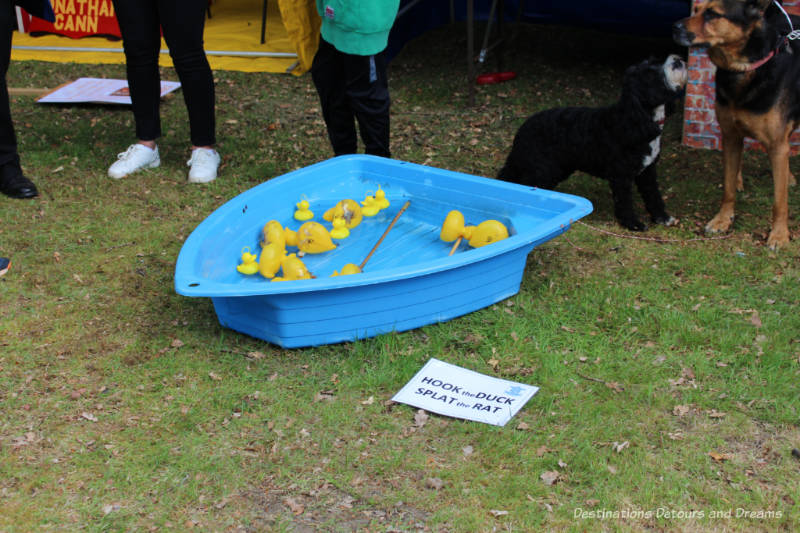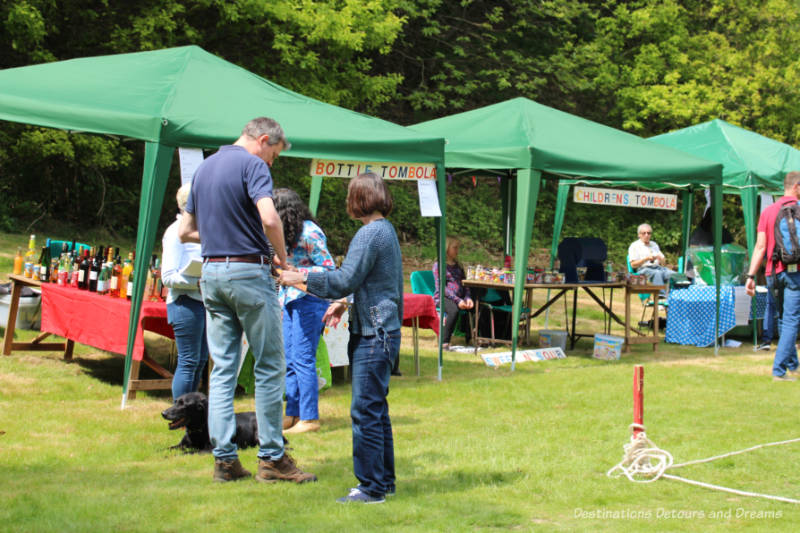 In a tombola you draw a numbered ticket at random from a drum. If your ticket is on a list of winning numbers displayed on a board, you win the prize attached to that number. At this particular village fête, the adult tombola featured bottles of alcoholic drinks and the childrens' tombola featured assorted sweets.
Village Fête Entertainment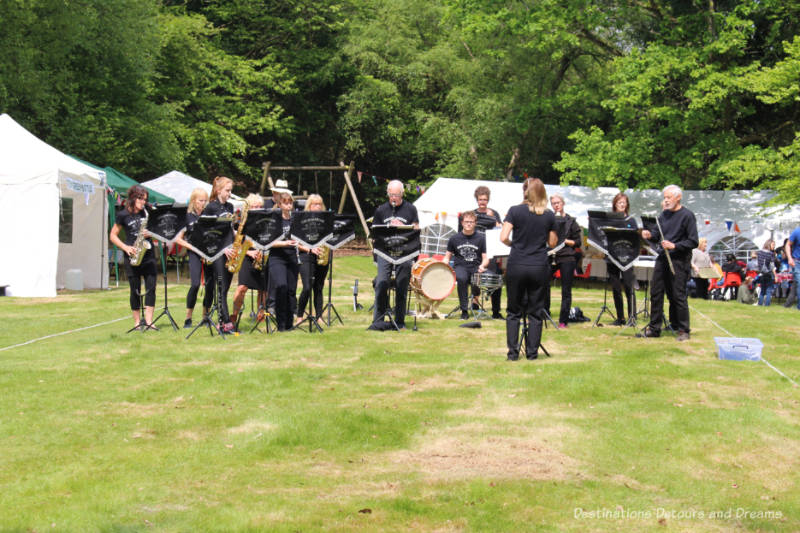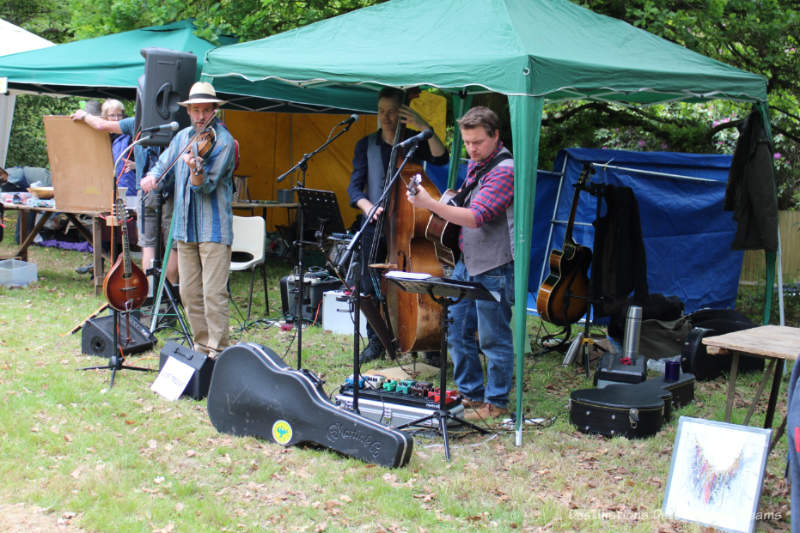 Although it was not something scheduled at the fête I attended, Morris dancing performances are common entertainment at fêtes. Fêtes are family events and there is usually special entertainment for the children with things like bouncy castles. clowns, and childrens' entertainers. Coldharbour Fête featured a childrens' comedian, animal balloon making, and a Punch and Judy show.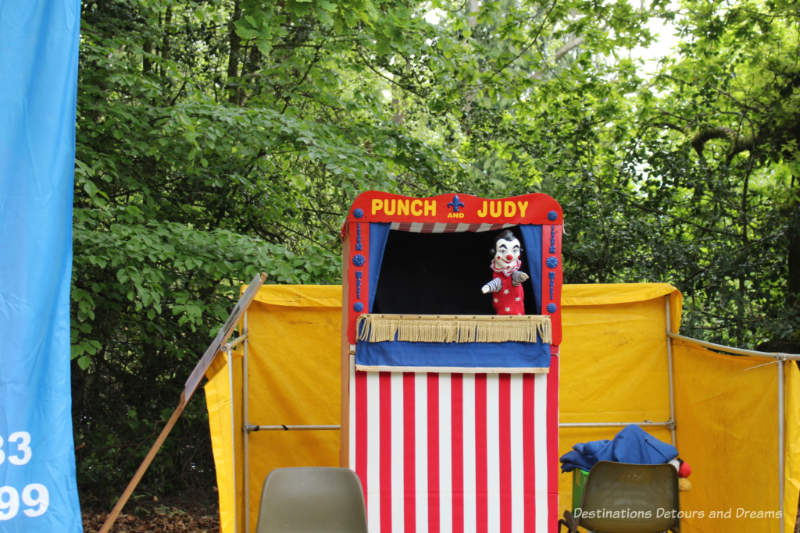 Village Fête Contests and Raffles
Various competitions and raffles are part of the village fête. Wacky races at some fêtes (not this one) include the three-legged race, sack races, and the egg and spoon race. Tug of war is fairly standard and was the finale of the Coldharbour Fête, but I had left shortly before that event and didn't see it.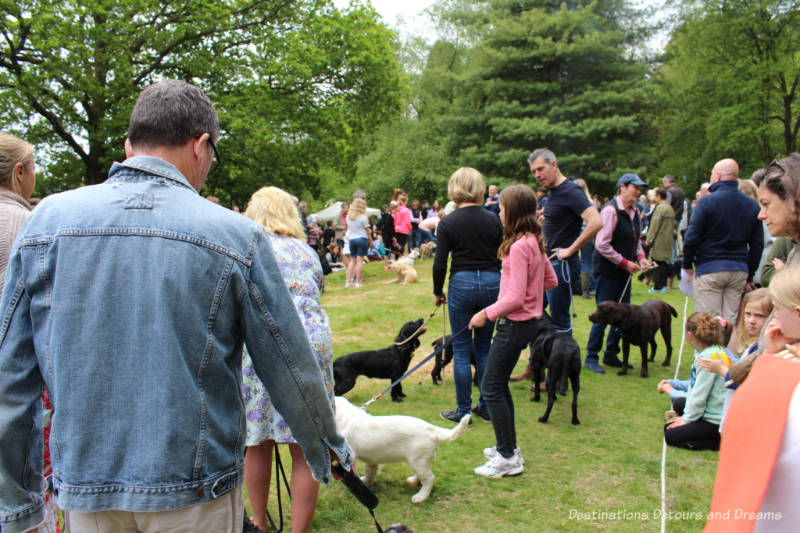 Another standard of the village fête is the dog show. There were five dog competitions at the fête I attended: dog with the waggiest tail, catch the biscuit, prettiest bitch, most handsome male, judges' favourite dog.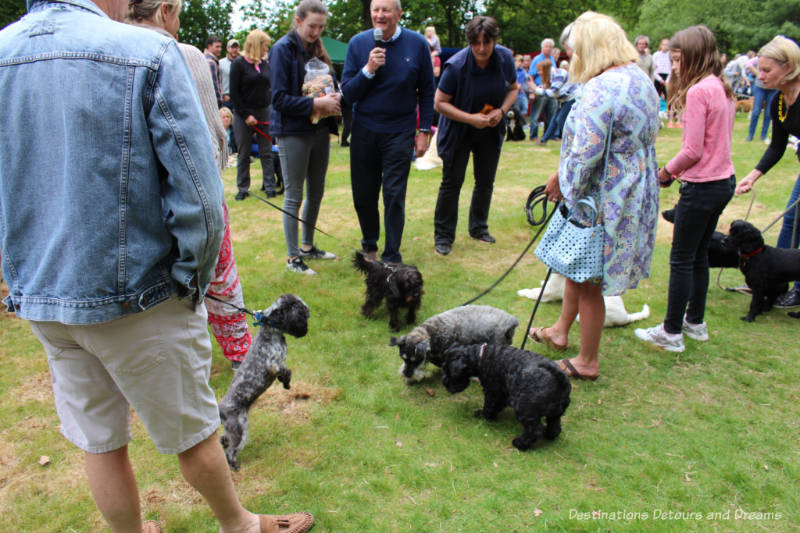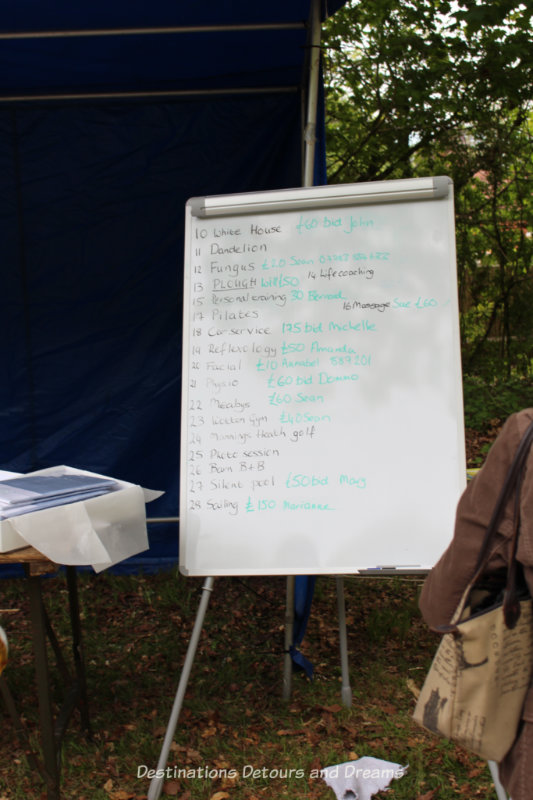 Raffles form a major part of the fundraising component of the fête. There were 28 items on the Coldharbour Auction of Promises list. The first 9 were sold during a verbal bidding auction late in the afternoon. The remaining items were listed on a white board with the latest bid shown. People could place their bids anytime during the afternoon. A sample of the items of the auction list: a round of golf, a car service, childrens' art classes, a personal pottery session, a duvet cover, a reflexology session, a personal tour of the Foreign and Commonwealth Office in London, and a massage.
Village Fête Refreshments
What's a fair without food and drink?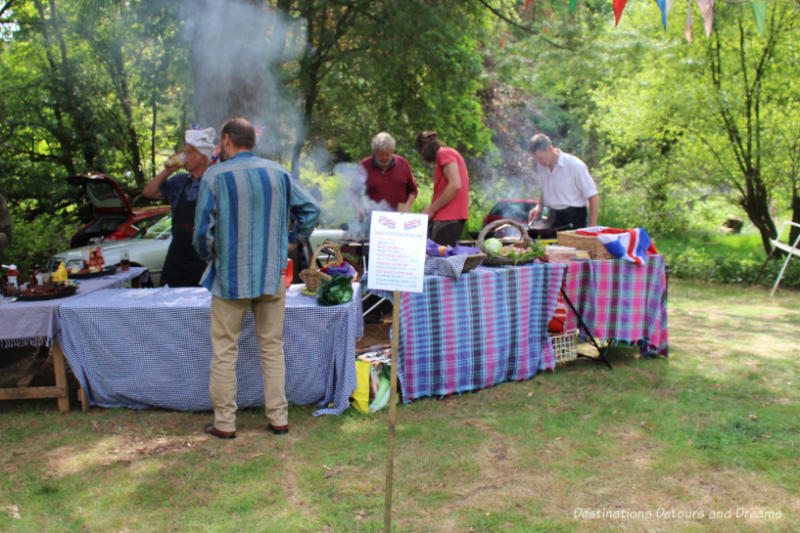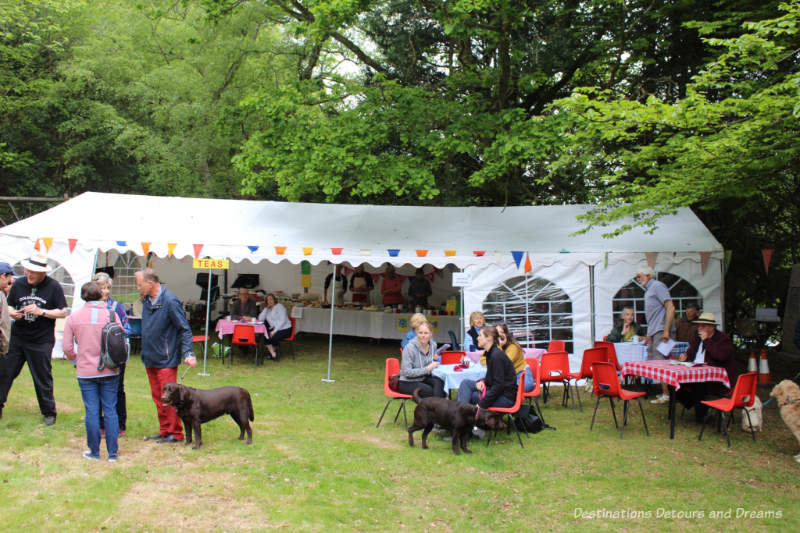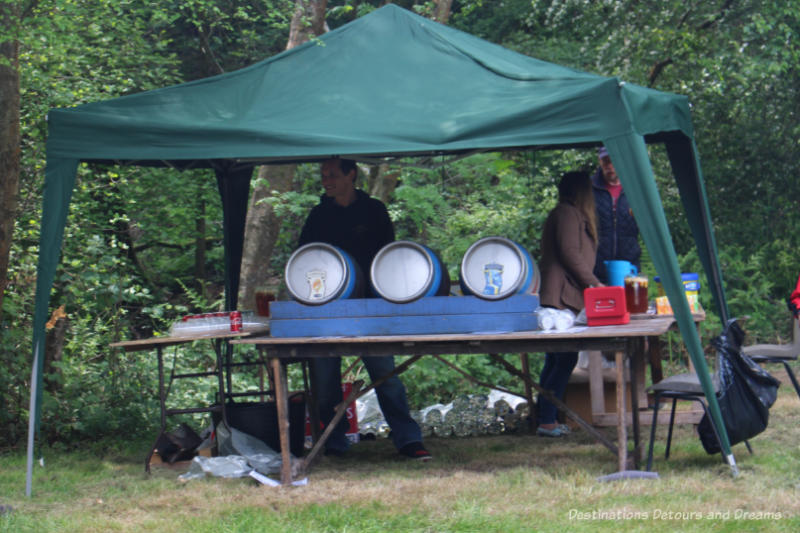 Drinks available for purchase typically include soft drinks, beer, and Pimms. Pimms is a brand of a gin-based drink. It is served mixed with Lemonade (which in England is a sparkling water flavoured with sugars and lemon similar to 7-Up or Sprite), cucumber, mint, and fruit such as orange slices, strawberries, and/or apple pieces.
Village Fête Final Thoughts
My afternoon, which was very pleasant, gave me a good sense of what a fête is all about. Other fêtes may have some different components (my friends attend one where people are dressed in medieval costumes), but the core elements are the same. It is very much a family and a community event. It was a relaxed gathering with lots of smiles and visiting. After a couple of hours, I remarked to my friends that no one had their phones out as seems to be the case in most public places. Another step back in time perhaps. When I pulled out my own phone later at the nearby pub after leaving the fête, another possible explanation arose. I had no signal.
Never miss a story. Sign up for Destinations Detours and Dreams free monthly e-newsletter and receive behind-the-scenes information and sneak peaks ahead.
PIN FOR LATER