Cooking With Prickly Pear And Mesquite In Arizona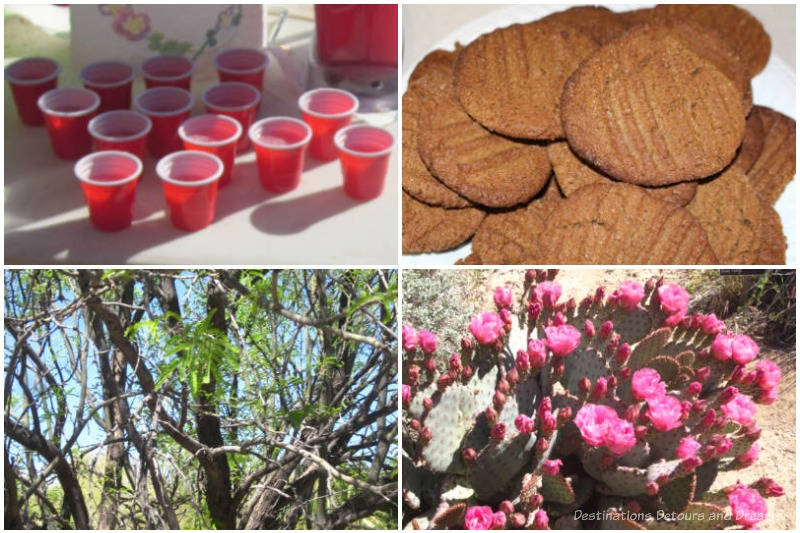 Learning about cooking with prickly pear and with mesquite at the Superstition Mountain Museum Prickly Pear/Mesquite Festival in Apache Junction, Arizona
Prickly pear and mesquite weren't things this Canadian prairie girl had eaten, let alone cooked with when I attended the Prickly Pear/Mesquite Festival at Superstition Mountain Museum in Apache Junction, Arizona, a number of years ago. At that festival, I learned a little bit about cooking with both.
The Superstition Mountain Museum displays artifacts about the history and folklore of the Superstition Mountains and surrounding area. Indoor and outdoor exhibits include rock samples, Indian artifacts, mining memorabilia, Western scenes, and Apacheland Movie Ranch items. You can read more about Superstition Mountain Museum in my posts History, Legends, and Movies at Superstition Mountain Museum.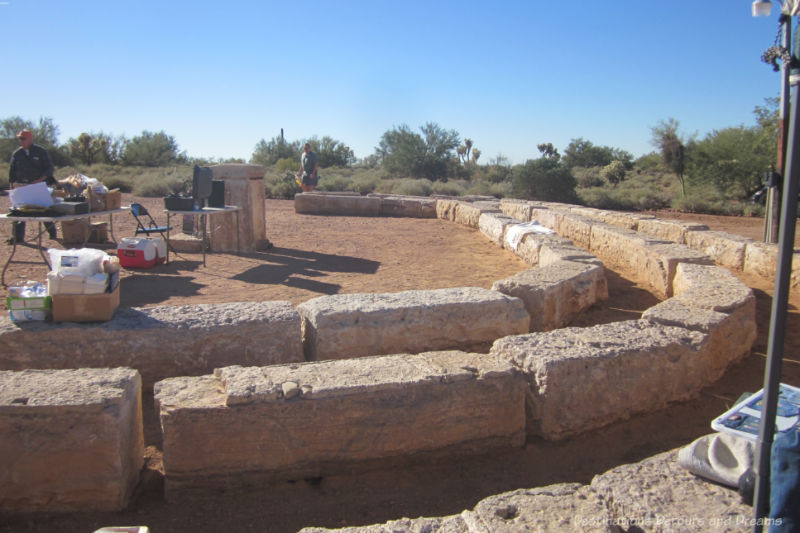 During the Prickly Pear/Mesquite Festival, Jean Groen, an author and publisher of books about desert plants, conducted lectures and cooking lessons on prickly pear and cactus.
Cooking With Prickly Pear
Prickly pear, also called nopal, is a flat-stemmed spiny cacti of the genus Opuntia native to the Western Hemisphere. Prickly pear blossoms in brilliant colours of yellow, orange, red, or fuchsia in spring. In Arizona, blossoms appear from late March into April depending on winter weather conditions. If you are in the Greater Phoenix area during this time frame, you're likely to come across a prickly pear in bloom somewhere. The Desert Botanical Garden in Phoenix and Boyce Thompson Arboretum in Superior are great places to see prickly pear and other cacti in bloom.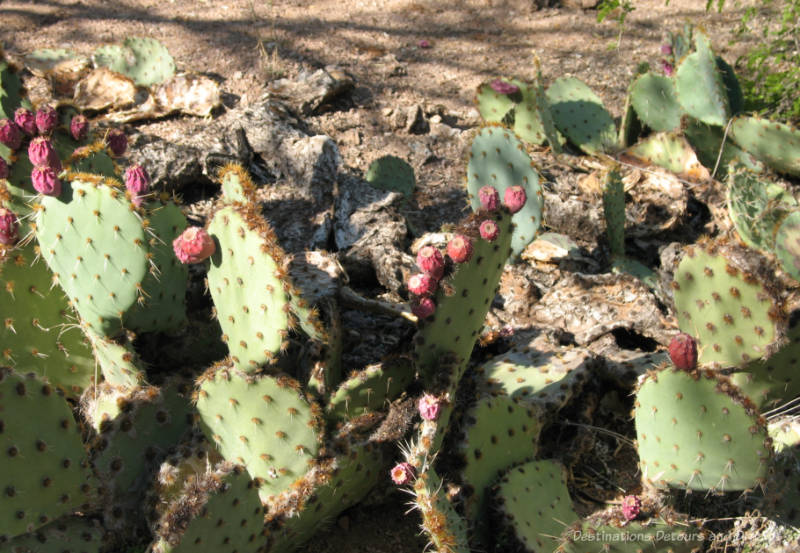 When the blossoms die off, a bulbous, magenta-coloured fruit is left behind. The fruit can be cut into slices and eaten raw, or used to make jam, jelly, syrup, nectar, sorbet, wine, and candy. You'll often find packages of the candy in Arizona souvenir shops.
When is the prickly pear fruit ready to harvest? Groen said she watched the birds, bees, and bugs. When they started to eat the fruit, she knew it was ready. That typically occurs in late July with the harvesting season continuing to around Labour Day. After that, the fruit becomes bitter.
Harvesting the fruit requires caution. It has tiny barbed spines called glochids. The glochids can severely irritate your skin. Long tongs are generally used to twist off the fruit. The prickly pear fruit can be used fresh or frozen for later use.
Before the fruit can be used, the glochids need to be removed. You may see recommendations to burn them off with a blowtorch or barbecue them. Groen said she didn't do that because it was too time-consuming for the amount of fruit she processed. She soaked the fruit in water and bleach (1 to 2 tablespoons of bleach to 5 gallons of water) and vigorously swirled them around with a brush. They stayed in the bleach water for only a few minutes, after which she hosed them down.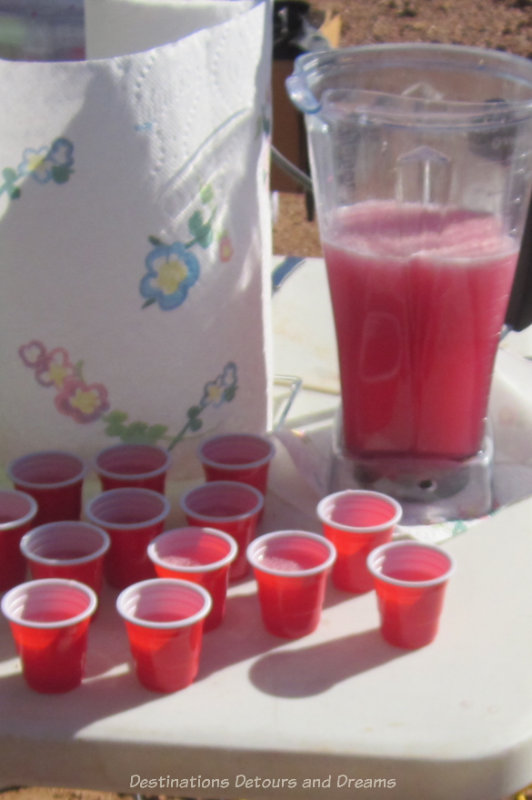 At the festival Groen made prickly pear margaritas using frozen prickly pear fruit. She shared her recipe for prickly pear jelly and set out samples of both for us to taste.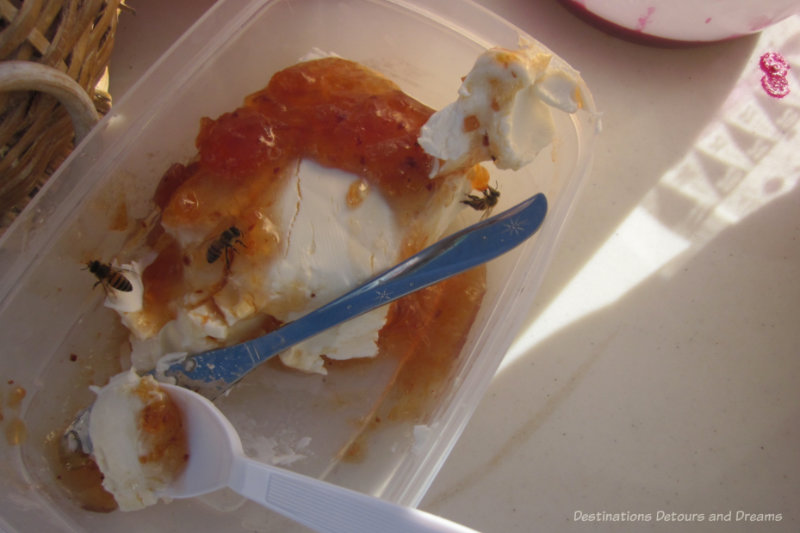 Groen focused on the fruit of the prickly pear, but the paddles are also edible. A common vegetable in Mexico, they are grilled and then sliced to eat as a side dish or in salads. Apparently, they taste a little like green beans.
Prickly pear is high in fiber, antioxidants, and carotenoids. There is some preliminary evidence that it may help control blood sugar levels. However, it is suggested you ease into eating prickly pear if you are new to it. Side effects for some people include mild diarrhea, nausea, and abdominal fullness.
Groen offered some advice before heading into the desert to harvest prickly pear. Cacti are protected plants in Arizona. You are allowed to twist off the ripe fruit with tongs, but you are not allowed to cut the paddles.
Cooking With Mesquite
Until the Prickly Pear/Mesquite Festival, my only culinary association with mesquite was the smoky flavour added to food cooked over mesquite wood. At the festival, I learned about mesquite flour and ways in which it can be used.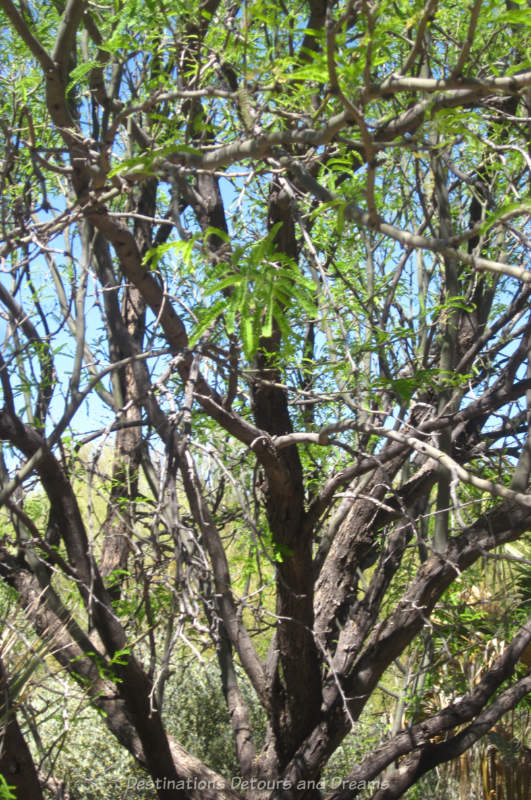 Mesquite are deciduous, drought-tolerant trees. Three varieties grow in the American southwest: honey, velvet, and soybean. They have wide-spreading and deep-reaching root systems. They often grow along desert washes or arroyos. An Arroyo is a gulch which fills up with water when it rains. Mesquite seeds tumble into gulches and take root where the water takes them. Mesquite trees are also found in flat areas where cattle have carried their seeds.
Mesquite burns hot and fast. It imparts a strong flavour to food. The flour made from bean pods has a unique flavour quite different than that of the smoke. I am not particularly fond of mesquite smoke flavour, but found the flour quite pleasant.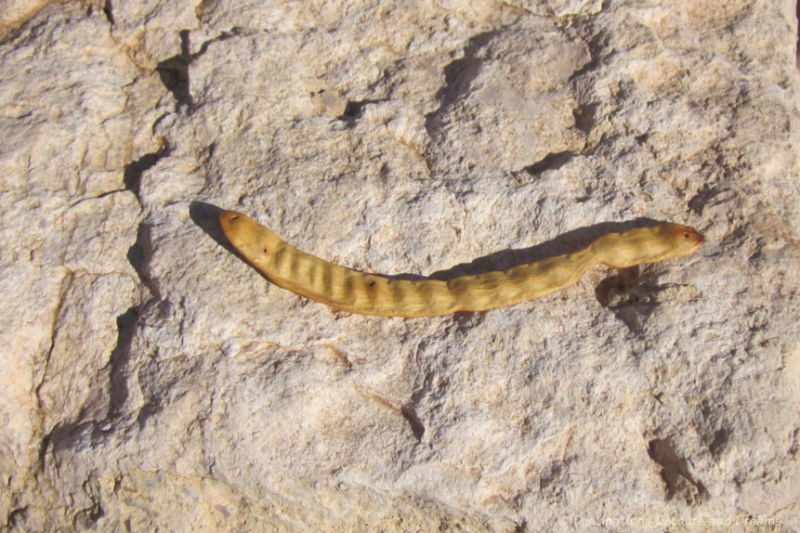 Mesquite trees bloom from spring into summer, bearing catkins of pale green or yellowish flowers which produce pods of hard and long-lasting seeds. The pods are used to make flour. It is generally recommended the pods be harvested before they fall to the ground to avoid pollutants or contaminates in the ground. Spreading a sheet on the ground and shaking the branches to make the pods fall is one way to harvest.
Groen said she looked for pods with holes in them. Bruchid beetles lay eggs in developing pods. When the eggs hatch the larvae burrow into the pod. After they mature, they make small holes and exit the pod. The presence of the holes tells you the pod is beetle-free.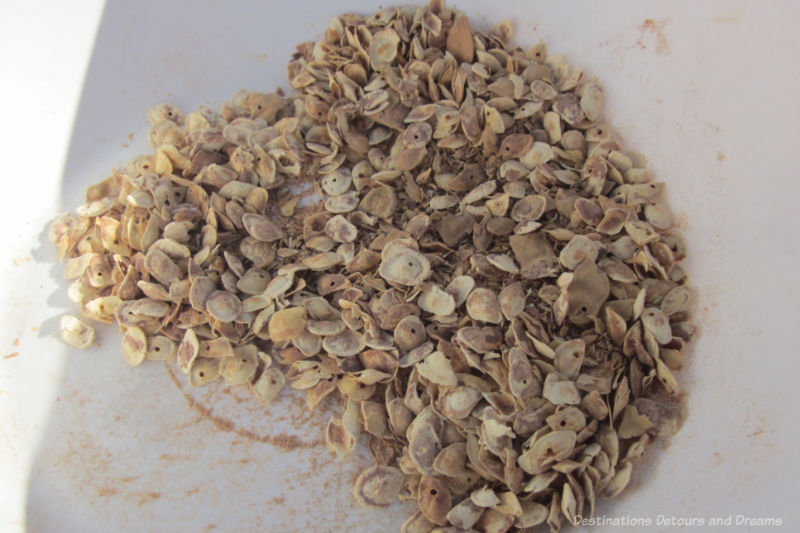 Groen's method of processing the pods started with drying the the pods for three to four hours in a 250-degree oven. The next step was to blend the crisp pods, sift out seeds and thicker pieces, and then blend again. She threw away the seeds. The flour has more protein if the seeds are kept but the flour then needs to be treated with heat in order for the body to be able to process it.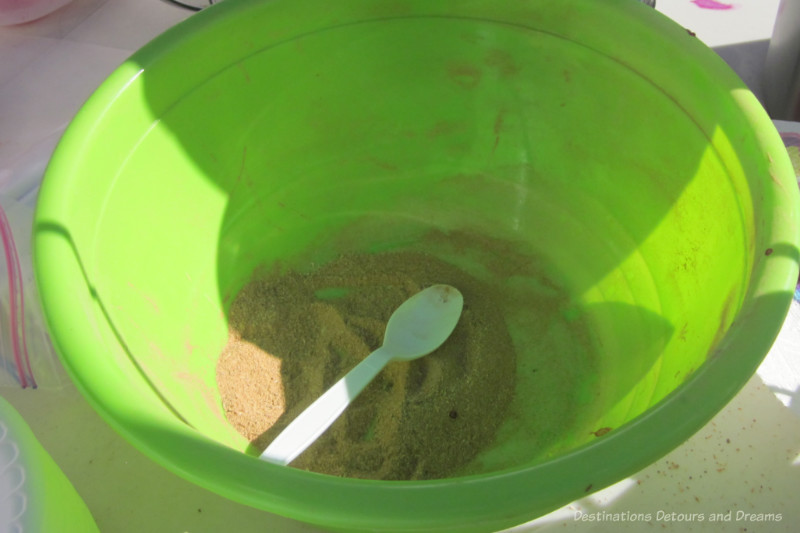 Groen also advised doing the blending outdoors. When she lifted the lid off the blender in her demonstration, a fine dust flew into the air.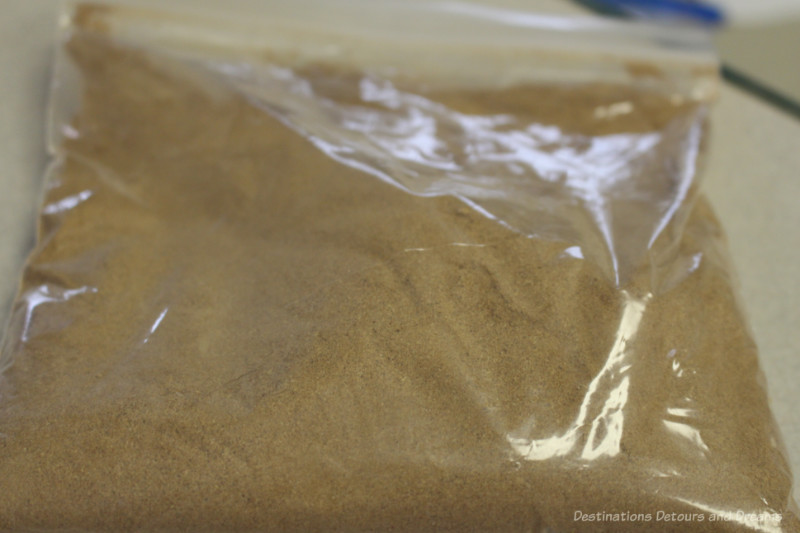 I bought a small bag of flour to take home with me. The raw mesquite flour tasted slightly sweet and nutty to me. Both my husband and his brother said it reminded them of cinnamon.
Mesquite flour can be added to smoothies or used to spice meat and vegetables. I sprinkled it on pork chops. It gave the chops a subtle, earthy flavour and helped seal in the moisture.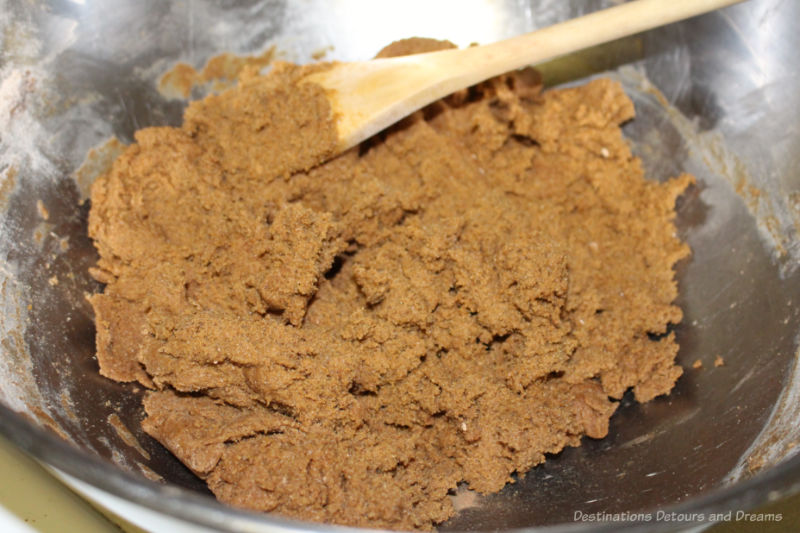 Mesquite flour can also be used in baked goods. You can use it in your favourite muffin, cookie, or cake recipe by substituting 30% of the flour with mesquite flour. I used mesquite flour in a batch of gingersnap cookies. They were delicious.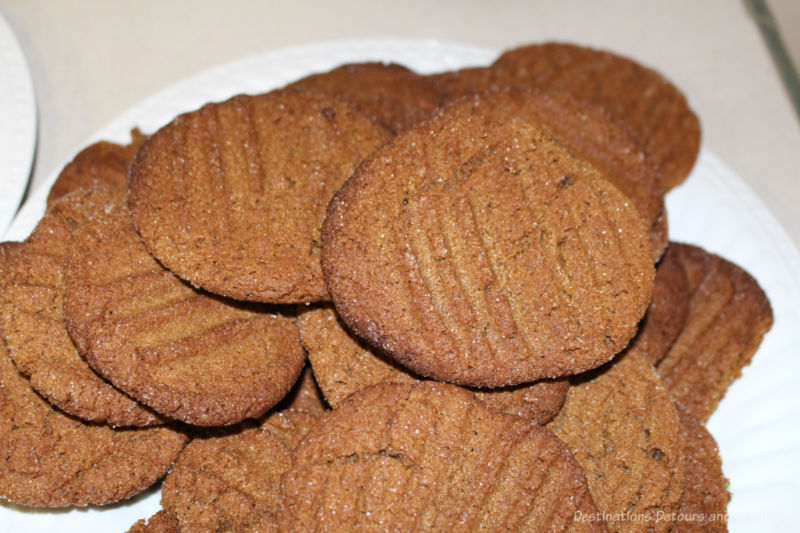 Mesquite flour is a good source of calcium, manganese, iron, and zinc. Mesquite flour made from grinding the whole pods produces a soluble fiber, which is absorbed slowly without a rapid rise in blood sugar.
(Note: This post is an update and amalgamation of two older, now-deleted, posts)
Never miss a story. Sign up for Destinations Detours and Dreams free monthly e-newsletter and receive behind-the-scenes information and sneak peeks ahead.
PIN IT